In most cases, experiencing a signature dish from a restaurant featured in Air Canada enRoute's Best New Restaurant list requires that you visit them in person which, depending on the restaurant, can often be a rather long wait.
Now, thanks to the recent release of Canada's Best New Cookbook, Canadians are finally able to recreate their favourite Top 10 restaurant dishes at home. The cookbook contains recipes from more than 30 former Top 10 winners, including this innovative take on a tarte tatin from Top Chef Canada Season X competitor Martine Bauer.
The dish takes its inspiration from the traditional French dessert, but the talented Pompette chef flips it on its head to offer up a creative appetizer version with caramelized shallots and a hefty amount of Quebec Adoray cheese.
Shallot tarte tatin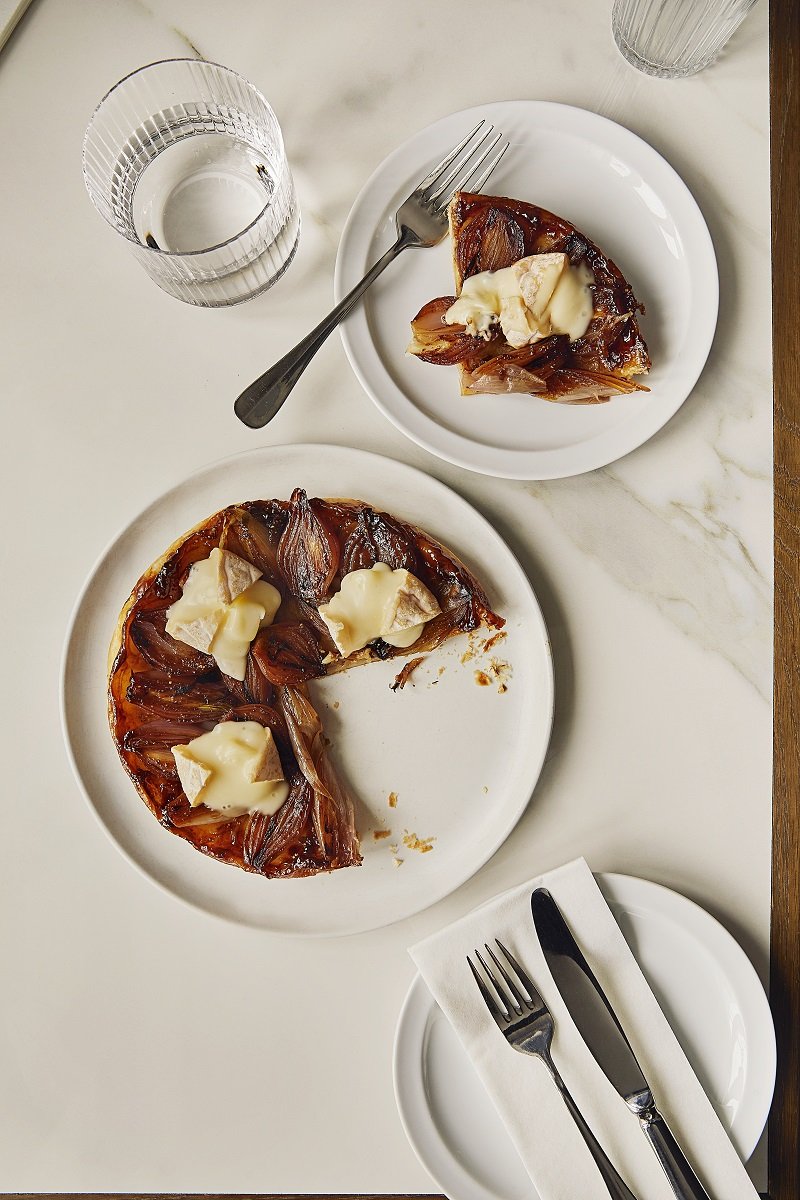 1 tbsp vegetable oil
2 tbsp sugar
2 lbs shallots, peeled and sliced in half lengthwise
2 tbsp unsalted butter
2 tbsp red wine vinegar
1 tbsp jam, can be any flavour, but chef Martine recommends plum, fig or blueberry
the leaves of 1 sprig of fresh thyme
2 pinches sea salt
250 g puff pastry, usually 1 sheet or block from a package
1 round Adoray cheese (can substitute with Vacherin Mont d'Or)
Over low heat, add oil to a medium pan, sprinkle evenly with sugar, then arrange shallots cut side down. Turn heat to medium and add butter and vinegar, then evenly distribute jam and thyme leaves in and around shallots. Season with salt.
Cook for approximately 5 minutes, or until shallots have softened. Set aside.
Roll out puff pastry on countertop. Place a 9-inch cake pan upside down on pastry and cut around edges to make an even round.
Grease the cake pan and arrange shallots face down in a circular pattern, starting with the outside and working your way toward the centre. Drizzle remaining jus from the pan over top.
Place the puff pastry round on top of arranged shallots, tucking extra pastry onto the side of the cake pan. Once secure, gently poke the pastry with the tip of a knife approximately 8 times to allow steam to escape.
Place the tart in the preheated oven on middle rack and bake for 35 minutes or until puff pastry is golden brown. Remove from oven and carefully place a plate on top of the pan and flip the tart upside down so it comes out onto the plate. This requires a steady hand and a deep breath.
Slice the round of Adoray cheese into quarters and place each piece onto a quarter of the tart, close to the middle, which will allow the cheese to melt and ooze toward the outside of the tart. Place back in oven for 3 to 5 minutes, or until cheese is melted.
Let rest for 5 to 10 minutes, slice into quarters and enjoy.
Yield: