One of the wonderful things about hummus is that is can add a fulfilling creaminess to some summer dishes without a lot of unnecessary additives. Take the quintessential potato salad for example. Generally smothered in mayonnaise, this spring and summer staple can sometimes be more heavy than fresh. Let's try a different approach, shall we?
This fresh herb and hummus dressing isn't just perfect with potato salad, you can use it with any kind of grilled vegetable and goes well with brined pork chops, grilled chicken thighs or even with fresh, crisp vegetables like cucumbers, carrots and celery as a tasty snack.
This might even become your go-to dressing for heading into summer.
Fresh herb and hummus dressing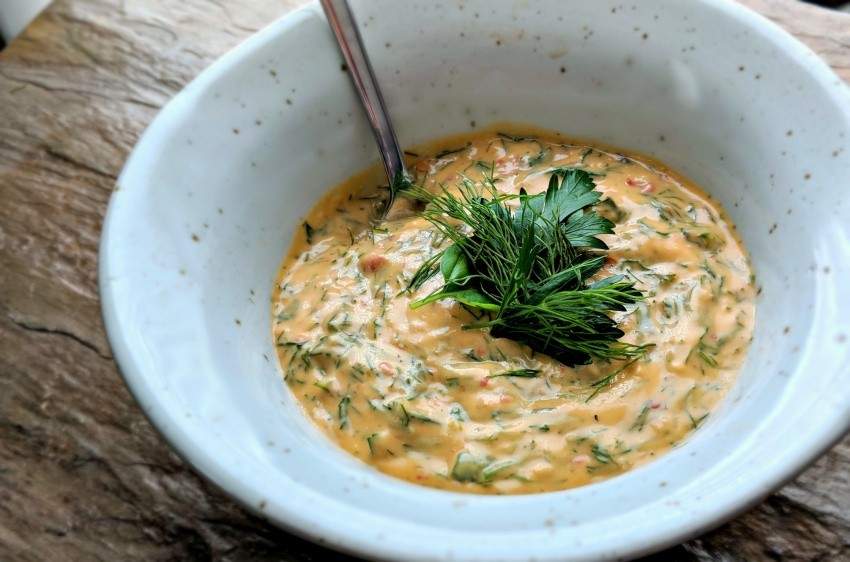 1 1/2 cups prepared hummus
1 cup fresh dill, finely chopped
1 cup fresh parsley, finely chopped
1 cup fresh basil leaves, finely chopped
1 tsp freshly grated lemon zest
3 tbsp canola oil
2 tsp honey
salt and pepper, to taste
Place first 5 ingredients in a medium-sized bowl and stir gently to combine.
While stirring, slowly pour in oil to thin out dressing.
Add honey and season to taste with salt and pepper. Cover and keep in fridge until ready to serve.
Note: the dressing is best when prepared just before assembling salad.
Potato and cucumber salad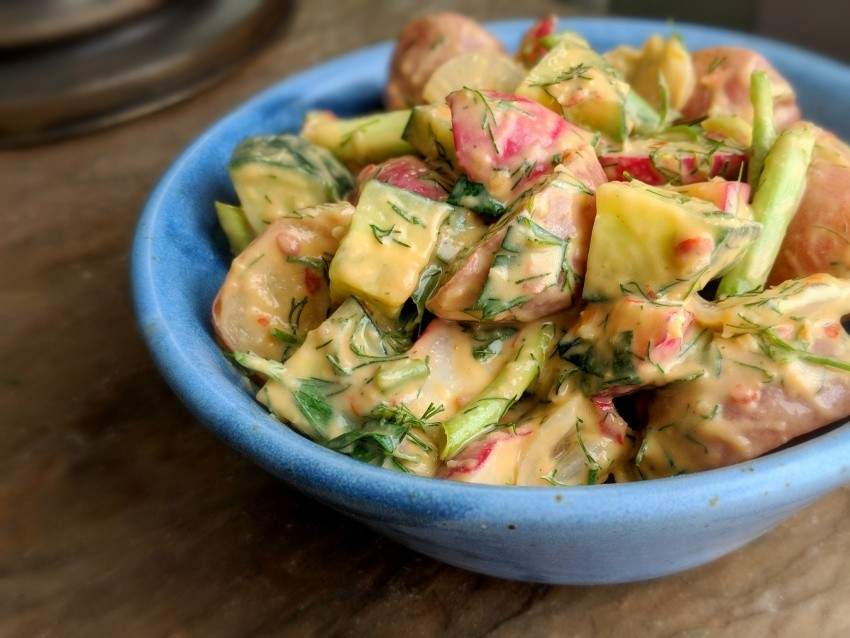 3 lb baby potatoes, boiled, cooled and halved
1 yellow onion, sliced and boiled with potatoes*
1 cucumber, halved and cut into 1/2-inch slices
12 radishes, quartered
1 bunch green onions, ends trimmed and roughly chopped
1 cup walnuts, roughly chopped
Place all salad ingredients in a large bowl and drizzle desired amount of dressing over top.
Toss gently until well-coated and serve.
* Adding an onion when boiling potatoes helps add flavour and also leaves you with sweet strips of onion that make for a great addition to a potato salad.
Yield:

Prep Time: