Celebrated author and Alberta Food Tours owner Karen Anderson has long been known for celebrating all things Alberta food. Her soon-to-be-released cookbook Eat Alberta First—out April 25, 2023 nationwide—is a true culmination of her love of locality when it comes to ingredients, producers and food artisans.
The book features a year's worth of (seasonal) recipes, notes to seek out a wide array of local producers and much more. This simple dessert utilizing apples and Saskatoon berries is one that can be made year-round.
"Whether you use fresh, dried, or frozen berries in this recipe, the juicy apples will plump them up," write Karen Anderson in the introduction to this recipe in Eat Alberta First.
Saskatoon and apple crumbly crisp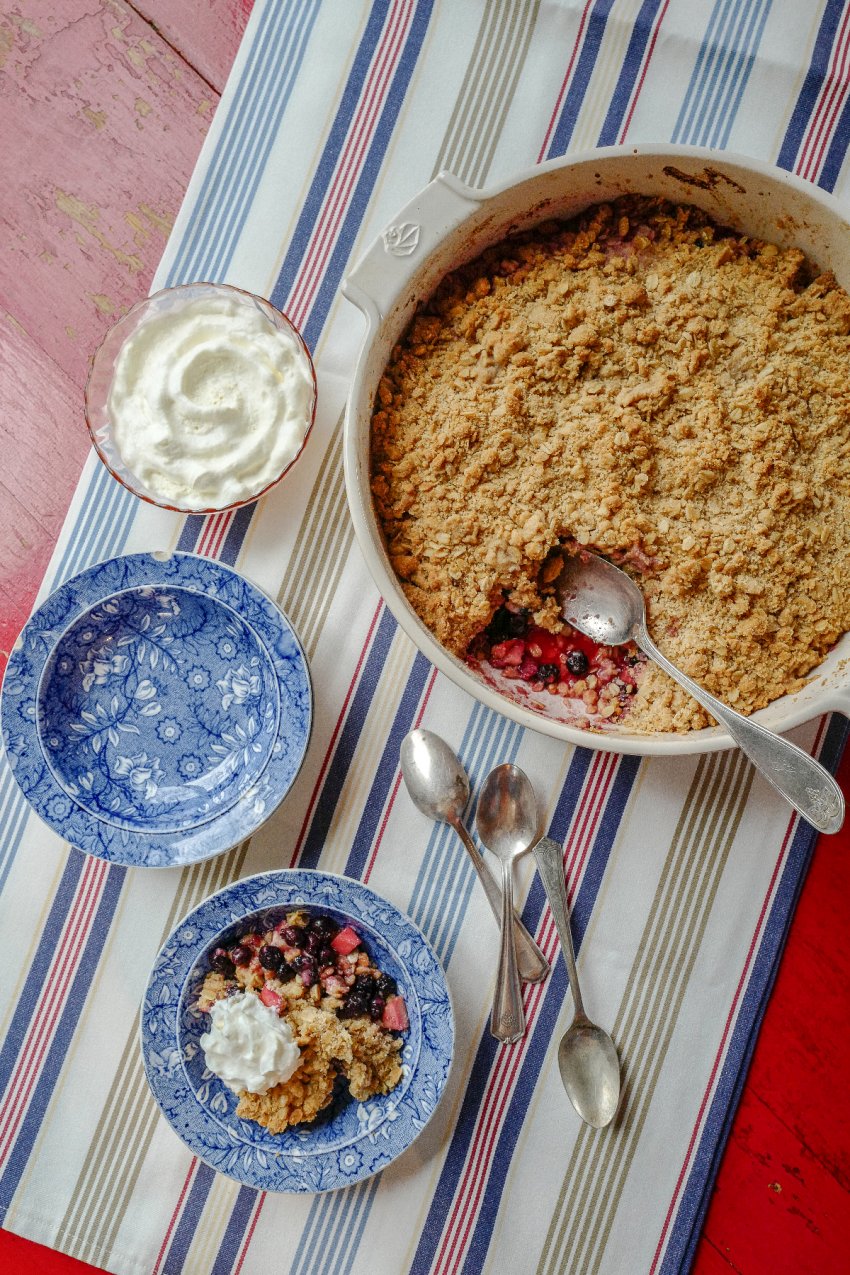 8 cups chopped apples, peeled if desired
2 cups saskatoon berries, fresh, dried or frozen
1/4 cup packed light brown sugar
1 tbsp all-purpose flour
zest of 1 lemon
1 1/4 cups quick cook oats
1 1/4 cup all-purpose flour
3/4 cup packed light brown sugar
1/4 cup granulated sugar
1 tsp ground cinnamon
1/2 tsp salt
1/4 tsp baking powder
3/4 cup unsalted butter, melted
For the filling
Toss the apples and berries with the sugar, flour, and lemon zest in a bowl until evenly coated. Place the mixture in the baking dish, then press on it until it is lightly and uniformly packed into the dish.
For the topping and to bake
Place the oats, flour, both sugars, cinnamon, salt, baking powder, and melted butter in a large bowl and mix together with your fingers until the butter is evenly distributed.
Spread the topping evenly over the fruit filling and bake until the topping is golden and the juices are thick, about 60 minutes.
Enjoy with whipped cream or ice cream.
Yield:

Prep Time:

Cook Time: