Over the past few weeks we've been sharing a collection of cocktail recipes from the recently-released Caesar Country cookbook, however, the cookbook also features a full slate of food recipes from chefs and restaurateurs across Canada.
This steelhead ceviche comes courtesy of chef Reuben Major of Vancouver's Belgard Kitchen. In addition to finding a beautiful balance between the clean taste of the steelhead salmon and the textural contrast of the corn and green garbanzo beans, chef Major creates a delightfully acidic broth with a whimsical touch of Caesar flavour.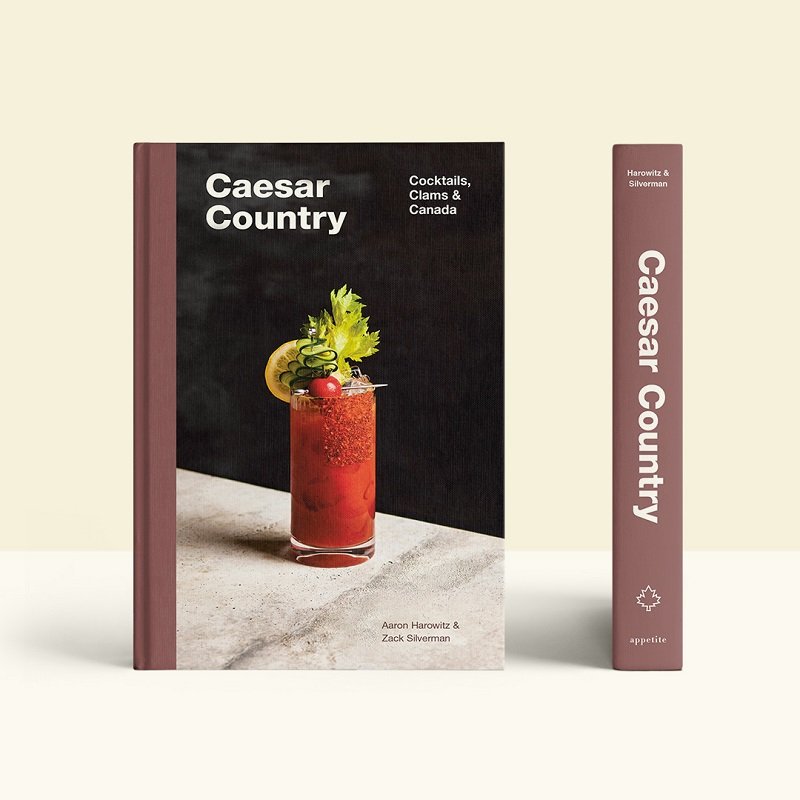 Pickled shallots
½ cup apple cider vinegar
½ cup water
1 tbsp granulated sugar
1½ tsp kosher salt
1 bay leaf
5 shallots, thinly sliced
Combine the vinegar, water, sugar, salt, and bay leaf in a small pot over medium-high heat. Bring to a simmer and continue to simmer for 5 minutes. Remove from the heat and let steep for 30 minutes. Strain through a fine-mesh sieve.
Meanwhile, place the shallots in a 2-cup (480 ml) lidded glass jar.
Pour the warm brine over the shallots, ensuring they are submerged.
Allow to cool to room temperature, then cover and refrigerate for a minimum of 2 hours, but ideally overnight. The shallots will keep for up to 2 weeks in the refrigerator.
Steelhead ceviche
9 oz (255g) steelhead salmon, skinned and boned
1 lemon, juiced
1 lime, zested and juiced
1 tsp honey
¾ cup green garbanzo beans or edamame beans in their shells
1 ear corn, husked
1 cup Caesar mix, Holiday (or Classic)
1½ cups rainbow grape tomatoes, quartered
1 cup Easter or lipstick radishes, cut in ¼-inch (6 mm) wedges
Cut the salmon into ½- to ¾-inch (1 to 2 cm) cubes and place them in a large freezer storage bag.
In a medium bowl, whisk together the lemon juice, lime zest, lime juice, and honey until the honey is dissolved. Pour the mixture into the bag, ensuring each piece of fish is nicely coated. Squeeze out any excess air before tightly sealing the bag.
Place the bag in the refrigerator until the salmon is cured, approximately 1½ to 2½ hours. Check by breaking a larger piece of fish in half to ensure the cure has penetrated the entire piece of fish. When it's ready it will look more "pink cooked" than "raw red."
Shell the beans and cook them for 2 to 3 minutes in a small pot of boiling salted water. Drain and set aside to cool.
For serving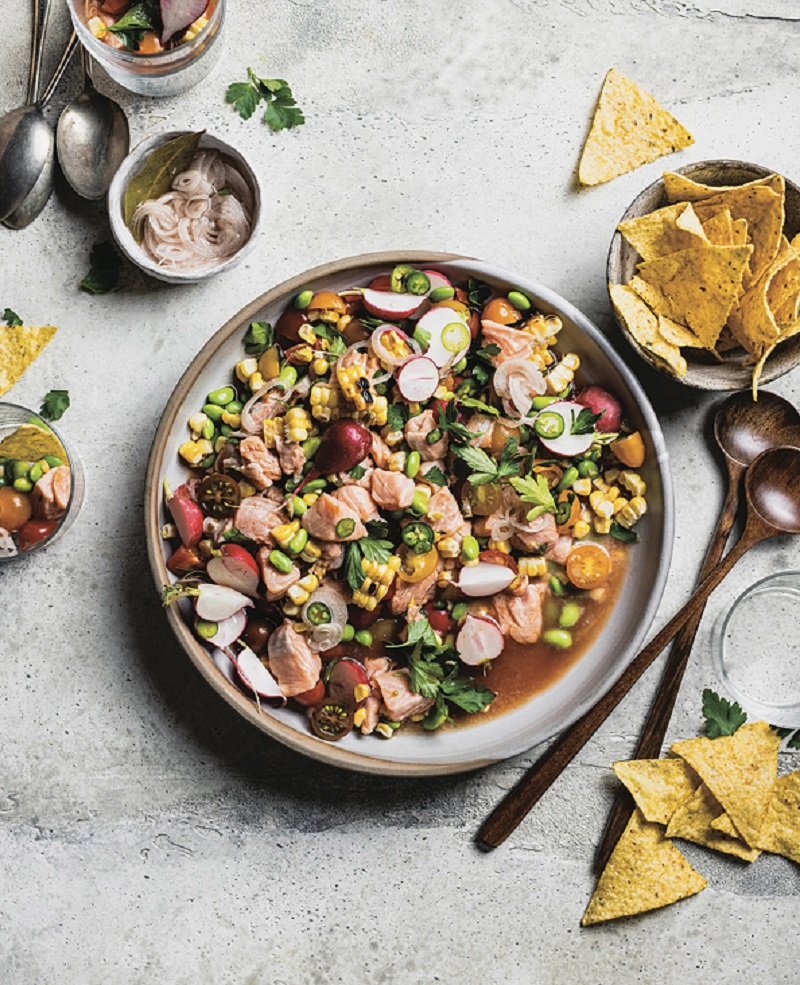 1 tbsp serrano pepper, thinly sliced
¼ cup flat leaf parsley leaves
½ cup pickled shallots, separated into rings
2 tbsp pickled shallot brine
Tortilla chips or crusty bread
On a grill pan over high heat, char the corn on the cob, let cool, and then slice off the kernels. Set aside.
Once the salmon is fully cured, pour the Caesar mix into the bag to complete the curing broth.
In a large mixing bowl, combine the tomatoes, radishes, Serrano pepper, parsley, cooked beans, charred corn kernels, pickled shallots, and pickling brine. Add the cured salmon and broth and fold everything together gently just until evenly distributed.
Carefully transfer the ceviche and broth to a deep plate, spread out for even depth. Place the colourful pieces on top for maximum visual appeal. This is best served immediately, with chips or crusty bread.
Yield: