There are plenty of reasons to get excited about the arrival of autumn in Canada: sweater weather, the vibrant and diverse colour scheme of our surrounding environment, and of course, being able to indulge in a plethora of pumpkin-based cocktails.
The sophisticated, yet playful bar program at Vancouver's Straight and Marrow is headed by Chard Rivard, whose previous experience includes The Acorn, The Shameful Tiki Room, and Odd Society Spirits.
To bring in the season, Rivard has created this fun fall spin on a whisky sour that incorporates quintessential autumn ingredients like pumpkin seed and cranberry. If you can't make it to Straight and Marrow during the month of October to get the Autumn Shower Sour directly from the source, try making it at home.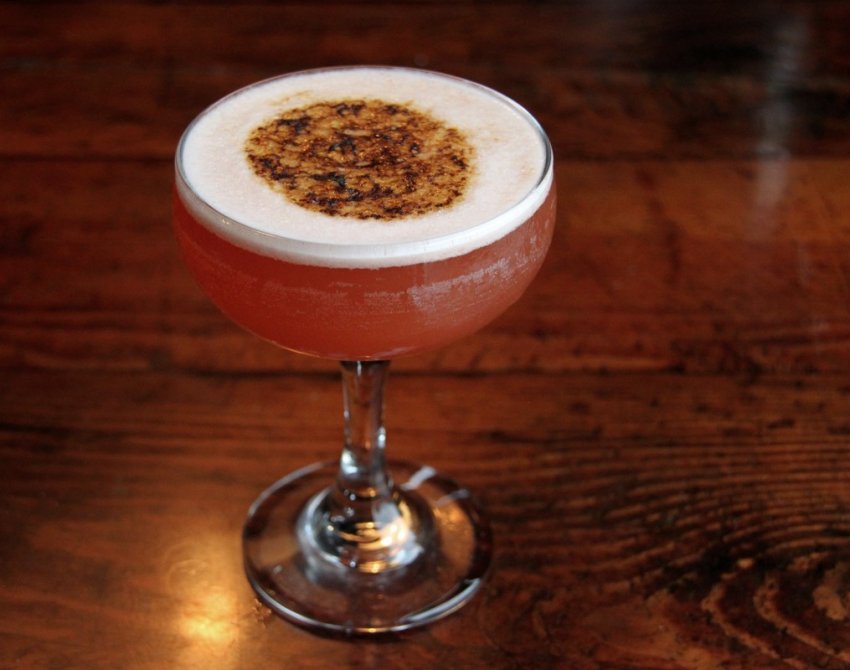 Autumn Shower Sour
60 mL five-spice-infused brandy
15 mL pumpkin seed orgeat
30 mL unsweetened cranberry juice
15 mL lemon juice
3 drops absinthe
cranberry sugar
1 charred egg white
Fill a cocktail shaker with all ingredients.
Shake, first without ice, then add ice and shake again. Strain into a coupe.
To take it to the next level, sprinkle sugar over the top of the egg white and toast with a brulee torch. Be careful not to heat the glass.
Five-spice brandy
2 tbsp Chinese five spice
1 750-ml bottle brandy
Combine five spice with brandy in a vessel. Let sit for 48 hours, then strain ingredients through a coffee filter, removing solids.
Pumpkin Seed Orgeat
Blend 1 part pumpkin seeds to a powder. With the blender on low, slowly add 2 parts water. Once the water is fully incorporated, slowly add 2 parts sugar. Strain through coffee filter or cheesecloth.