After years of providing Ontarians with creative confections and comforting baked goods, Hamilton's Cake and Loaf Bakery recently released its debut cookbook, offering the rest of Canada an opportunity to finally discover what makes the iconic Kirkendall neighbourhood bakery so special.
In addition to more than 85 recipes that range from morning baking classics to decadent desserts, the Cake and Loaf cookbook offers up an array of charming stories about the bakery's roots, stunning photography, and graphic illustrations that provide a step-by-step guide through recipe assemblage.
Cake and Loaf's Sweet Amy Bars were developed for the bakery's fifth anniversary to pay homage to a friend of co-owner Josie Rudderham named Amy, who came with the bakery name we know and love today.
"It is a lot like her: sweet, a little nutty, elegant, unique, and memorable. It has a nutty peanut butter base topped with rich dark chocolate fudge brownie, finished with a beautiful crunchy, sweet brown sugar meringue," says Cake and Loaf co-owner Nickey Miller. "It has quite the striking silhouette and is perfect for when you want to impress."
Peanut butter cookie base
2 cups smooth peanut butter, (use sweetened, not natural)
1 cup granulated sugar
1 cup chopped unsalted peanuts
2 large eggs, room temperature
Preheat the oven to 350°F. Grease a 9- × 13-inch cake pan with canola oil cooking spray and line with parchment paper.
In a medium bowl, mix together the peanut butter, sugar, peanuts, and eggs. Stir until the mixture is homogeneous and the eggs are fully incorporated. Press the dough evenly into the bottom of the prepared pan.
Brownie layer
2 cups granulated sugar
1 cup unsalted butter, melted and warm
1 cup cocoa powder, sifted
½ tsp salt
2 large eggs, room temperature
1 tbsp pure vanilla extract
½ cup buttermilk, room temperature
1 cup all-purpose flour, sifted
In a large bowl, whisk together the sugar, melted butter, cocoa powder, and salt until the mixture is smooth and there is no oily film left around the edges.
Whisk in the eggs and vanilla until the mixture is smooth. Whisk in the buttermilk until the mixture is smooth.
Stir in the flour and mix until the batter is smooth and no dry flour remains. Scoop the brownie batter on top of the cookie dough and, using an offset palette knife, spread it evenly over the base. Bake for 50 to 60 minutes, or until a toothpick inserted into the centre of the brownie comes out clean. Cool at room temperature for 2 hours.
Remove the brownies from the pan and cut into 12 bars. Use a warm chef's knife and wipe the blade between each cut by dipping it into hot water and drying it on a clean kitchen towel to get nice clean cuts.
Brown sugar meringue and assembly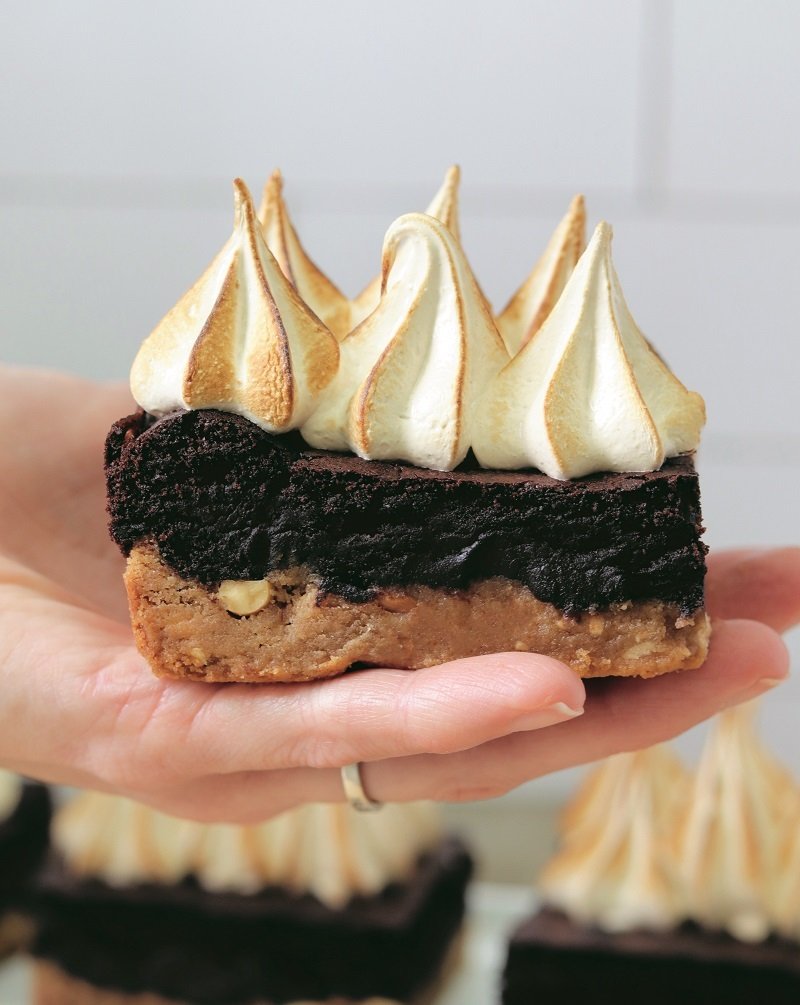 4 large egg whites, room temperature
2 cups dark brown sugar, lightly packed
¼ tsp lemon juice
In a medium bowl over a double boiler, whisk together the egg whites, brown sugar, and lemon juice until the mixture reaches 140°F on a candy thermometer or is warm to the touch and the sugar is dissolved.
Transfer the meringue mixture to the bowl of a stand mixer fitted with the whisk attachment and whisk on high speed for 7 to 10 minutes, or until glossy stiff peaks form.
Working quickly, spread the meringue over each brownie. Alternatively, you can fill a piping bag fitted with a large No. 824 star tip with meringue and pipe the meringue over each bar for a more refined look. Use a handheld kitchen torch to toast the surface of the meringue. Store in an airtight container at room temperature for up to 5 days.
Yield:

Makes twelve 3-inch square bars