Summer is officially here and that's cause for a a few pints of beer and a cheers with friends if you ask us.
Rob Swiderski, a certified cicerone and co-owner of Canada's premier beer hall chain, Craft Beer Market (which celebrates its sixth anniversary this month), sat down to chat over a refreshing, appropriately hoppy IPA. Here, the passionate business owner helps to dispel some common beer-drinking myths, talks about his road to becoming the beer equivalent of a sommelier and explains why any beer is a good beer to drink on a sunny patio.
How did you first really get into the craft beer world?
My partner P.J. approached me with an idea. He wanted to open up a restaurant in the old Mother Tucker's space. When I asked him what he wanted it to be about, he said he wanted a casual fine dining restaurant, and he wanted it to be around craft beer. At that point I said – what the hell is craft beer? I had no idea. We took a trip down to San Diego: him, designers of the restaurant and myself. We went around and looked at a bunch of different places, tried a ton of different beers and that was my first real exposure to craft beer. I fell in love with it. Part of my position in the company was to learn as much as I could about beer.
Do you remember the very first craft beer you tasted and that you fell in love with immediately?
I think the crossover beer for me was Big Rock Brewery's Traditional Ale. Then I went on drinking Erdinger Dunkel, which is a dark wheat beer, and from there, I just went crazy. As soon as I got the position with the company, I joined the Cowtown Yeast Wranglers – a local homebrew club. I met a lot of great, intelligent beer people there. Then I took a six-month course called BJCP – Beer Judge Certification Program and became a certified beer judge. So, I can judge any beer competition in the world right now. From there, I challenged what is called the cicerone designation.
As a certified cicerone, what are three basic tips you'd give to someone who wants to get the most of out of sampling a beer?
When we were growing up, many of us were told the same things...Pour the beer with as little head as possible – not true. Head is very important for the beer because it helps release the aroma compounds of the beer, and it also protects the integrity of the beer and other things from getting inside of it. Always drink a beer ice cold – not correct. There are beer styles that taste better such less chilled like North American-style lagers or Kolschs. There are certain beers, which as you let them warm up, the warmth actually helps to release flavour compounds, so you will get a different experience from when the beer was cooler. Lastly, [people can be encouraged] to chug your beer– No, don't! Always take your time and enjoy a nice microbrew sip by sip.
So, basically just forget everything you thought you knew about beer and be prepared to start all over again!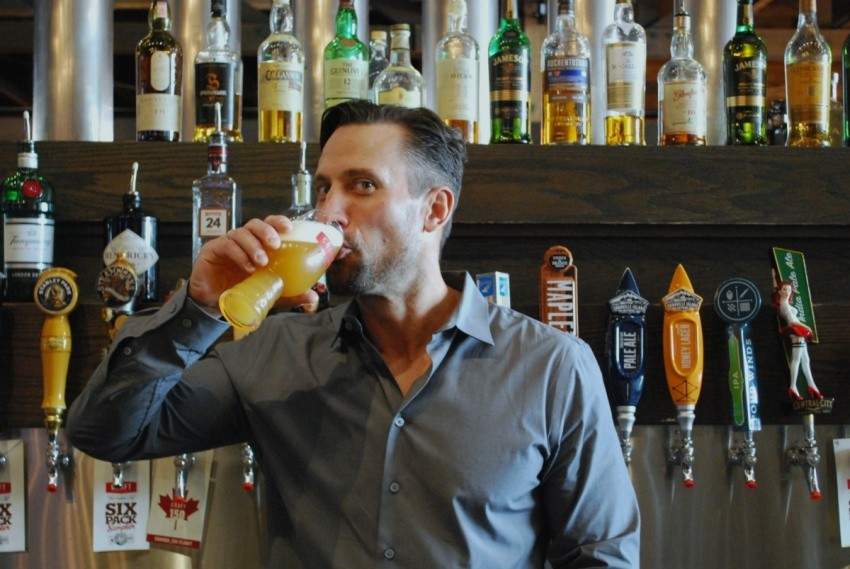 Which beers would you say are not ideal for patio drinking? Why?
You know, everyone has these stipulations that you are supposed to drink a stout or a porter in the wintertime, not in the summertime, and that you are supposed to drink light saisons in the summer, not in the winter… I think you can enjoy any type of beer year round, it doesn't matter. If you like that particular style then drink it whenever you want! With stout, you can have a dry Irish stout instead of a heavy Russian imperial stout.
So, the beers I wouldn't suggest drinking on the patio? Oh, man! I would drink every beer on the patio, to be honest with you. There are no beers that I wouldn't drink on the patio!
Let's talk beer cocktails. Is that an interesting bartending technique or doing a disservice to a beer?
I think right now, there is a ton of opportunity for beer cocktails. It helps people with that progression. If you are not a beer drinker or you are intimidated by beer, mixing beer with something else is basically like a gateway drug. You start off with a beer cocktail, and then you start to learn to appreciate the finer qualities the beer has on its own. Whatever it takes to get people to drink craft beer it is fine by me! Are you doing a disservice to the beer? Some people might say that, but let's not turn beer into wine. We don't want to be snobby about it here.
Restaurant menus are seasonal; do your beer menus at different Craft locations take a similar approach with microbrews?
Yes, absolutely! We have a core menu that changes once a year. So, we do a significant change every January that will be adding and deleting 30 or 40 beers, depending on what styles were working well. We like to give a big variety. In our smallest locations we have 120 tabs. So, it is nice to rotate those 30 or 40 on the bottom to get some new fresh ones in. On a quarterly basis, we do something called rotating handles where we will bring in between 15 and 20 different beers, and we will rotate them for three months. We are going to have a little bit more fruit beers and lighter style beers for the summertime and then slightly heavier beers in the wintertime.
What's the best Canadian micro-brewed beer you've tasted recently and why?
My favourite Canadian beer right now is the Tokyo Drift Number 3 from Last Best Brewing. It's a Vermont style IPA. It is super juicy and citrusy with a nice resiny on it. So, that would be my favourite beer right now.
Sour beers are crazy popular right now. What do you see as the next big trend in the beer world?
So, sours were very much popular three or four years ago down in the States. We are still catching up here in Canada. While we aren't quite 5 years behind, [we are a bit behind the curve] and sours are very popular, but some breweries are doing some really interesting things up here! A lot more breweries these days are starting to add lactose during the brewing process that adds a velvety, creamy, sweetness to it. They are called "Milkshake IPAs". It gives it a really cool mouth feel. I think, not that it's new in the brewing world, but a lot of coffee-infused beers are fairly popular right now. Vermont style IPAs like the one I just mentioned, are those really juicy IPAs. They almost taste like a pineapple orange juice combo with hops in it. And a lot of unfiltered beers are popular now, as well as saison-styles, which are still making a big push.
Finding a good gluten-free beer always seems to be a struggle. Have you discovered one (or more?) that are actually palatable?
There are three basic types of gluten-free beers. There is gluten reduced beer, which means that they meet requirements – 20 parts per million– of The Celiac Association standards. The other one is gluten extraction where they actually brew the beer with gluten and through a patented process they will actually extract all the gluten out of the beer. And the last one is a company called Glutenberg, which is 100 per cent gluten free. They do some really interesting styles, actually, but other than that I would say just stick with wine or spirits.
Learning a few things about the history of brewing in Canada
In anticipation of Canada's 150th birthday on July 1st, Craft Beer Market has been sharing some interesting and lesser known facts about the history of beer-making in Canada on their instagram feed.
Did you know that before Canada became an industrialized nation, beer could only be consumed in taverns, hotel drinking rooms, saloons & pubs? Now you do (and we do too!). During that time, many saloon owners would brew their own beer, which is what we know today as a brewpub.