Tanya Bates, better known by her Instagram handle @ExtraForAvocado, created this kofta mezze platter recipe to highlight turkey's versatility.
A mezze platter can be eaten as a light meal or a grazing-style appetizer by combining a selection of savoury snacks onto one tray. Mezze platters can vary in their "theme," but more often than not, they include dips like hummus, baba ganoush, olives and various meat products; these ingredients change based on what region you are enjoying it in.
This mezze board includes kofta, is a meatloaf-type dish that mixes ground meat with spices and onions. It can either be portioned onto skewers, or made into balls.
This is a perfect substitute for a classic charcuterie board when you are looking for something different.
Platter
1 cup hummus
1 cup plain thick greek yogurt of labneh
6 mini cucumbers, quartered length wise
1 bunch radish, washed thoroughly
10 small dolmas (stuffed grape leaves)
1/3 cup toasted pine nuts
2 limes, cut into small wedges
fresh mint, to garnish
Arrange everything on your platter.
Kofta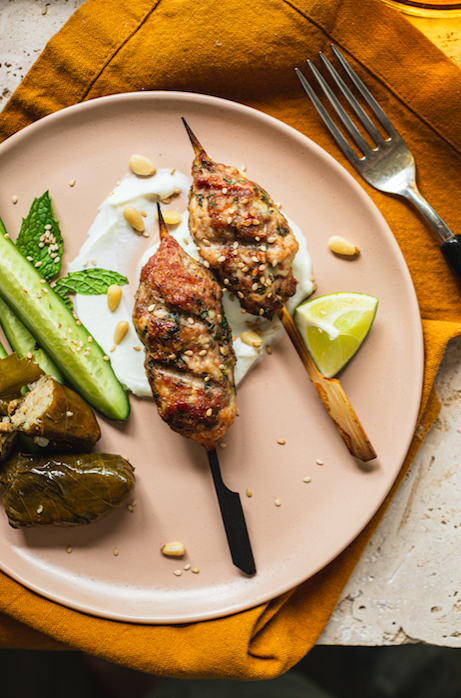 4 cloves garlic
1/3 cup fresh mint
1/3 cup fresh parsley
1 tbsp za'atar spice
2 lb fresh ground turkey
2 tbsp olive oil or olive oil cooking spray
Place the garlic, mint, parsley and za'atar in a food processor and process.
Add the ground turkey and process on low just until combined.
With scoops of about 1 ½ tbsp of the turkey mixture, form an oblong ball around the skewer. You'll need about 16-18 small skewers, soaked in water prior if using wood skewers.
Place the skewers on a tray that fits in the fridge to chill for 10 minutes prior to cooking.
Heat grill to medium-high. Once heated, remove skewers from the fridge and brush or spray with oil.
Place skewers on the grill and allow to cook for roughly 10-15 minutes until fully cooked and internal temperature reads 165 F.
While skewers are cooking, assemble platter, placing hummus and yogurt in separate bowls, and toasted pine nuts in a small serving dish to garnish. Place fresh veggies on platter with dolmas, lime wedges and forks and spoons for serving.
Once the kofta are finished cooking, place them on the platter and serve.
Yield:

Prep Time:

Cook Time: