This loose spin on a Caprese salad is not only an easy way to use up leftover turkey meat, it also makes for a filling lunch or a great side dish, especially if you're planning a little picnic in the park. If avocados aren't your thing or you can't find a ripe one–they can be fickle little things, can't they?–then just remove them from the salad equation. It won't affect the outcome.
Turkey pasta salad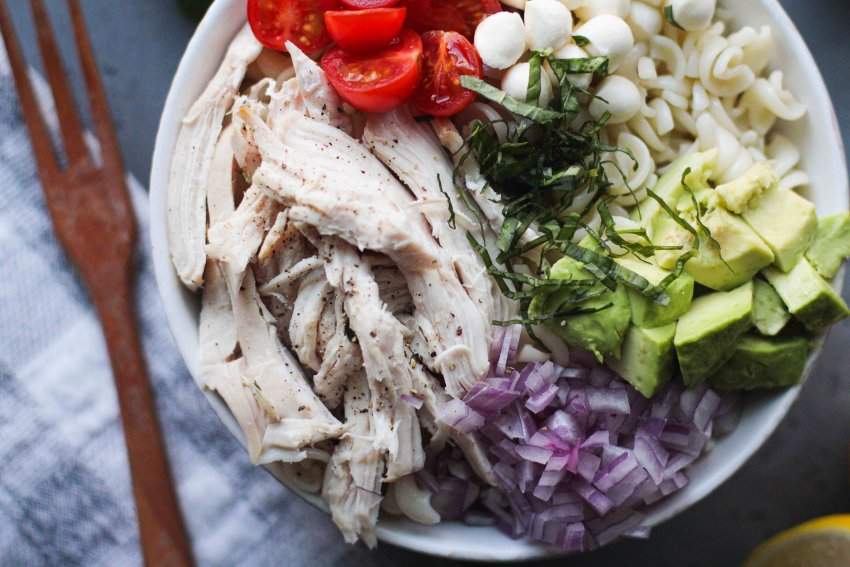 2 cups cooked turkey meat, chopped (or pulled, if braised)
6 cups cooked fusilli noodles
16 cherry tomatoes, halved
1/4 cup diced red onion
3 tbsp chopped fresh basil
1 avocado, halved and cubed
1 cup small bocconcini
2 tbsp balsamic vinegar
4 tbsp good quality olive oil
1/4 tsp freshly grated lemon zest
salt and pepper, to season to taste
Place turkey, fusilli, cherry tomatoes*, onions, basil, avocado and bocconcini in a large mixing bowl and mix gently to combine.
Next, place remaining ingredients in a small bowl, whisk to combine and season with salt if desired.
Pour dressing over salad mixture and toss gently until evenly coated.
Season to taste with salt and pepper and keep chilled until ready to serve.
*try using canned whole tomatoes (drained and sliced) instead of cherry tomatoes when out of season. The texture is different, of course, but the brightness will shine through.
Watch: Dan Clapson creates tasty dishes using bone-in turkey breasts and canned tomatoes
Yield:

Prep Time: