This Ukrainian-style of pancake uses fresh cheese, much like cottage cheese, for a pancake that's a little more dense, but creamy and delicious.
Pastry chef Kira Desmond, formerly of Mission Hill Winery, has a Midas touch with desserts and her spin on her family recipe for these Ukrainian pancakes shows this. The brown butter plums would be an awesome pairing with any kind of pancake or even a summer tart.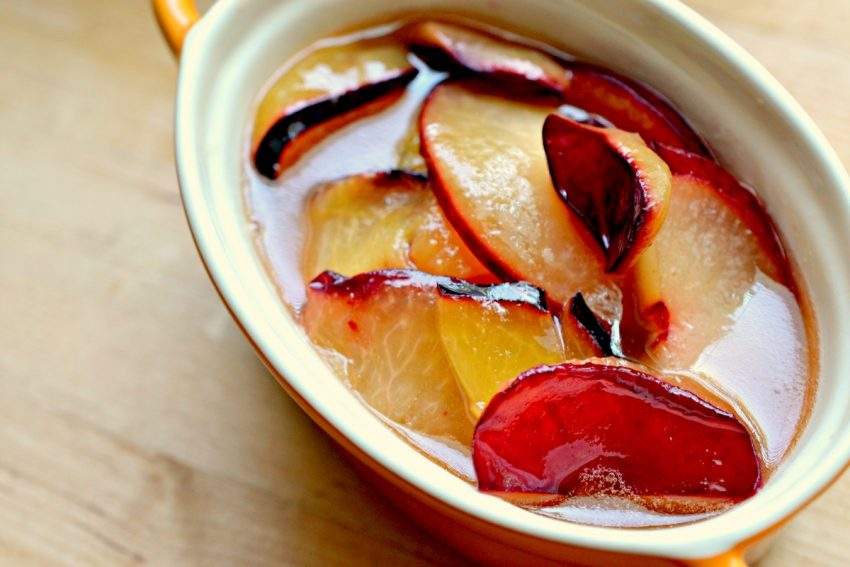 Ukrainian syrniki (sweet cheese pancakes)
2 cups dry cottage cheese
2 egg yolks
2 tbsp heavy cream or sour cream
1/2 tbsp lemon zest
2 tbsp granulated sugar
3 tbsp all-purpose flour
1/2 tsp salt
flour, for dredging
butter or oil, for frying
Press cottage cheese, through a sieve and then mix with egg yolks, cream, lemon zest, and sugar.
Stir in the flour and salt and work into a soft dough. (Note: the dough will be quite thick.)
Turn the dough onto a floured surface and form 1/2"-thick patties. Dredge the patties in more flour.
Heat the oil and butter over medium heat until hot. Fry the syrniki until golden brown on each side, about 3 to 4 minutes per side.
Brown butter plums
1/2 cup butter
1/4 cup light brown sugar
1/2 tsp salt
1/4 tsp freshly grated nutmeg
2 lbs red plums such as Santa Rosa, pitted and quartered
2 tsp sherry vinegar
2 tbsp honey
In a large skillet over medium heat, melt the butter and cook for 2-3 minutes, until it starts to brown lightly.
Mix in the brown sugar, salt, and nutmeg and cook until the sugar begins to bubble, about 1-2 minute.
Arrange the plums in the skillet (pack them in as the plums shrink as they cook).
Continue to cook on medium heat, turning the plums once. Cook until plums are soft and juices release. Finish plums with sherry vinegar and honey.
To Serve:
Garnish the Syrniki with warm plums and thick sour cream.