Calgary is a city that is full of fantastic brunches. It doesn't matter if you like that greasy-spoon sort of breakfast (Galaxie Diner), a Sunday morning buffet of epic proportions (Thomsons) or a hipster-chic plate of beautifully-executed eggs Benedict that is well worth waiting in line for (Monki), there is a spot in the city that you will love.
Consistently rated as one of the best places for breakfast or brunch in Calgary, the morning menu at Yellow Door Bistro inside of Hotel Arts is always worth waking up for, no matter how bad that hangover might be. The bistro has become famous for its signature chef pancakes, a creation that changes monthly. The restaurant's new brunch chef, Melissa Mountain whipped up her "pantakes" (as in, "take on classic pancakes") for us recently and shared the recipe with us.
Using date squares as inspiration, you end up with big, fluffly date-filled pancakes. Serve sweet date purée, granola clusers and brown butter caramel whipped cream. If this isn't a showstopping breakfast, then we are not sure what is.
Date square pancakes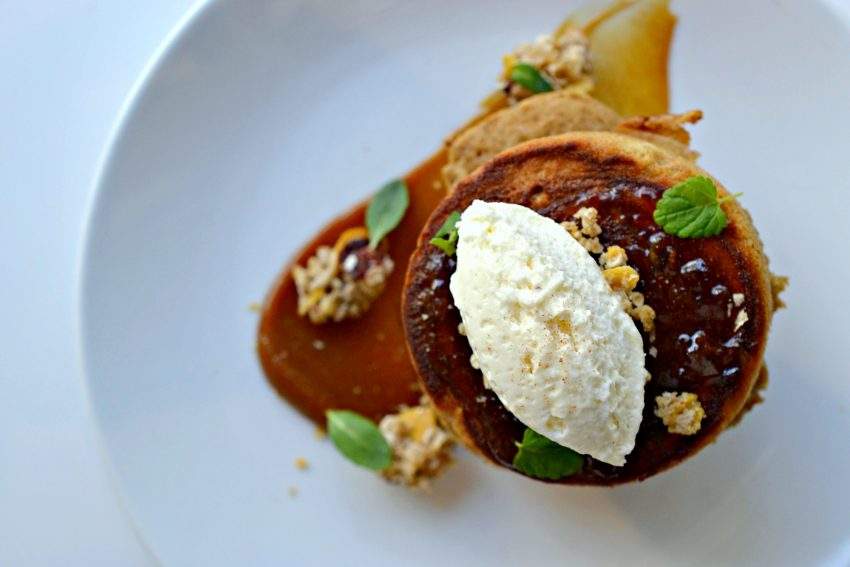 1 cup egg yolk
1 cup sugar
1/4 lb butter, browned
1/2 cup milk
1/2 cup date puree or chopped dates, plus more for garnish
1 lemon, juice and zest
4 cups all-purpose flour
2 tbsp baking powder
2 cups egg whites
1 tsp salt
granola, to garnish
whipped cream, to garnish
In a large bowl, mix the yolk and sugar. Then, mix in browned butter, milk, date purée and lemon juice and zest. Gently fold in flour and baking powder into purée.
In a separate bowl, whip egg whites until firm peaks form. Slowly fold whipped whites into the flour mix.
Oil and heat a griddle to 375 F, and cook pancakes in desired size until bubbles form on top. Flip pancakes over until golden brown on both sides.
Garnish pancakes with additional chopped dates or date purée, granola and whipped cream (we use a brown butter caramel cream).
Enjoy!
Yield:

Prep Time:

Cook Time: