As much as we love maple syrup and blueberries, sometimes, it's nice to have something a bit different to go with pancakes in the morning. Make these orange cardamom pancakes from Yellow Door Bistro, well-known for its brunch and pancake variations. The cardamom adds complexity and depth to the pancakes and works really well with the orange curd.
Orange curd
2 egg yolks
2 whole eggs
1/4 lb unsalted butter, diced
3/4 cup sugar
2 lemons, zested and juiced
1 large orange, zested and juiced
1 pinch salt
Combine all ingredients together in a pot over medium heat and bring to a boil, constantly stirring. Once the mixture is bubbling, remove from heat, pour though a fine strainer and cool in the fridge.
Pancake batter and assembly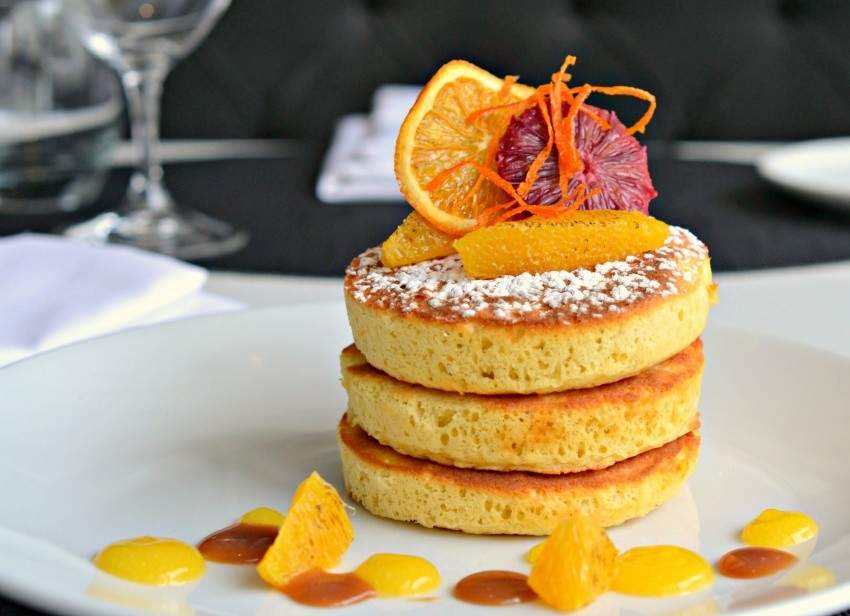 500 mL egg whites
250 mL egg yolks
1/4 lbs unsalted butter, melted
2 oranges, zested and juiced
250 mL sugar
250 mL milk
1 L all-purpose flour
2 tbsp baking powder
1/2 tsp salt
1 tbsp cardamom powder
orange curd
orange segments, to garnish
caramel sauce, to garnish
In a bowl, whisk egg whites until stiff. Reserve.
In a separate bowl, mix egg yolks, butter, orange zest and juice together.
In a third bowl, mix all dry ingredients.
Combine together egg yolk mixture, dry ingredients and milk, then gently fold in the whipped egg whites.
Heat a non-stick pan or griddle over medium to medium-high heat and add butter or oil to grease. Scoop your desired pancake size onto griddle. Flip when bubbles break through the top of the dough. (These pancakes rise substantially so if they are quite large and browning too quickly but not cooking through you may need to bake them in a 350F oven for several minutes.)
They are ready to eat when a tooth pick comes out dry when inserted into a pancake.
Serve pancakes topped with orange curd, orange segments and caramel or syrup. Enjoy!