Whether it's on the couch at home or in front of a firepit outside, few things are more comforting than hot chocolate in the wintertime. And if you're looking for a new variation, try this reverse hot chocolate from Yellow Door Bistro in Calgary. Made with homemade marshmallow, white chocolate ganache and just the right amount of Frangelico and amaretto, it's the perfect drink to curl up with in January.
Marshmallow
8 oz. water
11 ½ oz. light corn syrup
14 oz. white sugar
3/4 oz. gelatin powder
1/2 oz. vanilla extract or hazelnut paste
1 oz. icing sugar
1 oz. cornstarch
Heavily spray a tray or insert with non-stick spray.
In a small saucepan over medium high heat, combine half the water and half the corn syrup and all of the white sugar. Using a candy thermometer, cook until the temperature reaches 240F.
In a small metal bowl, combine remaining water and gelatin powder and allow to bloom. Once bloomed, stir to dissolve over a double boiler.
In the bowl of an electric mixer, add remaining corn syrup and vanilla extract or hazelnut paste. Once the syrup hits 240F, drizzle it into the mixer bowl and mix for 1 minute on medium speed. Then add the bloomed and dissolved gelatin mixture and continue to whisk until light and fluffy, about 8 to 10 minutes. Do not whisk until it's cool, or else you will not be able to manipulate the marshmallow.
Scrape the marshmallow mix into prepared tray. Spread to flatten and allow to cool for several hours.
In a small bowl, mix the icing sugar and cornstarch. Cut and dust the marshmallow with the sugar mix so it doesn't stick.
White chocolate ganache
250 g white chocolate
125 g heavy cream
In a medium saucepan over medium high heat, bring the cream up to a scald. Pour over chocolate. Allow to sit for 2 minutes then whisk the ganache together. Reserve.
Yellow Door reverse hot chocolate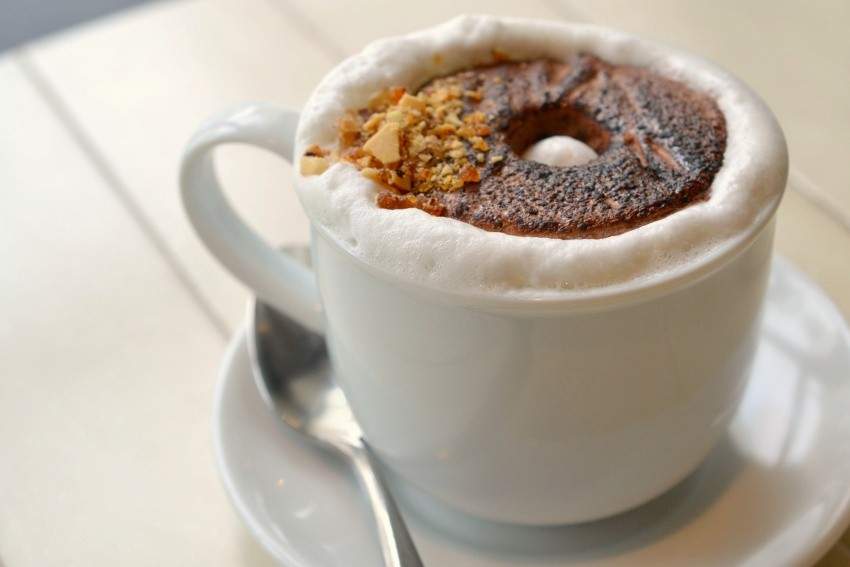 8 oz. milk
3/4 oz. Frangelico
3/4 oz. amaretto
1 oz. white chocolate ganache
marshmallow
toasted almonds
Combine milk and spirits in a small pot or steaming carafe and warm. Add the ganache and mix untill smooth. Pour into a mug, top with foam from the steamed milk and garnish with marshmallow and toasted almonds.