Although Ken Valvur doesn't know it, sake geeks dreaming of opening their own microbrewery leave with sake-envy after visiting his kura (sake brewery).
In 2011, the entrepreneur established The Ontario Spring Water Sake Company (OSWSC)—the first sake brewery in eastern North America—in the heart of Toronto's storied Distillery District.
With a nod to the area's historic boozy origins, Valvur's rendering of a traditional sake kura fits rather nicely here, juxtaposed amongst the rugged cobblestoned paths and the sleek, modern interiors that align this revitalized section of old Toronto.
Once referred to as the Sushi King of Canada — a title conferred upon him most fittingly for his successful creation of the sushi-to-go phenomenon across the country, Valvur has found a new muse from his deep appreciation of Japanese culture.
The brewery is smartly delineated from the storefront and tasting area by glass walls, which offer visitors a superb view of the sake-making. Much of the brewing equipment has been brought in from Japan — a luxury for any microbrewery just starting out. Quite simply, the kura is a brewer's dream space, there's no jerry-rigging Canadian Tire duct-tape appropriation here. It feels as though no expense was spared and no detail was an afterthought.
For the production setup, Valvur sought help from Miyasaka Shuzo Co., an esteemed brewery in Nagano best known for its sake line, Masumi. Valvur tried his hand at sake importing starting around 2006, bringing in Masumi to Ontario. From that relationship, Masumi assisted Valvur in finding a toji (a master sake brewer) to help with brewing. Yoshiko Takahashi, one of approximately 30 certified female toji in Japan, was chosen to spearhead the OSWSC project, and stayed over a year to transition assistant, Greg Newton, towards helming the duties of head brewer.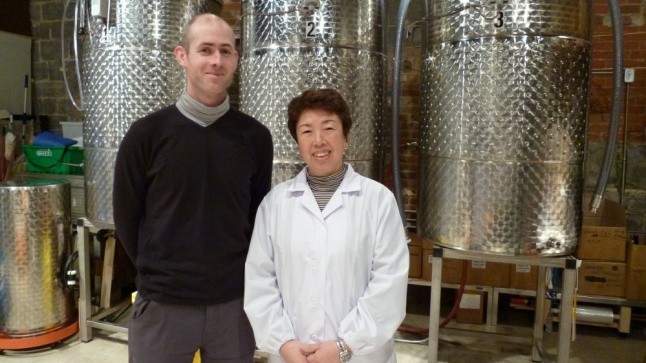 When asked what the key factor to making good sake is, Valvur confides, "Great teamwork makes great sake!"
His sake line, Izumi, which means "spring water", is the end result of that collaborative effort. The brewery offers unpasteurized sake, or as it's called in Japan, namazake, along with a variety of bottle-pasteurized, namachozo sakes. Valvur's sakes can also be found at many Liquor Board of Ontario (LCBO) stores and various restaurants in Toronto.
The presence of a kura in Toronto has increased awareness of sake in Eastern Canada and events such as Toronto's annual Kampai Toronto — the largest sake tasting in the country — is helping the beverage gain more ardent followers. Valvur, founder and a key supporter of the Sake Institute of Ontario, which organizes Kampai Toronto, sees the value in what burgeoning sake microbreweries can provide to local consumers, especially in Canada.
"I think local sake production is only just getting started both here and in the U.S. In the U.S., however, you can buy unpasteurized namazake from Japan while here, the only way to get namazake is via a local microbrewery supplier due to lack of refrigerated warehouses at LCBO and SAQ (Societe des alcools du Quebec), for example. Unpasteurized sake will continue to expand together with the widening awareness of the quality and diversity of the sake category overall," he said.
As with Artisan Sake Maker's Masa Shiroki in B.C., Valvur has expressed frustration with government liquor regulations in Ontario. Will there be a craft sake explosion in Canada? Valvur doesn't think so.
"Rapid expansion of sake production in Canada will probably not occur until government taxation and markup policies are updated to put craft sake production on par with craft beer and wine production," he said.
In the meantime, Valvur tirelessly continues to produce some interesting batches, including rare one-offs like shiboritate (freshly pressed sake) and shizuku (sake that is pressed in bags using only gravity). Shizuku is made very rarely. This low yield-sake usually has a soft, exquisite mouth-feel. OSWSC is the only brewery in Canada making unique batches like this, so if you happen to be in Toronto when a special brew is being released, I would recommend you make a beeline to the kura.
More up-and-coming products in the works include a sparkling sake, along with a "Nikka Dry Blend" sake that is a mix of imported Japanese and OSWSC sakes. "Nikka" is a combination of "Japan and Canada", and it's undeniable Valvur and his sake kura embody the true spirit of these two countries.