There are only five oceans in the world, covering two-thirds of our planet, and three of them surround Canada. The oceans impact the weather that we rely on to be able to grow and raise everything that we eat around the world.
Though passionate about cooking since he was a dishwasher at 14 years old, it wasn't until about 15 years ago that former Four Seasons chef Ned Bell really started to think about the importance of the oceans' health and where seafood comes from. The relatively new conversation at the time eventually became his mission to share what he's learned. Now, with his new cookbook, Lure: Sustainable Seafood Recipes from the West Coast, the Ocean Wise executive chef is spreading the word on sustainable seafood, how home cooks can adopt better practices and include more of the healthy protein in their diets.
A celebration of sustainable seafood from California to Alaska, the book focuses on Pacific Ocean and 40 of its different seafood species. The 80 recipes are designed to inspire home cooks to cook more sustainable seafood and to be able to cook with new, interesting and unique ingredients. In addition to the typical shrimp and salmon, the book features ingredients like octopus, geoduck and sea urchins, what Bell calls "unsung heroes" that people might not be quite as familiar with.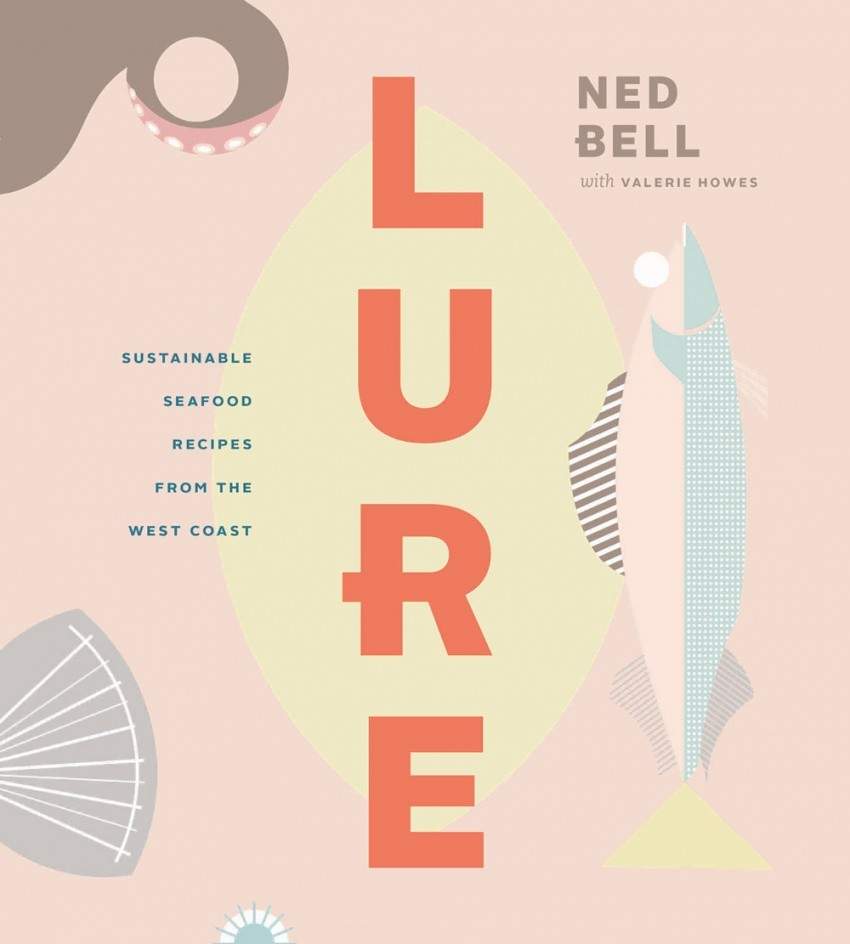 What inspired you to write Lure?
I rode my bike across Canada in a summer of 2014 to launch a foundation called Chefs for Oceans. The book was really an extension of that. I wanted to continue my work in engaging Canadians, and what a better way to do that than through their bellies? A cookbook made a ton of sense. I think of Lure as of an edible business card and hopefully something that people will flip through at home and be inspired to look for sustainable seafood whether it's in restaurants, grocery stores or cooking for their family on a Tuesday night.
How did you come to collaborate with Val Howes on the book?
Val Howes is a very well-respected journalist in Toronto and in Canada. She supported my ride across Canada with numerous articles. She's been immersed in the eastern seafood conversation for many years. We just had a peer to peer relationship, a friendly relationship and we had collaborated in the past. I am not a writer, I am a chef. I wanted to have my words sound well thought out and well put together. We would spend two to three hours a day, usually from 4:30 a.m. to 6:30 a.m., on the phone. I would tell her my thoughts, my stories and my hopes, and she would craft those into the stories.
Why did you choose to publish a cookbook now?
I wanted to do a book with purpose. I didn't want to do a book for my ego. So many celebrity chefs, they put out books that are really a sort of ego-driven projects. I was really interested in having a book that stood for something – that meant something. Sustainable seafood has become my focus. Healthy lakes, rivers and oceans are my focus and my life, let alone my career. The timing was right for me to put those thoughts and words down on paper.
What is the biggest challenge of writing and publishing a cookbook?
It's been a two-year project. It's incredibly time-consuming. It's obviously very rewarding when you are on this side of the project. You are almost at the finish line. Although I feel like the real work begins, and we have to start selling the book. Beyond that, the collaboration of the designer and the editor and the recipe fixer and the food stylist, photographer… It's been an incredible journey. Not only that, my partners in the project--they have a fantastic credit union here locally in Vancouver called Van City, which is a community focused bank--have supported me with some resources to be able to create the book. The book is co-published book, so I am invested personally in the project. It's not a traditional publishing model where the publishing house hires the writer and they get paid a fee. This project is a not-for-profit project. So, all the money raised goes back into our foundation. It's been an extraordinary experience. I can't wait to do book number two. We're already starting to talk about themes.
What are some of your tips for chefs who are currently writing or want to write their own cookbooks?
Don't give up! Dive deeper because once the book is in print you can't go and change anything. Do all the work that you can up front and make sure you have a very clearly thought-out concept for the book. If I was only doing a chef Ned Bell book, it just wouldn't have enough context and it wouldn't be valuable for the reader. This book is not about me, this book is about healthy and sustainable seafood and I just happen to make it delicious. That's really the "magic sauce" so to speak – make sure the book has purpose.