Sticky rice may not be a traditional holiday food in North America, but this boldly-flavoured and filling side dish is a staple winter food in Chinese culture. This recipe calls for only one kind of Chinese sausage, but if you like, you can use a combination of regular and Chinese preserved liver sausage, as well as Chinese preserved pork.
Note: The recipe requires glutinous rice, not Japanese sushi rice, although they are both referred to as sticky rice.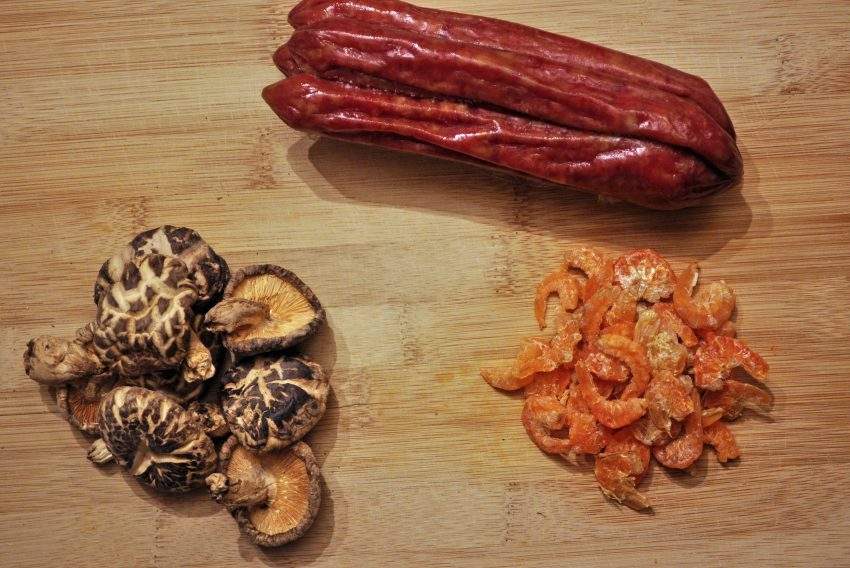 3 cups glutinous rice
8 to 10 dried shiitake mushrooms, stems removed
1/3 cup dried shrimp
4 to 5 Chinese sausage (lap cheong)
1/4 cup soy sauce
white pepper
1 tsp sesame oil
2 tbsp oyster sauce
1 tsp granulated sugar
2 1/2 cups low sodium chicken broth
1 tbsp vegetable oil or peanut oil
2 stalks green onions, sliced
2 eggs, optional
1 handful fresh cilantro, chopped
In a fine mesh sieve, rinse rice under cold water several times until water runs clear. Transfer to a large bowl and soak in cold water for 6 hours to overnight. After it has soaked, drain and reserve.
Soak mushrooms and shrimp separately until softened, about 2 hours. Drain mushroom and cut into medium dice or thin slices. Drain and coarsely chop shrimp.
In a medium pot or wok over high heat, bring water to a boil and steam sausage for 5 to 10 mins, or until softened and cooked through. Rest until cool enough to handle, and cut into medium dice.
In a measuring cup, combine soy sauce, pepper, sesame oil, oyster sauce and sugar with 1 cup of chicken broth. Reserve.
In a large non-stick pan over medium-high heat, add vegetable oil, sausage, mushroom and shrimp, and sauté until fragrant, about 5 mins. Reduce heat to medium-low, add in rice and stir to coat the grains. Pour in the mixture of chicken broth and condiments, and stir until liquid is absorbed. Add another 1/2 cup of broth, and continue to stir until liquid is absorbed. Check for doneness: the rice should be cooked (not crunchy), but still chewy and not mushy. Keep adding broth and stirring until rice is cooked through, adding 1/4 cup of broth at a time until rice is cooked.
Add in green onions and stir to distribute evenly.
If using egg strips to garnish, prepare by beating eggs with a tsp of water in a small bowl. Heat a wide non-stick skillet over medium heat, and pour in egg mixture, swirling the pan to get an even, thin layer. Once it's cooked through, let cool before cutting into 1/4" wide strips.
Serve rice with egg strips and cilantro on top.
Yield:

Prep Time: