The finale of Schitt's Creek could not come at a more opportune time—just as the world is in need of its uplifting goodness—but to be completely honest, I'm pining for a surprise reboot or additional season. After six years, I'm not quite ready to say goodbye to this lovable band of misfits this Tuesday night.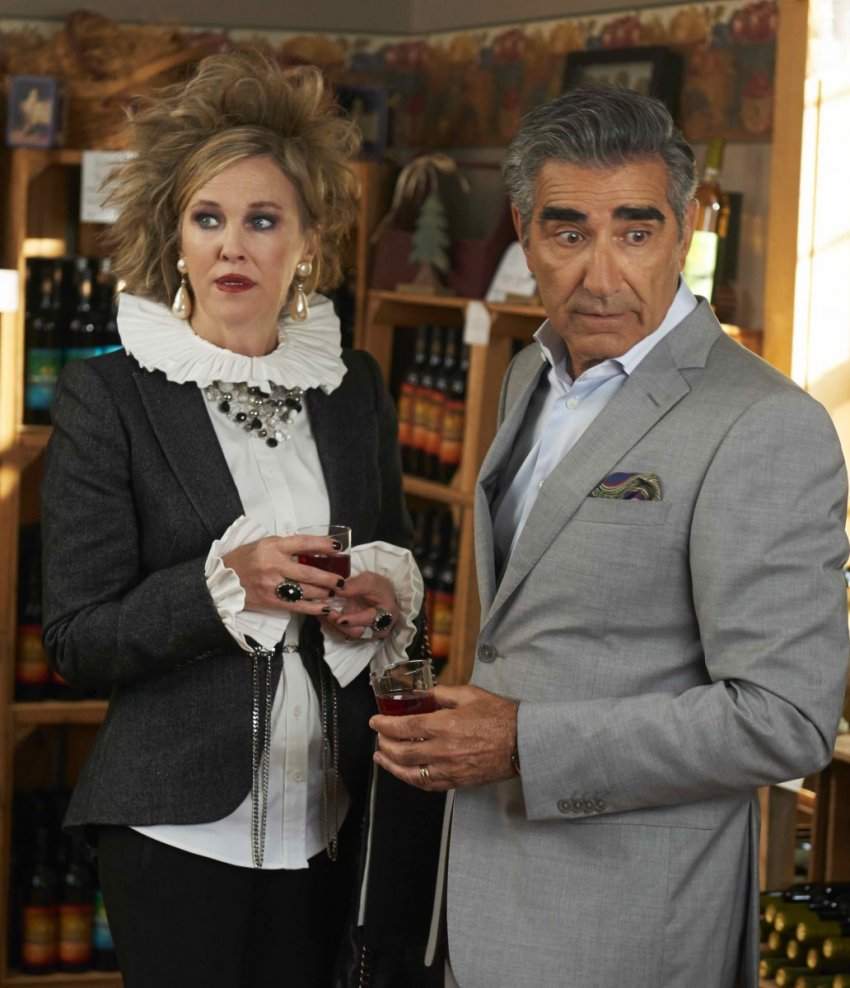 But, if we must say goodbye, then I would like to pay homage to each of these characters the best way I know how: by embodying each of them in one of my favourite beverages, delicious, pink wine. This is the Rose family after all, so it only seems fitting to find a mix of Canadian rosé wines that match each of their personalities, and the personalities of their supporting cast, perfectly.
Moira Rose - NV Henry of Pelham Cuvée Catharine Brut Rosé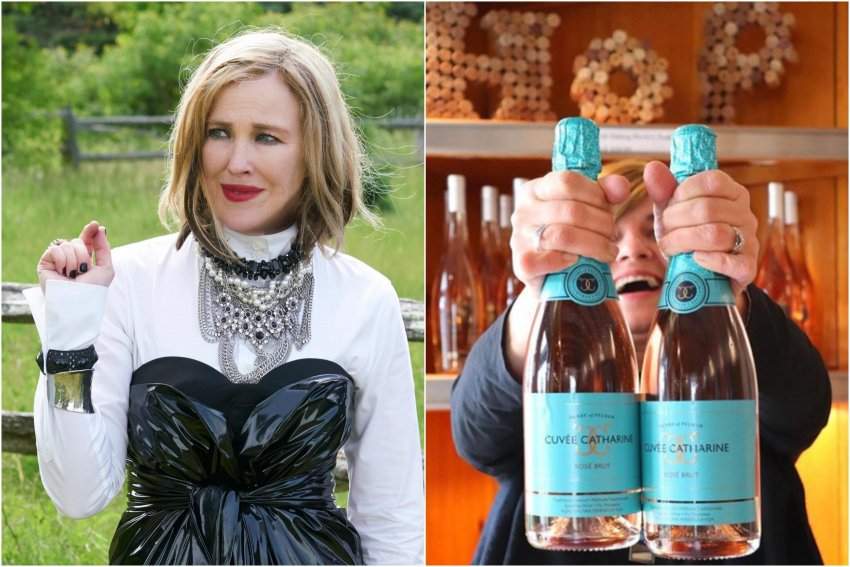 Over the top with a remarkable "way" with words, Moira Rose is eccentric, self-absorbed, dramatic and perhaps the most glamorous character to ever debut on the CBC. Although choosing a wine called Cuvée Catharine may feel a bit predictable, what with the great Catherine O'Hara playing Moira Rose, this bottle of traditional method pink bubbles is decadent, precise and a little extra, just like Mrs. Rose, with toasty, buttery notes of raspberry jam on fresh brioche. And named after the late widow of Henry of Pelham, the wine is a fitting tribute to another great matriarch.
Johnny Rose - Benjamin Bridge Cabernet Franc Rosé 2018, Gaspereau Valley, N.S.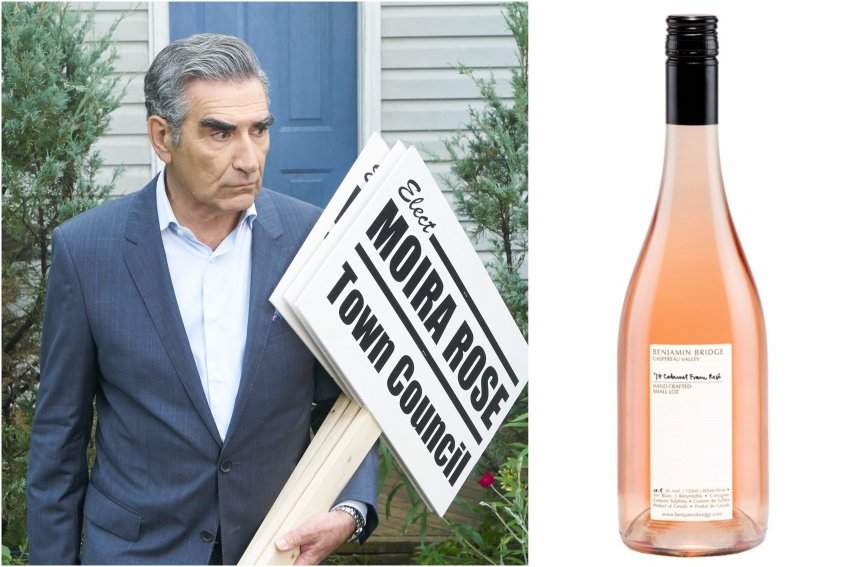 Johnny Rose is well groomed, kind, generous with his praise, resilient, measured with his emotions; in short, he's a class act and the rock that keeps his family together. And much like Mr. Rose, the cabernet franc vines that grow in Gaspereau Valley are resilient and have adapted to their cool, maritime climate. The particular vineyard site for this bottle of wine is often reserved for red wine but the grapes don't ripen fully every year so Benjamin Bridge needs to react and change their plans and make the best of the beautiful fruit they are given; make rosé. And what a fortunate shortcoming, as the result is a wine that is refined with subtle, red berry nuances, steely minerality and bracing acidity.
Alexis Rose - Rosehall Run Pixie Sparkling Rosé N/V, Prince Edward County, ON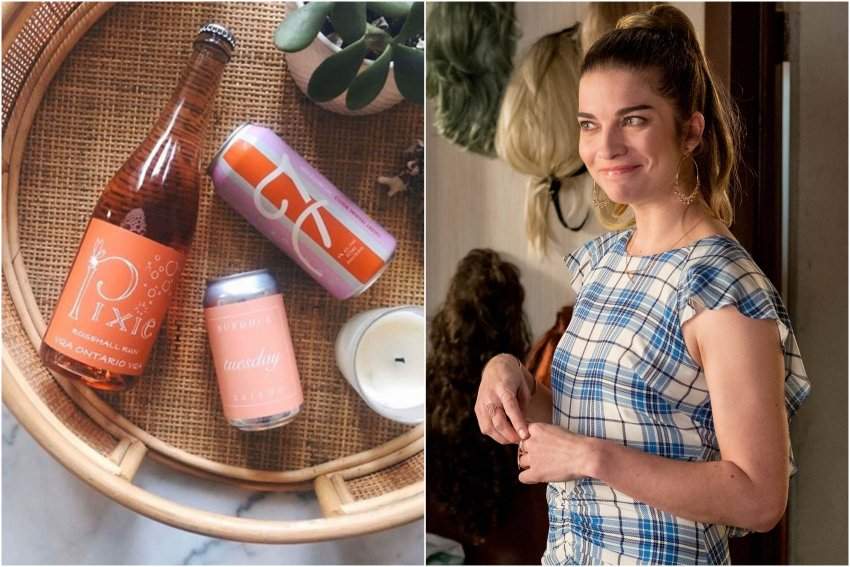 What David lacks in confidence, Alexis happily makes up for it in multiples. When Alexis first walked into Schitt's Creek, she was beautiful and bubbly with an aloof sweetness, but it was hard to really dig any deeper than that. Over the years, we have watched her emerge into a warm, caring, independent woman whose beauty has only been magnified with her maturity. Pixie is a playful, bubbly offering from Rosehall Run Vineyards, known for producing outstanding, quite serious, sparkling wine with subtle sweet fruit notes of fresh apricot nectar and juicy mandarin orange.
David Rose - Okanagan Crush Pad Rosé Free Form 2018, Okanagan, B.C.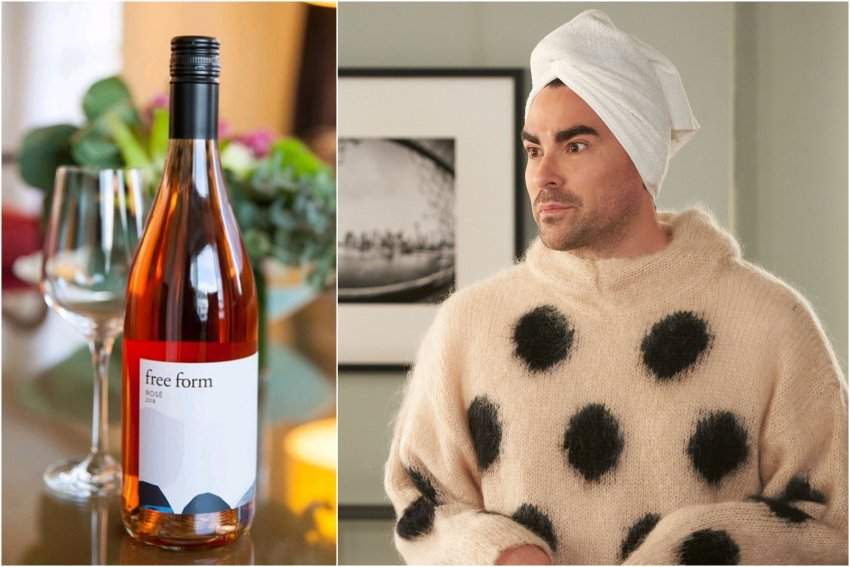 When Schitt's Creek first started, did anyone expect David to be the one to stay in this little town, settle down and start a life? Over the past six years, we have watched this character transform from a spoiled, insecure, reactive individual into a warm, open, soon-to-be family man. While David shares many of his mother's personality traits, his father's goodness has rubbed off. As a nice contrast to the elegant cabernet franc produced by Benjamin Bridge, the same varietal is used by Free Form at the Okanagan Crush Pad to produce an exuberant, lively rosé. Using no intervention and allowing "each wine to find its own path", this winemaker has created a louder expression of rosé, with right red fruit and just a hint of salted caramel on the finish.
Patrick - Sandhill Wines Rosé 2019, Okanagan Valley, B.C.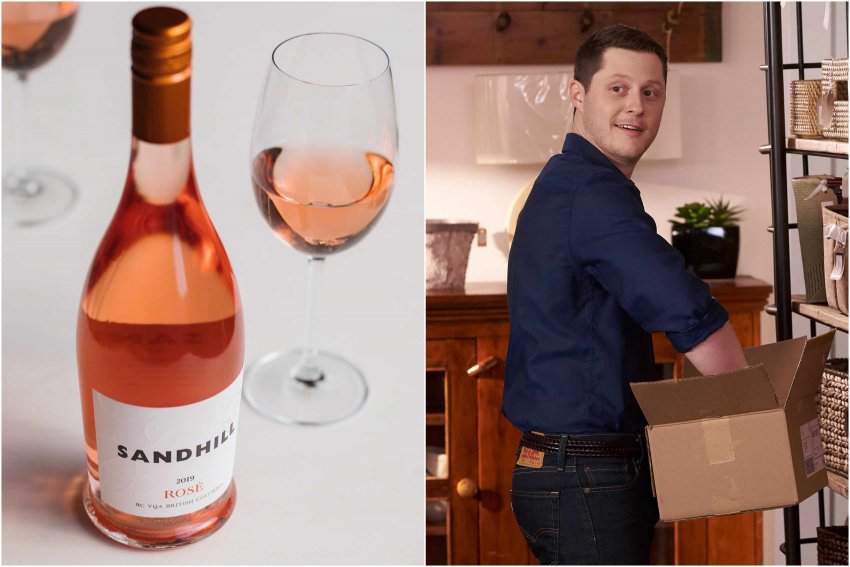 My favourite character on the show, one so full of goodness with a warm familiarity, is Patrick. He is strong; swoon-worthy (may I remind you all again of his rendition of "Simply The Best") and the calm, steady hand in this show full of quirky madness. After sipping on the Sandhill rosé, I found myself wrapped up in that same warm, familiarity. This wine is made in the classic style of rosé from Provence with refreshing, thirst quenching acidity, soft strawberry notes and playful hints of pink grapefruit.
Stevie Bud - Nichol 2018 Pinot Gris, Naramata, B.C.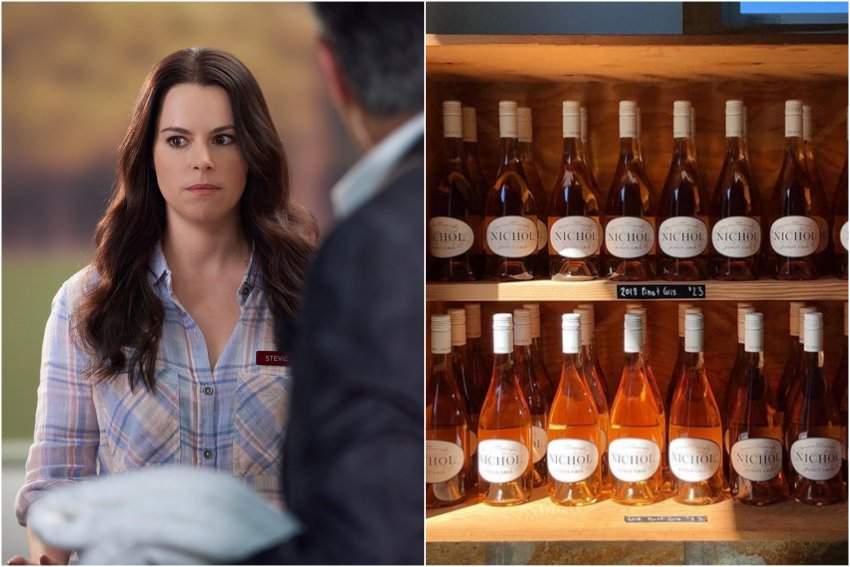 Unexpected and a bit of a mystery, pinot gris is often underrated. But as skin contact white wines become more and more popular, we are seeing more quality examples on our market. While technically a white wine, a little skin contact has given this wine a subtle blush. Just like Stevie, this wine from Nichol Vineyard is not incredibly forthcoming or extroverted but there are moments where it reveals itself and its true colours, and they are quite beautiful. Notes of ginger, lemon zest and tart apple skin lend the wine a bracing acidity but there is some weight on the mid palate, giving this wine an unexpected depth and lingering finish.
Roland and Jocelyn Schitt - 2019 Summerhill Pyramid Winery Organic Syrah Malbec Rose, Okanagan Valley, BC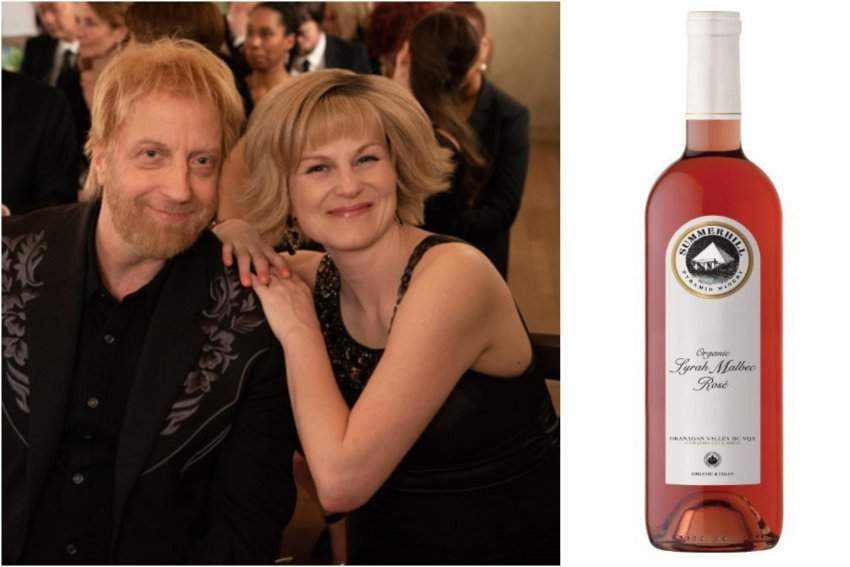 The Schitts, Jocelyn and Roland, perfectly embody the image of small town living and to be honest, I had a hard time likening Roland to any rosé I've ever tasted and enjoyed. That being said, Jocelyn's organic portrayal of a busy housewife and community leader are akin to Summerhill's ability to effortlessly articulate the quality and flavours of the Okanagan. Its syrah-malbec rosé is vibrant and cheery with notes of cherry pie filling and wild strawberry on the palate that peer through a thin veil of white pepper and fresh sage.
Ted - Bella Wines Buddha's Blend 2019 Sparkling Rosé, Okanagan Valley, B.C.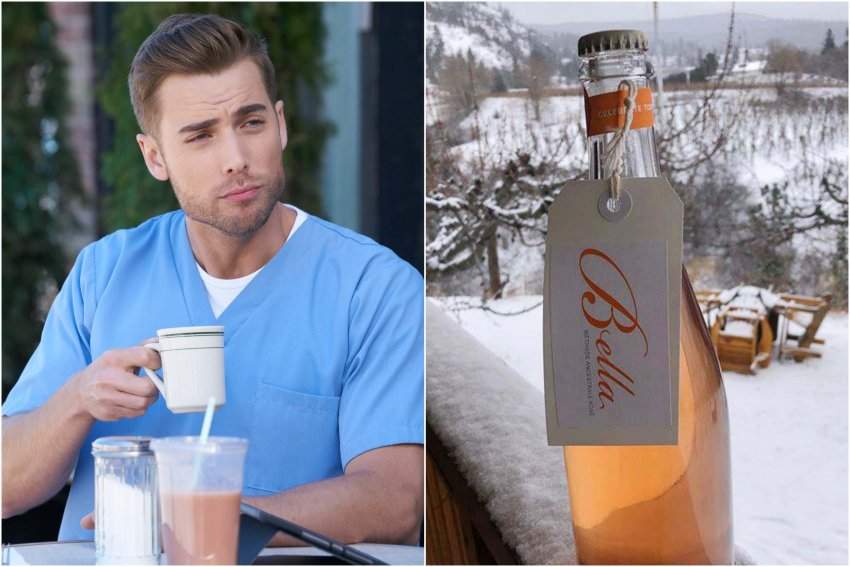 Ted is the town's squeaky-clean, sweet, naïve veterinarian (and apparently the only medical professional in all of Schitt's Creek) with a penchant for bad dad jokes. Over time, his naivety develops into a playful, patient kindness best measured against Alexis' aloof personality. He's noticeably different from everyone else in Schitt's Creek but that isn't a bad thing. And like Ted, the Buddha Blend from Bella wines, known for producing some of the Okanagan's finest fizz from hand picked, single varietals, is a blend of chardonnay and gamay grapes. Produced in the traditional method, the final product, a bottle of playful pink bubbles, is just de-vine!
Ronnie - Blue Grouse Estate Winery 2019 Quill Rose, Vancouver Island, B.C.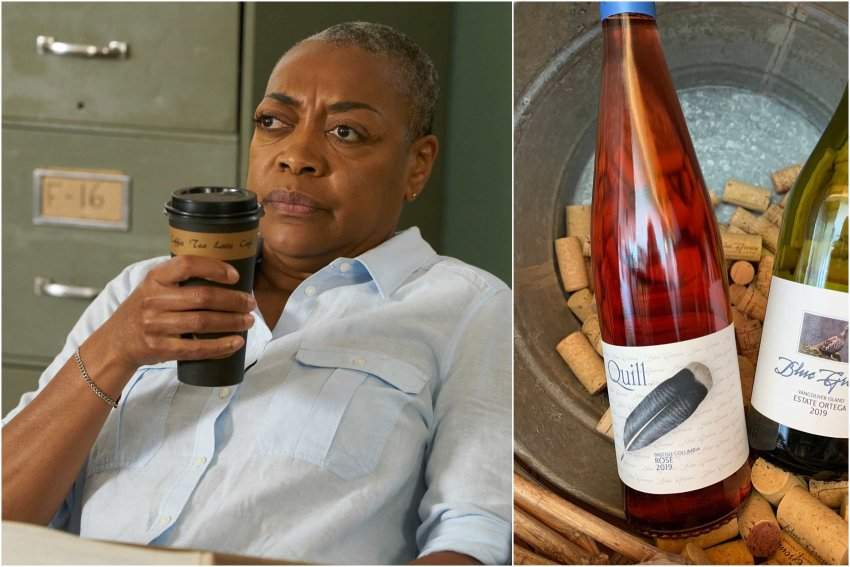 Ronnie is honest and abrasive with a raw sense of humour that often comes at the expense of her fellow Schitt's Creek residents. But despite her hard exterior, she manages to show up for everyone. And in a sweet moment from episode 13 of the final season, Ronnie breaks down and allows her edges to soften. Similar to Ronnie, The Quill Rosé from Blue Grouse is vibrant pink and leaves you anticipating crunchy notes of cranberry and wild raspberry but, after spending some time with this glass of wine, it opens up to sweet notes of orange blossom and tangerine.
Twyla - Huff Estates 2018 All Day Rose, Prince Edward County, ON
Perhaps the most mysterious character on the show, the resounding theme for Twyla in each episode is her cheerful disposition. For years, she has shared her vague stories of dysfunction while listening to morsels of advice by Moira and Alexis, overlooked many a bill from the Rose family and provided a supportive shoulder when in need. And like the ray of sunshine that she is, the All Day Rosé from Huff Estates is a ray of sunshine in a glass. Juicy watermelon and ripe strawberry leap from the glass, making this wine almost too drinkable.
Watch: Schitt's Creek season six finale trailer