There are few television shows I have come to love in my adult life as much as Schitt's Creek. Dysfunctional, occasionally out to lunch, but always loveable, there is just something about the Rose family (Johnny, Moira, David and Alexis) and the ensemble of characters around them that resonates so deeply with so many around the globe.
My unabashed love of the series since day one has shown no bounds. When season two premiered in January 2016, I planned a premiere viewing party at a local bar in Calgary. One of my friends even dressed up as Moira Rose. Now that it's 2020, I suspect that Moira may be the Halloween costume of choice this year for men and women alike if things are back to normal.
Over the years, Schitt's Creek truly skyrocketed in popularity. Produced by father-son duo, Eugene and Dan Levy, it has become the most successful Canadian-made comedy series in years.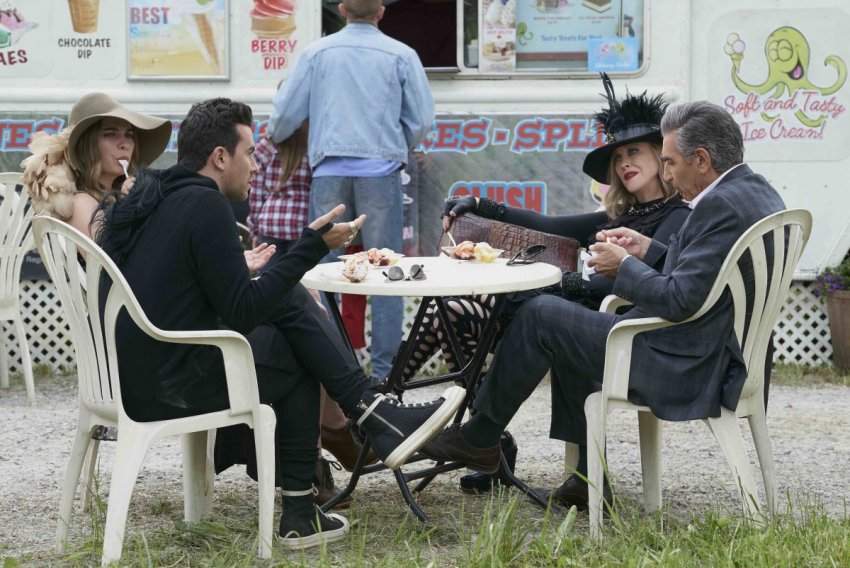 As the show approaches its finale on Tuesday, April 7 on CBC, I've been doing my due diligence as a Schitt's Creek fan boy and rewatching all six seasons in their entirety. There are so, so many moments from this show that I'm sure many of us have come to love and quote (with reaction GIFs) and will remember for years to come.
Here are my favourite food and drink scenes from this truly incredible Canadian comedy series.
Any time someone opens a menu at Cafe Tropical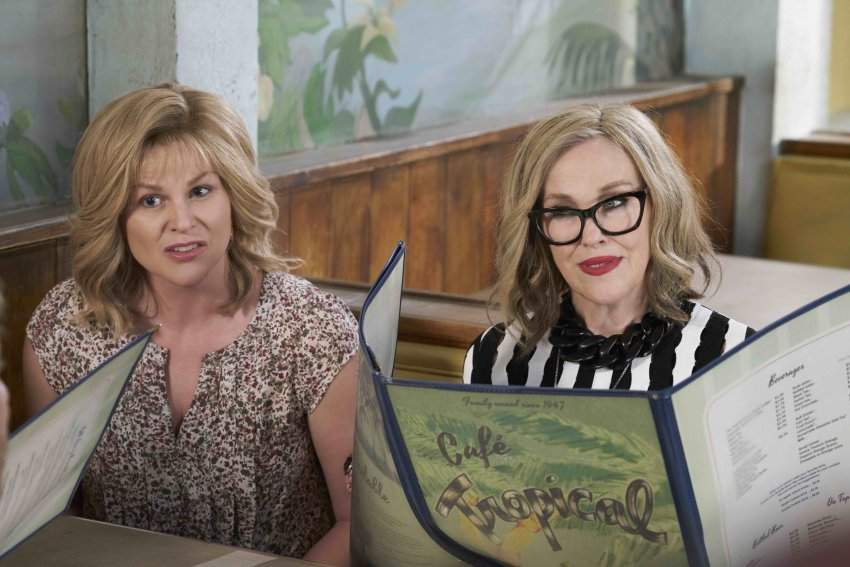 The gigantic, plastic-covered menus at the Schitt's Creek cafe, Cafe Tropical, are reminiscent of what you'd encounter at any old school diner or family restaurant. Trying to unfold a menu like this without getting into another person's space is all too relatable and the situation happens regularly throughout the entire series. It always makes me smile.
Dinner at the Schitts (season 1, episode 2)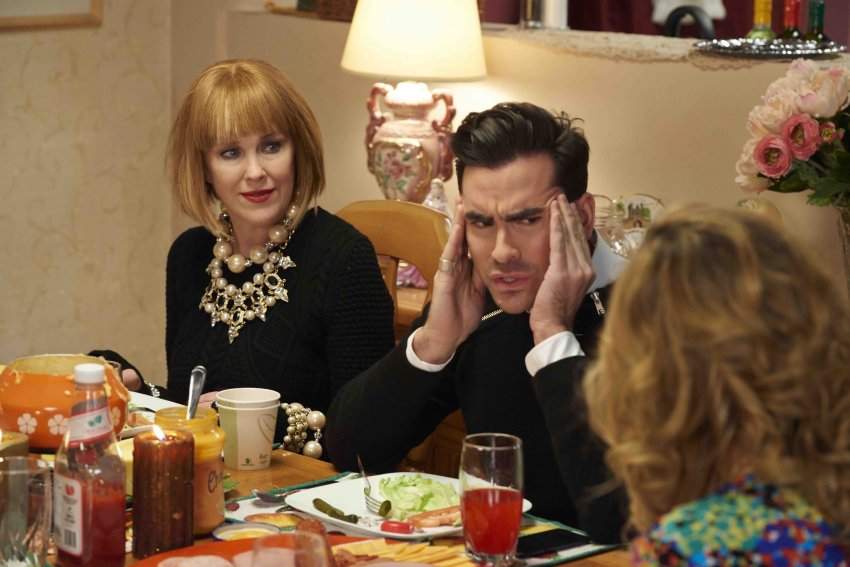 Shortly after moving to town, the Roses are asked to come to the Schitt's house for dinner where, after dinner, Roland will sign a contract allowing Johnny Rose to try to sell the town. Alexis wiggles her way out of the commitment, but David is forced to tag along to a dinner that sees Jocelyn being bubbly as usual and Roland showing off his table manners, which are, perhaps, best exemplified by sticking his hand in a fondue pot for a solid minute to fish out a piece of bread.
Moira's fruit wine commercial (season 1, episode 6)
Nothing short of iconic, Moira Rose's drunk performance in a commercial for Herb Ertlinger Wines is my personal favourite moment in the entirety of the six seasons of Schitt's Creek.
Nervous to be on-camera after many years, Catherine O'Hara's character drinks copious amounts of fruit wine in her trailer before coming out to film. I will never not laugh thinking about this scene.
Ronnie and Roland take David turkey hunting (season 1, episode 7)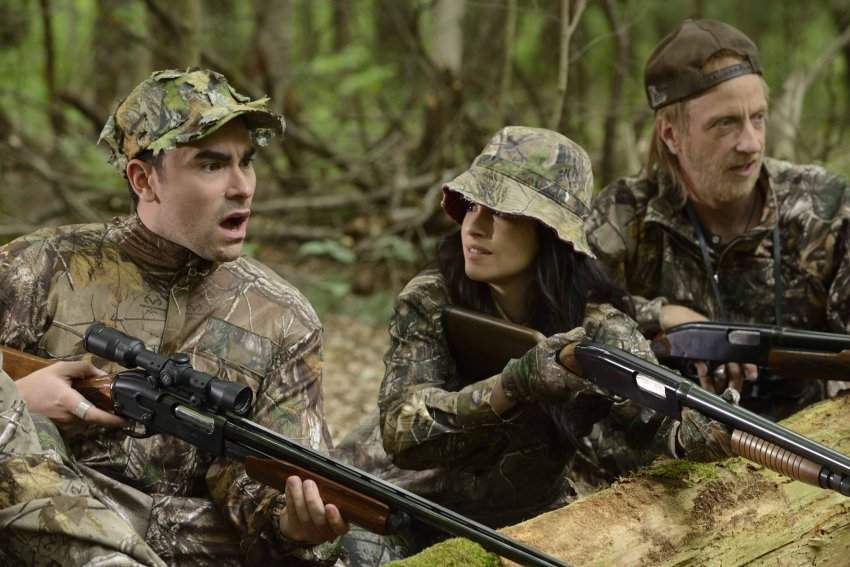 Let's chalk this scene up to "dinner prep". Roland and Ronnie take David and Stevie on his first hunting adventure where he successfully shoots a turkey. David appears mildly horrified at his results while the others look quite impressed.
Moira teaches David to make enchiladas (season 2, episode 2)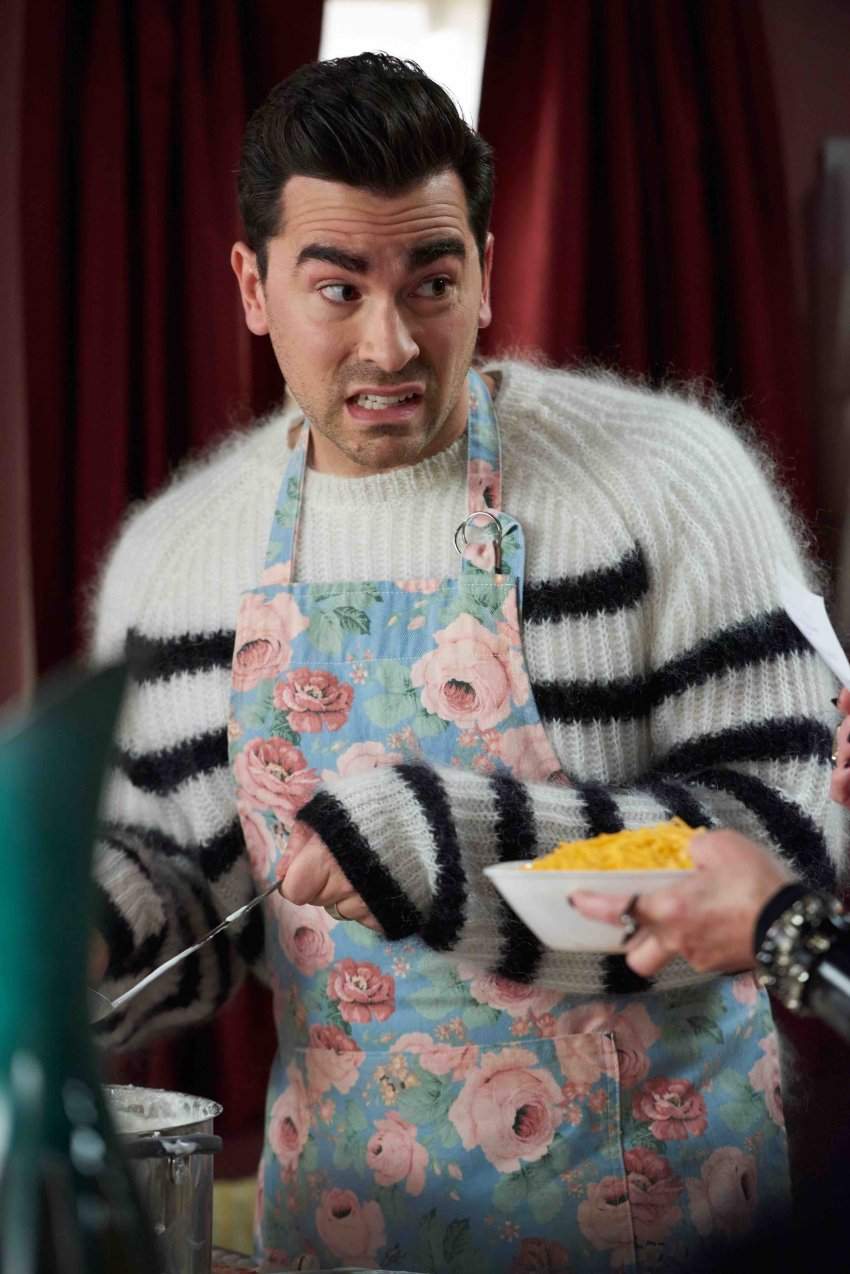 Arguably the most famous food scene from the Schitt's Creek series, Moira decides to prove to the entire family that she can cook and insists on teaching David her signature recipe for enchiladas. Since the motel isn't suitable for cooking in, Jocelyn graciously lends her kitchen to Moira so that she can pass on her culinary wisdom to David.
The instruction to "fold in the cheese" leads to plenty of confusion and plenty of laughs for us at home.
Johnny and Bob sell raw milk illegally (season 2, episode 8)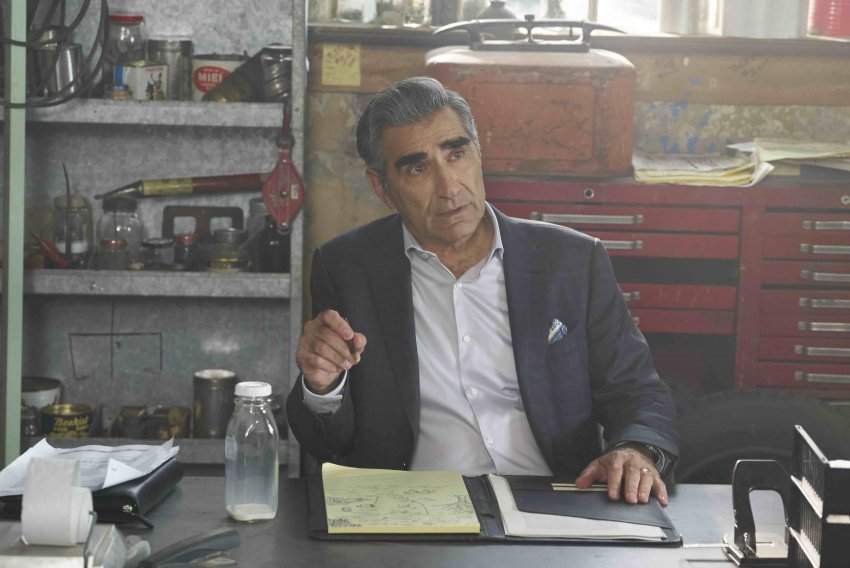 In an effort to make some more money for the family, Johnny is encouraged to get into the (illegal) raw milk business after a conversation and milk sampling with Bob at his garage, where Johnny has taken up temporary office. Alexis helps Johnny find "12 containers" of raw milk that wind up being gigantic. Unable to move the product, they try to dispose of "the goods", but are pulled over by a sheriff and ticketed.
Johnny severely hungover for breakfast at the cafe (season 3, episode 1)
After getting heavily into the martinis the day before, Johnny Rose isn't feeling too good for breakfast with the family the next morning. Everyone at the table seems to have plenty of fun with his current state by clinking glasses, talking loudly, ordering fish and hollandaise. Who hasn't been Johnny at this moment at one time or another in their lives? The pain!
Moira gets drunk at a municipal politics conference after party (season 3, episode 9)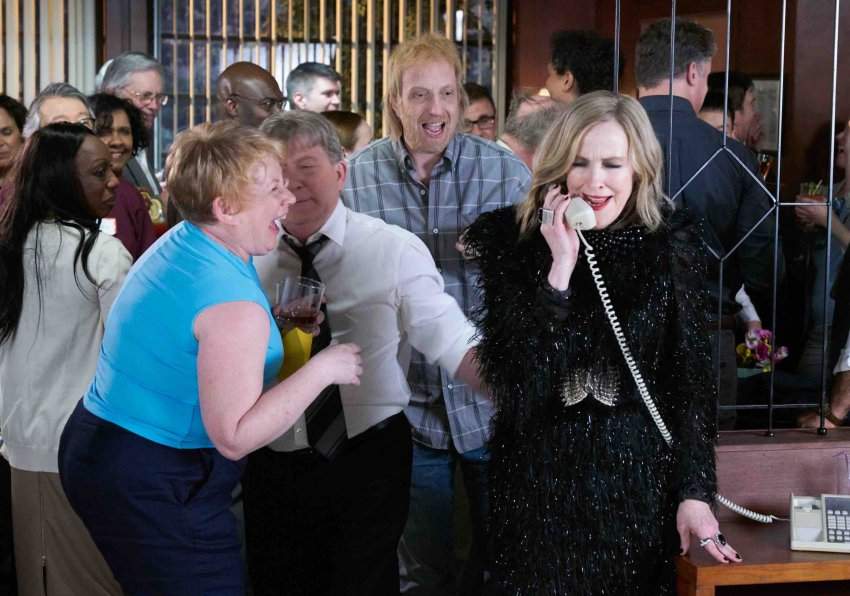 Travelling to a neighbouring small town for a municipal politics conference, Moira gets exceptionally liquored up during a conference after-party and winds up waking up in the same bed as Roland. Worried that she has had an affair and can't remember it, she spends the rest of the episode trying to figure out what happened.
Cheese sampling and quiche lunch on the farm (season 4, episode 5)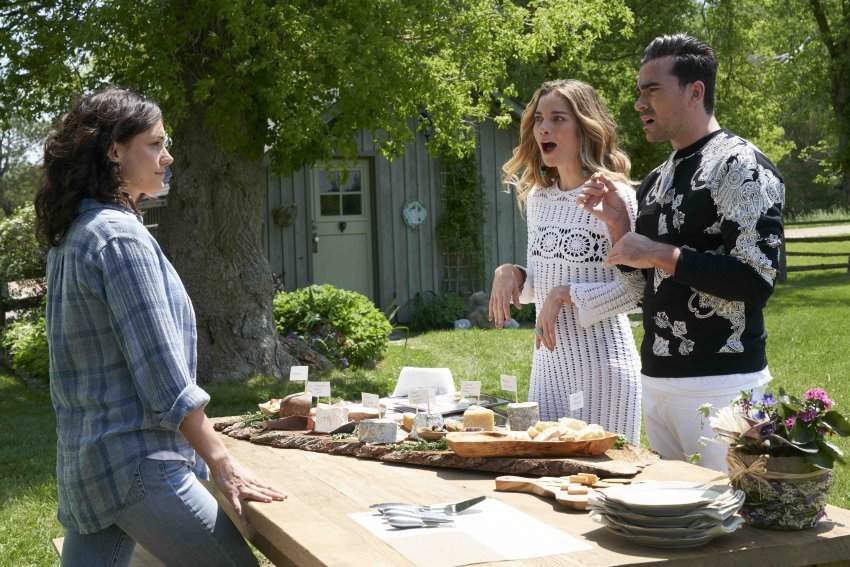 Definitely the most awkward scene for Annie Murphy's character, Alexis tags along with David on his trip to a small farm outside of town to sample the wares of a cheese producer he wants to stock at Rose Apothecary. The cheese-maker turns out to be Ted's current girlfriend.
David loves the cheese and in an effort to further charm her, they stay for a quiche lunch which becomes hilariously awkward for both Ted and Alexis.
Music and wine night at Rose Apothecary (season 4, episode 6)
I can't go through my favourite moments of Schitt's Creek without mentioning Patrick's acoustic cover of "Simply the Best" during their music and wine night at his and David's shop. Actor Noah Reid has a beautiful voice which wowed us all, but especially Dan Levy's character, who the song was romantically dedicated to.
All the feels.
David and Stevie's "honeymoon" dinner (season 4, episode 8)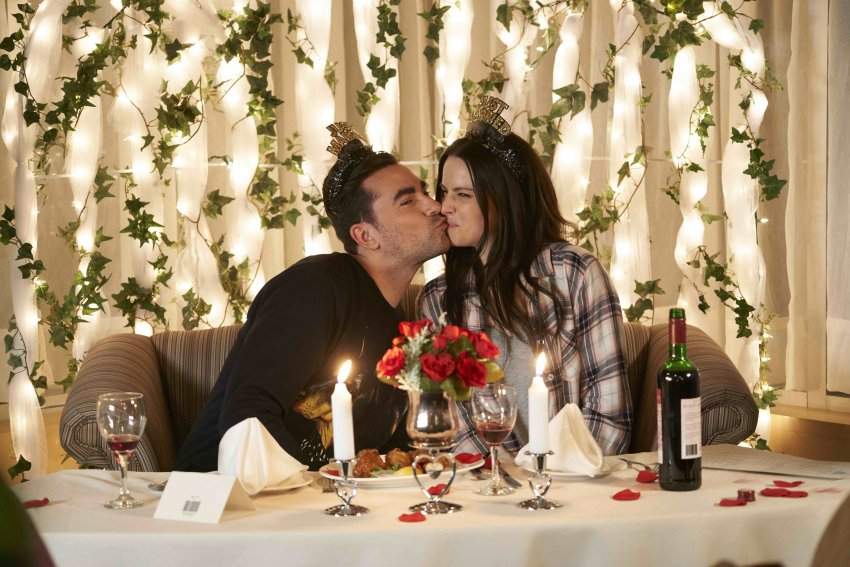 Stevie decides to pamper David to get his spirits up, but after booking at honeymoon package at a hotel in Elmdale, things turn out a lot cheesier than expected.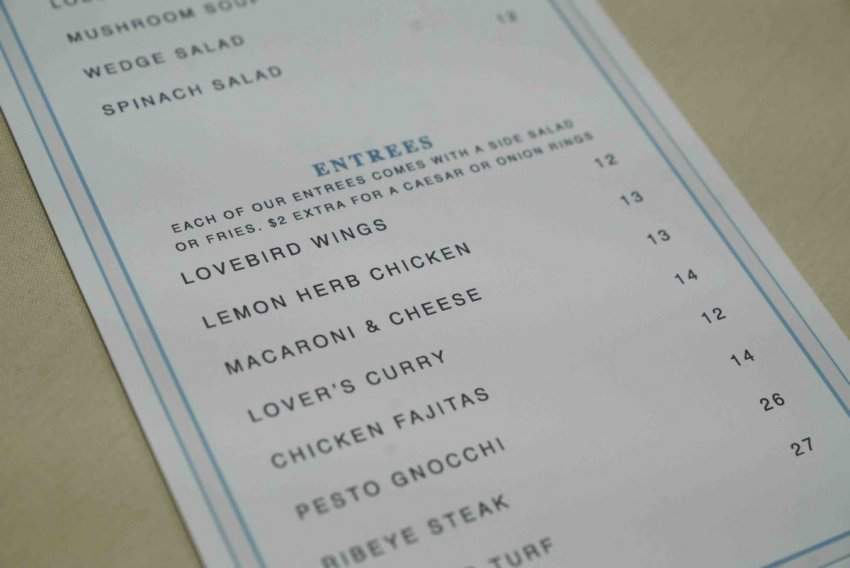 The best part about their "honeymoon" experience is their dinner menu that reads of love-inspired dishes like "Lover's Curry". What does that even mean?
David sings karaoke in hotel lobby bar (season 5, episode 4)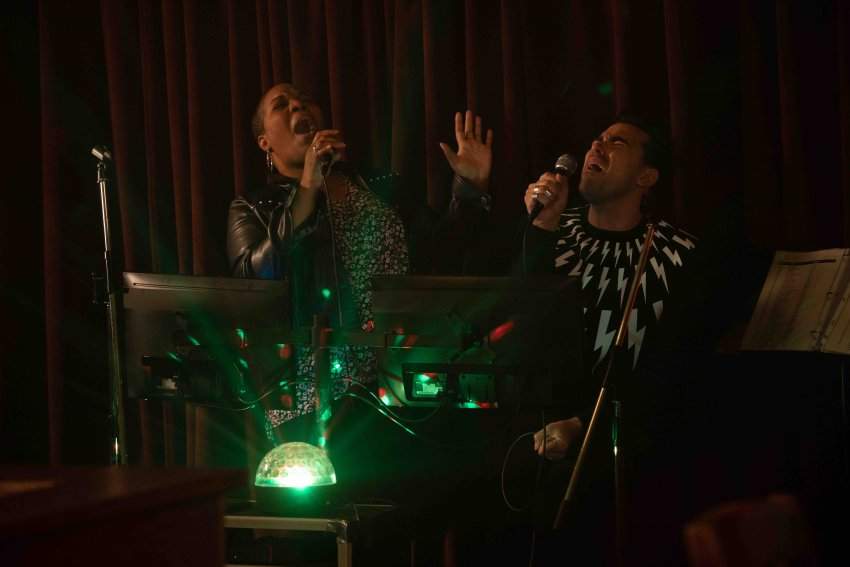 Joining Stevie on a short trip out of town, David finds himself several drinks in at the hotel lobby bar and living his best life, singing the night away with a newfound friend.
Alexis has a virtual dinner date with Ted (season 6, episode 3)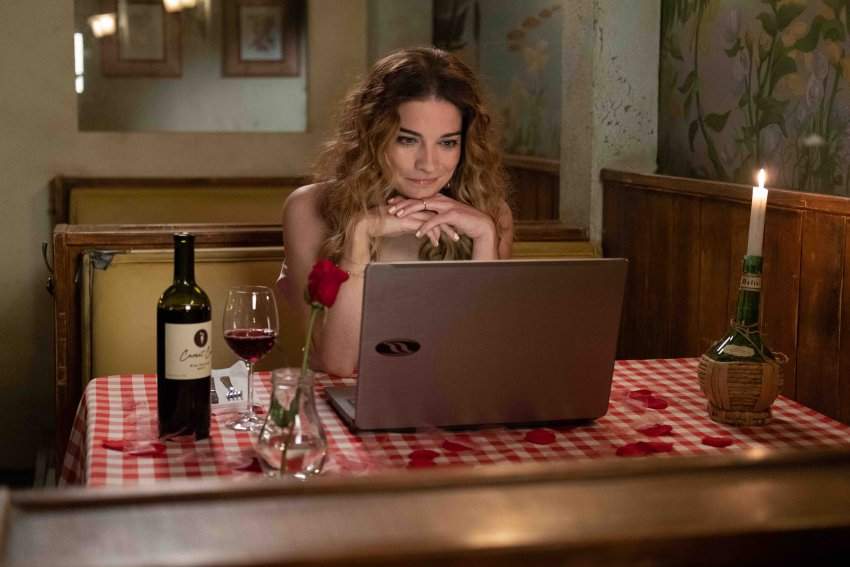 With storylines coming to a close in this final season, it wasn't surprising to see the writing on the wall as Ted and Alexis struggled to maintain their connection, with Ted in the Galápagos Islands and Alexis stuck in Schitt's Creek. This virtual dinner date was one of their last attempts at making the distance work before Ted came home for a visit and they said goodbye for good.
Bob's first night out as a single man (season 6, episode 6)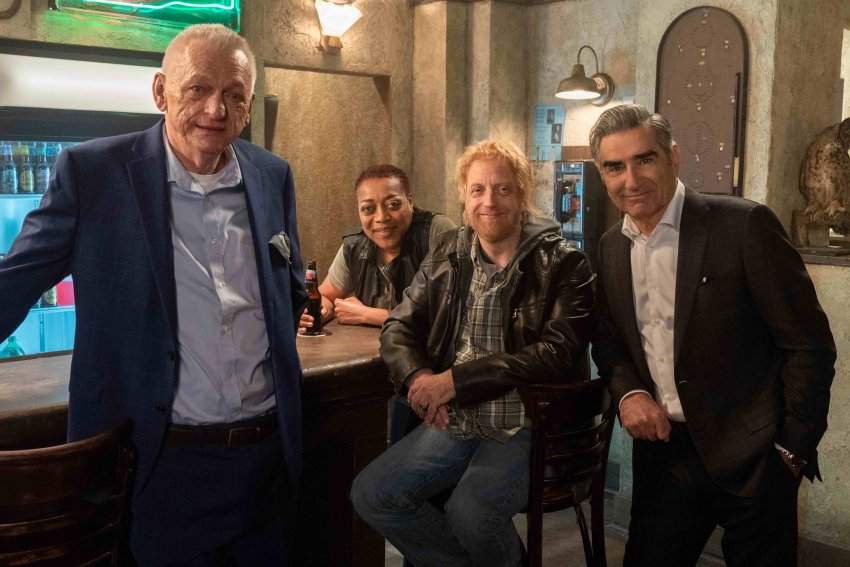 I loved this scene of Bob out on the town after his split with Gwen because it showcases just how close to him, Ronnie and Roland Johnny has become during his time in the town. The four gather around the corner of the bar having beers and encouraging Bob to strike up a conversation with a lady across the room.
Moira creates her own fruit wine blend (season 6, episode 7)
This is exactly what the show's final season needed: a return visit to the Herb Ertlinger winery!
The many counter conversations with Twyla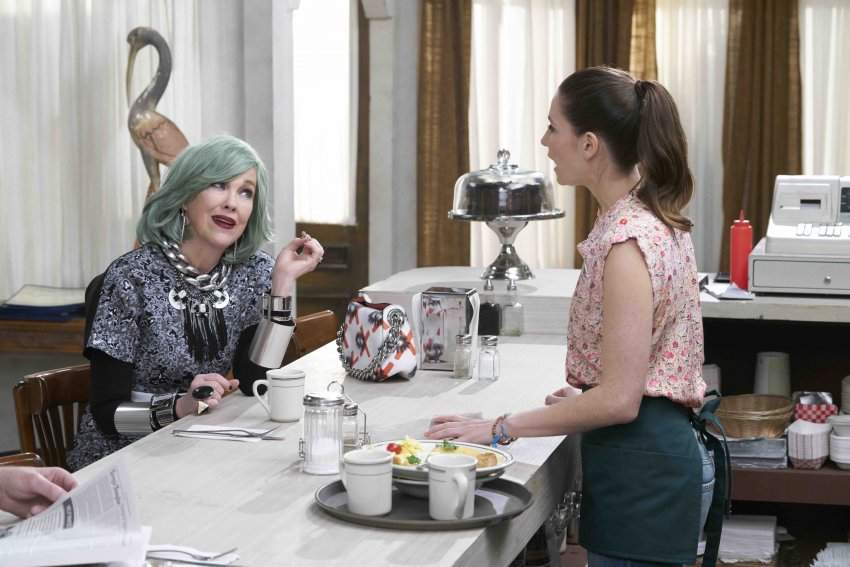 A ray of sunshine and constant support through everyone's ups and downs throughout the six seasons of Schitt's Creek has been Cafe Tropical's seemingly only employee, Twyla. Played by Sarah Levy–Eugene Levy's daughter, which I feel like a lot of people still might not know–Twyla has always been thoughtful and uplifting to all characters in the town.
There are so many moments where characters will sit down at the counter at the cafe and seek her advice or have her be just someone to listen. At times, it seems like Twyla helped keep the Roses sane, especially Moira--well, as sane as she can be.
"Best Wishes, Warmest Regards" airs Tuesday, April 7 following the series finale