JINBAR, the highly anticipated debut restaurant and bar concept from chef Jinhee Lee celebrated its grand opening in Bridgeland this week. Lee graduated from SAIT's Culinary Program and has become a well-known chef in Canada as both a former competitor on Top Chef Canada and current judge on Food Network's Wall of Chefs.
While only recently returning to Canada after some much-needed time off, Lee has been working on the concept for JINBAR for months. Diners can expect robust flavours inspired by Lee's Korean roots presented in a casual style as her menu focuses on salty, addictive dishes such as fried chicken and pizza. Dishes such as Kimchi Mac & Cheese, Dragon's Breath JINBAR Fried Chicken Sandwich, Honey Garlic Butter Fried Chicken, and Korean Beef Bulgogi Pizza are just a few examples of what one can expect.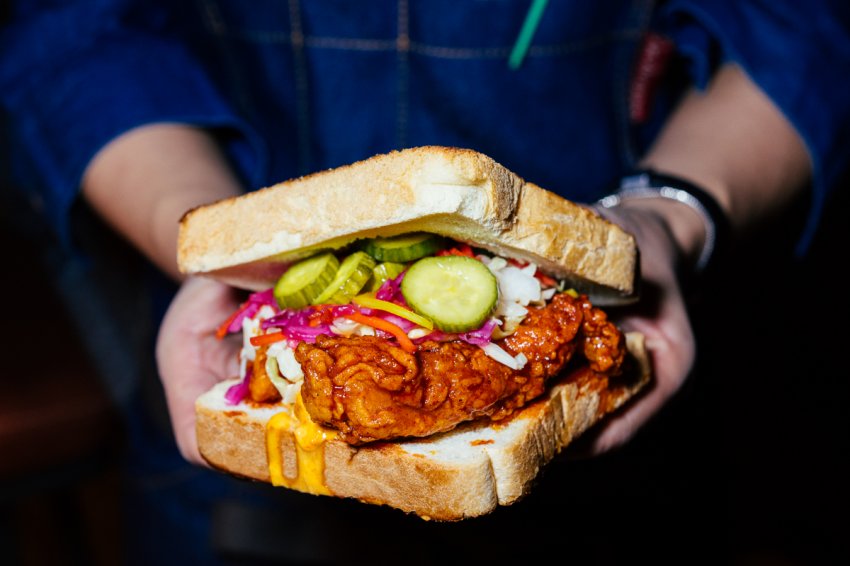 There are several dishes on the menu with personal significance to Lee's family and heritage; the Korean Beef Bulgogi pizza is a nod to her mom's favourite pizza toppings; fried chicken and ice cream was a beloved meal from Lee's childhood.
"Our family was so excited and happy to eat the chicken with my father who worked late all the time," says Lee on social media adding, "I would like to make JINBAR a happy place to share this beautiful moment," says the chef.
JINBAR's fried chicken takes centre stage here and comes in a variety of Korean flavours. It has already won over hearts for its crunchy skin and juicy meat. Lee uses dark meat, which is marinated for 12 hours to ensure the chicken always comes out flavourful.
The Buldak BBQ Chicken Pizza will also surely be a popular item. A play on "Buldak", or Korean fire chicken, this pizza is topped with chicken in a spicy volcano sauce, which is loaded with three layers of mozzarella. Lee will also be serving soft serve ice cream at JINBAR with rotating flavours such as condensed milk and ube.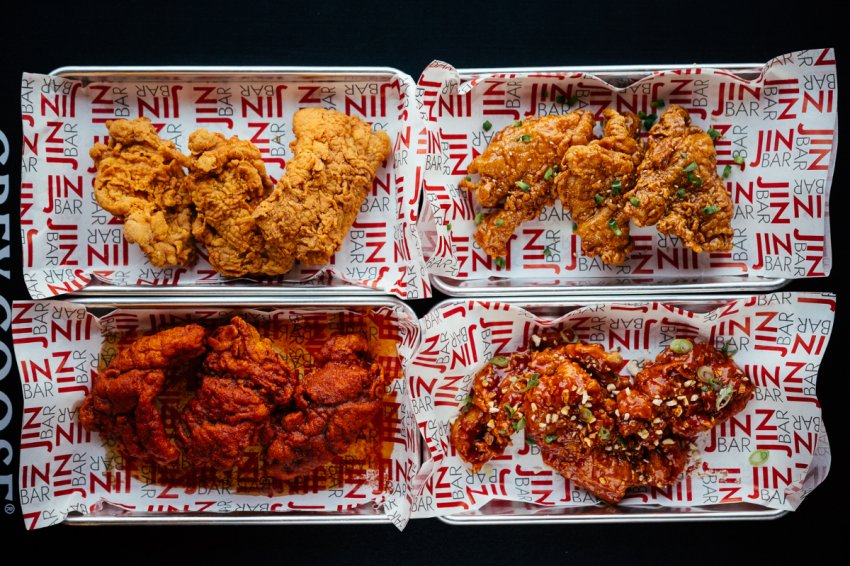 In addition to the vigorous food menu, JINBAR boasts specialty cocktails and an extensive list of wine and beer. The newly minted restaurateur says she plans to showcase cocktail features with recipes created by seasoned professionals from the Canadian food and hospitality industry. The current feature cocktail "Jin Jin Mule", made with ginseng-infused gin, was created by Saskatoon-based restaurateur Christopher Cho.
Lee has assembled a leadership team who are experienced and familiar to Calgary's food and hospitality scene, including restaurant manager Seunghee Hur formerly of Foreign Concept, Banff Springs Hotel, and Delta Hotel, kitchen manager Hyung Jae Lim from Foreign Concept, and bar manager Kayla Atayiu from Shokunin.
JINBAR is currently taking takeout orders and reservations for sit-down dinner service, but has plans to expand to takeout service at lunch. Address and hours of operation are available online.