It's week six of Top Chef Canada and I don't think anyone is truly over last week's carnage, and by that, I mean the viewers. The internet has been ablaze (in the most Canadian way) with negative reaction to Matthew Sullivan's departure. The intro to this episode are reopens old wounds by reminding us that Matthew said he was the most confident he had ever been at the hockey arena challenge.
The remaining chefs are also still digesting the news; Darren Rodgers says that it just proves that you can have one bad day and the whole game changes, except of course that Matthew didn't have a bad day until he got dumped. At least Mark Singson is honest and says that with Matthew gone, it gives everyone else a chance to win some challenges.
Ross stares into camera and as usual, says that being on the bottom sucks. He may even find that it sucks even more if you don't have immunity.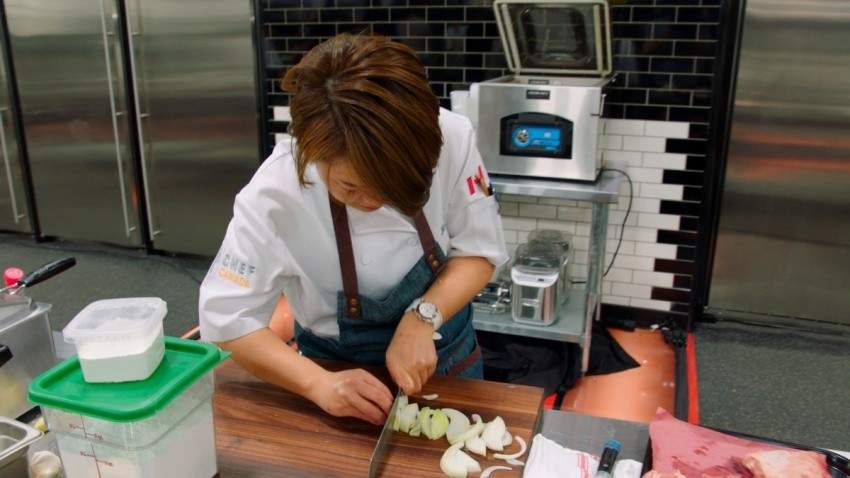 Quickfire Challenge
This episode is all about the kind of food that you don't have to be a Top Chef judge to appreciate. The Quickfire Challenge is making fried chicken, which every chef but one seems excited about. Seems that Jinhee Lee is not a fan of fried chicken but does love the fried anchovies that her mother used to make. Cooking something reminiscent of her childhood reminds Jinhee of her disapproving mother who wanted her to be a housewife and not a chef. Even though Jinhee is considered one of Calgary's best chefs, her mother has never eaten at her restaurant. It's a sad story that informs us a little bit of Jinhee's drive and passion for being a chef.
The men are all strutting in the kitchen, proclaiming their love and prowess for fried chicken. JP Miron and Nathan Guggenheimer are particularly vocal about their great fried chicken. So, in the Murphy's Law of Top Chef Canada, they land in the bottom.
Mark fried his chicken skin and chicken thighs separately which gave a double crunch. It looks so good that I am willing to forgive him for his waffle emulsion, which is waffles in a blender with some liquid, as if anyone ever craved drinking their waffles through a straw.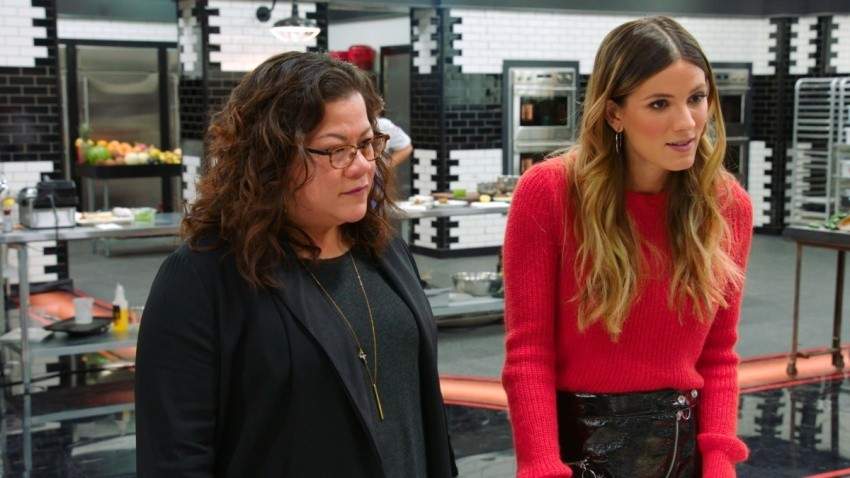 Last year's Top Chef Canada All-stars winner Nicole Gomes is the judge. She knows something about fried chicken as her Calgary business is called Cluck N Cleaver. She and Eden have different methods for tasting the chicken: Eden picks it up and chows down, whereas Nicole daintily uses silverware. Eden questions her judgement as she does a dance with chicken in her mouth. Go Eden!
Jinhee's anchovy-sauced fried chicken wins the Quickfire. Mark—who has spent much of the season in second place behind Matthew Sullivan—is, once again, in second.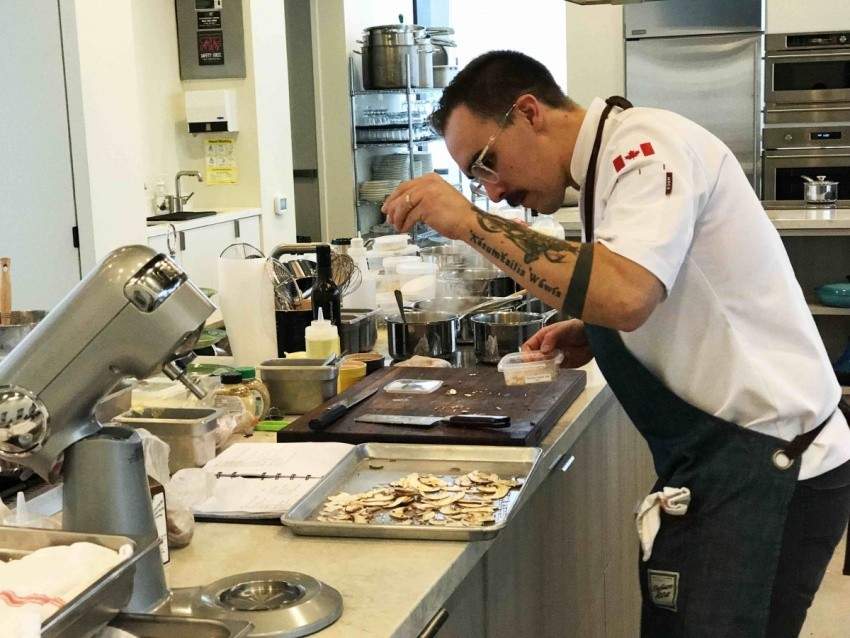 Elimination Challenge
The Elimination Challenge is all about the international flavours of pizza. The chefs randomly choose a pizza box and are assigned a country that they have to showcase on a pizza, along with two side dishes. JP gets either the hardest or the easiest challenge of Italy. Jinhee draws India and is concerned because she has only had Indian curry twice in her life, and is worried about bringing the flavours to the pizza. Nathan is thrilled with getting Korea because his restaurant uses lots of Korean flavours. Darren is going to make a Swedish pizza, which I didn't even know was a thing. Ross will craft a German pizza. Mark is making Turkish pizza (which is delicious if you haven't tried it).
Mark jokes that he hasn't made pizza dough in nine years and can't quite remember the ratio of wet ingredients to dry. This turns out to be not funny, as his pizza ends up as a giant cracker with toppings, but he isn't the only one who struggles with the dough—many of the chefs make less than perfect dough that leaves the judges craving some good take-out.
Darren's Swedish pizza is particularly challenging, texture-wise, as his topping of pickled fish and chanterelles are both "mushy and slimy."
JP decides to shake things up a little and make a white pizza but it's too dry and uninspiring to get the judges excited.
Jinhee's Indian pizza doesn't bring enough Indian flavours to the table, which isn't a surprise given her lack of knowledge of Indian flavours, but does show that she may falter outside of her comfort zone.
Nathan was exuberant while making his pizza. He kneaded some nori (roasted seaweed) into his dough, which seemed like a questionable choice. His Korean sausage and toppings win over the judges and Nathan is in the top as a solo chef for the first time.
Ross' German pizza is brushed with mustard béchamel sauce and topped with speck. The judges are happy with his pizza but it is his side of fried rye bread with molasses butter that has everyone talking. The judges say it is Ross' best cooking to date.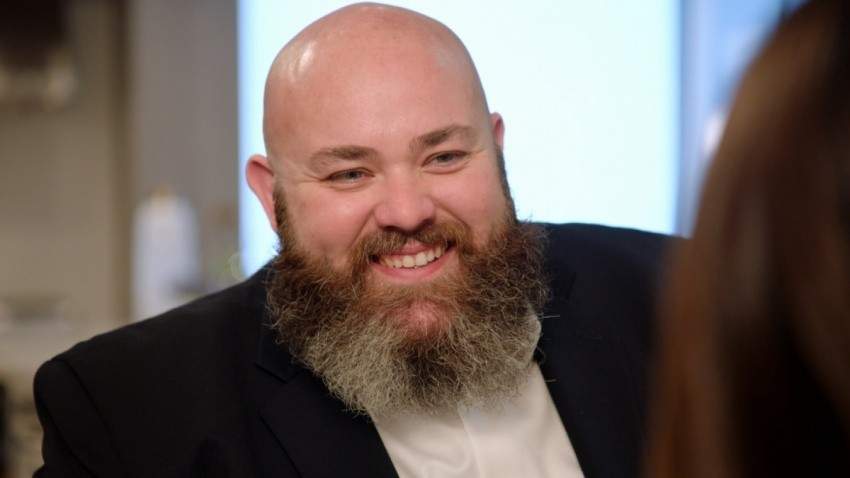 Evan Funke from the much-lauded Felix Restaurant in Los Angeles is the guest judge. He and his boss, judge Janet Zuccarini, are the experts on pizza and Italian food but Eden is shaming them for eating their pizza with a knife in fork. "This is how we do it in New York," she says, as she folds it and shoves it in her mouth. Eden is winning hearts and minds everywhere.
The judges don't seem enthusiastic over any of the pizzas, but they choose Ross as the winner. Maybe it was the shock of having Ross standing before them without an immunity, or maybe everyone is just subdued now that the curse of Ross' immunity has expired.
Mark, JP and Darren are all chastised for their mediocre pizzas, but between Mark's cracker and Darren's fishy experiment, it is Darren who is asked to leave.
It was the right choice. Even though the judges say they base their decisions only on that day and not the whole series, Darren has been dragging in the mid-bottom for the whole season. Everyone knows it's not Mark's time to leave the show and I don't think the show could have recovered without both Matthew and Mark.
Darren, who at 27, was the youngest competitor on the show, says that he has many more mistakes to learn from in the future. It was a lovely exit interview and proves that he is going to get better and learn more as time goes on. Darren, we hardly knew ya'.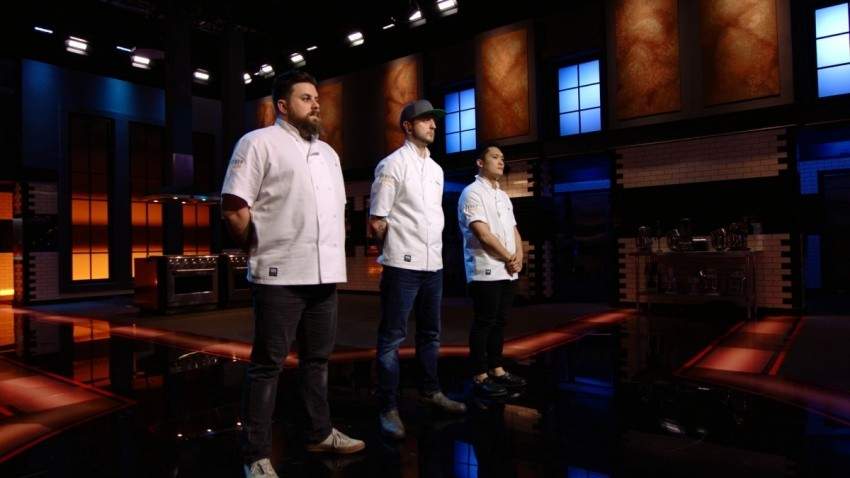 Kitchen Scraps
The interesting thing about the challenges was that they were common foods that most people enjoy. They are deceptively simple to make, but actually need a high-level of execution to make them well.
I think when I look back on this season, I will forget that this episode happened. It wasn't bad, but it wasn't that memorable… except for Eden. Who wouldn't want to go out and share a slice with Eden?
Only two episodes to go!