It's week two of Top Chef Canada Season 6, and we open with the walking wounded of last week's first competition. Being one of the bottom three either makes you stronger or breaks you, and both Darren Rogers and Nathan Guggenheimer are reliving the nightmare of facing the judges "staring into your soul," as Darren so nicely put it.
Quickfire Challenge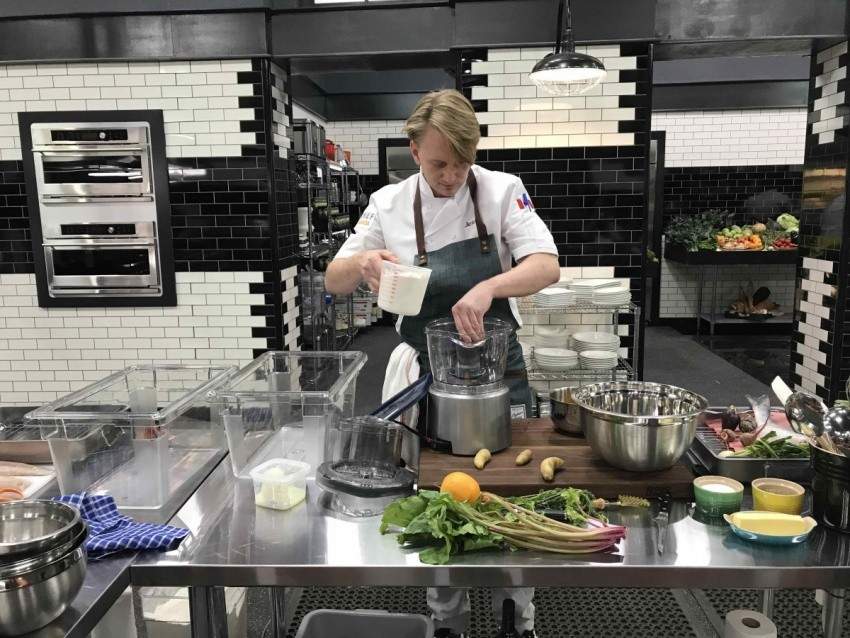 Host Eden Grinshpan points to some soggy cucumbers [insert joke here] and other "imperfect produce" as a hint to the challenge. The owner of San Francisco's Mission Chinese, Danny Bowien, walks in with a quick promotion for his documentary Wasted (about food waste, not chefs penchant for drinking after service). (In all seriousness, 31 billion dollars worth of food is thrown out yearly in Canada and most of that waste occurs in people's homes.)
This is a high stakes Quickfire, says Eden, and the chef who wins immunity will be able to use it in one of next four challenges. But it's the only immunity in the entire season. This is a good idea; in the past, the immunities lessened the stakes for the elimination challenge. This is Top Chef Canada, you want everyone at the top of their game, all the time.
The chefs have to make a dish with some imperfect produce and a whole fish, and waste nothing. Many of the chefs make a variation on a no-brainer fish stock: Mark Singson goes Filipino, Jesse Zuber heads to Italy, Darren makes a court bouillon. Jesse made pasta and it was tough, which makes it the second week in a row of chefs making thick pasta, but will they learn their lesson and stay away from the pasta machine? (Quick answer: No.) But two of the chefs lose their minds a little. Jinhee Lee, our star from last week, throws the carrot peeling and fish bones into the waste container intending to use them later and then forgets about them. But what was her plan? If she wasn't using the bones for stock, what were they for? But Nathan, poor Nathan, his brain goes in about six different directions and he ends up with nothing on the plate except a few bits of detritus. I don't doubt Nathan's skills, but maybe competition isn't for him. Danny Bowien tells Nathan that he got into his head too much.
JP Morin, Mark Singson and Ross Larkin made the best dishes and Ross walks away with the only immunity in the show. I immediately assume he will have to use it this week.
Elimination Challenge
Staying sort of on theme, the elimination challenge is cooking for farmers with their own products. The chefs cook either eggs, dairy, vegetables, fruit or grains. The guest judge is Lynn Crawford, plugging her new Farm to Table cookbook. (An aside, I have that book and it's really good.)
The chefs are shopping at the Royal Winter Fair, which gives us one of the better lines of the night when Jinhee says, "Jesse sucks!" about his poor cow milking skills.
Newfoundlander Ross draws grains and decides to make some weird buttermilk sorbet with wild rice that makes the judges confused whether or not they like it. He got a little cocky with his immunity, I think, but he is starting to show his out-of-box thinking.
At the kitchen at Farmhouse Tavern, the chefs work on their dishes. We get a quick montage of Elia Herrera trying to crack nuts with different implements. It's one of the only funnier moments in this episode, although it seems like a setup for a nutcracker joke that never materializes. Her vegetable dish is well-received by the judges, but she is not in the top three.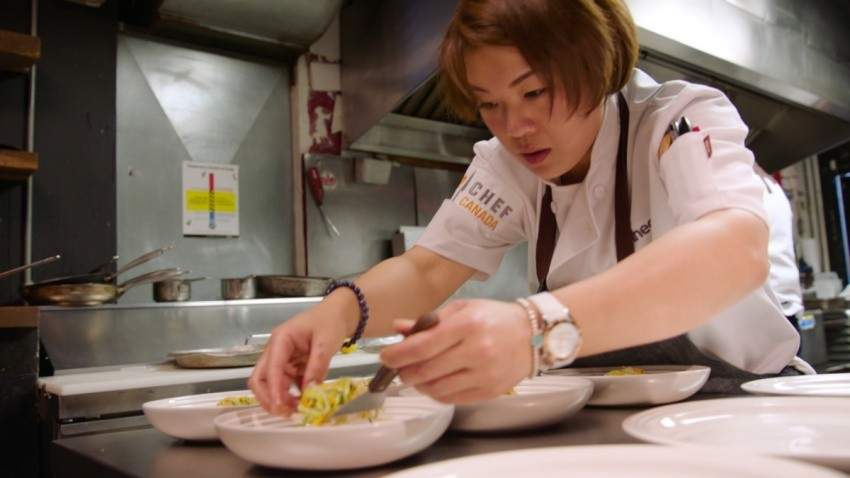 The judges love the balance in Jinhee's roasted garlic and onion veloute with julienned vegetables and poached scallops freshness but she doesn't break the top three either.
Matthew Sullivan chooses grains, and cooks a selection of grains separately in beer and then merges them together with some rye-cooked duck legs. There isn't much colour variation, but the judges are wowed by the taste. It seems that Matthew made a killer bowl of porridge and he is in the winner's circle for the first time.
Are tomatoes a fruit or vegetable? Mark decides they are a fruit and makes a vegan dish with four stages of tomatoes, strawberries and tofu. The judges aren't too sure about the dish when they look at it–until they taste it and love it. Welcome back to the winner's circle, Mark. Despite his eye rolls, he is now looking like a serious competitor.
Darren is working with dairy and he poaches sablefish in buttermilk and serves it with a potato pave, and lots of butter. He uses dairy in three ways that aren't all about cheese; good on him. Shout out to potato pave for week two! Redemption is his, as he is in the top three.
JP Morin creates an smart dish based on the chicken-or-egg conundrum, with a chicken-stuffed egg pasta, dressed in an egg sauce with chicken broth. But the pasta is tough (stay away from the pasta machine, chefs) and the broth is seriously under-seasoned. JP is in the bottom.
Ivana Raca draws fruit. Ivana tells us that desert is not her forte but decides to make a clafoutis with apple four ways. Just like pasta, desserts doom contestants. Her choices for this challenge are consistently bad–she chooses small ramekins, which doesn't allow for enough integration of the fruit, and then dusts icing sugar on the plate. She's in trouble.
Nathan tells us that he committed to farm-to-table cooking and has also committed to a dish which is a poached egg on house-smoked cured salmon on a slab of charred (read: raw with burnt edges) cabbage, with hazelnuts and cranberries. Chef McEwan, with a damning praise, says Nathan cooked the egg well which is perhaps a bare minimum. It's not looking good for Nathan.
Judges' Table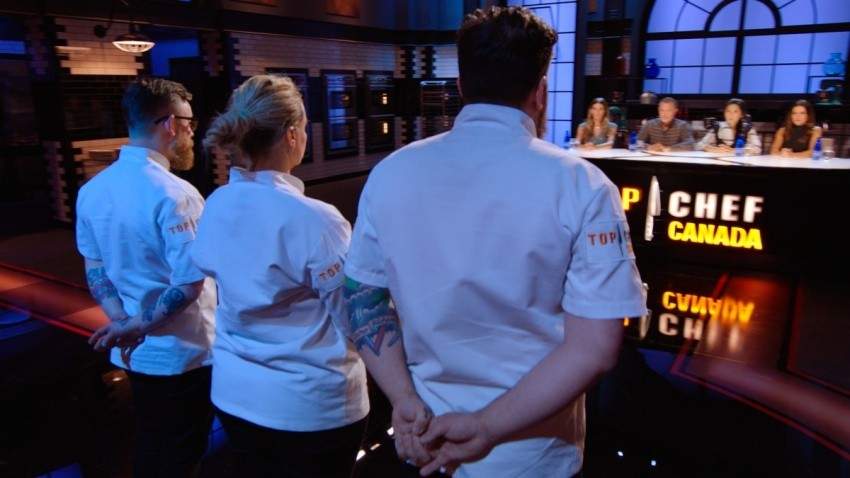 In a surprise twist, Eden invites the losers—Jp, Ivana, Nathan— to the judges' table first, perhaps giving them a glimmer of hope that they had won the challenge. That doesn't last long.
The winners (Darren, Mark, Matthew) are then brought in with a sigh of relief. Chef McEwan says that Matthew Sullivan made, "What appears to be a bowl of gruel, but ate like magic," making the Toronto chef is this week's winner.
Back to Judges Table and Chef McEwan is clearly troubled by Ivana's dish. He offers her some fatherly advice to slow her mind down and make better choices, as he knows she can. Later, he defends Ivana, saying that the farmers at the table enjoyed it, when the other judges are ripping apart her dish. But we already know that Nathan is going to get the hardest criticism; he made eggs Benedict with raw cabbage. Judge Janet Zuccarini says deciding who's leaving was a hard decision, but I don't believe that. Nathan has failed at three of the last four challenges. Perhaps, he isn't cut out to be cooking under this kind of pressure.
He isn't surprised to be booted off. He says that he embarrassed himself a bit, saying, "I tried out this aspect of cooking but it turns out this aspect doesn't work for me."
"Cooking makes me, me," he says. I believe you Nathan! I'd eat at your restaurant in Saskatoon, but maybe leave the reality shows to BFF Dale MacKay (Season 1 winner).
Kitchen Scraps:
Where was Chris Nuttall-Smith? We missed his spicy metaphors.
Shout-out to the wardrobe department who dressed the judges in sort of farm-chic, especially Mijune's plaid shirt and denim pinafore. Will we see chef McEwan without his suit and tie again?
A solid episode, but not the most memorable. I wish they had carried the waste theme further into the elimination challenge as well.
Next week is Mexican week. Will that mean a win for Elia, or that she has the most to lose?
Subscribe to our new podcast for more behind-the-scenes Top Chef Canada content