Here we are again, at the altar of Top Chef Canada. There is real talent lurking in this group of 11 Canadian chefs. Can we pinpoint who the stars are yet? And more importantly: who are the villains?
The Competitors
We open up with Matt Sullivan, a chef at the Maple Leaf Sports and Entertainment, the professional sport company that owns major Toronto sports teams and venues. He is clear he's no stadium chef; he's a chef who's here to win. He will probably win the foot-long and cold pizza competition if there is one.
Ivana Raca is competitive, ballsy, and she is being set up as Mark McEwan's protégé, as she rose through the ranks under his mentorship.
Ross Larkin, in quirky glasses, is our lone Newfoundlander. He works at the venerable Raymonds in St. John's. That's all we know right now. (Always be wary of the competitors they don't highlight in the beginning, they can creep on you.)
Mark Singson owns his own catering company in Vancouver, he says he's not making money while he is competing so he better win. He is a bit self-effacing, and looks nervous.
Jesse Zuber works for Dale MacKay (winner of Top Chef Canada Season 1) in Saskatoon. Understandably, he feels the burden of expectations. He seems like a nice guy, but I keep forgetting his name.
Nathan Guggenheimer is part of the same restaurant group as Jesse and considers his doppelganger, Dale MacKay, his BFF. Obviously, the producers were banking on some friendly rivalry between these two Dale acolytes.
JP Miron is a chef from Montreal. He jokes that the Montrealers haven't won a cup in years. There's something about him that is very likable. (Is it the Quebec accent?)
Felix Zhou, who cooks in Vancouver, says it's the first time he's been away from his wife and kid, so he has to win for them.
Calgarian Jinhee Lee secretly attended culinary school in Korea, so she is here for family recognition. She has been in Canada for 11 years, and she has picked up some wins at another Canadian competitions like Gold Medal Plates.
Darren Rogers is at Park in Montreal, and he definitely has interesting taste in accessories. He says he's not self-confident and is a nerd. We know from past competitions that a lack of confidence can hurt you, no matter what your cooking skills are.
Elia Herrera is a Mexican-born Toronto chef. She is at the helm of Los Colibris, a Mexican restaurant in the downtown core. It doesn't say it in her bio, but she was also on Top Chef Mexico. We will see if she puts a Mexican spin on everything in the Top Chef kitchen.
Quickfire Challenge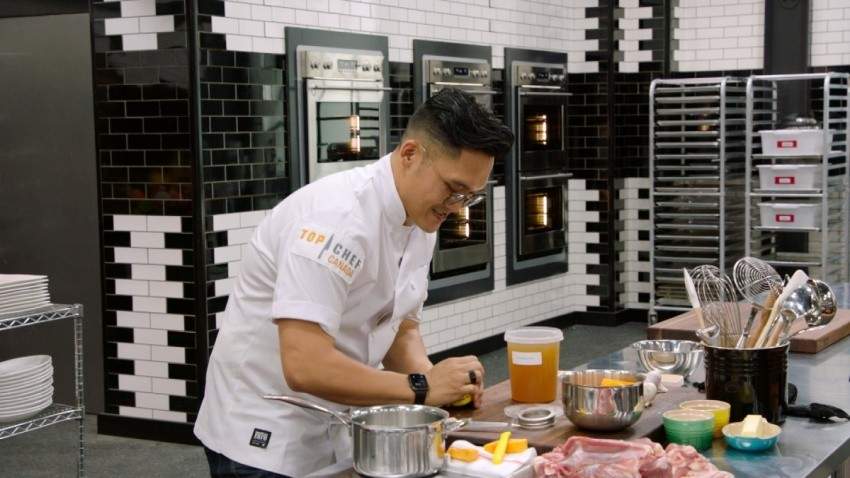 After some marketing announcements from Eden, we are onto the Quickfire, which is four heats of technical challenges, ending with two competitors. The first challenge is peeling pearl onions and chef Mark McEwan, head judge shows the chefs how it's done by peeling 31 pearl onions in three minutes, setting the bar for all the wannabes. The next challenge is peeling and dicing butternut squash into perfect half-inch dice. The third task is breaking down a duck; and the fourth is, no surprise, creating a dish with all those ingredients. He didn't need to prove it, but chef McEwan still has the chops to kill it in a kitchen.
As the group winnows down to two people, there are some fits and starts, but Mark and Jesse prove victorious. They go head-to-head to cook a "Top Chef quality dish" in 25 minutes. Duck is not the easiest protein to cook, because it can be tough and greasy. They use different, but smart, methods in preparing their dish, which made the judges happy with their final dishes.
Mark pulls out a literal smoking gun and wins the quickfire and gets an advantage for the elimination challenge. I'm not sure if it is a good idea or not to be a frontrunner early on; but since we are Canadian, I will assume no one is plotting against him, yet.
Elimination Challenge
Back in the Monogram™ kitchen, chef McEwan puffs up the competitors by telling them that they are the next wave of talent, showcasing a "dexterity of cuisines." Then, they roll out the old guard: Susur Lee, Anne Yarymowich and Rob Feenie stroll in.
Each trailblazing chef chooses one of their own iconic dishes for the competitors to reinterpret. Chef McEwan chooses the Bymark burger that has a homemade bun, porcini mushrooms and "high-performance" cheese. (No, I don't know that means either.)
West-Coaster Rob Feenie asks the chef to reinterpret his sake and maple-cured sablefish with braised oxtail, ginger and soy cream. His instructions are that simplicity wins over complexity.
Anne Yarymowich highlights her version of a French Canadian tourtiere. She says the two most important elements are the meat filling and the pastry. This is also called FORESHADOWING.
Susur Lee chooses curry-roasted chicken, okra, mustard seed tomato jam, pineapple, chili and mint chutney and polenta croutons. He says that the inspiration is the foundation of his dish, I have no idea what that cryptic instruction is.
The chefs pull knives to choose a dish, except for Mark, who won in the Quickfire challenge, and gets to choose. He sticks with the West Coast and makes Rob Feenie's dish.
After the mad scramble for groceries, we are finally at the best part of the show: seeing real chefs cook.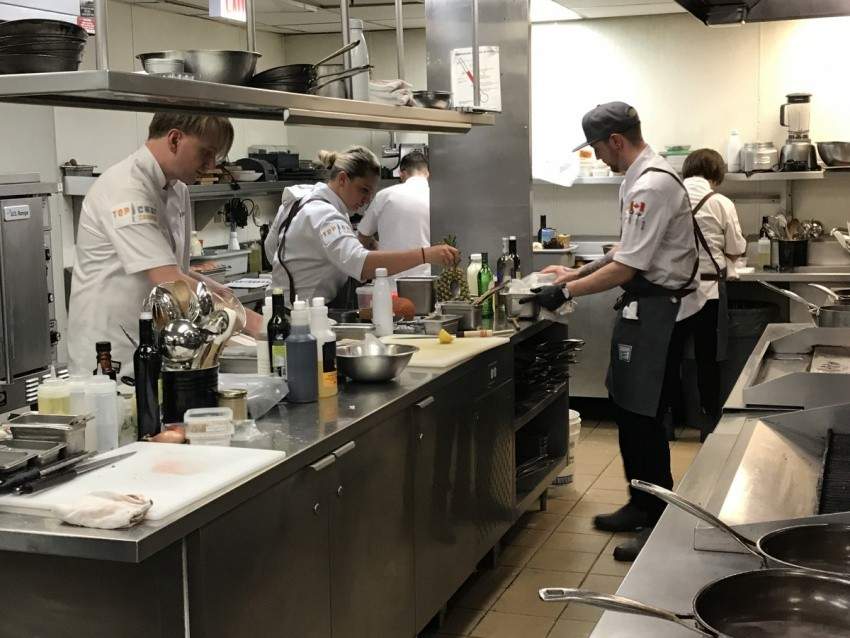 Burger Makers
Nerd Darren makes the Bymark burger with a (high-performance) brie cream, but steak and burger are not the same, especially when you forget to use your high-performance brie cheese sauce. It's not just the lack of cheese sauce either; the judges don't feel like a steak and potato dish mimics the feeling of a burger in anyway. He's in trouble.
Jesse creates three different tartare sliders on gougere, which turns out to be a great idea that made chef McEwan happy, as he pulls off the homemade bun and was able to make three different compositions.
Ross also makes tartare, but his is sitting on a striking black squid ink crostini with truffle and manchego cheese. Judge Chris Nuttall-Smith is not getting "voluptuousness" out of a tartare.
Susur Acolytes
Jinhee Lee creates a stunning dish with a chicken thigh on a beautiful red curry. Resident judge, Janet Zuccarini, says it is flawless, and we can colour Susur impressed.
Nathan pulls out the pasta machine and makes tortellini, but the pasta is too thick, say the judges, and the curry is isn't curry; it's more like a bisque. This probably isn't the last time we will see homemade pasta taking down a competitor.
Ivana says she is comfortable with both Italian and Asian flavours, so she makes a mascarpone-whipped polenta, and a chicken thigh with candied pineapple. Chef McEwan thinks the polenta is a nice way to weave the Italian story into the dish, but the chicken was "pedestrian".
Anne Wannabes
Felix Zhou forgot to pack the puff pastry for his tourtiere, so he fries a sheet of a potato as a pastry shell, which may or may not be a good recovery. His filling of duck confit, bison, pork and venison is too dry. The judges' jaws dropped when he opens by saying he forgot his pastry. Hasn't he watched other episodes of Top Chef? You never admit a mistake like that!
Elia reaches back to her Mexican roots and stuffs chipotle peppers with tourtiere filling, and covers them in a pie crust. We are also shown that she is nice, as she tells pastry-less Felix that his plate is beautiful. She plates the pepper on a date and tamarind puree with a passionfruit sauce. The judges love her instincts and bright flavours.
Rob Feenie's Friends
JP Morin laughs as he styles his dish of potato pave on his fish because no one has made it since the 80s. But, the throwback works and the judges love it.
Mark makes a seared maple-glazed sablefish and finishes it with a mushroom shmear. Shmears are not universally loved; brown shmears are loathed.
Matt has a lot of things going on the plate: sablefish, beef tataki, gnocchi in yuzu broth. The judges like it, but feel that the broth was too bland.
Judges' Table
After a brief discussion by the judges--which was probably hours in real time--JP, Jinhee and Elia are called to face the judges. Everyone looks so serious, but did they really think they were at the bottom?
Chef McEwan throws around some accolades about dishes and brings Jinhee to tears when he says that Susur Lee enjoyed her dish.
Chris continues his streak of ingenious wordsmithing by telling Elia that her tourtiere was a super tasty, torrid cross-cultural love affair.
Jinhee wins! But now she has to go into the room and tell the losers to head over to the judges. Nathan, Felix and Darren forlornly stand in front of the stone-faced judges. I think that Nathan is the least likely to go. His tortellini was tough but there was ambition to his dish.
Chris Nuttall-Smith says that a burger should be "operatic in its juiciness," but Darren's steak and potatoes was "edible elevator music." He also reminds the losers that the winners dishes taste like confidence. It's an interesting conundrum, as no doubt, the judges will slap down any over-confident competitor as well.
Felix says again that he forgot his puff pastry and didn't want to make a short dough on the fly. This goes over like a leaden pie crust.
Forgetful Felix is told to pack up his knives and go. He is clearly upset, but wise, when he tells the camera a Chinese saying: "Losing is success's mother." Let's hope so for Felix, who we won't see again unless you visit him at Heritage Asian Eatery in Vancouver.
But you can hear him on the More than Maple Syrup Podcast, right here on Eat North!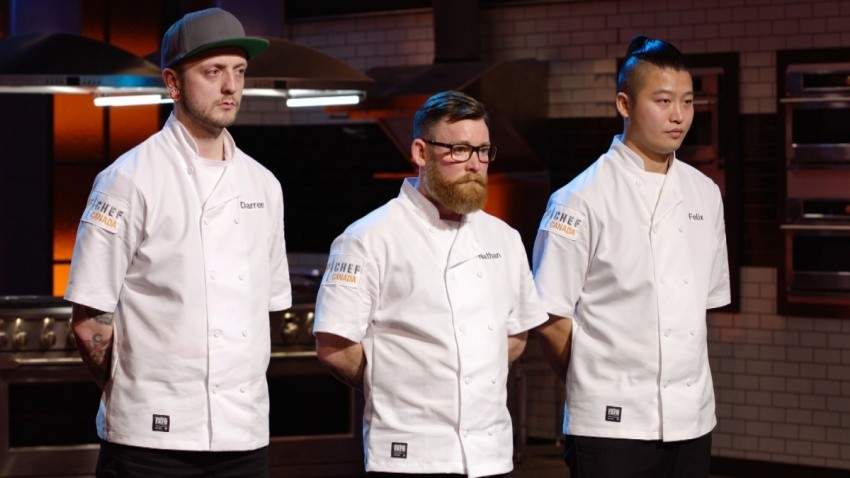 Kitchen Scraps
Edible elevator music was the line of the night!
It has to be a very steep learning curve for the chefs to learn to cook with cameras in their faces and with such strict parameters.
Also, I think the judges have relaxed a little. I hope they have taken the lid off and we can see more of their snarky (and loving) comments this season.