Chefs of a certain caliber consider themselves above trends, so what happens when the Top Chef Canada challenge is all about making trendy foods? This week's Quickfire tries to answer that question. The nine remaining chefs mash two trends together to make a Top Chef-level dish. Peter Meehan, founder of Lucky Peach magazine (RIP) is here to judge.
Quickfire Challenge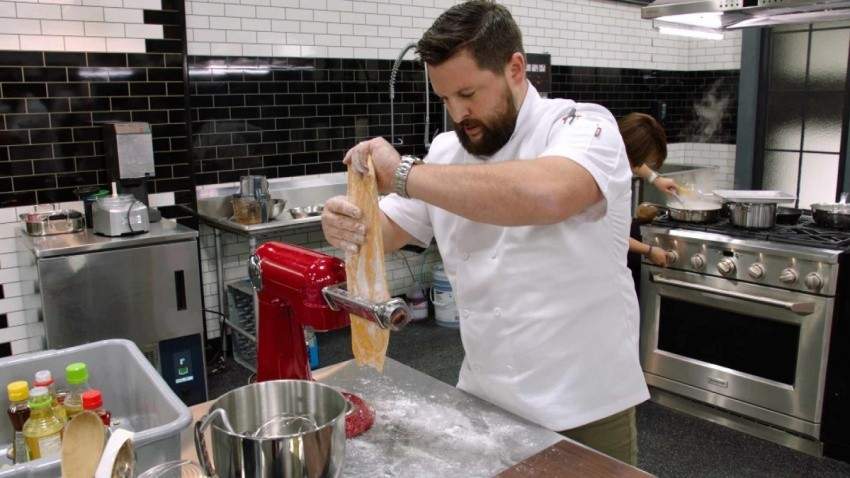 We have a The Price is Right moment as the chefs choose their trend by dropping discs with ingredients on them down a peg board to determine presentation style. There is kimchi, coconut and coffee on the ingredient list and rainbow, frozen, bite-sized (and more) themes—but there is no charcoal? They must have made a decision to skip the worst fad of all.
Jinhee Lee, who is quickly becoming the best backstage commenter, says she doesn't create trendy food that doesn't have lasting power, and she doesn't have a sweet tooth, since she's sweet enough. Ross Larkin is also trend-adverse—and from what we have seen of his desserts, also sugar-adverse—but he is making a dessert with coconut.
The chefs all do a good job of creating food with trendy items that don't look they rode in on the backs of a unicorn. Mark Singson goes outside of the box when he makes a rainbow kimchi dish without any kimchi. But it's Matthew Sullivan who wins once again with his kimchi foie gras dumplings. Meehan says he would stand in line at a food event to overpay for it, which is high praise. Mark is second for the third time in a row. Does this have meaning? We viewers have no idea.
Elimination Challenge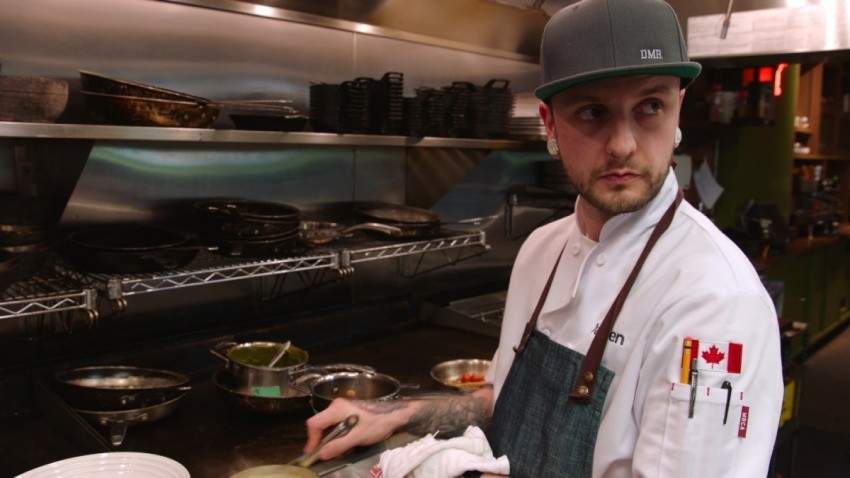 The Elimination round starts quickly, and all eyes are on Elia Herrera for the Mexican challenge. Elia has only cooked Mexico-inspired dishes so far, and also competed on Top Chef Mexico, so does this put her at an advantage or disadvantage?
Carlos Gaytan, the first Mexican chef to win a Michelin star for his Chicago restaurant, Mexique, is the guest judge. He tells the assembled chefs that under no circumstances should they make nachos. But they can put avocado in everything (#sponsoralert).
The amount of avocados in the kitchen suggest that this is sponsored by the infuriating (but delicious) fruit that never ripens when you need it. This time, the chefs pick a cactus that identifies which region's style they will be cooking: Baja California, Puebla, Oaxaca, or Veracruz. (Educational aside: Mexico has a diverse range of cuisines, depending on the climate and area of the country.)
With a Quickfire win in his pocket (and 5,000 bucks), Matthew gets to choose which region he will cook from. He identifies Ross as his main competitor, and wants to knock off his immunity, so he chooses to go head to head with him with Baja California cuisine. It's a backhanded compliment to Ross who is already nervous because he tends to stick to Atlantic flavours in his cooking. This feeling of having a target on his back is not helping.
The nine remaining chefs have to choose which three will cook the appetizers, mains and desserts. As always, no one is thrilled with doing dessert, but Ivana Raca decides she wants redemption after her apple clafoutis disaster. JP also agrees to the sweet course. No one steps up to be the third until Darren takes one for the team despite having no pastry skills.
Kensington market is the site of this week's shopping, which seems a little unfair. Elia, and the other Toronto chefs, have an advantage as they know their way around and probably even know the shopkeepers. Jinhee even gets lost in the market, and we are left wondering if she got all her ingredients.
As they are cooking in Baro's narrow kitchen, Elia tears up again talking about how her grandmother's catering company was her inspiration to be a chef. I'm seriously worried about Elia's future on Top Chef Canada at this point. Also, how they found so many avocados that were all perfectly ripe at the same time?
Ross, Matthew and Jinhee are cooking the appetizer course. I'm trying to remember if I have ever seen Ross smile. He is looking especially serious as he serves his scallop with shellfish pepper. The judges are searching for the Mexican influence in his dish and wonder if he is unwilling to step out of his comfort zone.
Matthew makes a lamb tartare with some corn crema. Carlos wonders where the heat is, but then we see judge chef Mark McEwan sweating while he eats it. Carlos loves the combination of flavours and says he is going to steal the recipe. It is the clear winner of this round.
Jesse Zuber, Mark and Elia are on tap for the main course. Elia has been so helpful for her competitors, teaching them about Mexico. And she has been on camera so much this episode that I am seriously worried for her. She knows she has to be perfect. And then they tease us before the commercial. I can't stand the tension.
Elia looks confident as she places the dish on the table. She has returned to her roots and cooks a recipe from her grandmother: stuffed pepper with a walnut and pomegranate sauce. The judges feel that she has hit every flavour note. Phew, we can all relax. Elia is safe and will not suffer the humiliation of going home on Mexico night.
Jesse's Mexican paella is good for a paella but is lacking specific Mexican flavours. Sorry Jesse, straight to the middle, as usual, for you.
Mark makes his first misstep of the competition by making a sous vide chicken breast, which is flabby and white on his dish. Chris Nuttall-Smith wants to hate the dish and as he searching for words as to why. Eden Grinshpan hilariously chimes in by saying it's so ugly. But the judges all agree that despite it's looks, it is a modern and interesting entrée.
Dessert is a stumbling block for any Top Chef Canada chef and Mexican desserts may be even more difficult.
Even before Darren Rogers serves his bread pudding, he knows he's in trouble, saying that he made something that a high school home-ec. student would serve. It's true, the judges are not impressed, and Mark throws around the word "sad".
Ivana has made a chocolate-avocado ice cream, and an avocado mousse, which is something I sometimes buy at Whole Foods because it's a way to pretend that dessert is a health food. Mark looks like a proud papa when Ivana was describing the many components of the dessert, but once he tasted it, he was ready to send her to detention. He says the dish showed a confused mind and wonders why she put a cricket on top. Ivana aimed for redemption but ended up in a slimy chocolate mess.
But JP Miron, who was on the bottom last week shot to the top by serving an interesting and complex dessert that gives Carlos hope that Mexican desserts can be delicious—a mango curd with goat's milk ice cream and dulce de leche. Chris credits JP with laser focus in getting the job done.
Out in the waiting area, the chefs crack open the wine and Elia talks about how proud she is that everyone came together and cooked from her country, but she says she knows that painful days are ahead.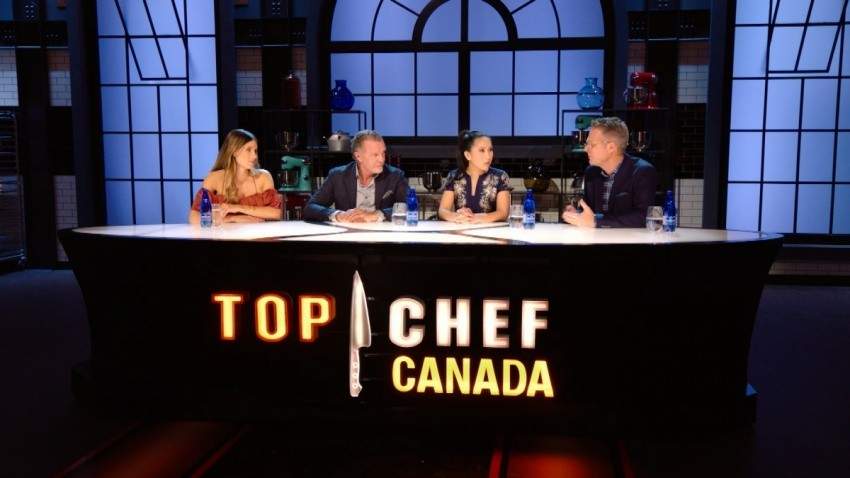 Eden steps into the chefs' room and summons JP, Matthew and Elia. Matthew has the confidence to know he's in the winner's circle, despite the judges' stony faces when they come in.
Elia tears up again when the kudos are piled on her, but I don't think they could have given her the win. It would have felt unfair. So, it is JP who wins with his dessert.
Who knows how much wine has been drunk by the time the losers are pulled in, but temperatures are rising. The chefs are trying to guess if Ross will use his immunity. Matthew, the hard-core competitor says he wouldn't use it. JP says he would use it because he wouldn't want to go home to his wife with immunity on his pocket, it's like "pissing on $100,000."
Matthew calls it: Ross does not use his immunity when the time comes. The judges call it Vegas odds, but we all know Ross didn't have the worst dish. His odds are better than any roulette table I've been at.
Chris asks the other judges the big question: who did the worst? Darren's bread pudding was a valiant attempt that failed, Ross phoned it in and made a French dish but Ivana was a mess. I think we know who is going home.
It's Ivana. I'm sorry she never really showed off her mad skills on the show. You've never had gnocchi until you've had her gnocchi.
The funny thing is that I went to the Top Chef Canada launch and she made a dessert!
Next week is Restaurant wars with Ruth Reichl! She is my absolute favourite. I die.
Kitchen Scraps
Matthew Sullivan is definitely number one with a bullet right now. The fact that he sees Ross as his main competition should alert us that Ross is one to watch.
Elia comes off as a good competitor and a nice, giving person. She was so proud to share her origin country's cuisine and history. But it's time for her to start cooking outside of her comfort zone (and Ross too!)