We are in the Monogram kitchen for the second-to-last Quickfire and the remaining five chefs look tired, especially Jinhee Lee; but then, end is in sight.
Ross Larkin, who came out on top last week, after escaping the immunity curse, says that Nathan is his biggest competition on the show. I'm intrigued by this comment as Nathan has shown to have serious issues with the competitive element of the show. I am wondering why Mark Singson, who is second in almost every challenge, and Jinhee, who makes incredible food, are so often discounted as competition on this show.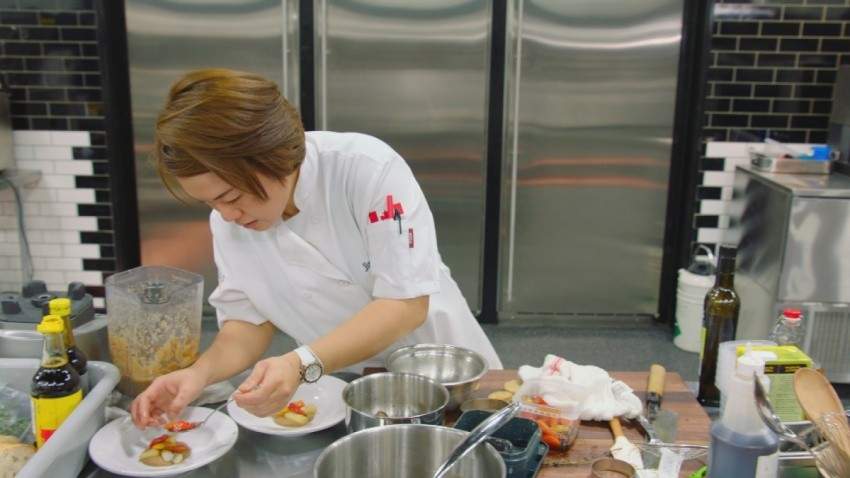 Quickfire Challenge
The kitchen is filled with delicious French pastries, but as host Eden Grinshpan is talking, the chefs start nervously laughing. They know it's not going to be as easy as whipping up a croissant. And it's not, Eden throws around the buzzy phrase "plant-based cuisine" and in walks Amanda Cohen, the chef of groundbreaking New York restaurant, Dirt Candy. Amanda is from Toronto, so even though she has hit it big south of the border, she is still very nice.
The chefs have to take classic French dishes like foie gras parfait and steak tartare, and make them vegan. Amanda's advice to the chefs is to not focus on what they don't have. "It's about what you do have."
Mark has an obvious advantage as he often makes vegan dishes for his catering jobs. His Coquille St. Jacques looks just like a scallop in a cream sauce—and true to form he puts a foam to good use.
Ross is also used to making the most out of his Newfoundland ingredients, so maybe he has an edge. Meat-loving Jinhee, however, does not have much to exposure to vegan food and isn't sure where to start. This is the second week in the row that Jinhee's limited experience outside of her comfort zone of Asian food is holding her back. But she is so adorable, calling all the other chefs her brothers as if she actually means it.
Nathan Guggenheimer is at his most self-deprecating, saying that he has been at the bottom of every Quickfire, so this week he is just going to aim for the middle. His coq au vin with maitake mushrooms is very rustically plated, but it looks good.
The Top Chef Canada crew must have purchased every maitake mushroom in the country this week, because three of the chefs are using them to mimic meat in their dishes.
Jinhee makes a beef bourguignon with mushrooms and Ross purees mushrooms with tofu and cauliflower to make a foie gras parfait. He seems a little nervous when Amanda Cohen tastes it as it is one of her signature dishes, but she likes it.
Amanda and Eden like all the vegan dishes that were served and don't name any losers. They give the win to Nathan. It's his first win and proves that maybe he should just aim for the middle.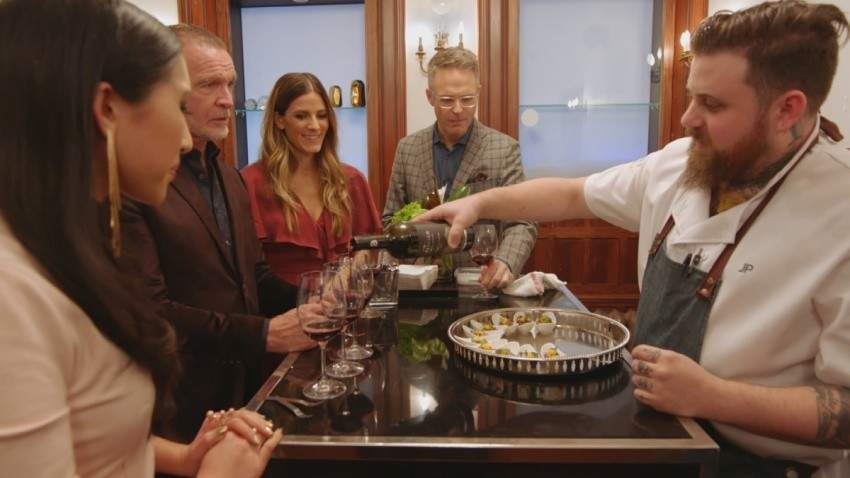 Elimination Challenge
The elimination challenge is all about wine and food pairings. The chefs have to randomly choose a wine and then make a one-bite appetizer of their choice to pair with it.
The guest judge is Dusty Gallagher, the runner-up of Top Chef Canada All-Stars, proving that you don't need to win Top Chef Canada to stay in the Top Chef Canada family: a good point for the chefs to remember as we head into the finale.
Nathan is riding on a high after his win; he says that he feels ambitions "like a tiger". He's running around the kitchen like a madman. In another aside, he says he doesn't want to go, but he's already gone, so it's not the biggest deal for him. (I'm hoping that the Food Network execs do a supercut of Nathan's outtakes. He's kind of hilarious this episode.)
The only guideline for this challenge is that the appetizers have to pair well with their chosen wine. The chefs can be as creative as they want, and cook with their most favourite flavours. Overall, the judges are thrilled with the results, especially compared to last week's underwhelming pizzas.
Ross drew chardonnay and paired it with a buttery scallop crudo with apple. The judges love the match. Chef and judge Mark McEwan tells Ross that he has finally got his sea legs. (I think that's a Newfoundland joke?)
Mark Singson got into some hijinks at McEwan's while waiting at the fish counter. It was hard to tell if that was staged or not, but it does show his goofy side. Mark has a pinot grigio and chooses to make a Filipino tuna ceviche, which concerns chef McEwan, because it may not be a good match. But when he tries the dish alongside the wine, his concerns evaporate. Judge Mijune Pak eats three of the hors d'oeuvres in a row and tries to walk off with more.
Jinhee was the only one that wasn't thrilled with her wine choice. She ended up with a red blend, but she had wanted a white wine. She makes a pork tenderloin wrapped in bacon with a black bean and plum sauce. She finishes it with a mushroom aioli that Mijune wants to buy by the litre.
The resident tiger Nathan got to choose his wine and pairs the pinot grigio with a chicken ballotine stuffed with foie gras. Usually, foie gras is like catnip to the judges, but not this time. They are disappointed in Nathan's dish because he went too light on the foie and the seasoning. He may have felt like a tiger, but I guess he is really a playful kitten.
JP Miron works at a wine bar, so this challenge should have been easy for him; but he should know better than to boast before a challenge. Just like when he had to make Italian-style pizza, he plays it safe and his duck breast with lentil salad was not rich enough to partner with the cabernet sauvignon. It's good but just not "sexy" enough, say the judges.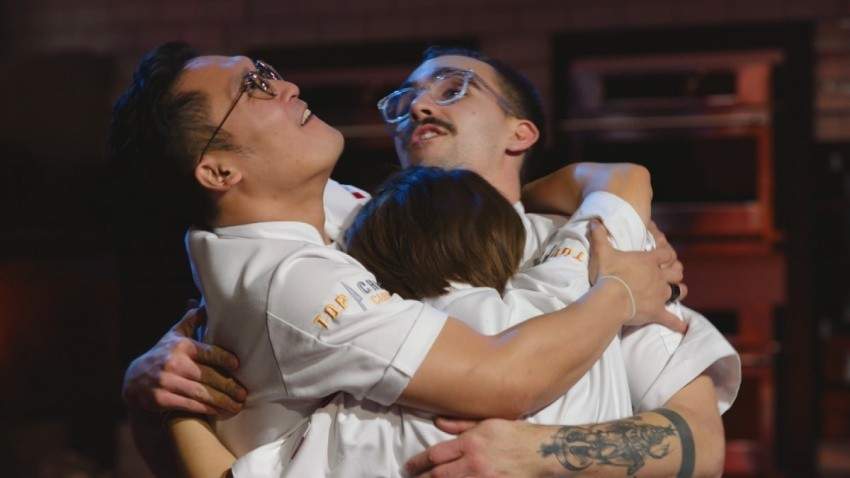 Judges' Table
There's no question who are in the top three and who are in the bottom. So even though the judges look super serious when Ross, Jinhee and Mark are called to the Judges, we know, and they know, that they are in the top three.
The judges are so effusive with all three cooks that the only mystery is who won the challenge. They felt that Ross' pairing was the best. Mark's dish was called a masterpiece, and he was lauded for cooking the under-appreciated Filipino cuisine. Jinhee was told it was the perfect bite and Mijune offered once again to buy her sauce. Just when we thought Mark was going to be second again, he gets the win and is now mentally packing for California. These three are also now in the finale, which is the first mention of the finale all episode.
JP and Nathan are called in and told that they are on the bottom. At this point, I'm wondering if there are three or four people in the finale. Maybe this is another double elimination.
But no.
We are waiting for the traditional critiquing of the dishes when Nathan steps forward and asks to speak. "I would like to disqualify myself from this competition."
What?
He goes on to say that he has struggled, mentally, all along; and he doesn't feel like he has put forward his best dishes. Even when he has won, he hasn't been satisfied with his dish.
Eden asks if he is sure because he can't "unwind" this once it's done. But Nathan says he is sure. JP is truly speechless at this point.
Chris Nuttall-Smith asks Nathan if this decision will haunt him and will he wonder what could have been. But Nathan doesn't think so, and repeats that he wants to disqualify himself.
With no other options, the judges accept his decision and tell Nathan to pack his knives and go. It is obvious that JP is conflicted about the turn of events. It's not how he wants to be saved, but he's going to take it. Chef McEwan tries to make him feel better and tells JP that no one gave him his chance at the finale, and now it's his turn to cook his heart out.
JP tears up as he tells Nathan that he didn't have to do it that way. Good on Nathan, for realizing that competition is not for him. He says it was choice and it was his time to move on.
Obviously, Nathan felt that the stress was getting to be too much for him. And I don't think that anyone who watched the show would disagree. Nathan showed a funny mix of over-confidence and insecurity in this episode (and the whole show). He was the most vulnerable of the competitors and we will miss him. He obviously has some good skills and we wish him luck on his travels back to Saskatoon, unless we see him again in the finale.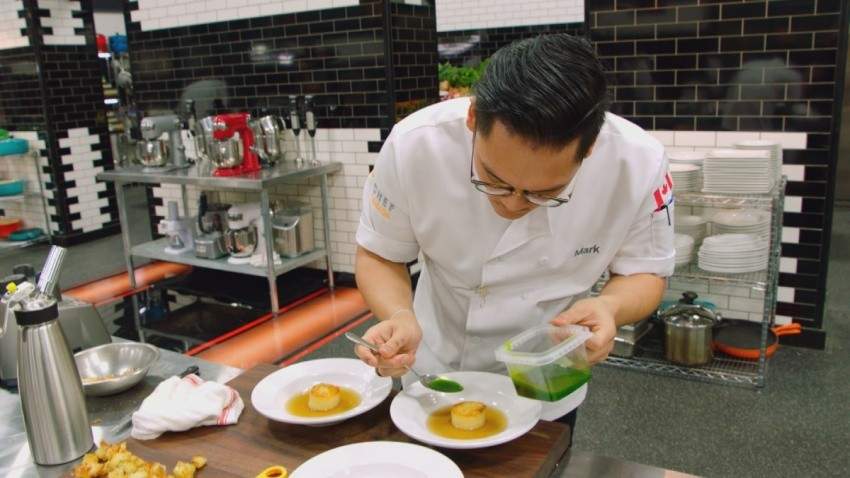 Kitchen Scraps
The elimination challenge shows that when you give the chefs a chance to really cook what they want, they can shine.
Obviously, Nathan's decision was a surprise (at least for the viewers) and I respect his choice that he knew himself well enough to know when to pack it in. He didn't disqualify himself, he quit. Check out the More than Maple Syrup podcast to hear how Phil Wilson and I feel about his decision, and what Nathan has to say about his forgotten foie gras sauce.
Finale time! Who are you looking rooting for? Who do you think will be the first to go?