I never thought I'd be singing the praises of strawberries in a recipe outside of summer...and yet here we are.
Earlier this spring, a game-changing innovation of greenhouse-grown strawberries was announced by Alberta's Sunterra Market. The Duchess Strawberries are now available year-round at their Calgary, Edmonton and Red Deer locations and they truly do taste like summer strawberries.
It's quite mind-blowing.
Of course, things like greenhouse-grown tomatoes, cucumbers, herbs and a variety of lettuces are readily available in most provinces which made me think: Why not make a "summer" salad with locally-grown produce?
This recipe is as simple as they come. Feel free to swap out the oil and vinegar I have decided to use for whatever your preference is because the strawberries, veggies and fresh herbs are the true stars here.
Strawberry, tomato and cucumber salad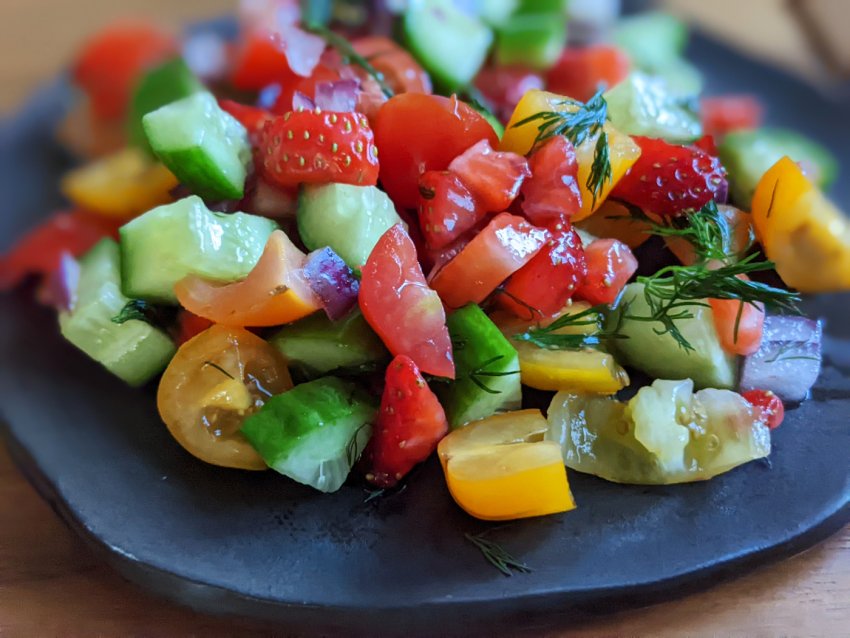 16 Sunterra Market Duchess Strawberries, tops trimmed, halved and then quartered
6 baby cucumbers, quartered lengthwise and 1/4" chopped
20 cherry tomatoes, quartered
1/4 cup finely chopped red onion
2 tbsp roughly chopped fresh dill
1 tbsp roughly chopped fresh mint
4 tbsp cold-pressed canola oil
2 tbsp Alchemist Vinegar Honey Blacked Garlic Vinegar
1/2 tsp fine sea salt
Place all ingredients in a medium mixing bowl and stir gently until fresh ingredients are combined and evenly coated in oil and vinegar.
If you are not serving immediately, keep cool in the fridge until ready to serve.
(Note: The longer the salad sits before serving, the more it will tenderize. This is not necessarily a bad thing, but it does make the texture less crisp.)
Yield:

Prep Time: