What a year it's been! After plenty of travelling throughout 2016 by airplane, car and occasionally by boat, I've come to appreciate the diversity of the Canadian food scene more than I thought was possible. It never ceases to amaze me how dynamically different cooking styles, ingredients and a person's approach to food varies from province to province. Heading into 2017, with Canada's 150th birthday coming up in July, I think we can all agree that the new year will be full of ways to show the phenomenal food culture we have going on up here in the north.
From Victoria all the way over to Charlottetown, P.E.I. and many places in between, here are 25 of the most memorable things I've eaten, sipped, chugged (no judging) and devoured throughout my travels across Canada in 2016.
Alforno Bakery's berry cornflake muffin (Calgary, AB)
It's pretty hard to fall in love with a muffin. So, you can imagine my surprise when I bit into this crispy cornflake and sugar-crusted muffin at Calgary's Alforno Bakery. The type of fruit used in the batter has changed through the year: sometimes it's blackberries, other times banana, but it's the muffin top that has kept me coming back again and again. Elaine from Seinfeld would be proud.
Bar Oso's scallop crudo (Whistler, B.C.)
This newer venture from the Top Table restaurant group (known for restaurants like Cin Cin and Araxi) proved to be a hit with Whistler residents and visiting discerning palates alike. Bar Oso's Spanish food is impeccable, the room is stunning and the service is on point. The scallop crudo has become the restaurant's most well-known dish and for good reason. It's as fresh-tasting and great to eat as it is beautiful to look at it.
Beer Revolution's American Pie pizza (Calgary and Edmonton, AB)
My love affair with the "Big Mac" flavour profile was fairly torrid this year (see the T-Dogs offering a little further down on this list), but none ran as deep as my love for Beer Revolution's American Pie pizza. I stand by my opinion that this restaurant is one of the most delicious spots for pizza in all of Alberta. This pizza comes topped with ground beef, burger sauce and shredded iceberg lettuce for some crunch. My friends and I go here often and this pizza always hits the table.
The BX Press Cidery's Ginny cider (Vernon, B.C.)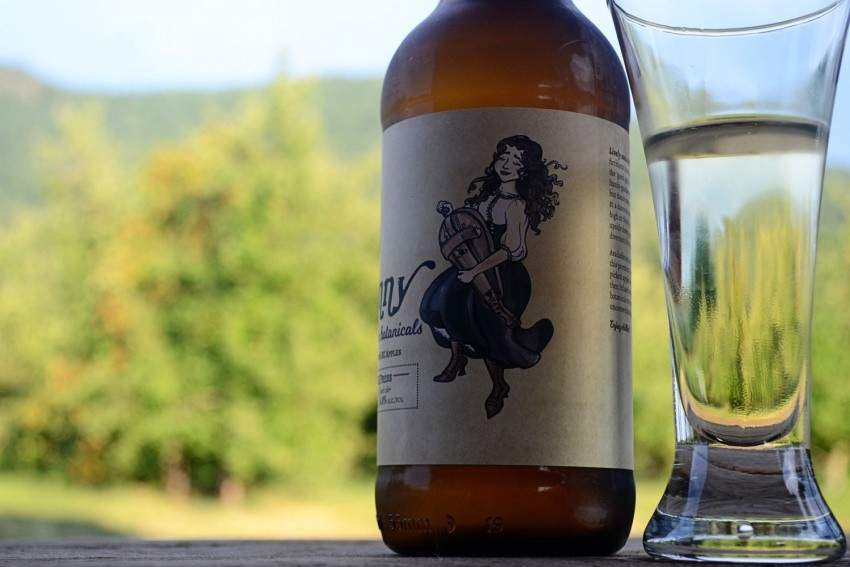 Craft cider has really been gaining traction across the country, so expect to see a ton of interesting apple-based brews popping up on draught lines in a bar near you in the coming months. One of the tastiest ciders I sipped this year was the gin-botanical-infused "Ginny" from Vernon's craft cidery, BX Press. Don't expect to find it outside of B.C., or even the Okanagan for that matter, but if you're in the valley, make a point of picking up a bottle or two (or three).
Carr's Oyster Bar's coconut cream pie (Breadalbane, P.E.I.)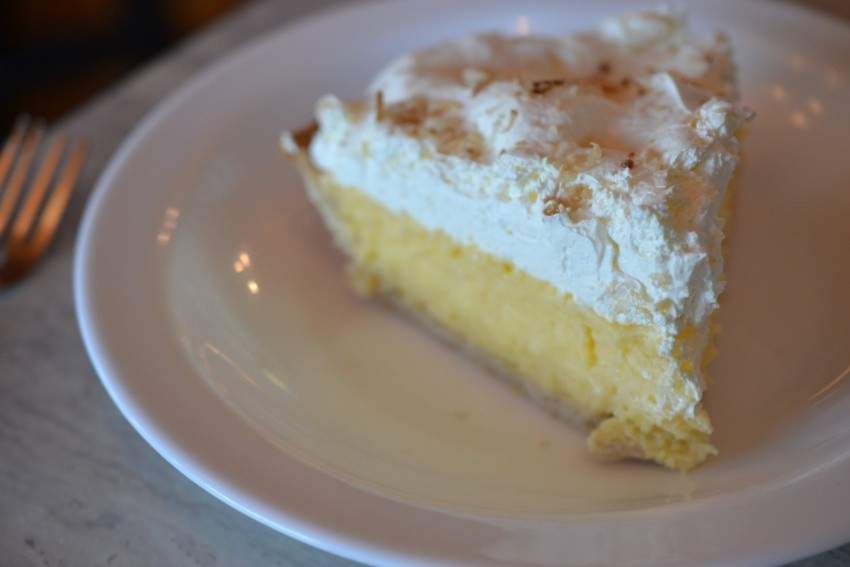 I'm sure there's some sort of history behind the East Coast and its love for coconut cream pie. I'll look into it one day, but until then, I'll just dream about this big, creamy slice of pie that I dove into with Pay Chen after we slurped back oysters and feasted on freshly caught seafood at Carr's Oyster Bar. The restaurant is just steps away from the ocean where you can see plenty of folks out on their boats harvesting oysters.
Chocolatier Constance Popp's birch syrup ice cream (Winnipeg, MB)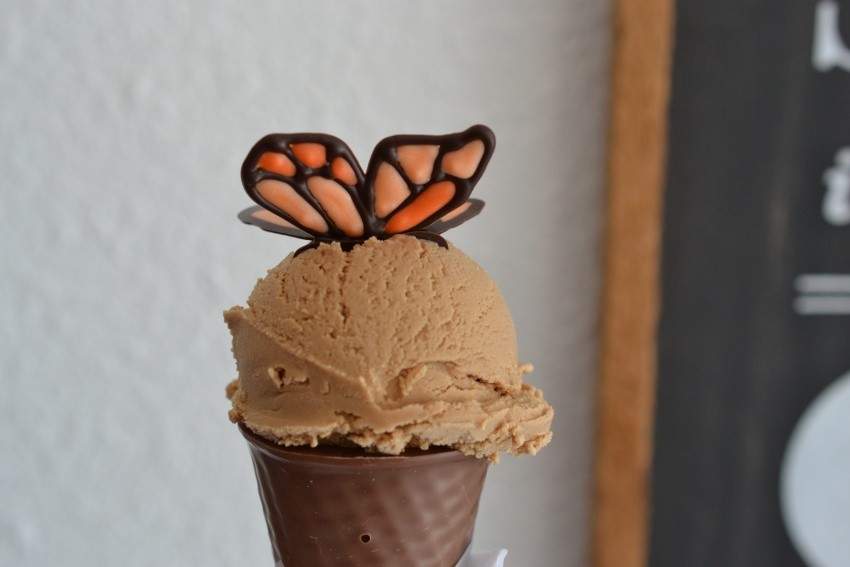 Perhaps not for all palates, the house-made birch syrup ice cream from Winnipeg's most well-known chocolate shop, Constance Popp, made for a memorable and refreshing snack this past summer. Eating the little chocolate butterfly was the cherry on top of a uniquely Canadian dessert.
Clementine's Coconut curry mushroom toast (Winnipeg, MB)
Winnipeg's Exchange District had a welcomed new addition to its restaurant offerings earlier this year with Clementine, a brunch-focused restaurant that draws on worldly flavours for its creative menu. There are plenty of satiating dishes to eat here, like the Turkish eggs with hummus and chili butter or the chorizo verde tostada, but the coconut curry mushroom on house-made sourdough toast is a true stand-out. Especially now that temperature is dipping lower in Winnipeg, cutting into this warming plate of food on a chilly morning is a perfect start to the day.
Cluck 'n' Cleaver's Little Clucker (Calgary, AB)
Cluck 'N' Cleaver is putting out some of the best fried chicken in the province and its Little Clucker is just as good and perfect to eat on the go. It's like a McChicken, but about 1,000 times more delicious.
Deane House's red cabbage and chicken liver mousse (Calgary, AB)
One of the city's most anticipated new restaurants, Deane House opened earlier this fall and did not disappoint. Chef Jamie Harling does a lot of wondrous things with locally-grown vegetables on his menu in this historic property, but the combination of fermented cabbage, apple and roasted hazelnuts resting on a generous portion of rich chicken liver puree makes for a truly outstanding dish.
Hayden Block's smoked turkey breast (Calgary, AB)
Turkey rarely gets a chance to shine on a restaurant menu, but that's exactly what happens here at this top notch Texas-style smokehouse in the Kensington neighbourhood of Calgary. Hayden Block's smoked turkey breast is tender, juicy and comes even more alive when doused in any of the house barbecue sauces. Apparently, turkey is so much more than a holiday fowl. Who knew?
Hayloft's roasted beet salad (Airdrie, AB)
Beet salads are a dime a dozen these days, but that doesn't mean there aren't exceptional ones out there. Out in Airdrie, Alberta, chef Jason Barton-Browne gets creative at Hayloft with the earthy winter vegetable, pairing it with a tarragon-infused chevre and hearty charred green cabbage.
Jackpot Chicken Rice's tempura broccoli with kaffir lime aioli (Toronto, ON)
With a concise menu consisting mostly of chicken and rice, one of Toronto's newer restaurants, Jackpot, proves that there is beauty in simplicity. Don't start a meal here without an order of the tempura broccoli with kaffir lime aioli. Appropriately lightly battered, crispy on the outside and drizzled with the aioli, the broccoli comes off surprisingly lighter than one would expect.
Its sister restuarant, Patois, is still undergoing renovations after a fire earlier this year, but check Jackpot's instagram feed for information on Patois pop-ups in the vibrant little space.
Kissa Tanto's fish crudo (Vancouver, B.C.)
The current reigning "best new restaurant in Canada" (according to Air Canada enRoute) has won diners over with its creative Italian-Japanese fusion menu. After a dinner at Kissa Tanto with friends, the stand-out plate by far was the crudo, topped with castelvetrano olives (who doesn't love those green, buttery things?), pickled almonds, capers and leeks. It's a showstopping kind of dish.
Living Sky Winery's Hopping Bunny Hugger cider (Saskatoon, SK)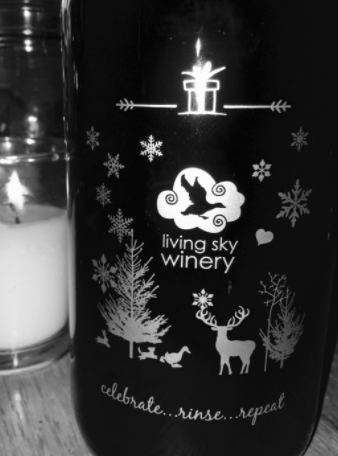 I was scrambling to find a picture of this sour cherry, hop-infused cider made by Saskatchewan premier fruit winery, but I guess I drank an entire growler before I had time to snap a photo with my phone. At any rate, this tart, ruby red cider makes for a wonderful sip on a warm summer or fall day. You can find it on tap at the Living Sky Winery, Saskatoon Farmers' Market and select Sobeys liquor stores in Saskatchewan and Alberta. If you're wondering about the name, "bunny hugger" is an ode to a Saskatchewanite's nickname for a hoodie, a "bunny hug".
Nourish Kitchen and Cafe's cultured cashew cheese (Victoria, B.C.)
I was thoroughly impressed with the many delicious dishes I had in Victoria this past September, especially the thoughtful creations at Nourish. The popular local restaurant operates out of an old home that oozes character. The tangy cashew cheese with seed crackers set the tone for a fantastic meal here. If you are craving a dirty martini, this barkeeps here stir it up with their house-pickled carrot brine. It's unexpectedly rewarding as well.
purebread's sugar bun (Whistler, B.C.)
Whatever creative force is at work behind the scenes at purebread (which has a location in Vancouver as well) in Whistler deserves some sort of gold medal for making piles of scones, stacks of cookies, shortbreads, pound cakes and more look just as stunning as hidden treasures are to Jack Sparrow a la Pirates of The Caribbean.
"I'll have that and this one too. That one in the back and that thing in the corner. Oh, and whatever that is right over here."
That's how I ordered eagerly at the counter, not once, but twice over a three day weekend in the mountain town.
Of all of the sweets and pastries, I fell as hard as a 1990s teenage girl for Freddie Prinze Jr. for the sugar buns that were filled with raspberry rhubarb compote. I never realized how big of a sweet tooth I had until purebread made it come alive.
Roost Farm Centre's cheesy pepperoni bun (Victoria, B.C.)
The fact that a pepperoni bun was so memorable to me as I look back on 2016 is quite surprising, but it was all of the effort that goes into something as simple as this here at Roost that impressed me. Locally-made pepperoni and cheese are used along with a dough made from flour that is ground on-site. There's plenty of other good ol' home-style baking here too and I can't wait to come back for a visit to try more.
PEI Shellfish Festival's "Trailer Trash" chowder (Charlottetown, P.E.I.)
Rosen's Cinnamon Buns' cinnamon bun (Toronto, ON)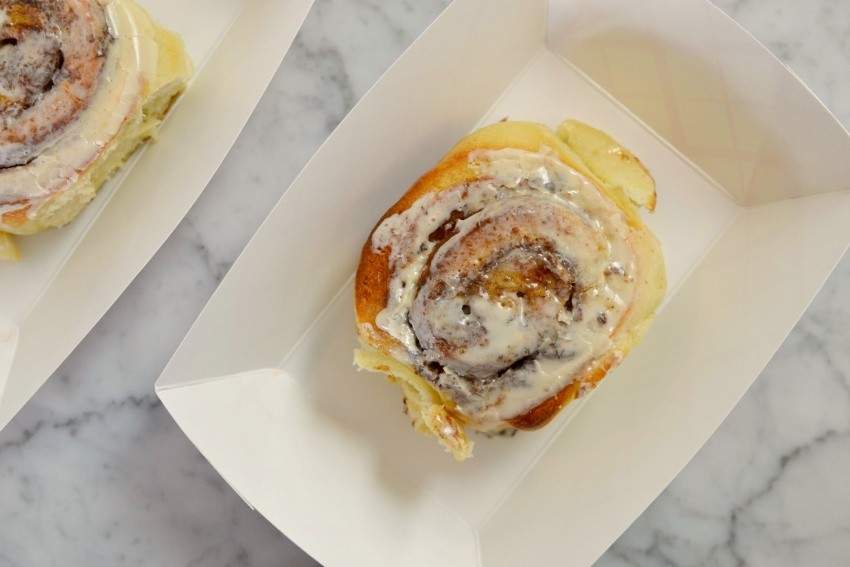 You don't hear about food writers opening up a culinary business too often, but that was the case this year with Amy Rosen opening her cinnamon bun shop on the corner College and Ossington. The result is a simple concept that centres around a "do one thing really well" mantra and that one thing is a classic cinnamon bun. No frills, not too sweet, just enough spice and a healthy schmear of icing on top resulting in a few sticky fingers. It's all you should expect from a delicious cinnamon bun.
Sandrine French Pastry and Chocolates' macaron gelato sandwich (Kelowna, B.C.)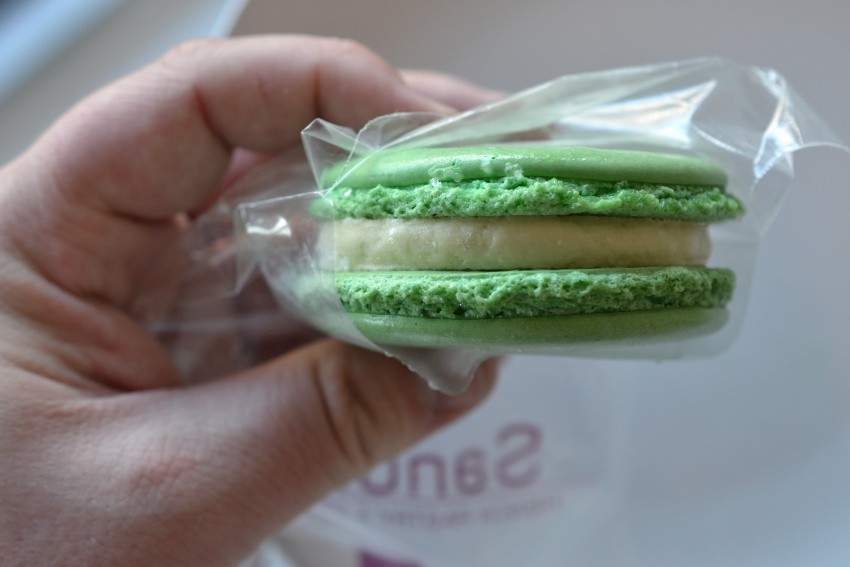 I think a macaron gelato sandwich is a stroke of genius. Sandrine is a wonderful little patisserie in Kelowna with an equally wonderful owner of the same name. The vanilla gelato sandwiched in-between the mega-sized macarons is made in-house as well. Perhaps not the best treat during the winter, but come spring in the Okanagan, stop by here for one of these deliciously chilly creations.
Segovia Tapas Bar's dukkah-spiced doughnuts (Winnipeg, MB)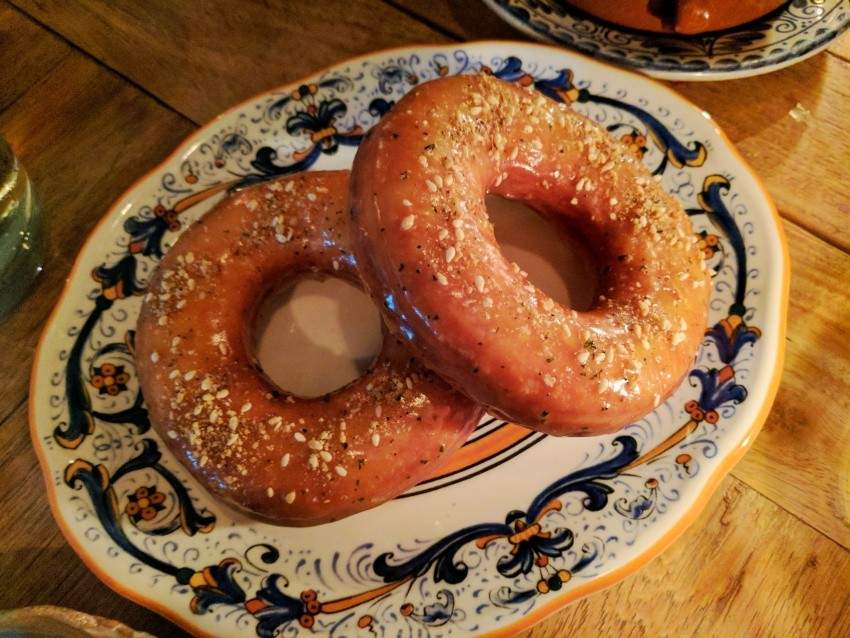 Most know by now that Segovia can't do much wrong in my books with their contemporary Spanish cooking. New to the menu the last time I visited Winnipeg in November were this house-made dukkah-spiced doughnuts. My heart does belong to the mascarpone cheese-stuffed dates when I'm ending a meal here, but was the most inventive take on a classic doughnut that I enjoyed in 2016.
The Tallest Poppy's bourbon peach toast (Winnipeg, MB)
This breakfast dish at The Tallest Poppy sort of toes the line between breakfast and dessert, but, I mean, there's fruit on top so it's sort of good for you, right? Jokes aside, getting a thick slice of toasted cinnamon bread slathered in cream cheese and topped with bourbon-sauteed peaches for only $5 is one hell of a fantastic deal. Order two. You deserve it.
The Tempered Room's onion soup roll (Toronto, ON)
For me, a trip to Toronto isn't complete without a morning spent in Tempered Room, writing away on my laptop, sipping on a coffee and having one of these big buttery, savoury rolls for breakfast. It's sort of like a croissant's burlier Quebecois cousin. Mm...
T-Dogs' Big Mac hotdog (Halifax, N.S.)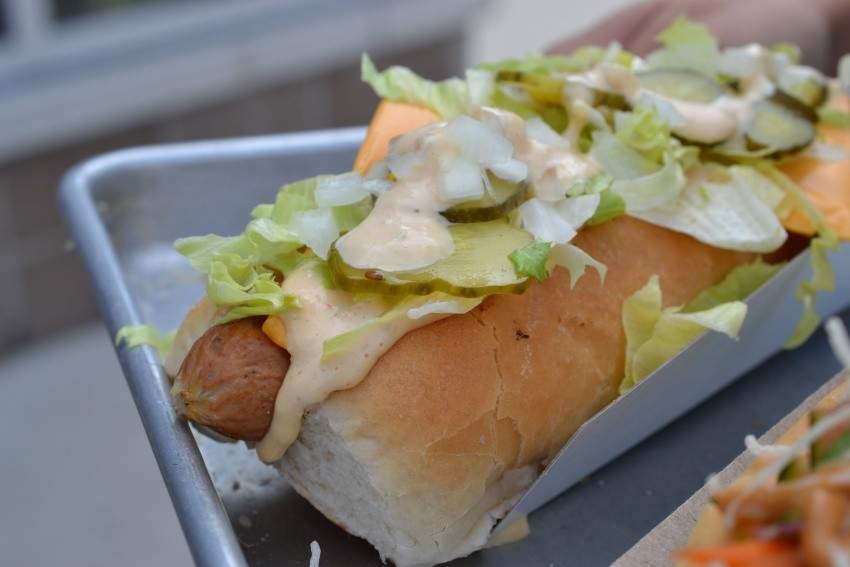 From baos to vegan burgers, the flavour profiles of McDonald's Big Mac has seen many intepretations across Canada. This particularly indulgent variation on the theme from the East Coast's coolest hotdog cart--quite possibly Canada's coolest hotdog vendor, to be completely honest--is a home run. What takes this messy, but delicious meal over-the-top is that T-Dogs makes all of their own hotdogs from scratch.
When the weather isn't too favourable, you can expect to see them popping up inside Good Robot Brewing Company.
Virtuous Pie's Kim-Jack pizza (Vancouver, B.C.)
It's always impressive when a vegan interpretation of typically meat-based dishes can feel satiating and that's exactly what Virtuous Pie accomplishes here. People with purely carnivorous appetites may not agree, but I left my lunch at this slickly-designed plant-based pizzeria feeling happily full. The combination of gochujang, braised jackfruit (which offers a pulled pork-esque topping, texture-wise), kimchi, hoisin and cashew mozzarella isn't conventional whatsoever, but c'mon, this is vegan pizza. Why should it be?