How can a year feel long and short at the same time? Perhaps when you're busy, nose to the grindstone (or in my case, mouth to the forkful) going full tilt, it seems you're never at the finish line. While that's happening, it's easy to overlook winter melting into spring, blossoms growing into summer blooms, which fade into fall, and all that to chill right back down to winter again.
Closing this year with a record 74 flights, 60 of which within Canada, and approximately 15 road trips; saying that I've travelled a lot, ate a lot, and drank a lot is an understatement. Sadly, I didn't make it out to this east coast this year, but I got to spend more time exploring Ontario and Quebec than ever before. It also turns out that I've collectively spent more time in Canadian restaurants than I have in my own home.
Living the life of a nomadic food writer has its ups and downs, but the best up of all is looking back on the past 12 months and seeing which food and drink stand out in my memory. Naturally, scrolling through the thousands of food photos on my phone helps.
From a tasting menu at Mission in Vancouver that I recall as if it was last night to a vegan pizza pop in Ottawa, and a varied list of edibles and drinkables in between, here are the 30 best things I had in 2017.
Agrius' Abbotsford rice with stinging nettles (Victoria, B.C.)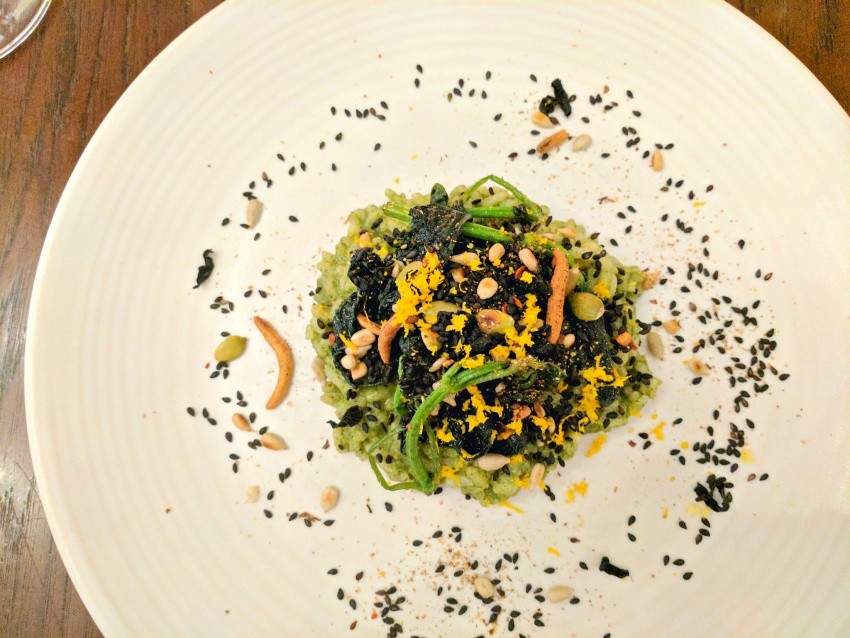 Beyond finding out that this dish uses rice from a farm just outside of Vancouver, this springtime risotto of sorts (similar to congee) I enjoyed at Victoria's Agrius with stinging nettles, puffed wild rice, black sesame seeds, a hint of ginger, chilies and a final hit of orange zest hit all points on the palate.
Alloy's matcha tea dessert (Calgary, AB)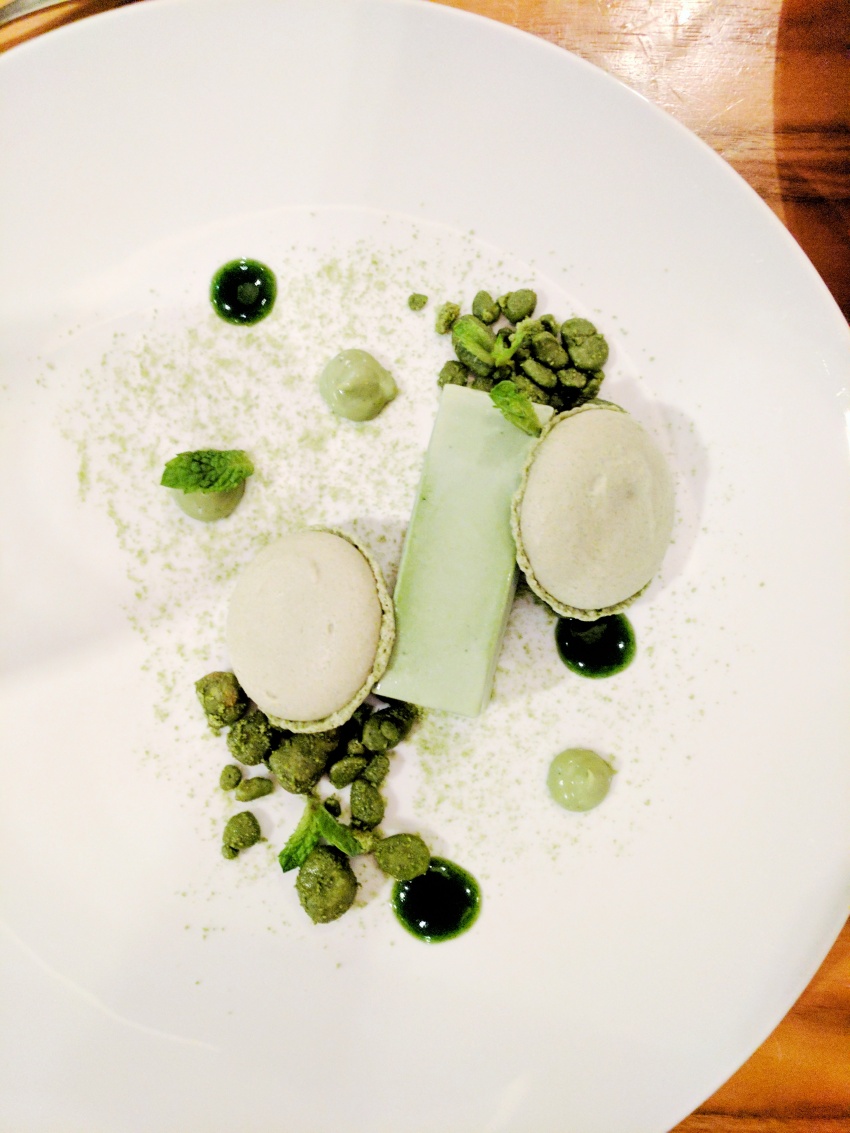 This is one of those restaurants that when I sit down for a meal, I wonder why I don't eat here more often. Consider that one of my 2018 resolutions because this all-shades-of-green dessert from chef Rogelio Herrera's Food Day Canada menu in August was a stunner. Matcha crumble, matcha semifreddo, matcha macarons...Yes, matcha, matcha, matcha--all with varying levels of sweetness, saltiness and textures. Wonderful.
Biera's grilled pork steak with beets (Edmonton, AB)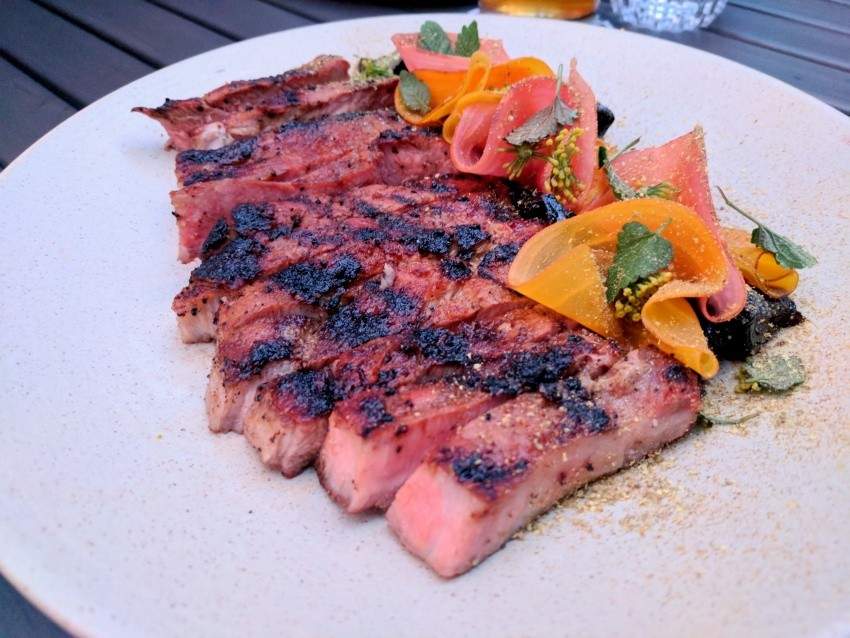 I'm honestly hard-pressed to find something served at Biera that isn't a showstopper, aside from perhaps the ice cream, but this particular dish by chef Christine Sandford is a particular standout since dining here in the summertime. The dish is a big, tender pork shoulder steak is sliced thinly and served with dehydrated then rehydrated beets, a meadowsweet (a flowery herb) verjus and an accent of lemon balm. Pork has never looked or tasted sexier.
Botanist at the Fairmont Pacific Rim's scallop ceviche (Vancouver, B.C.)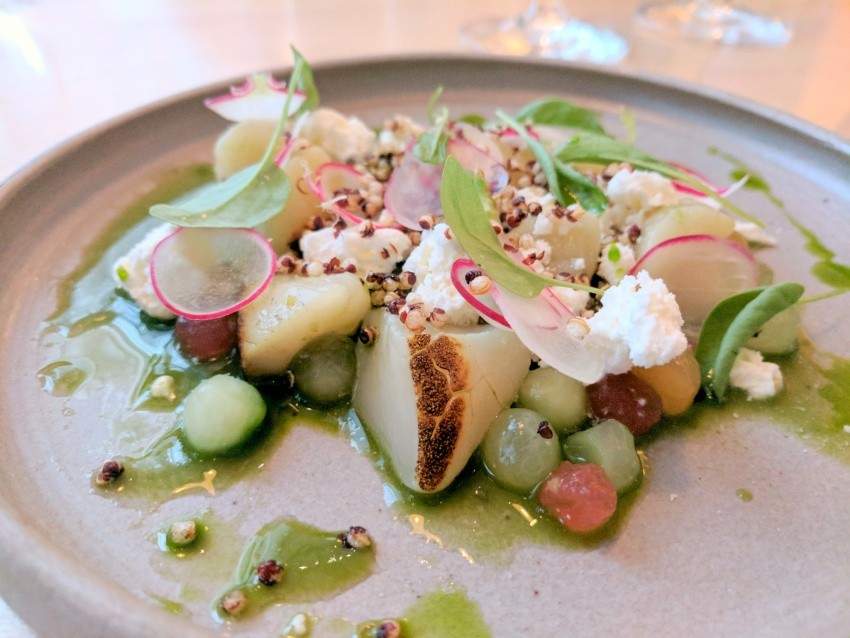 A nicely seared scallop is delicious enough on its own, but Botanist's chef, Hector Laguna, elevates this seafood beautifully by giving it a quick sear then serving it up with compressed melon, green apple, fried quinoa and fresh cheese--such a magnificent combination of flavours, temperatures and textures. To me, this dish is an exemplar of West Coast dining.
Boulevard Kitchen and Oyster Bar's humboldt squid "puttanesca" (Vancouver, BC)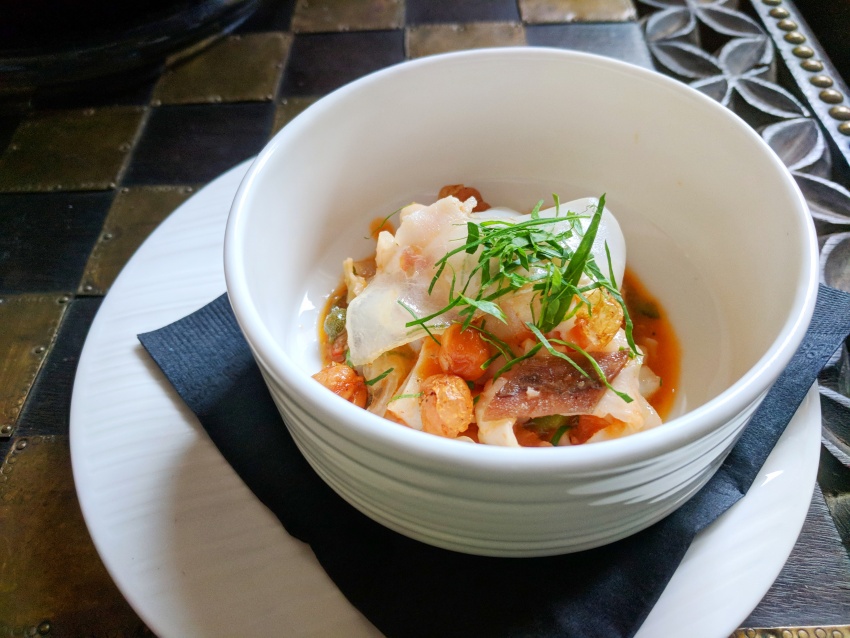 After winning the Vancouver area regional Gold Medal Plates competition earlier this fall, it's clear that chef Alex Chen really brought his A-game to 2017.
Served at s special coursed lunch during Whistler's food and wine festival, Cornucopia, in November, this humble but creative dish blew most everyone in the room away. Shaved humboldt squid took the place of noodles in a bright, acidic tomato sauce, studded with salty anchovy chunks, capers and crispy chickpeas.
There was talk of this being added to the restaurant's bar menu, so here's to hoping!
Bridgette Bar's braised rabbit on toast (Calgary, AB)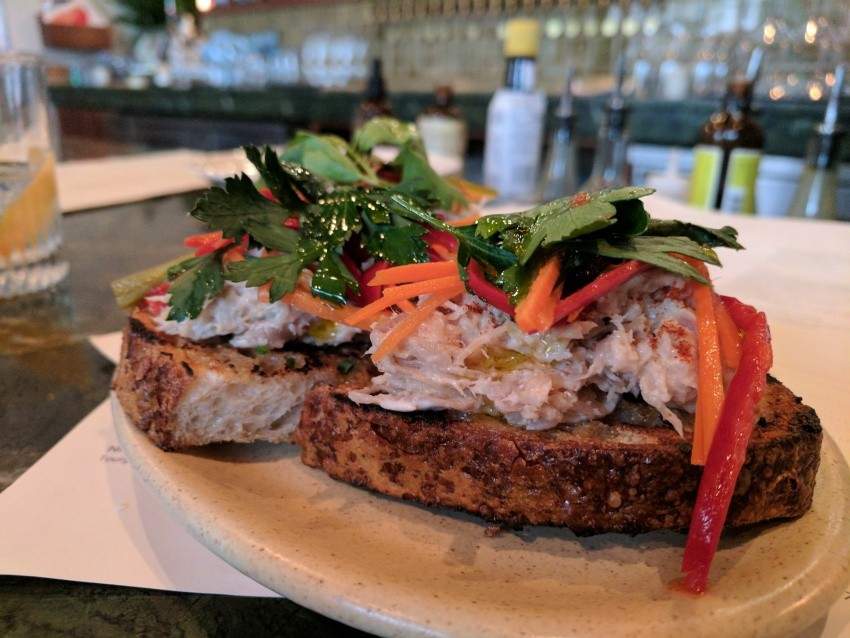 The cool creaminess of braised rabbit sitting on still warm, crispy bread slices, topped off with a salad of parsley leaves and tart, julienned vegetables is truly a winning combination here at Calgary's popular Bridgette Bar. I never start a meal here without it.
Candide's green bean, kohlrabi and venison salad (Montreal, QC)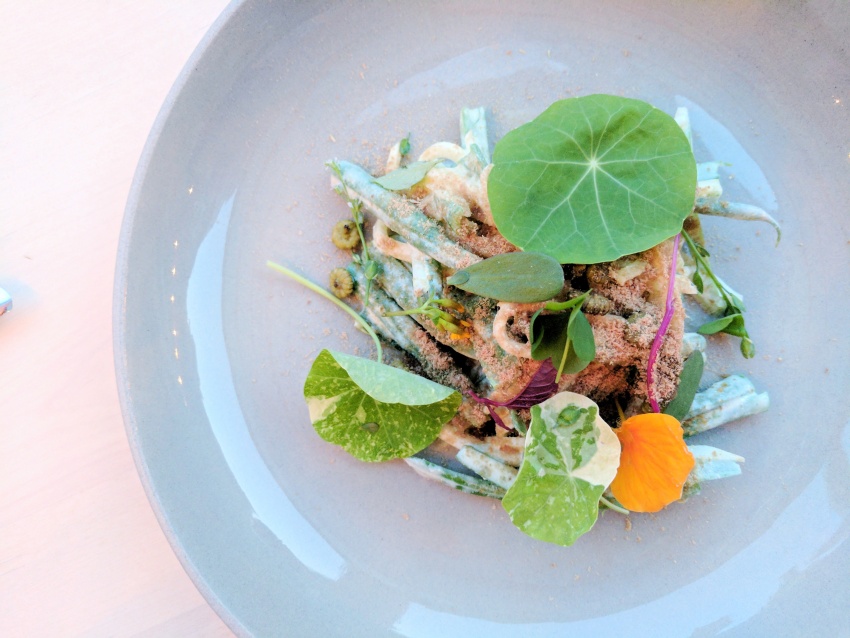 This tasting-menu-only restaurant, built into the back section of an old church, proved to be a fantastic place to enjoy a dinner on a Montreal terrace in the peak of summer. The thoughtful, progressive menu here was a hit overall, but the initial plate of blanched green beans, kohlrabi in a cream dressing topped with a grating of cured venison, pickled flower buds and nasturtiums was a step above the rest.
Carnaval de Quebec's maple taffy (Quebec, QC)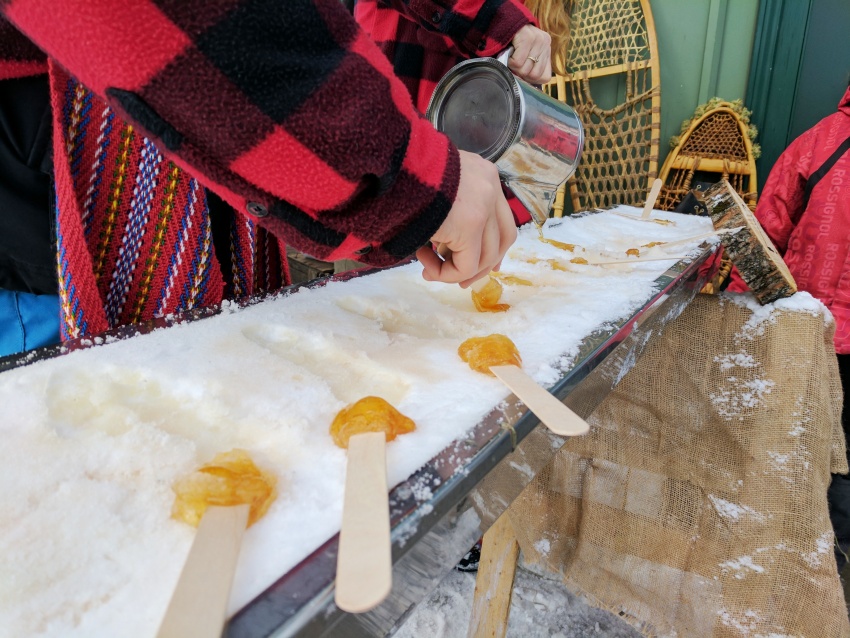 Yes, you can find maple taffy in many Canadian cities in the wintertime, but like Guinness in Ireland, I'm convinced that maple taffy tastes just that much more rewarding when you're surrounded by the buzz and energy that is Quebec City's winter festival, Carnaval de Quebec.
Once you've hit the sugar high, grab a toboggan and trek up to the century-old downhill track by the Fairmont Chateau Frontenac for an extra rush.
Chartier's deep-fried green beans (Beaumont, AB)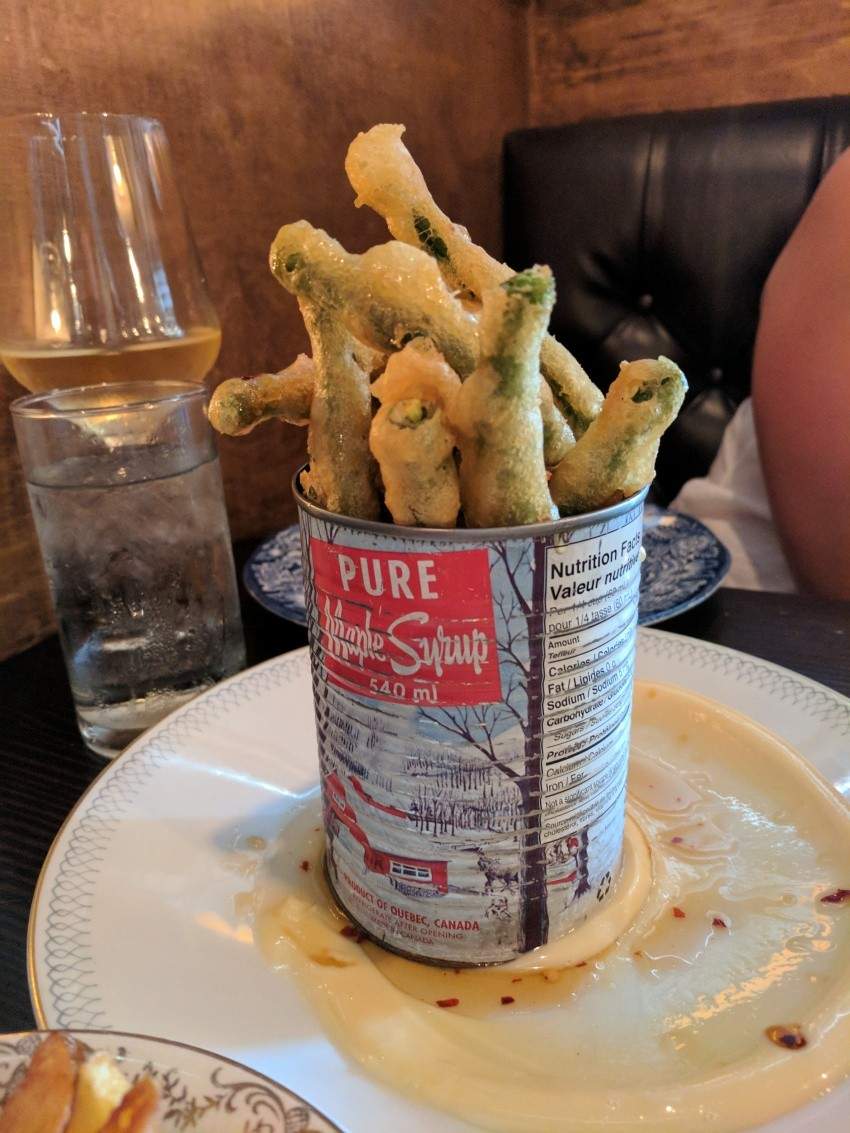 If I wasn't already charmed by Chartier's warm and welcoming service, I was infatuated after. Good food doesn't need to be complicated and this maple syrup can overflowing with crispy tempura green beans (still with a nice crunch themselves) surrounded by a smoked maple mayonnaise for dipping is a pretty good reminder of that.
Descendant Pizza's pepperoni pizza (Toronto, ON)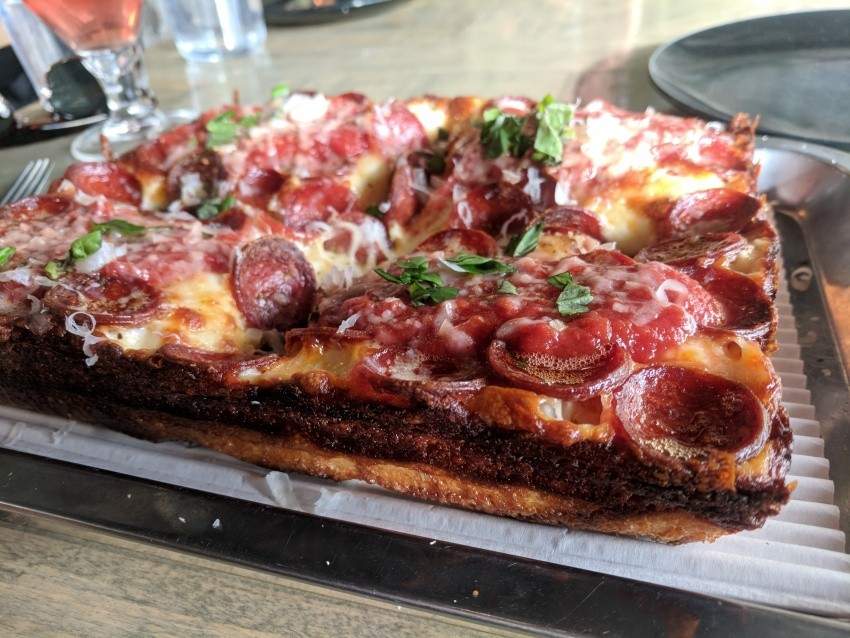 Located in Toronto's Leslieville neighbourhood on Queen Street East, Descendant Detroit-Style Pizza is a bit off the beaten path; but any pizza lover, like Pay Chen, will tell you that this Detroit-style pizza pace is worth venturing to. Thick, crispy-all-around dough topped with plenty of tomato sauce, cheese and rounds of pepperoni is the best kind of cozy on a cold day in Toronto. The mushroom pizza here, which is finished with lemon zest to balance out its richness, is equally impressive.
Estia's house-made halloumi (Toronto, ON)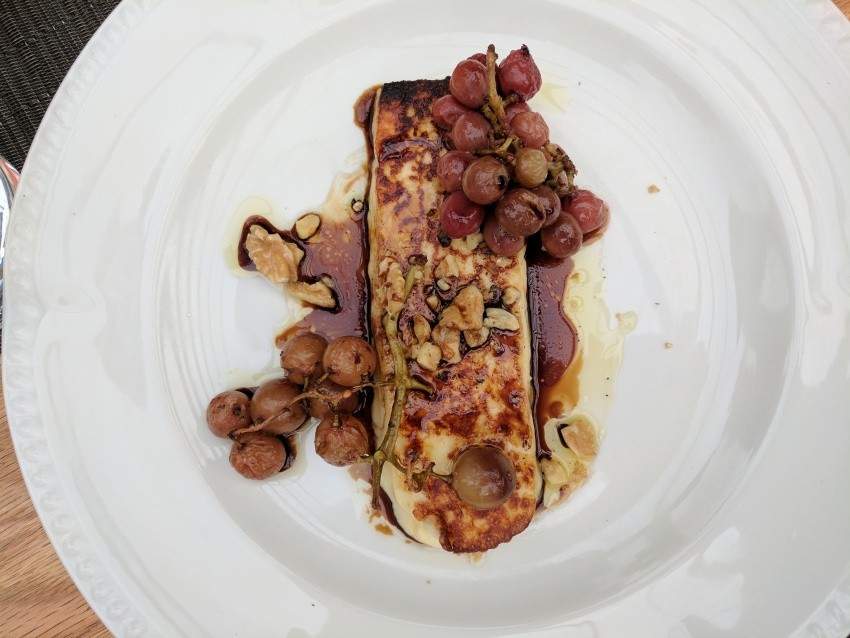 Regular ol' store-bought halloumi is delicious on its own. It's firm, salty, almost cheese curd-like squeak makes it memorable even without work; but here at Estia (a modern Greek restaurant) halloumi has never seen such a makeover. Made in-house, roasted and plated with roasted grapes, walnuts and drizzled with truffle honey? I don't think there's a better way to eat a chunk of cheese in Canada right now.
Farrow's homemade berry pop tart (Edmonton, AB)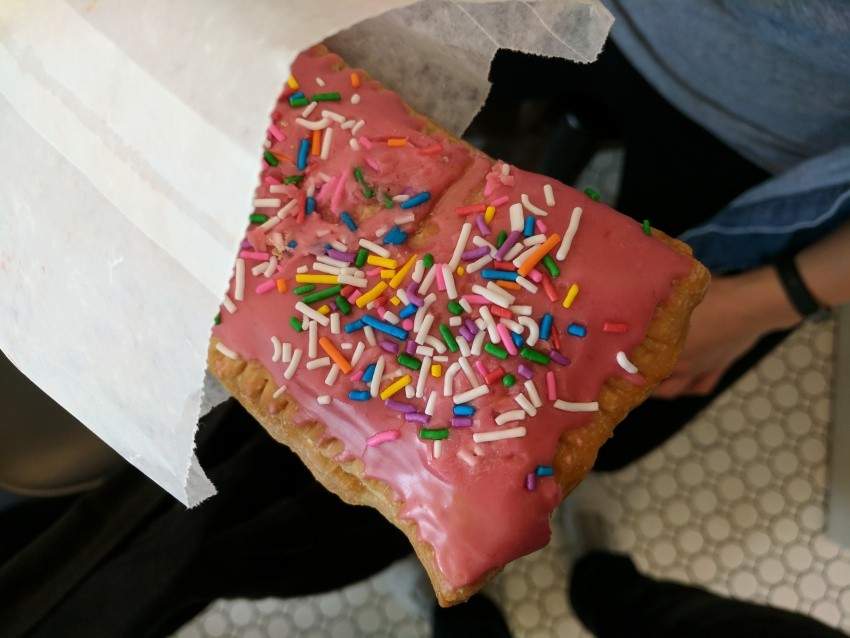 Now with two locations in Edmonton, this simple, but always satisfying concept is a local's go-to for a decent sandwich. It's its homemade pop tart, though, an addictive interpretation of the popular 1990s junk dessert (or breakfast food) from Farrow that will linger in your mind. Make sure to order your own because there's no joy to be found in sharing this fruit-filled treat.
Foiegwa's cheeseburger (Montreal, QC)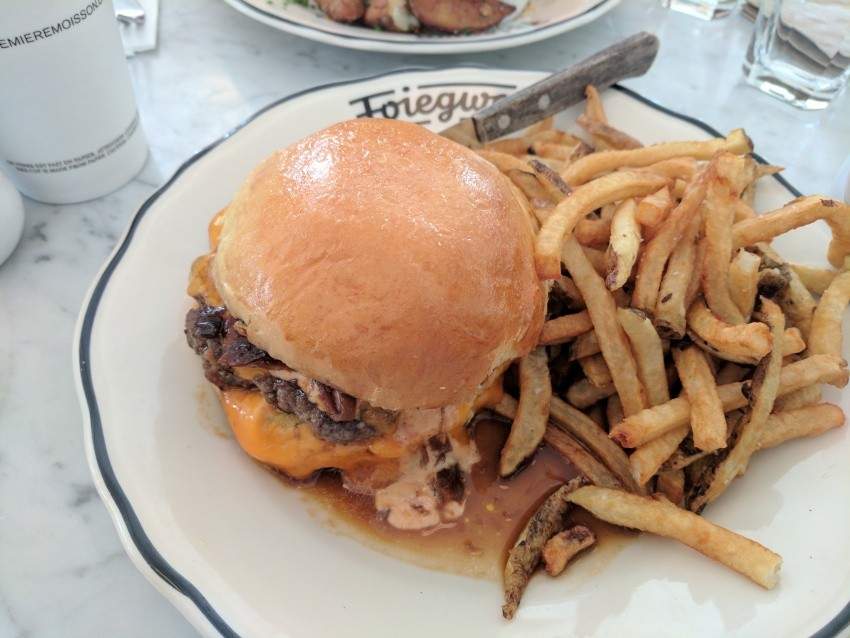 If a perfectly constructed cheeseburger had a night out on the town and ended up taking home a bowl of hot, bubbly French onion soup for a steamy one night stand, this burger would be the spawn.
Here at Foiegwa, a cooked-to-medium patty with American cheddar is nestled into a brioche bun with more caramelized onions than you could ever be ready for, and sits soaking up jus that seems purposely splashed on the plate. There is no polite way to eat this, but it's taste is so rewarding, politeness quickly becomes irrelevant.
Foreign Concept's charred onion (kuro tamanegi (Calgary, AB)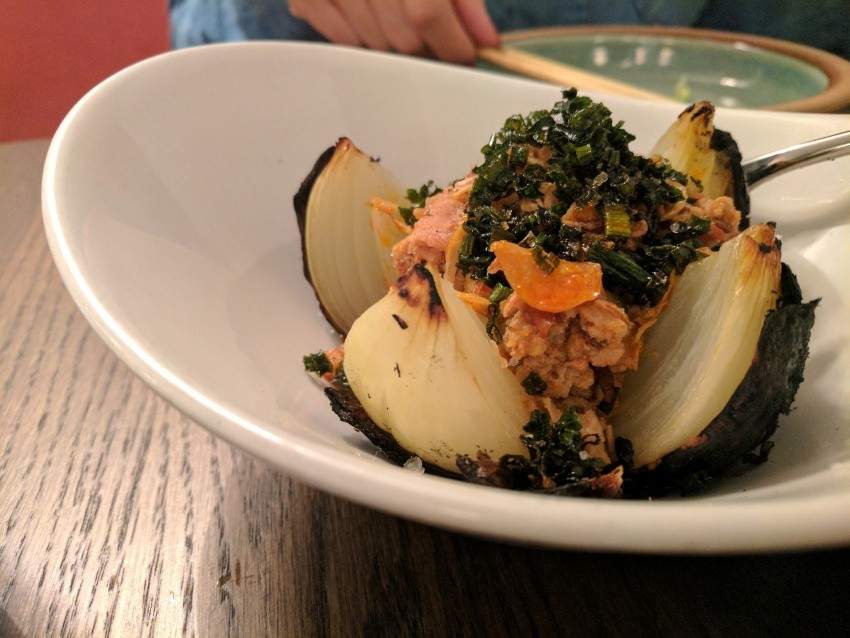 The only other time in my life that I can recall ordering a whole onion is during the Calgary Stampede, sliced, battered and deep-fried to all hell. That is one way to enjoy an onion (and have some serious regret afterwards). Here's the other way: go to Calgary's Foreign Concept and let executive chef, Jinhee Lee take an onion, roast it until it's charred on the outside, quarter it and top it with a spicy ground pork sauce and some crispy scallions. You'll never be skeptical about ordering an onion at a restaurant again.
Bar Henrietta's lemon spiced popcorn with manchego (Montreal, QC)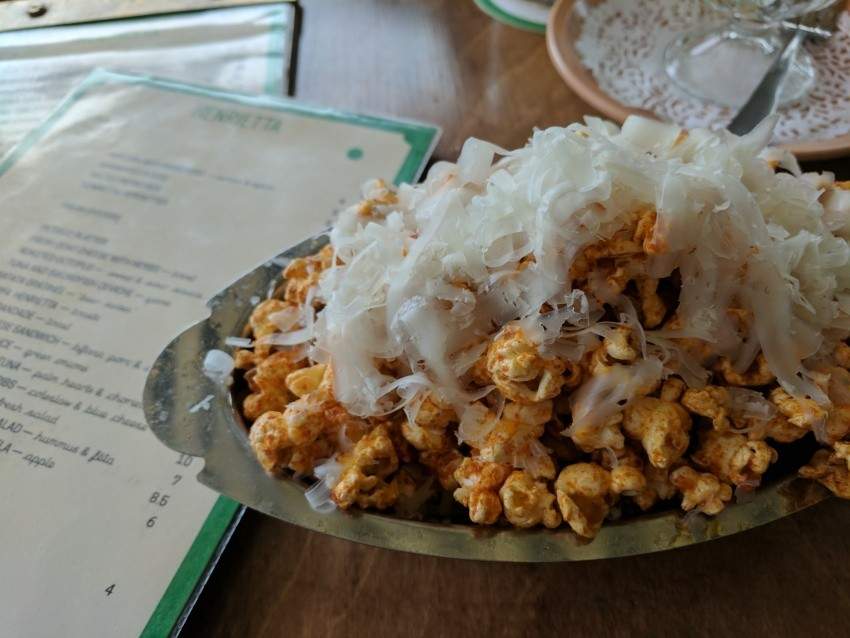 What more does one want in life than a fancy bowl of popcorn? I don't really care how skilled you are at making popcorn at home, promise me that you'll pay a visit to Bar Henrietta's and have a few handfuls of this flavourful artisan popcorn, lovingly covered in wisps of nutty manchego cheese.
Kiin's wing bean salad (Toronto, ON)
Of the two times I dined at Kiin this year, I can only sum this restaurant up as heartfelt, unique and remarkably memorable. Signature rainbow rice dish aside (definitely order it too), this seemingly plain salad is a work of art. Blanched wing beans are tossed with an umami-ridden chili shrimp paste along with crushed peanuts, toasted coconut and a quartered soft-boiled duck egg on the side.
Le Vin Papillon's carrot eclair (Montreal, QC)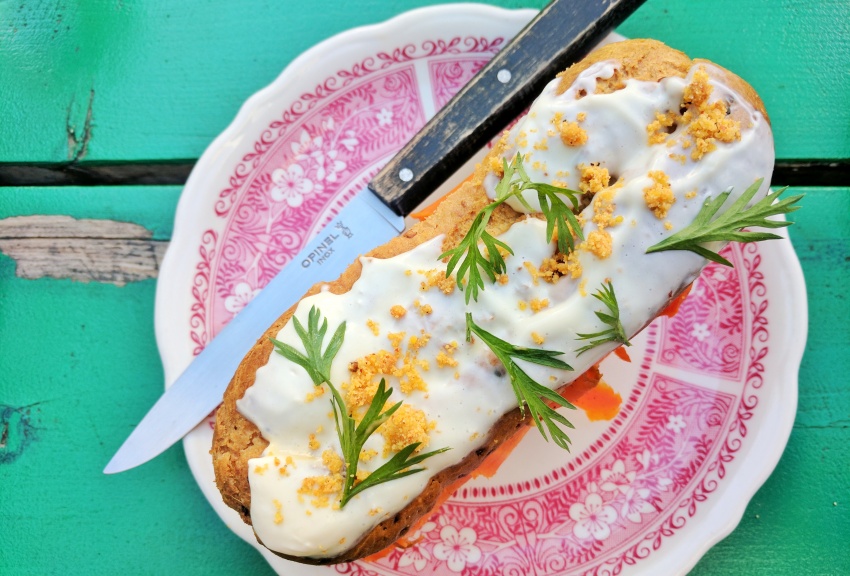 Carrots have been a popular vegetable on restaurant menus for close to two years now, so when a chef decides to use the simple garden vegetable at his or her restaurant, they had better be getting creative. This savoury take on an eclair at Le Vin Papillon sees shavings of carrot that have been smoked and marinated in Monstreal smeat spices fill the inside of the pastry which is topped with a bold white barbecue sauce and a few carrot greens. An impressive way to serve such a basic vegetable.
Lucky's Doughnuts' sourdough doughnuts (Vancouver, B.C.)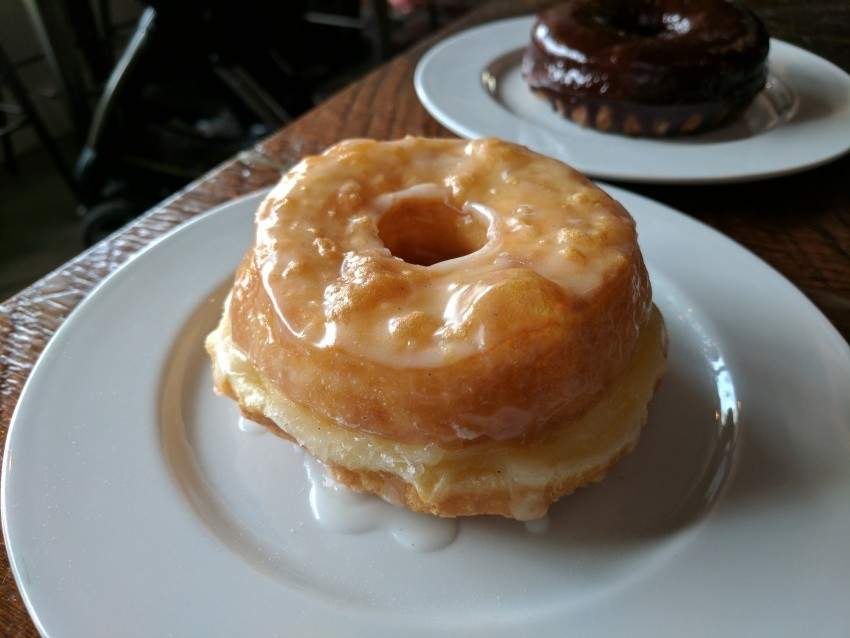 Does Lucky's make the best doughnuts in Canada? I can't say for certain, but in terms of any doughnut shop or maker west of Toronto, my travels offer a resounding yes. The creme de la creme creations at Lucky's (located inside 49th Parallel coffee shops on Main Street and West 4th Avenue) are the sourdough doughnuts. Vanilla glazed and chocolate.
The aged dough used to make these beauties offers a tangy flavour and layers (almost croissant-like, but more spongy) that are unlike any doughnut you've had before. Pastry chef Aaron Surman is the mastermind behind these creations and should rightfully pat himself on the back for a job well done.
Why would you *ever* settle for a donut at Tim Hortons in Vancouver when there's a Lucky's in town?
(I love you too, Cartems. The day you stop making your earliest grey doughnut will be a dark day in life.)
Market by Jean Georges' deconstructed frosé (Vancouver, B.C.)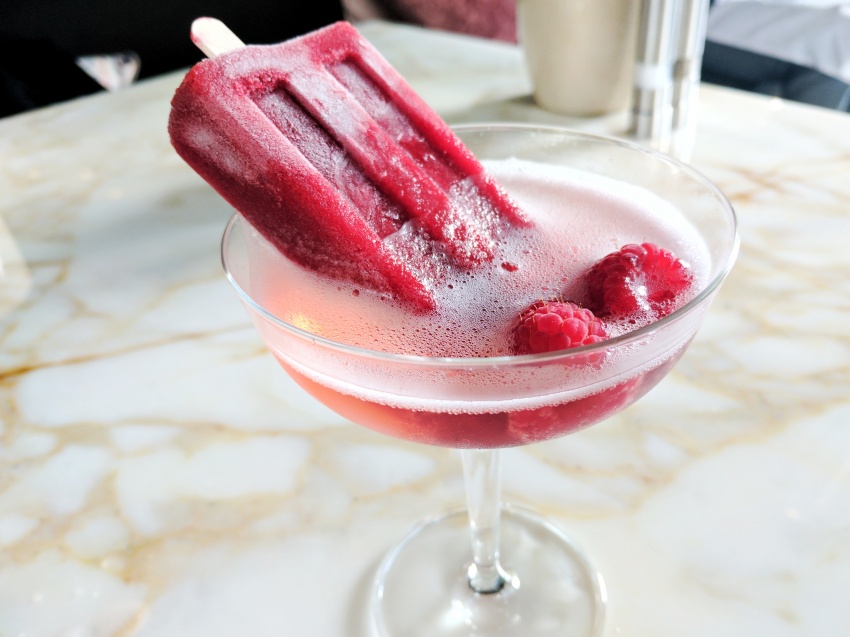 It didn't matter if I was sitting at the bar in Calgary's new Legion, grabbing a pre-concert drink at The Hollows in Saskatoon or lunching on the patio here at Market by Jean Georges, frosé was everywhere this summer. Typically a blended slush drink primarily consisting of rosé, this house-made raspberry popsicle and rosé bubbly pairing is what I'd consider a refreshing deconstruction.
Mission's carrot socarrat (Vancouver, B.C.)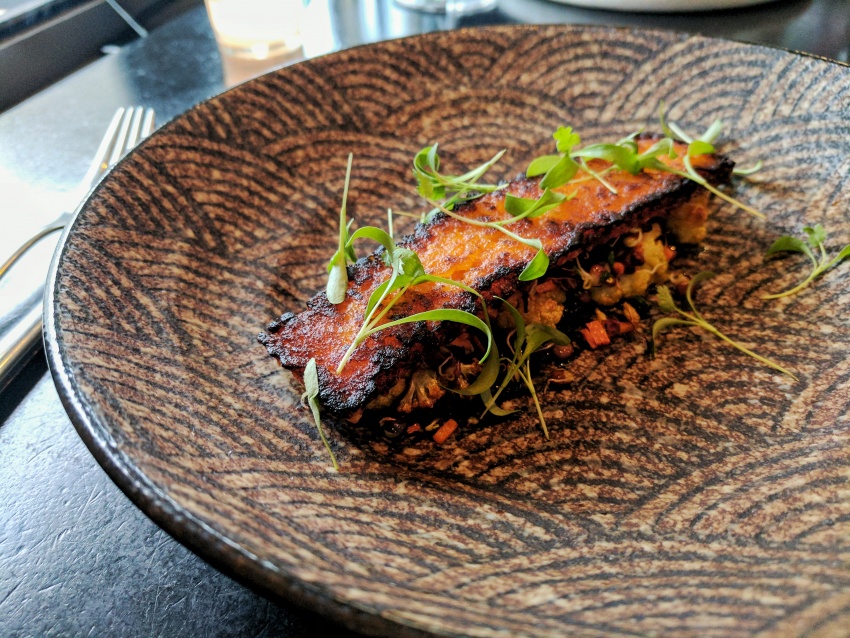 Starting off what was one of the best dinners I experienced this year was this creation that I still so vividly remember by Top Chef Canada alum, Curtis Luk. A curried melange of carrots, sprouted lentils and cauliflower are topped with a thin, crispy slice of socarrat (the crust towards the bottom of the paella pan).
This chef is a wizard in the kitchen and most notably with vegetables. Ten months later, the little parcels of spiralized kohlrabi, cucumber topped with cured egg yolk and chilled asparagus salad with ricotta, black garlic and quail egg from this particular tasting menu also happily lingered in my mind.
Nutana Curling Rink's boneless dry ribs (Saskatoon, SK)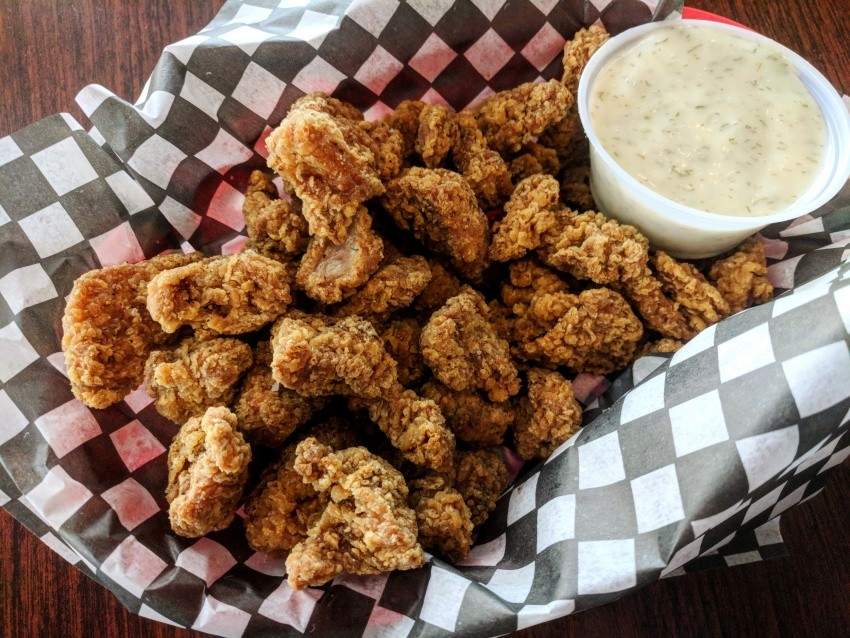 Anyone who grew up in Saskatchewan and now lives elsewhere in Canada (or beyond) can attest to the fact that boneless dry ribs are more or less a Prairie pub signature. When you move away from home, they are virtually impossible to find. Thus, when you're home, you've got to get your fill.
I can be just as critical of something that is as simple as dry ribs as I can be about over self-indulgent chef tasting menus, so if you're craving this classic, rest assured that you can find a palatable pile of them here in the rink's second level bar.
Philiips Brewery's Stump gin (Victoria, B.C.)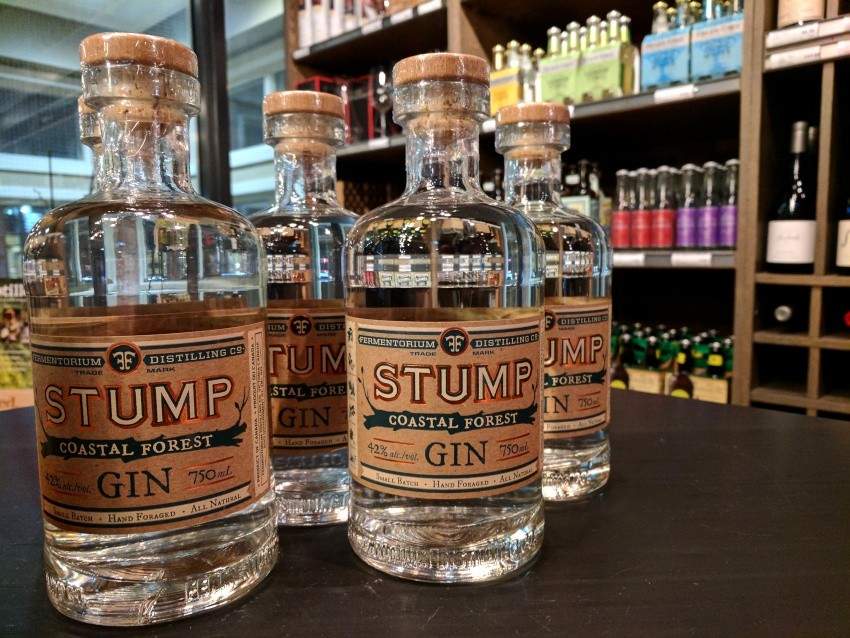 Canadian micro-distilled gin has had a great year. Most provinces boast at least a handful of craft distilleries these days and, as a result, there are more gin variations across this country than I can keep up with. One of the most notable for me was this offering from Phillips Brewery. Its first foray into the spirits world sees an interesting botanical blend that results in a flavour that conjures up images of a misty morning in a dense forest.
Pokeh's spicy bowl (Hamilton, ON)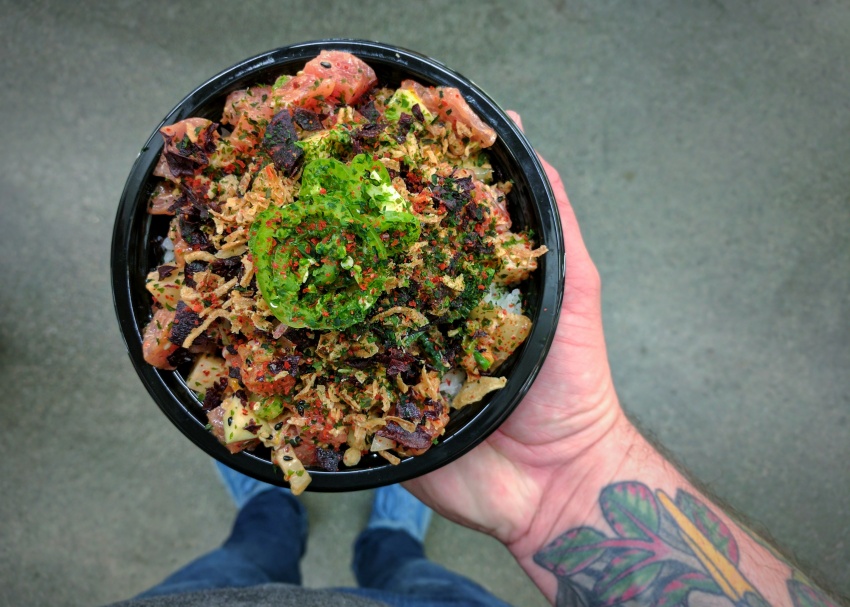 For all of the eye-rolling I've done this year over the explosion of poke eateries across Canada, it's not to say that they are all bad. Pokeh was the country's first official poke eatery and is located inside of the charming Hamilton farmers' market. It uses commendable fresh fish and after having a few bites of its "spicy bowl" (ahi tuna, Kewpie mayo, soy sauce, sesame oil, cucumbers, black and white sesame seeds and house-pickled jalapenos, among other things), I couldn't help but agree that it was delicious.
What can I say? I like being proved wrong with tasty food.
Primal's crispy potato with white anchovy (Saskatoon, SK)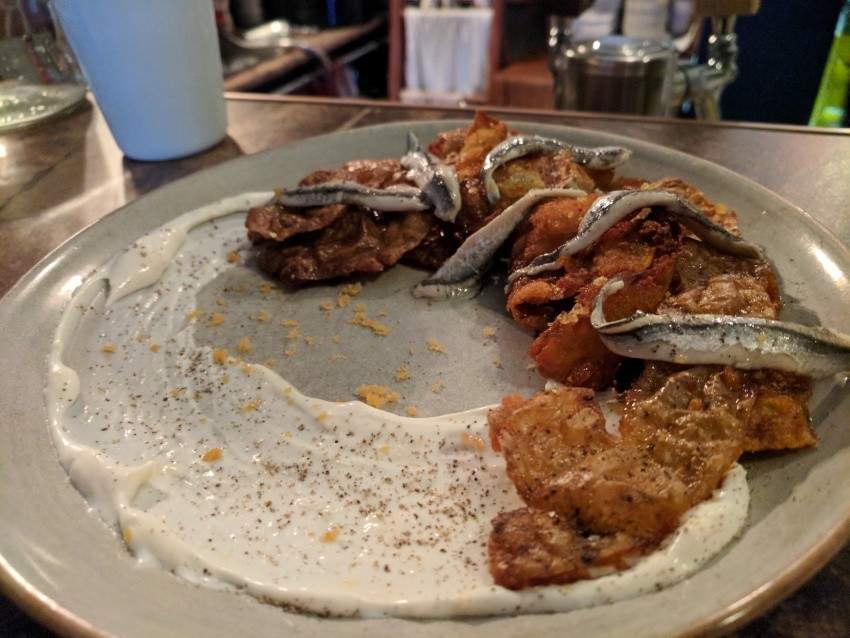 Smashed, served Duchess-style, fried, smoked...Canadian chefs continue to show us that there are one million ways to work wonders with the everyday potato. Here at Primal, co-chef Kyle Michael and Christie Peters fry up potato skins until perfectly golden and crispy. Then they layer them with vibrant white anchovies overtop of a schmear of creme fraiche and finish it all off with a grating of bottarga. If you're a person that's still wary of eating anchovies, this is a great jumping off point to buck that silly mentality.
Pure Vietnamese's chicken basil fried rice (Calgary, AB)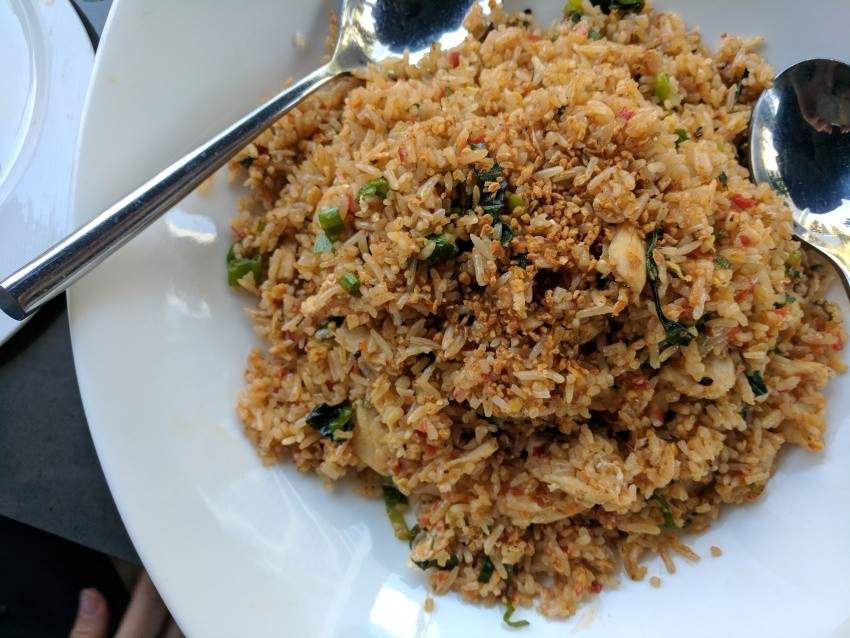 Just like the mom and pop eateries I frequent, at this elevated Vietnamese restaurant, I don't deviate very often from my standard order of the char siu doughnut, surf and turf salad rolls and a big (and I mean big) bowl of pho.
Curiosity got the best of my one day and I'm happy it did because this reinvented fried rice is an absolute homerun. Basil and kaffir lime take the simple fried rice and chicken mixture to new heights. A little sambal oelek gives an appropriate heat to match the aromatics. Wash this one down with a cold beer, for sure.
The Salted Vine's cheese souffle (Squamish, B.C.)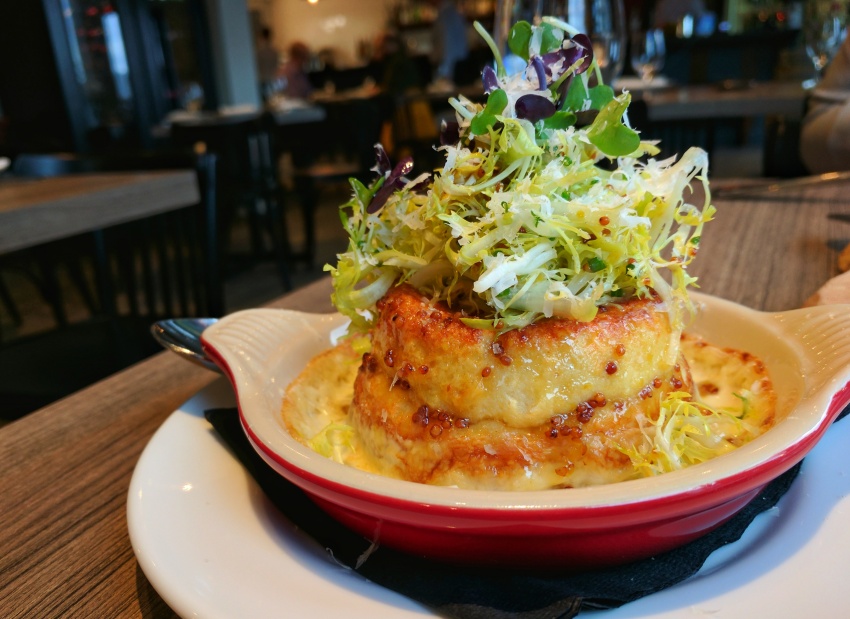 A good cheese soufflé is hard to find and that fact alone makes driving out to Squamish to visit The Salted Vine. Is it fair to say that I have fonder memories of this salty, pillowy Avonlea cheddar soufflé doused in mustard maple sauce than I do of my own childhood? Kidding… I think.
Scout Canning's canned goods (Toronto, ON)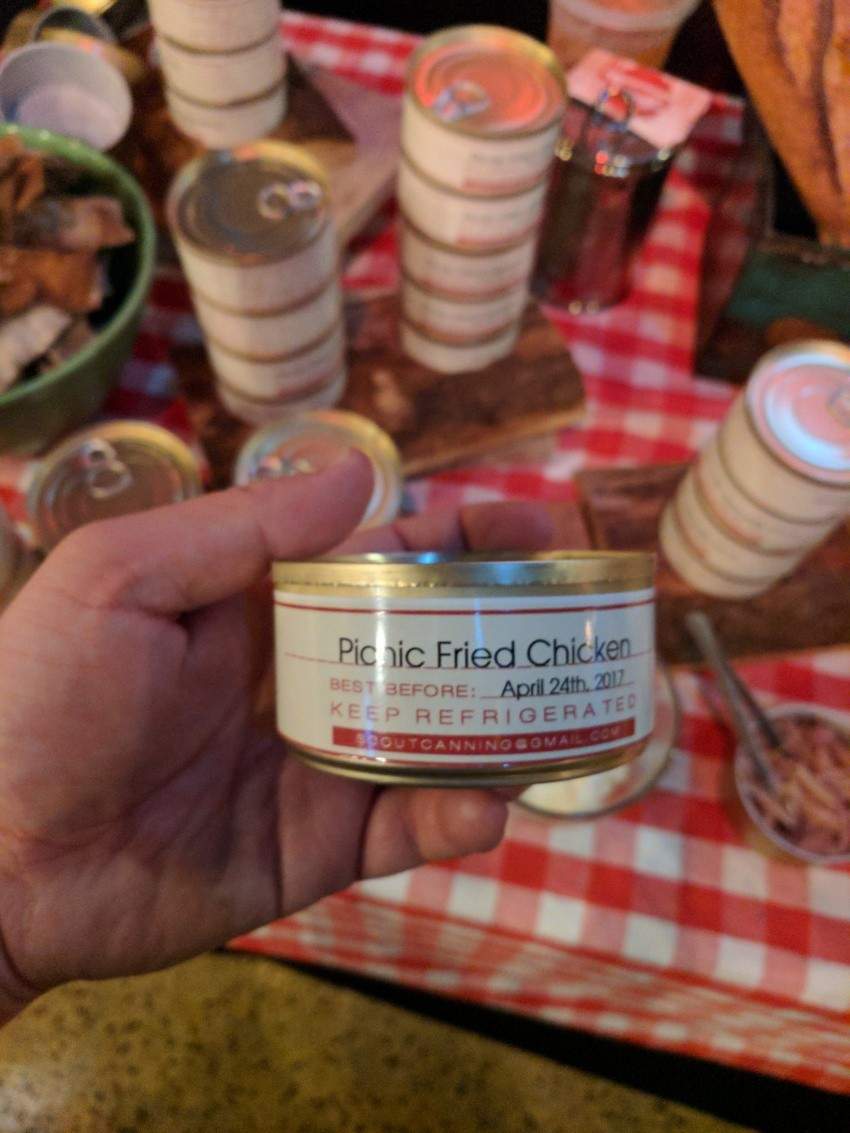 What is this magic? Chef Charlotte Langley's interesting Toronto-based enterprise centres around artisan canned products that include everything from braised pork shoulder or smoked mackerel to the fried chicken pictured above. I know what you're thinking: Fried chicken in a can? The thing is, it tastes really good and definitely a conversation starter. Currently though, most of the aforementioned products, save for the mackerel, are off the table in lieu of a holiday-themed "Scout Sea Chest" that boasts everything from cured trout to albacore conserva and more.
Shift Restaurant's house-made bread and pickles (Saskatoon, SK)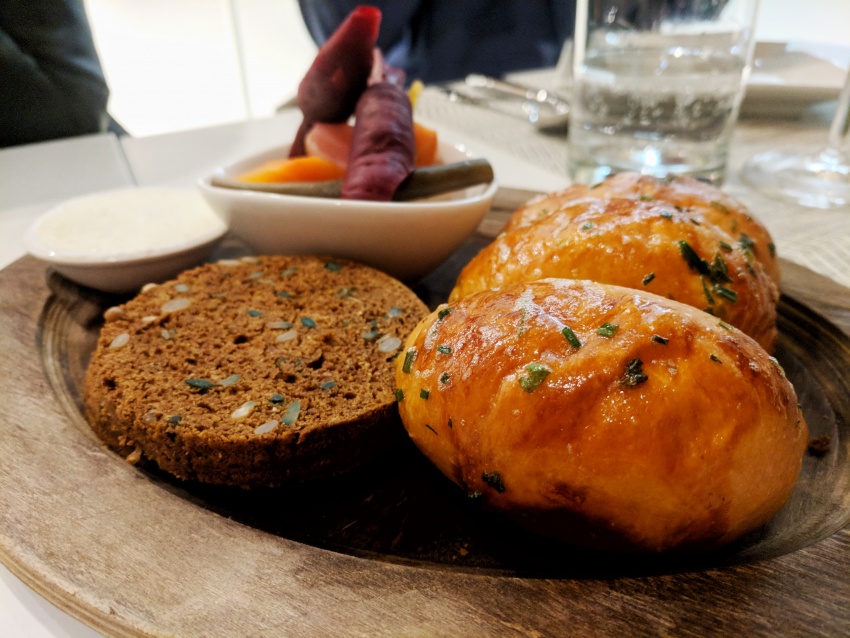 There are plenty of things to enjoy at Saskatoon's newest restaurant, but the seemingly simple appetizer of house-made buns with their surprise herb butter insides, sunflower seed-studded brown bread, well-balanced pickled vegetables and whipped butter set the stage for a lovely dinner.
Strawberry Blonde Bakery's vegan baking (Ottawa, ON)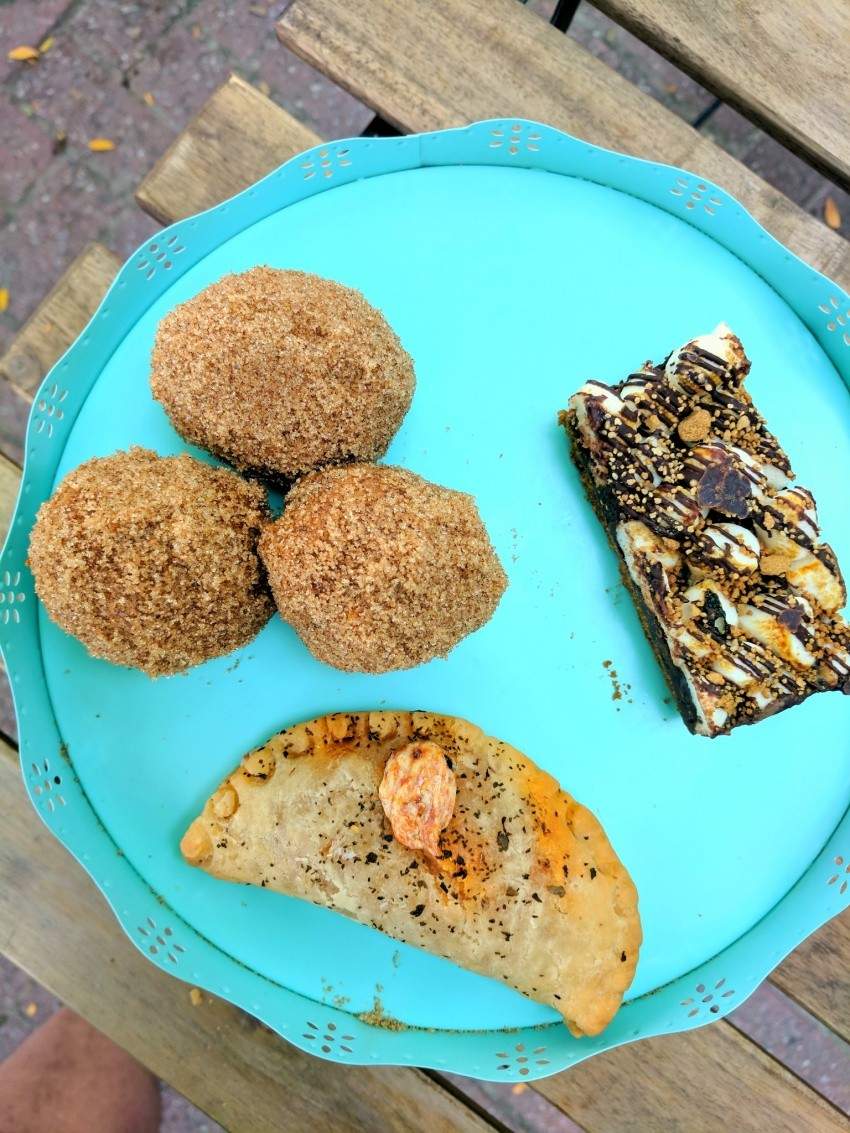 As plant-based cooking becomes more and more commonplace (be it at home or in restaurants), I'm always impressed when vegan dishes are just as satisfying as their dairy or meat-ridden inspirations. Co-owners and bakers Jacqui Okum and Claire Tomchishen of Strawberry Blonde in Ottawa dish out a lot of goodies here that are both vegan and gluten-free, including a remarkably tasty vegan pizza pop (really though) as well as some cinnamon-sugar doughnut holes that will give you flashbacks to being an eager kid at a local fair diving into a bag of mini doughnuts with no remorse.
Two Penny Chinese's "Forty Six and 2" cocktail (Calgary, AB)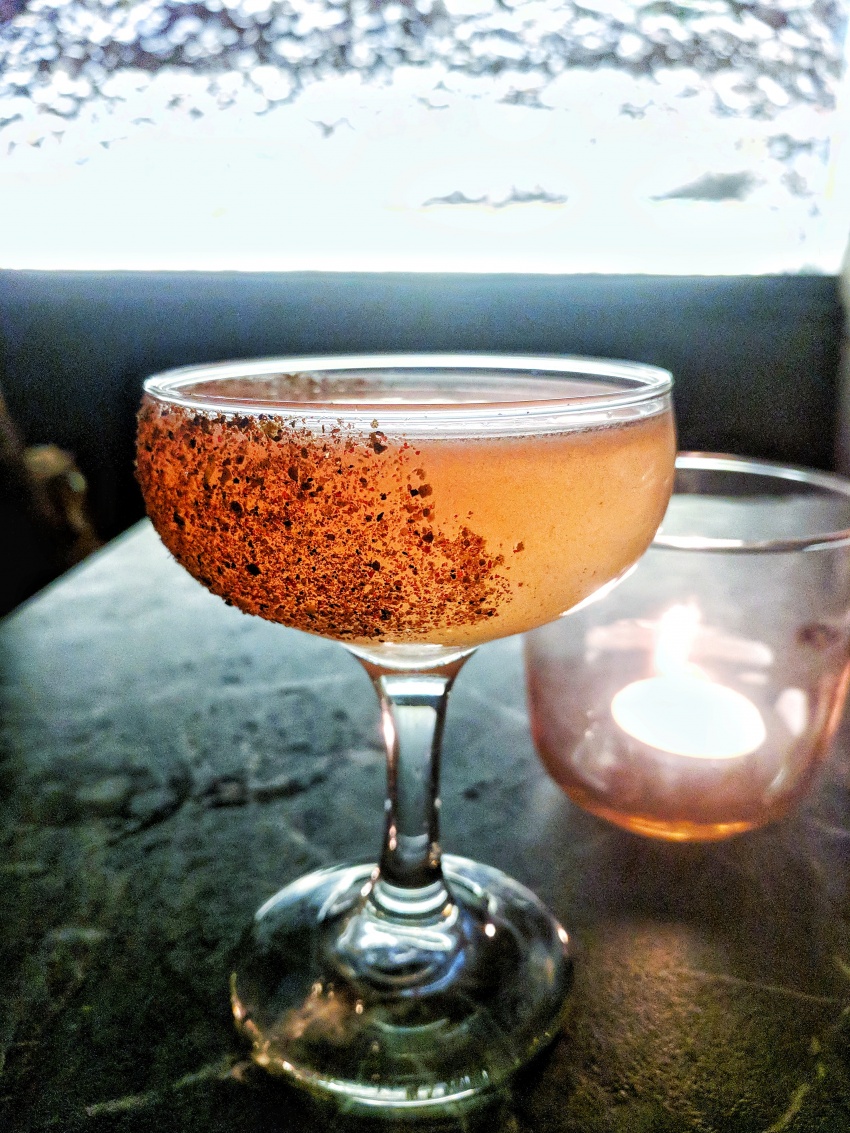 Cocktails that stand out most in my mind are ones that border on the savoury. Not quite Caesar or dirty martini territory, but drinks that feature unorthodox combinations and find a balance without relying on too much sweetness or acid. This drink at one of Calgary's Two Penny Chinese by Stephen Phipps is made with rosé, tequila, mezcal and coffee and is garnished with plenty of salt and flowery pink peppercorns. What a drink, indeed.
Honourary out of country mention: Garage Karlín's poutine in Prague