Well, my food-loving friends, it's been one hell of a year and now we find ourselves at the end of it. As many of us have, I spent the last couple of weeks looking back on all that I've done in 2018. Work has taken me back and forth across our wonderful country in search of interesting food and drink, but also the passionate people behind it all who honestly never cease to amaze me with their dedication to their respective crafts.
My global curiosity took me abroad twice this year. The first overseas adventure saw me exploring Asia for the first time in my life, beginning with South Korea for the Pyeongchang 2018 Olympic Winter Games before scratching the surface of Thailand, Taiwan and Vietnam. I became especially enamoured with the latter as it opened my eyes to depth and breadth of Vietnamese cuisine and how little of it we have access to in Canada in terms of regional specialties, street food and the lot.
Travelling abroad does take me away from Canada and from the restaurants I love and ones I have yet to experience, but with global travel comes more perspective and respect for all types of cuisine. Each time I return to Canada, I have a better appreciation for our amazingly eclectic national food scene and all of the cultures that help make it so special.
As a short aside, the photographs of these 30 delicious dishes and drinks from a mix of Canadian cities were all taken with my cellphone--specifically a Google Pixel 2--à la minute (i.e. not staged or overly composed). Phone photography has certainly come a long way, hasn't it?
As I put the finishing touches on this piece, I am sitting on a train that's zipping through the English countryside with a final destination of Edinburgh. I won't be in Canada to ring in the new year, but it's a unique sensation being elsewhere in the world, with equal parts of excitement to explore where I am, and to return home.
Happy new year and I wish you all good eating for 2019!
Alumni's tuna salad sandwich (Calgary, AB)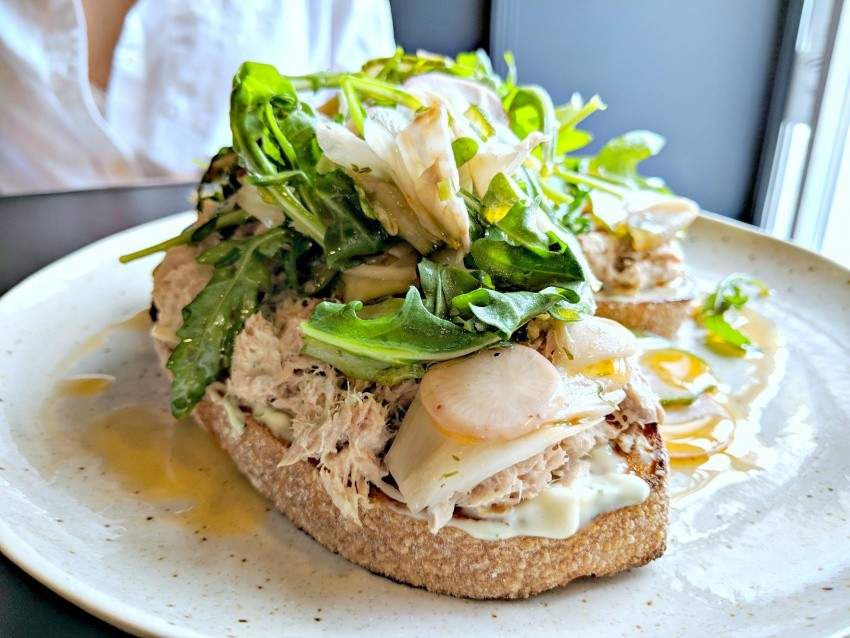 Plenty of good things are coming out of the kitchen at Alumni, which is (by far) one of my favourite new restaurant concepts in Canada, but for a person who grew up loving tuna salad sandwiches for lunch, this elevation of a classic stays front-of-mind when the clock strikes noon. Tuna comes dressed with a ginger and cilantro aioli with a fennel, cucumber and arugula slaw on top and finished with a touch of chili oil.
If you like a tuna melt (I certainly do), you can get this clever sandwich served up that way as well.
Anju's spicy lamb potstickers (Calgay, AB)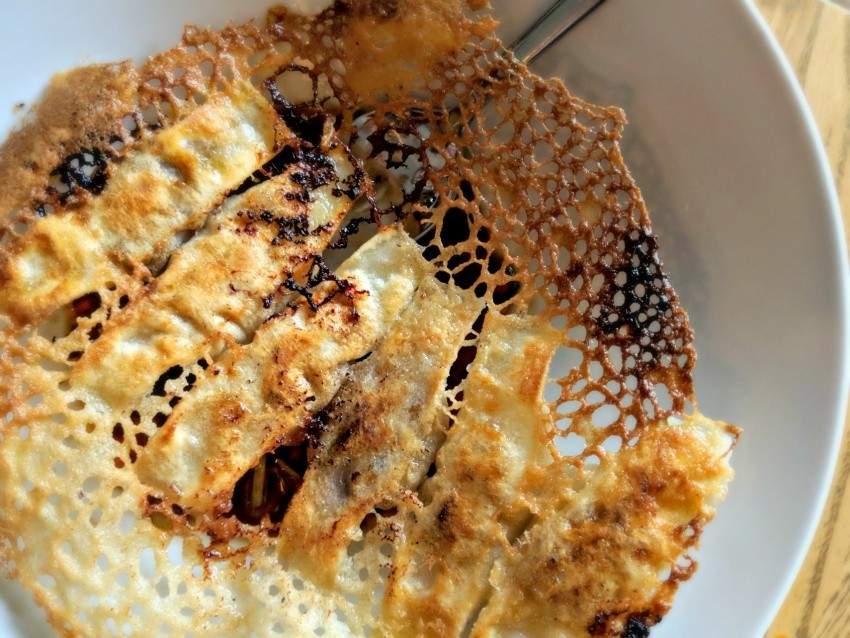 Today, Anju is celebrating its tenth anniversary. It's a milestone for any restaurant or bar, sure, but ten years in the restaurant industry is even more impressive when it's managed to hold the position as one of Alberta's top restaurants for all those years as well. Chef and owner Roy Oh churns out many inventive dishes at his ever-busy eatery on 17th Avenue, including the classic fried tofu with kimchi (always a must-order) and gochujang-coated crispy chicken, but this newer potsticker creation was a stand out this year.
The addition of "lace" surrounding the tender lamb-filled potstckers on top of a tangy black vinegar sauce makes the dish as fun to crack into as it is a pleasure to eat. If there's more than two of you at the table, best get at least two orders.
Here's to ten more years of well-deserved success to Anju.
Asian Hut's laksa (Saskatoon, SK)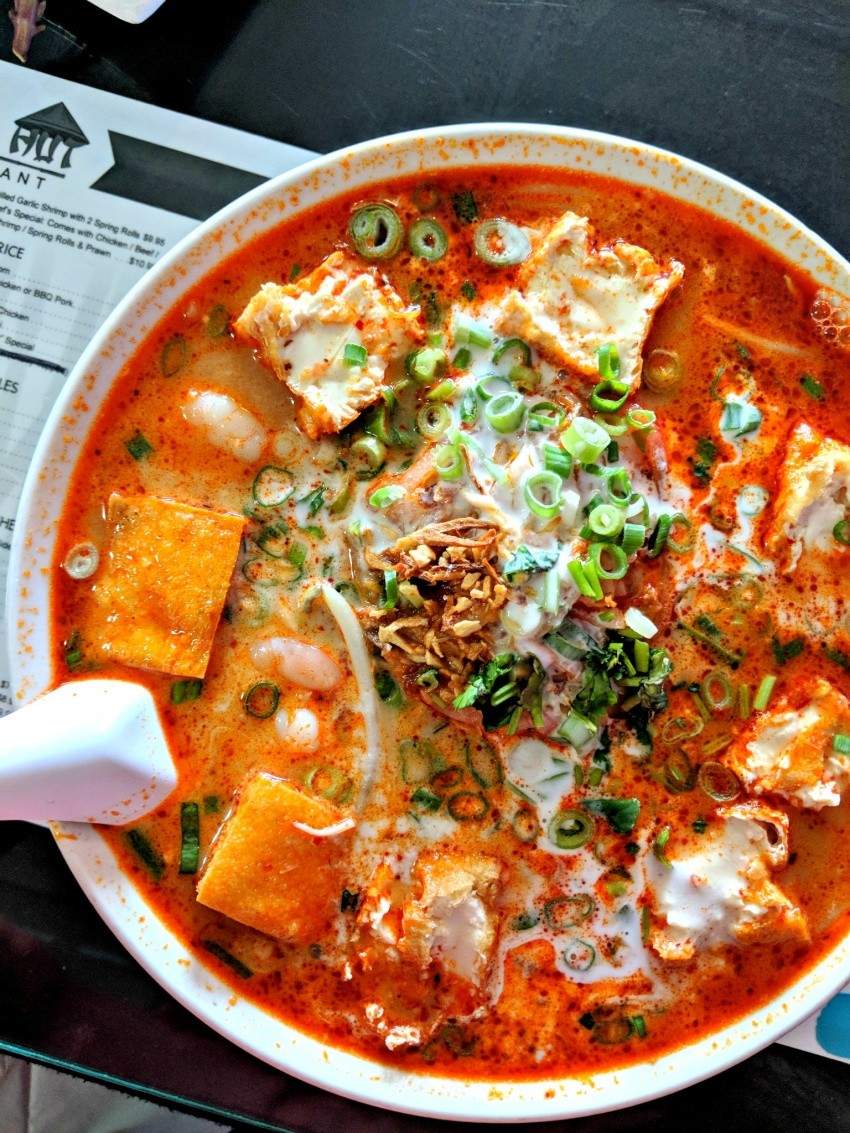 I think it should be a saying in Canada that, much like a good man, a good laksa is hard to find. Thus, Saskatoonians should consider themselves lucky to have Asian Hut. Just around the corner from 20th Street on Avenue C, this small Asian (primarily Vietnamese) eatery is easy to miss if you're not aware of it. A spicy, slightly sour coconut-based broth arrives piping hot in a gigantic bowl along with prawns, tofu, wheat noodles, scallions and fried shallots. This laksa has me drooling at the thought of it.
Bar Von Der Fels' pimento cheese-stuffed shishito peppers (Calgary, AB)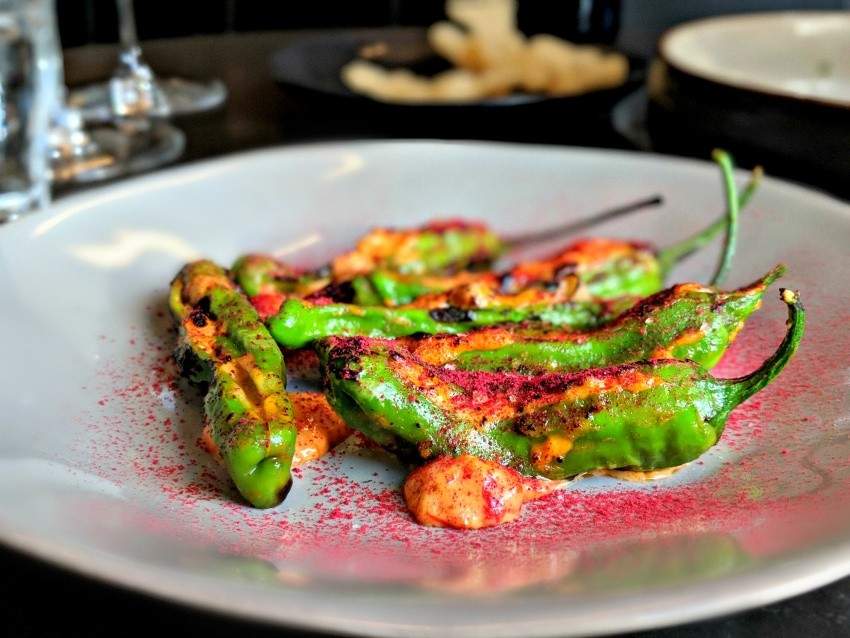 The green and occasionally spicy pepper ("one in ten" they say...) isn't as trendy as it once was just a handful of years ago, so it was nice to find it on Bar Von Der Fels' menu earlier this year. Typically just roasted until near charred and blistered, chef Doug King takes things one step further, stuffing them with pimento cheese and finishing the plate with a dusting of dehydrated strawberry powder.
This is the bar all shishito pepper dishes should be held to.
Brasserie Kensington's afternoon tea service (Calgary, AB)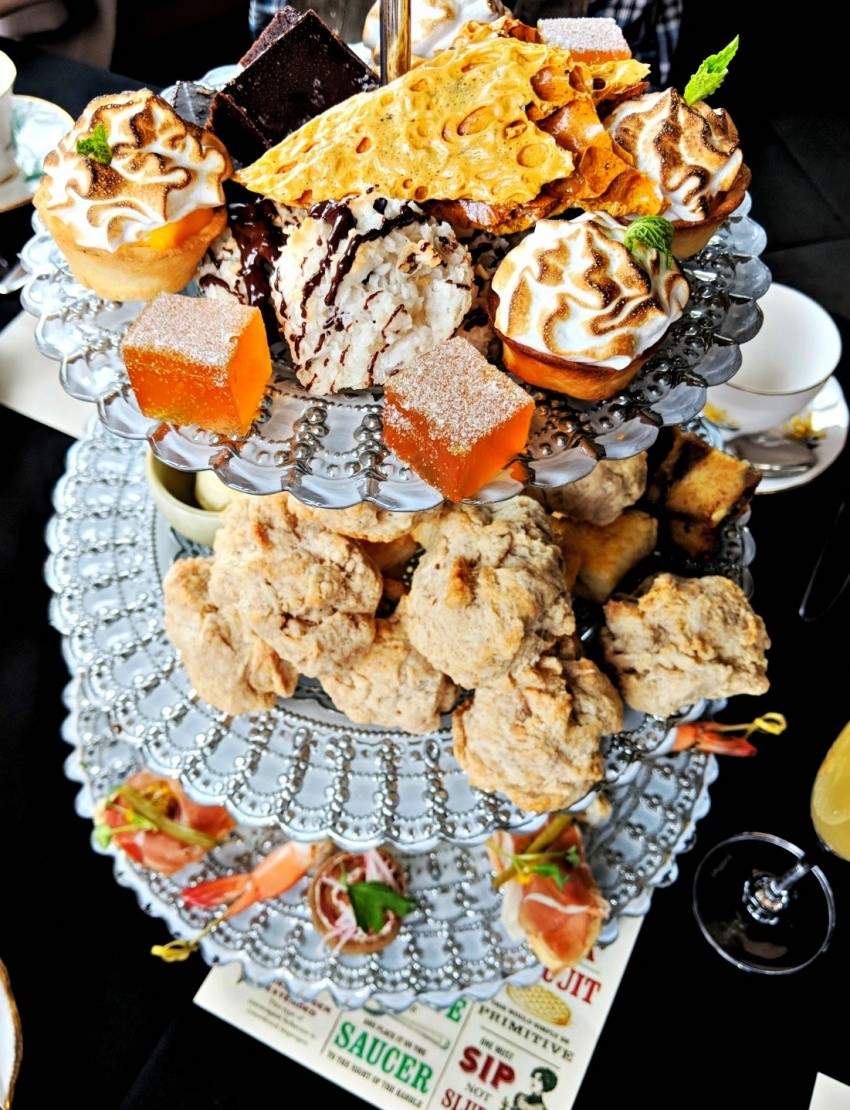 Known for being out of the box when it comes to special menus and seasonal events, Brasserie Kensington's chef and owner Cam Dobranski launched an imaginative version of afternoon tea a couple of years ago and it's maintained traction since. Three tiers of playful food take inspiration from traditional tea offerings in this unpretentious setting with biscuits, preserves, cream, pinwheels, and other staples, but are much more eye-popping and playful.
Sip on some tea, but having a pineapple mimosa on the side isn't too shabby either.
Bridgette Bar's s'more Opera cake (Calgary, AB)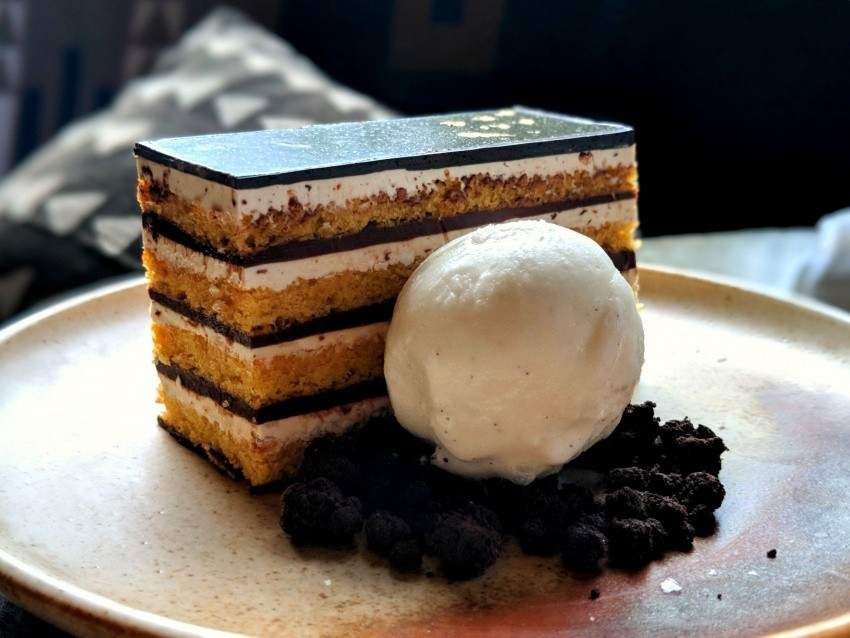 It is always a treat to try pastry chef Katelin Bland's sweet creations and the s'more Opera cake she debuted on Bridgette Bar's summer menu was certainly no exception. Thin layers of chocolate, charred marshmallow buttercream and graham sponge cake sit beside a small scoop of smoked vanilla gelato on chocolate crumble. Small flecks of gold on top help make this expertly-made cake the most beautiful version of a s'more I have ever encountered.
Would it be too cheesy to ask for s'more?
Chain Yard Urban Cidery's tourtiere ravioli (Halifax, N.S.)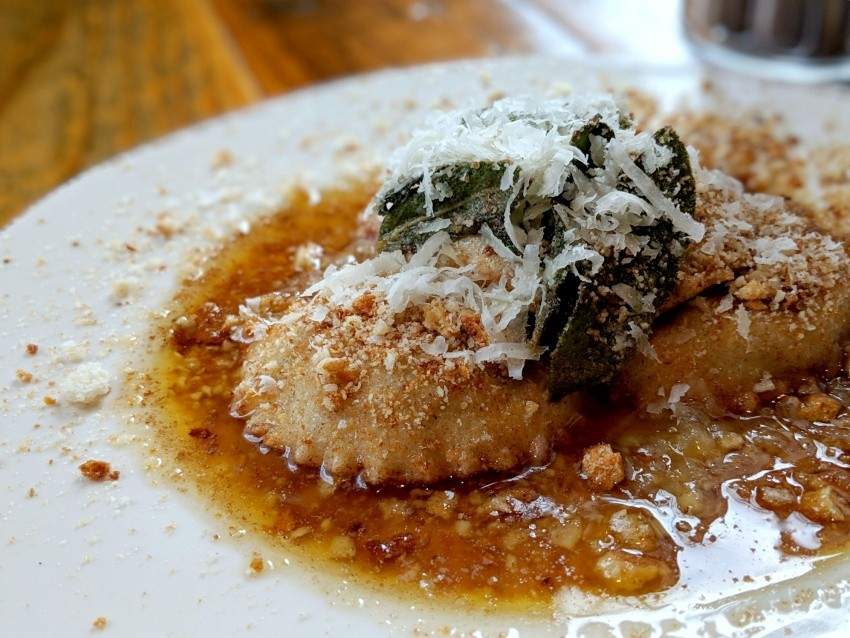 In the grand scheme of dishes I've eaten throughout 2018, this comforting plate of "tourtiere" (winter spiced meat-filled) ravioli with sage, brown butter and bread crumbs is nothing ground-breaking, but well-balanced familiar flavours are worth appreciation, especially on a cool fall day. The thought behind the food here at Chain Yard Urban Cidery which comes from Unchained Kitchen inside the cidery certainly speaks to the growing trend of brewpubs, cideries and distilleries having an interest in serving legitimately good food, and its cider is quite enjoyable too.
Clementine's burger dip (Winnipeg, MB)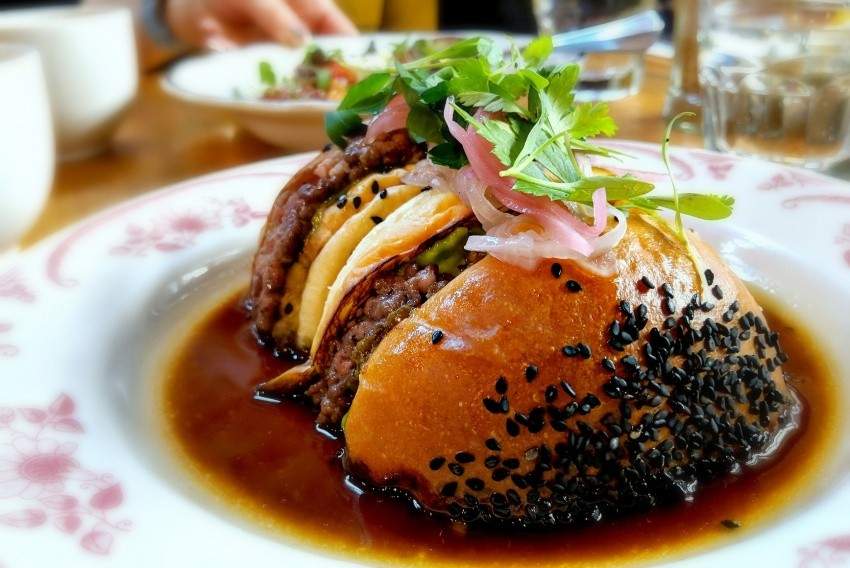 There are burgers, good burgers, fantastic burgers (see: Harry's Charbroiled a little further down) and then there is Clementine's burger dip. This burger sees some variation throughout the year and, in the past, isn't always on the menu; but if it happens to be on there when you're eating at this fantastic brunch and lunch spot in Winnipeg's Exchange District, order it immediately.
The house-ground beef and bacon patty is grilled, juicy and delicious in its own right, but it's the whole package--the combination of said patty with cheese, aioli, a bright jus laying in the shallow of the plate with the warm black sesame seed coated bun and pickled onions garnished on top (unconventional, I realize, but it all works)--that take this burger to the next level.
Having a unanimous decision on Canada's "best" burger will likely never happen, but I'd happily debate on behalf of Clementine's burger dip
Club Pelicano's frozen paper plane (Montreal, QC)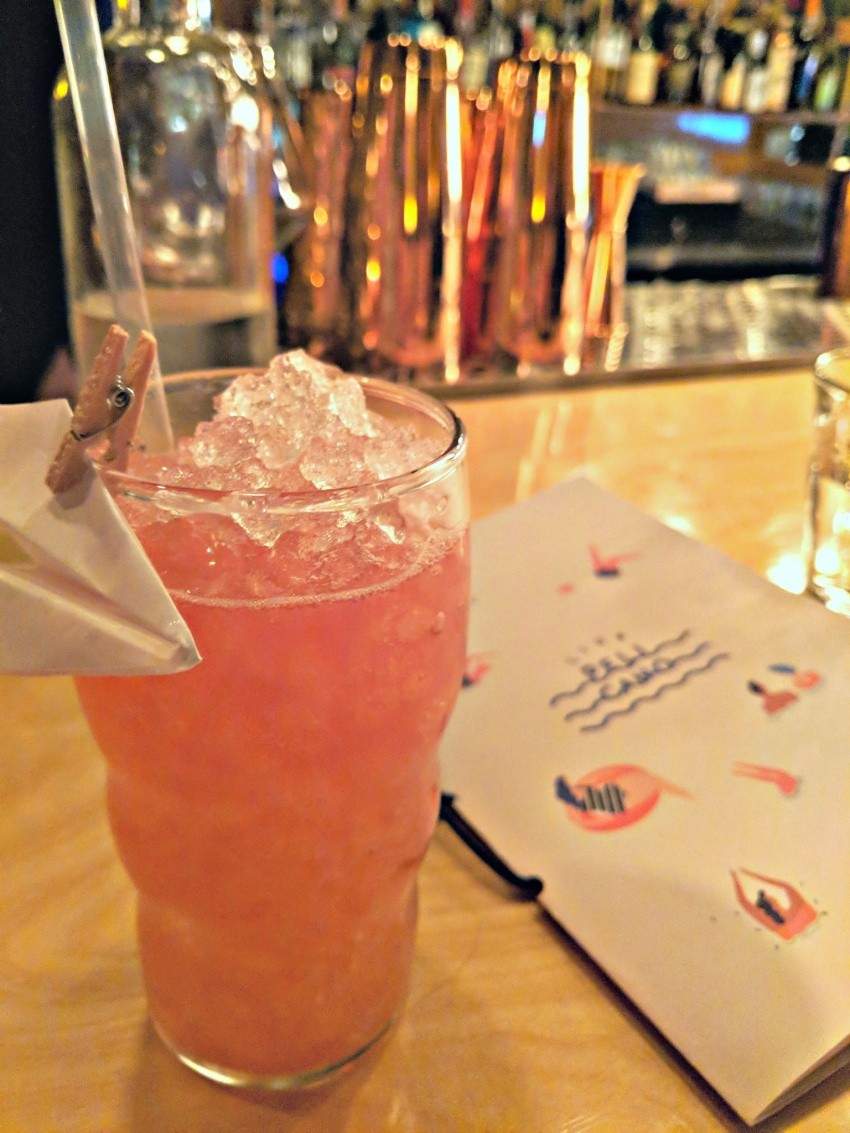 Located below sister concept Tiradito, Club Pelicano is a vintage swimming pool-inspired cocktail bar that oozes charm with its unique interior design (meant to make you feel like you're sitting in an empty tiled pool) and sophistication with its cocktail list.
The frozen paper plane here is a welcomed and extra cold take on the classic drink with rye whisky, amaro, Contratto and lemon liqueur over crushed ice. Crushable, indeed.
District Café and Bakery's coddled egg (Edmonton, AB)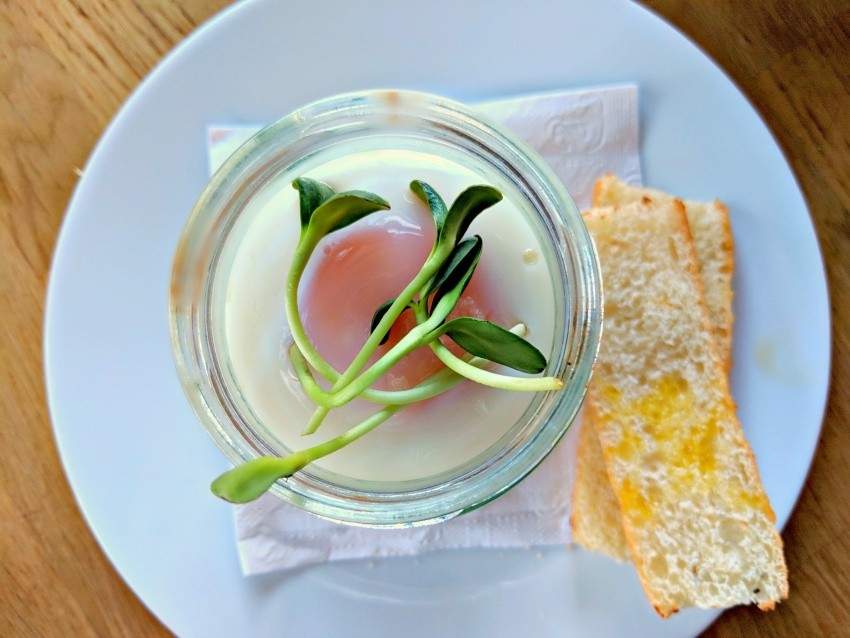 A soft yolk egg served with brown butter grits and finished with Maldon salt and toast points might be the simplest and most tasty thing I've eaten this year. There is nothing wrong with simplicity, especially first thing in the morning with a nice cup of coffee by its side.
If I could start every morning of my life in Edmonton simply for District Café's coddled egg, I would be a very happy man.
Donna Mac's porcini crullers (Calgary, AB)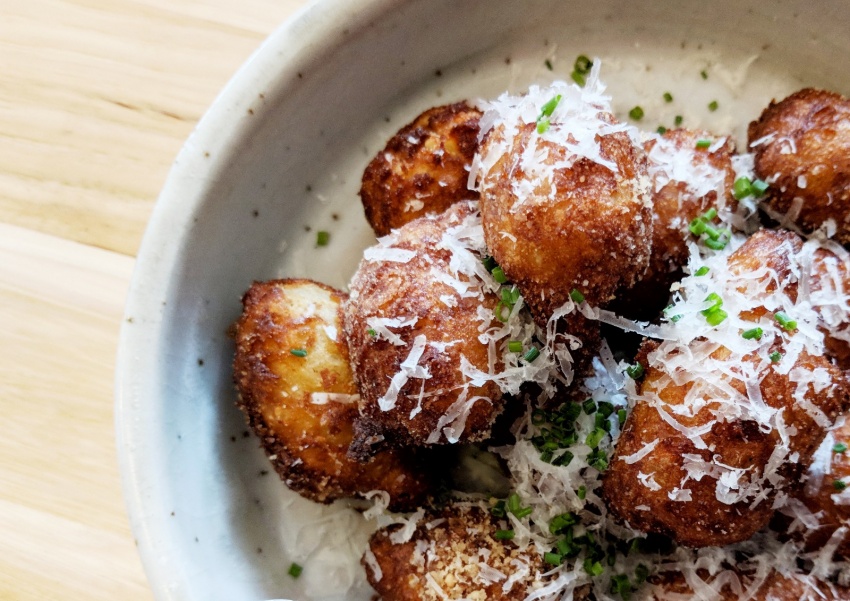 Truth be told, I don't love all things on the menu at Donna Mac, but its signature appetizer of bite-size gouda and porcini crullers are pillowy, indulgent and highly addictive. With a price tag of only $6, they are also a steal of a deal.
Duchess Bake Shop's Earl Grey croissant (Edmonton, AB)
People who live within close proximity of Edmonton's Duchess Bake Shop are both lucky and cursed, as I can't even imagine how many sweet confections and beautifully baked goods I would consume if I was. Cookies, cakes, financiers... it doesn't much matter what you're queuing up for in front of its always-brimming glass bake cases, Duchess has a track record of being delectably consistent.
This stunning bergamot flower garnished and glazed croissant, filled with sweet apricot compote, is on regular rotation here at the bakery and should not be ignored, especially if you enjoy the vanilla and Earl Grey combination found in a London Fog.
On an unrelated note, did you see their beyond impressive gingerbread version of Hogwarts School? It left me speechless.
To the talented pastry team at Duchess, I salute you.
Harry's Charbroiled's Plain-Jane burger (Toronto, ON)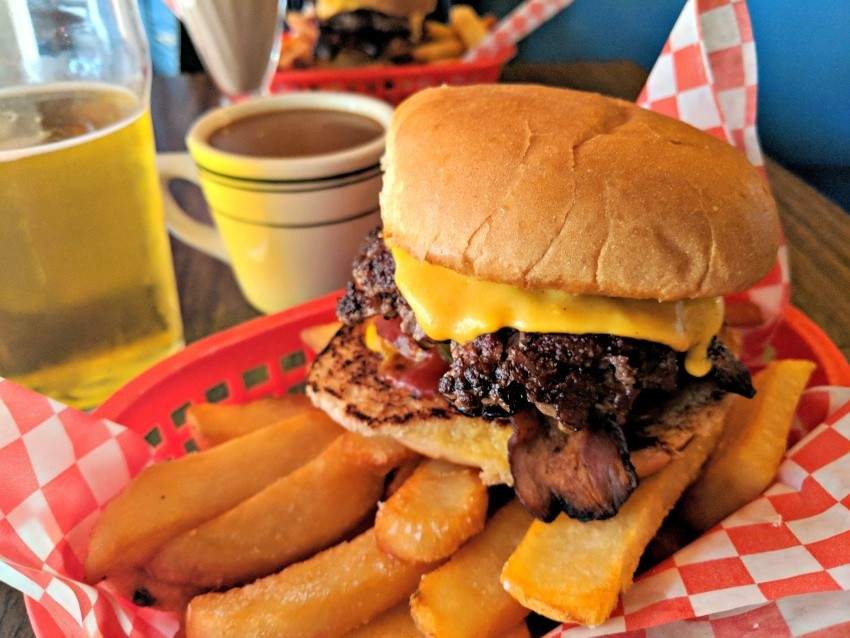 As simple as a bacon cheeseburger appears to be, there isn't really a long list of places in Canada that do them that well. Harry's is a divey diner at the tail end of King Street West just shy of the Gardiner that cooks up a great burger with the usual suspect fixings. This fall, I had a monstrosity of a burger in California that was topped with blue cheese, brie, onion rings, balsamic reduction and about 12 other unnecessary items. It's engrained in my mind for all of the wrong reasons.
I think Harry's could teach them a thing or two about creating a memorable burger for all of the right reasons.
Hearth's carrot cake (Saskatoon, SK)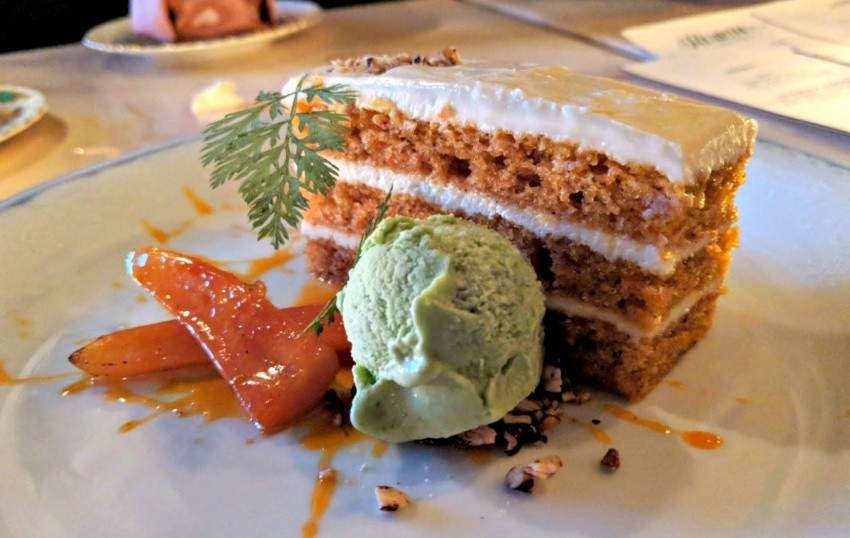 Chef and owner duo Thayne Robstab and Beth Rogers wear their hearts on their sleeves when it comes to their love of Prairie cuisine. From foraging in the woods regularly for a myriad of unique mushrooms to using celebrated Saskatchewan like pike and beluga lentils, Hearth is an exceptional place to go for dinner if you want a taste of Saskatchewan's terroir.
Though not currently on the menu (I'm crossing my fingers that it reappears at some point in 2019), the carrot cake with cream cheese icing (of course), candied carrots, walnuts, carrot caramel, carrot top ice cream was one of the most enjoyable slices of carrot cake I've ever had.
More than anything, this is a great example of serving something so familiar, but inventive at the same time where it can appeal to both an unadventurous diner and a person looking for something more creative.
The Hollows' sweet pea ravioli (Saskatoon, SK)
Chef Christie Peters of Saskatoon's The Hollows certainly has a way of presenting in-season ingredients in beautiful ways. In a world where chefs abuse flower petals and pea shoots as suitable garnishes for anything from salad to braised meat, trust me when I say there is nothing contrived about this sweet pea ravioli (made with local heritage grain flour from Two Stones Mill) in beurre blanc from this restaurant's summer menu, finished with bright pedals and pea tendrils.
This is how beautiful looking and tasting, cooking local in peak season can be.
Il Caminetto's beet conchiglie (Whistler, BC)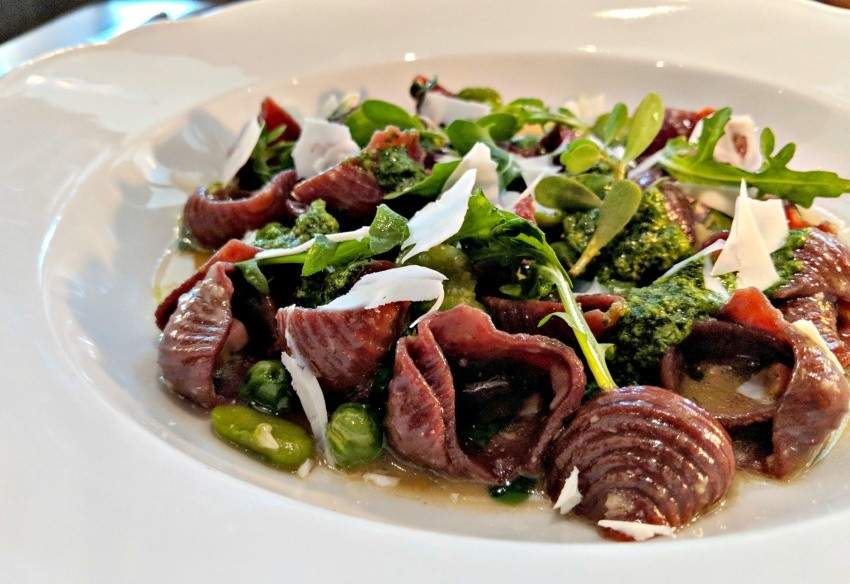 In-between bites of this delicious pasta at one of Whistler's newest restaurants, I wondered why this lively mountain town has infinitely better dining options than Banff, Alberta. Spending time in Whistler is always a pleasure and the new Italian concept from Toptable Group, Il Caminetto, adds to that.
Chef James Walt works his magic with Italian fare here, including plenty of house-made pastas like this beautiful beet conchiglie that graced the menu in the late summer. Regardless of what pasta you order for dinner, you can't go wrong when you start with the crispy wagyu meatballs topped with Italian salsa verde. Crispy meatballs? I guess you'll have to order them to find out what that means.
Jeff Nonay's (Lakeside Dairy) aged wagyu-Holstein beef (Sturgeon Country, AB)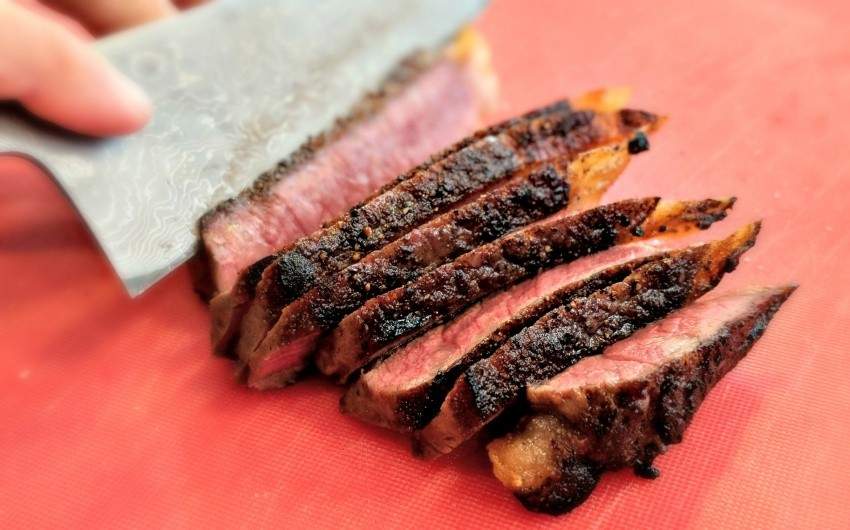 Found at specialty shops such as Acme Meat Market, this Alberta-raised beef coming from the Nonay Family farm outside of Edmonton is buttery, intensely marbled and sublime. Farmer Jeff Nonay raises cattle which are a cross between wagyu and Holstein, and yield some of the most interesting beef to come out of Alberta in a long time.
Joe Fortes' salmon tartare (Vancouver, B.C.)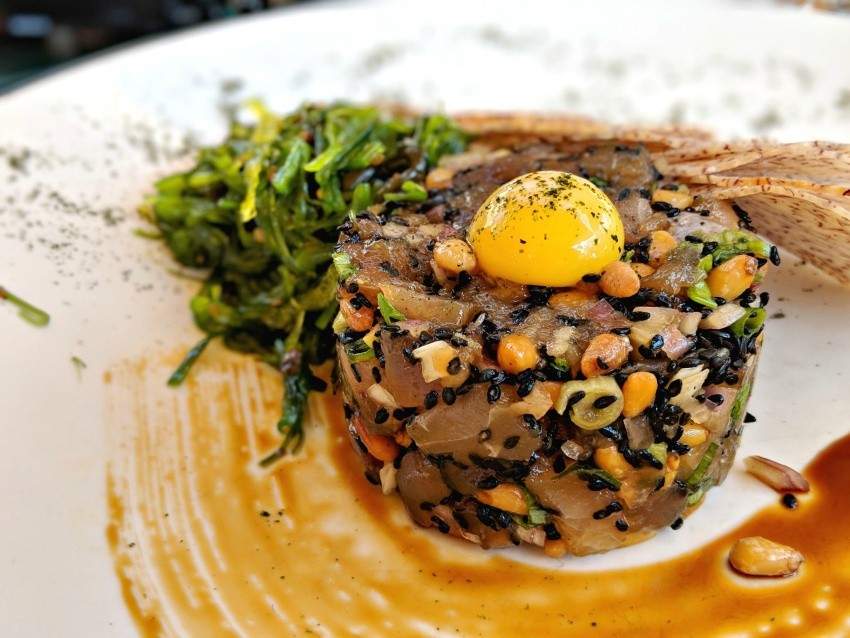 There is something so inherently charming about this chophouse and seafood institution situated on the corner of Robson and Thurlow Street in the heart of Vancouver. Peppered with plenty of celebrity diners over the years, Joe Fortes is first and foremost one of the city's top spots to enjoy a happy hour cocktail and a bite to eat. Weather permitting, its always-packed rooftop patio is the spot to be sat in the two-level restaurant, but you're going need to make a reservation for that to happen.
The flavourful tuna tartare comes studded with plenty of pine nuts, topped with a quail's egg yolk and wakame salad and taro root chips on the side. It's refreshing and the perfect dish to enjoy on a sunny summer's day should you, in fact, get that seat on the sought-after patio.
L'Express' escargot (Montreal, QC)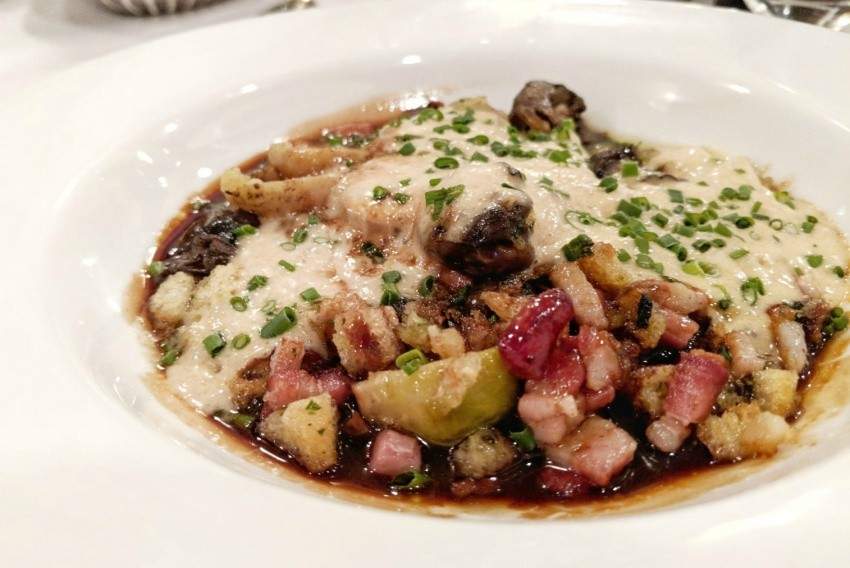 Perhaps it's not the most appetizing of photos, but appearances can be misleading. This version of escargot at L'Express is rich and fulfilling and unlike any escargot dish you'll find west (or east) of Montreal, that I can guarantee. Rich red wine jus, lardon and tender potatoes all play their part in bringing this escargot stew, of sorts, to life.
Now that I finally dined at this Montreal institution earlier this year, I can certainly see what all of the fuss is about: an exemplar of French fare in Canada.
Los Colibris' seafood ceviche (Toronto, ON)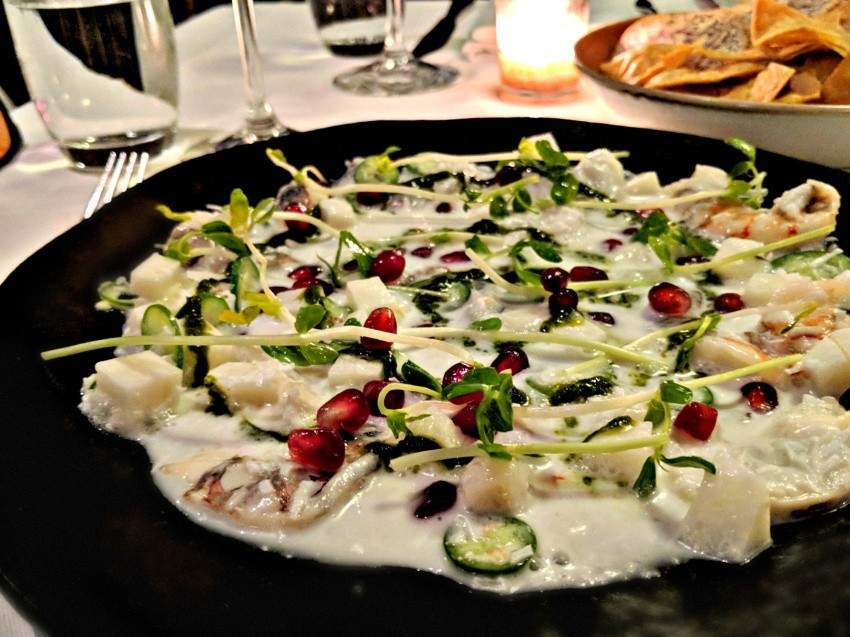 Of all the competing chefs on the most recent season of Top Chef Canada, this restaurant's chef and owner Elia Herrera was the most charming. I consider it fair commentary that delicious, contemporary Mexican food is uncommon in Canada and Herrera approaches her menu with thought and finesse. Though Los Colibris' atmosphere does leave a bit to be desired, the chef's creations command most of your attention.
This striking seafood ceviche with taro chips (now off the menu, I believe) offered up a soothing coconut cream alongside the heat of thinly sliced jalapeno and sweet bursts of pomegrante seeds, flecks of coconut and jicama.
Nowhere *A Restaurant's pine mushroom pasta (Victoria, B.C.)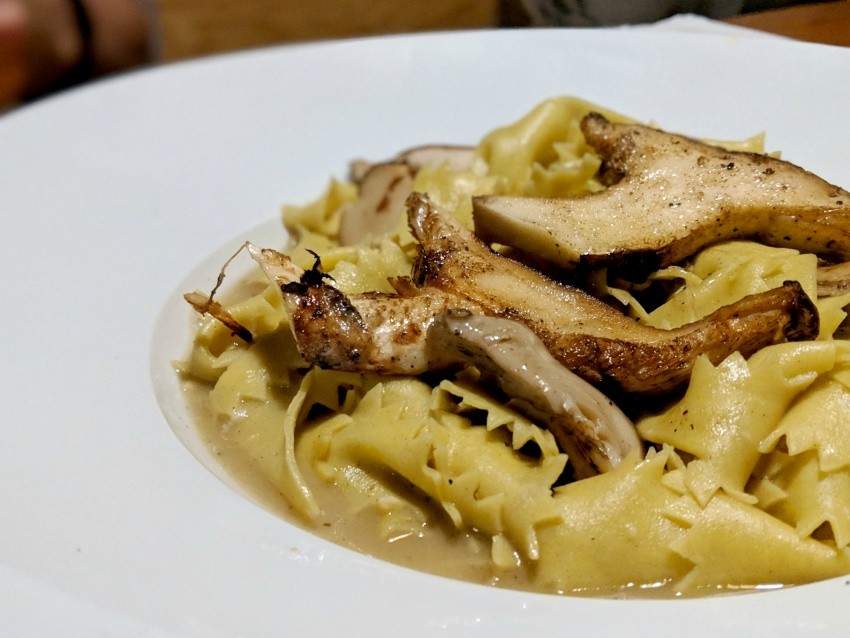 Odd name aside, Victoria's newest contemporary restaurant has a penchant for umami-ridden dishes on its always-rotating weekly menus. This particular house-made pasta saw pine mushrooms used three different ways: first, in a rich parmesan broth used to coat the pasta, followed by it being added to the dish seared and braised.
Where should you go for Victoria for some tasty pasta? Let's go with Nowhere.
Pizzeria Barbarella Hawaiian punch pizza (Vancouver, B.C.)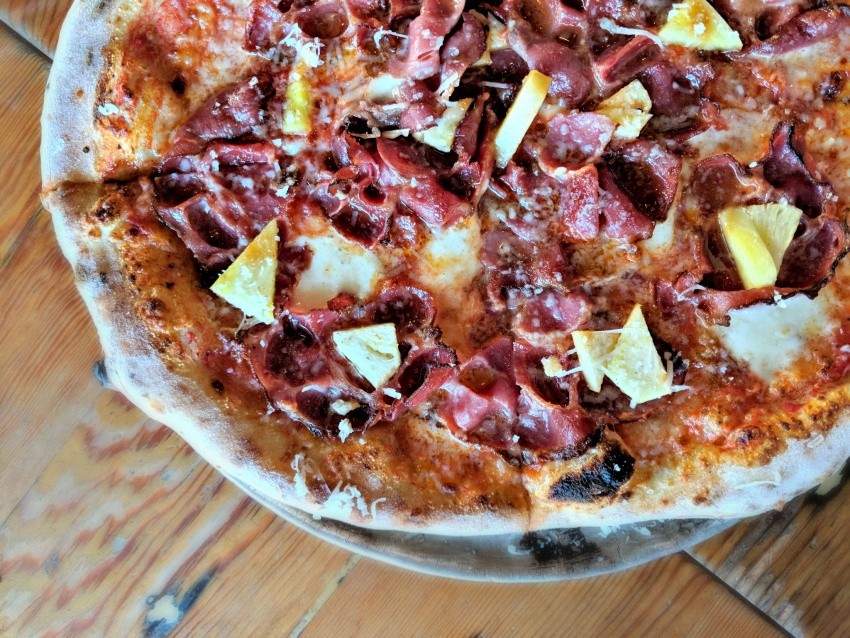 For someone who spends time in Vancouver monthly, it's always nice to stumble upon a place with great pizza when you think you know it all. Pizzeria Barbarella serves up some seriously tasty pies in an uber-casual setting on East Broadway.
Their take on a classic Hawaiian sees slightly spicy capocollo, chunks of pineapple, bocconcini, aged mozzarella and Grana Padano with brown sugar glaze drizzled overtop. I'm a sucker for Hawaiian at the worst of times and I'm considering this one of the best of times.
Q at the Empress' seafood charcuterie board (Victoria, B.C.)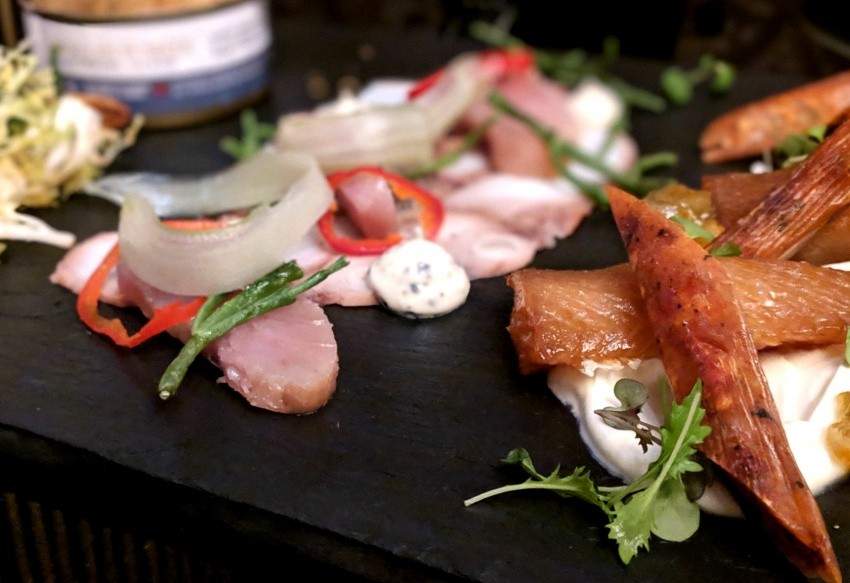 Since completing its extensive renovation, the Fairmont Empress is a thoroughly stunning hotel property to stay at and explore. Naturally, exploration should include drinks at Q Bar and a meal at its adjacent restaurant, Q. The restaurant's chef, Ken Hookham, has created a menu here that boasts plenty of Vancouver Island produce, proteins as well as sustainable seafood.
The geoduck ceviche is one particular stand-out, if only for how rare it is to see it on a contemporary restaurant menu, but Wilson's seafood charcuterie board is especially playful and well-composed. Consisting of delicious salmon pepperoni sticks, albacore tuna, octopus "bacon", smoked mussels and candied sablefish (my personal favourite of the bunch), the board is a great ode to ocean bounty and the ocean-side vibes that Victoria happily exudes.
Real Fake Meats' vegan donair (Halifax, N.S.)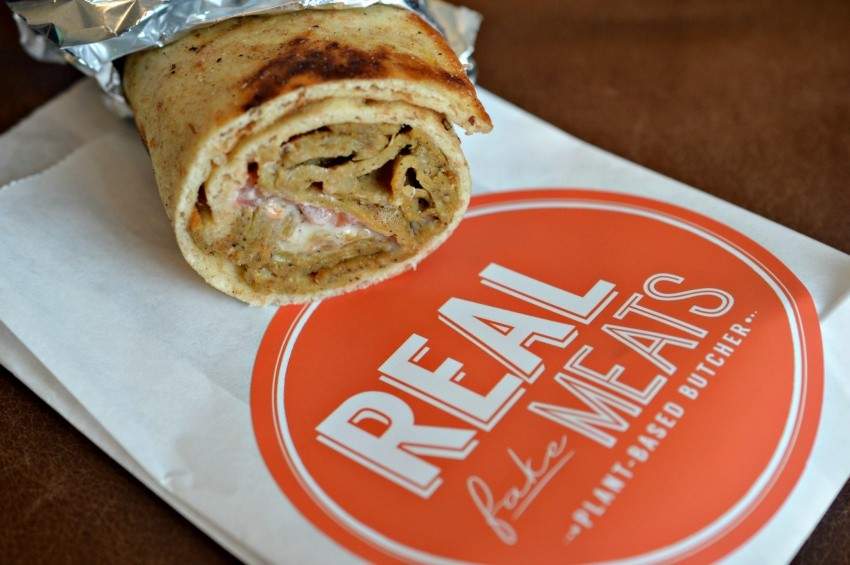 In a year where fake meat is the new, well, meat, we've seen plenty of Canadian vegan chefs and culinary experts put their best foot forward when it comes to the plant-based side of the culinary world.
Halifax chef Lauren Marshall has had a heck of a year with her company Real Fake Meats, which is now just days away from opening its storefront. The vegan butcher shop will sell many things from plant-based sausages to imitation meats and nut cheeses, but Marshall is getting plenty of buzz for her vegan donair. Available in kit form for now, people can opt to take home a combination of house-made pita bread, seitan-based donair meat as well as vegan donair sauce (the original version of which is typically made with condensed milk).
The result is nothing short of impressive as even this meat-loving writer felt fulfilled after one of the chef's freshly made donairs.
I look forward to watching Marshall's success grow throughout the new year.
Any naysayers? Pop by Real Fake Meats for a donair and then come back to me, alright?
River Cafe's bison tartare (Calgary, AB)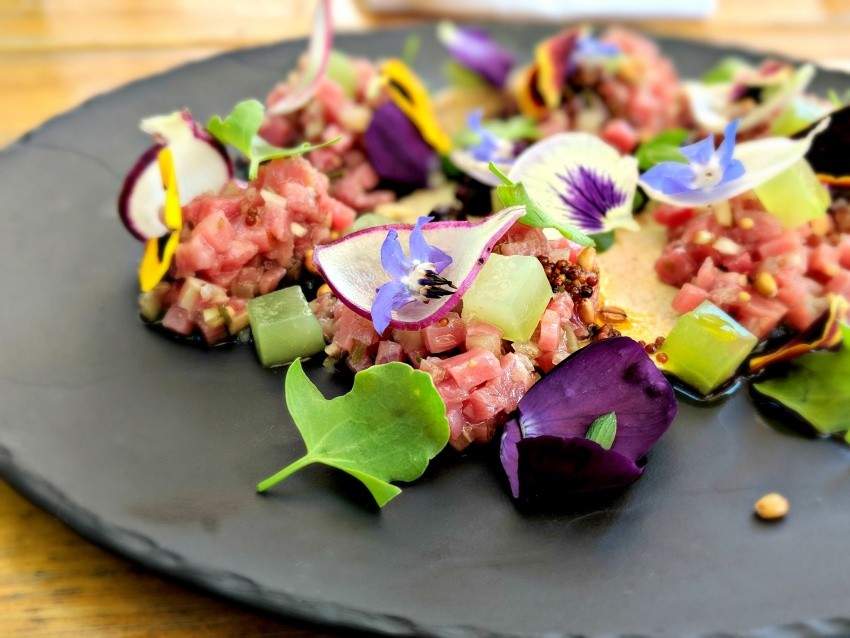 Of all the tartares I had in the past year, this beautiful offering from chef Matthias Fong at River Cafe in Calgary takes the cake. Made with Alberta bison, wild garlic, puffed red fife wheat, hearty Saskatoon berries, mustard seed, compressed cucumber and finished with cold-pressed canola and greenery from the restaurant's surrounding garden, it nearly perfectly embodied Alberta regional cuisine on one slate.
As a leader in sustainability and locality, though, I never expect any less.
Royal Dinette's tonnarelli with sea urchin (Vancouver, B.C.)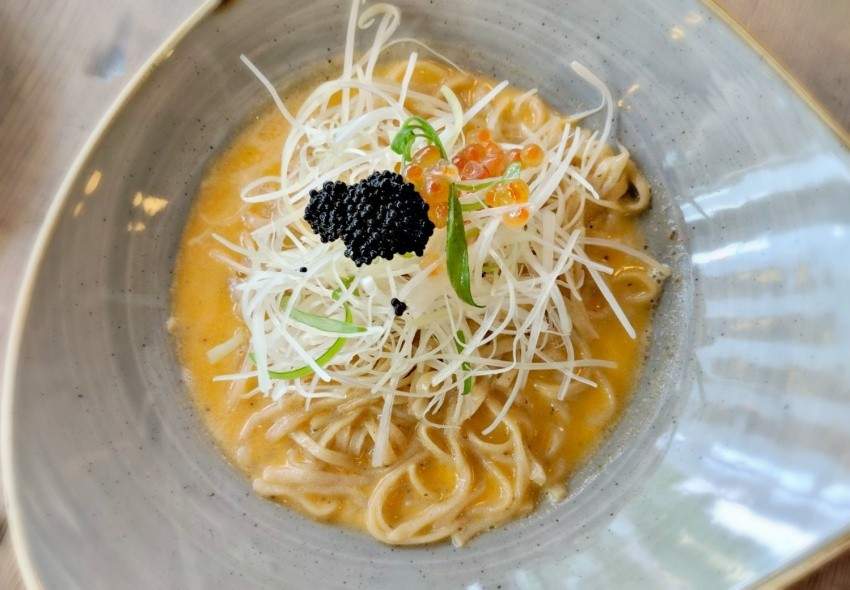 I realize it's a fairly unpopular view coming from a food writer, but sea urchin isn't an ingredient I usually jump when I see it on a menu. With that said, chef Eva Chin (who has since moved on to Boulevard) is putting out some very memorable food at Royal Dinette these days, including this urchin-heavy dish I enjoyed in the summer.
These house-made noodles in a rich, buttery sea urchin sauce topped with roe and slivers of green onion was a very memorable fusion pasta dish bursting with umami and a good exercise for me to appreciate the arguably intense flavour of the sea creature.
I'm not sure if I'm ready to crack one open straight out of the ocean and spoon right in, but at least now, I'm open to the possibility.
Salt Spring Wild Cider House's hopped apricot cider (Salt Spring Island, B.C.)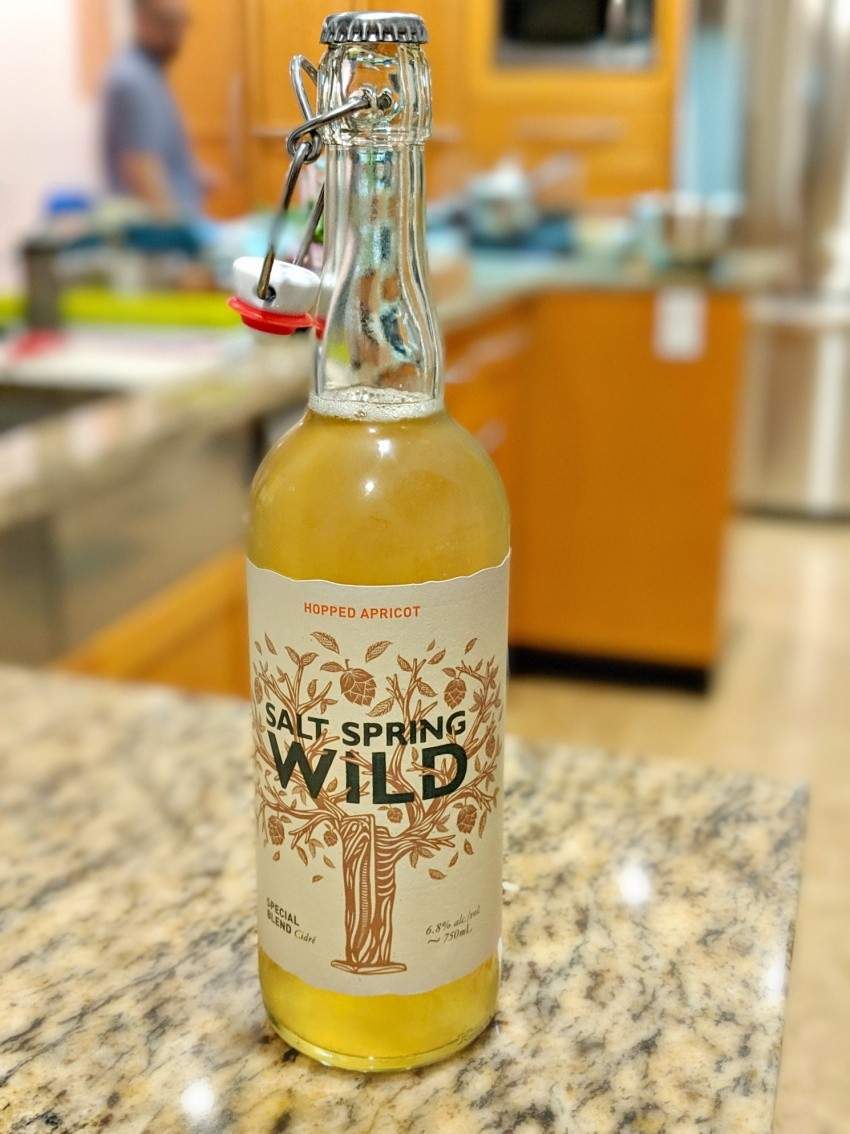 Salt Spring Wild Cider is one of many fantastic cideries to be found in B.C. This particular cider is made with organic apples, apricots and Cascade hops, all of which are grown in the province. If you've never had a dry, hopped cider, you are missing out on a drink that is satisfyingly refreshing with a "I can't quite put my finger on it" sort of flavour. The apricots here help give the cider a fuller flavour while the hops offer an interesting finish.
Pro tip: the rosemary and bitter orange cider is also noteworthy and definitely worth trying.
Thap Ba's special salad rolls (Red Deer, AB)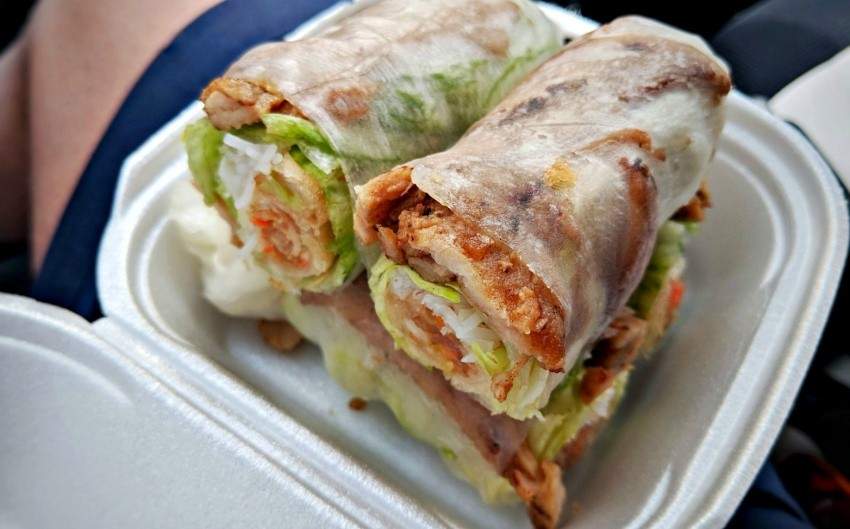 Something delicious in Red Deer? Who knew? Me, I suppose, after I stumbled upon these spring roll-meets-salad roll hybrids during a pit stop on one of my many drives from Edmonton to Calgary (and vice versa). There isn't much on the menu to get excited about at Thap Ba save the banh mi and these ridiculously tasty spring roll-filled salad rolls that come with a lemongrass peanut dipping sauce.
I now make a point of stopping here every, single time I'm passing through Red Deer. If this isn't true food love, I'm not sure what is.
Triton Ocean Products' pickled mussels (Triton, NFLD)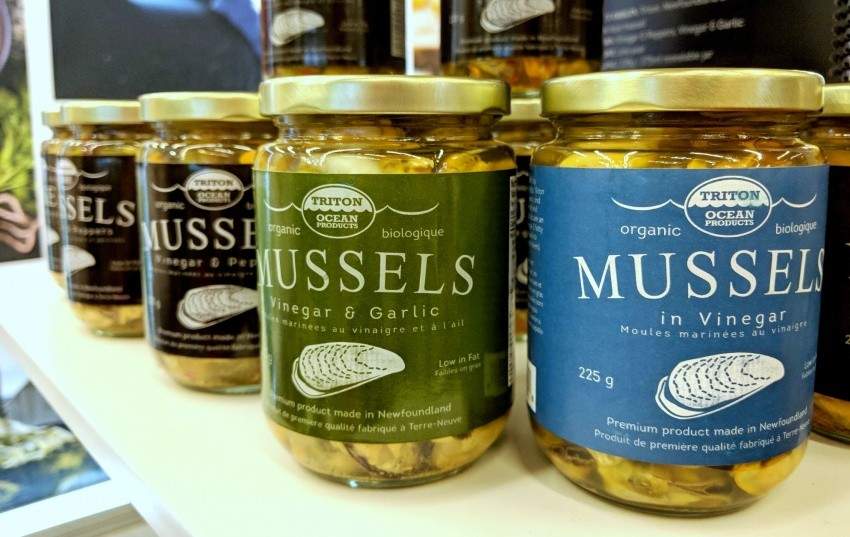 As much as I love exploring the restaurant scene nationwide, I have become increasingly interested in the consumer product side of the culinary industry. While attending the SIAL Canada conference in Montreal earlier this year, I came across a wide range of interesting food products from all around the world. Familiar faces like Saskatchewan's Three Farmers and Chuck Hughes namesake line of oils and sauces were present, but it was a display of jars of pickled mussels that piqued my attention.
Produced in Newfoundland by Triton Seafood Products, these East Coast mussels were what I'd describe as oddly delicious and somewhat akin to an escabeche. Heading home from Montreal with several jars, I have since used them in salads, on charcuterie boards and pasta and loved them every which way.
Zwick's Pretzels' McZwick sandwich (Edmonton, AB)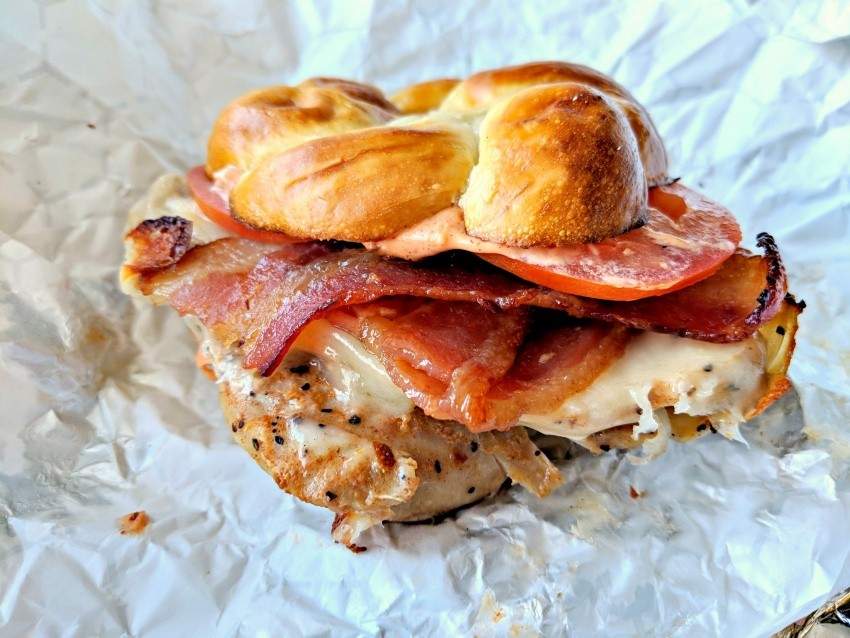 Even though this list is alphabetical, I find it fitting that is begins and ends with a delicious sandwich. Zwick's Pretzels won my heart early in the year after coming highly recommended by Edmonton restaurant experts, Twyla Campbell and Phil Wilson.
To be honest, most menu items here are wonderfully delicious, but the namesake McZwick is my top pick out of all that's available here from delicious gourmet types of pretzels to sandwiches. This one in particular sees roast chicken and candied bacon in a warm, appropriately salty pretzel bun with paprika aioli and gooey mozzarella. Sometimes, I order two and then have an internal debate over whether or not I should opt for a third.
It is truly that great.