With the 2018 Winter Olympics less than a month away, athletes from around the world are gearing up to head to PyeongChang to compete on the world stage. Even if you're not an athlete, but find yourself in South Korea and want to cheer Canada on, then you'll be happy to hear that the Canada Olympic House is open to the general public for the very first time.
Beginning February 10th, athletes, invited guests and ticket holders will able to visit the Team Canada homebase between the hours of 11 a.m. and 11 p.m. Once through the entrance of the 12,000 pop-up event space, folks will encounter sleekly designed (heated) outdoor and indoor seating areas, which includes a maple leaf-shaped bleacher section with screens for viewing live sporting events in which Canadians are competing, as well as Olympic highlights throughout the day. Naturally, the Canada Olympic House is smartly located near major sporting event areas for sports us Canadians know and love, such as curling and hockey.
When it comes to the food and drinks, it wouldn't be a Canadian party without iconic items like poutine and Caesars; those will be on the menu along with other casual fare like sandwiches, salads and more. There are plenty of major sponsors involved, like Canadian Tire, Hudson's Bay and Bell, as well as Molson Canadian, the latter of which likely means that there will be no Canadian craft beer on the premises. But for Canadians all the way overseas in South Korea, clinking their maple leaf-adorned cans to celebrate a win for Canada will feel pretty damn good regardless.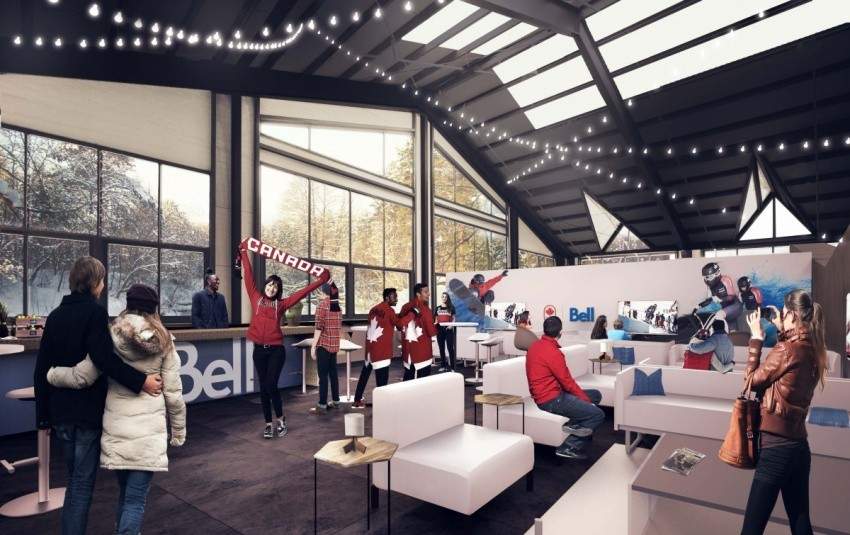 "We are rolling out the welcome mat to the world. The foundation of the house is thanks to the investment of our amazing partners," says Canadian Olympic Committee's CMO Derek Kent "Home is where the heart is, and for the 17 days that we are in PyeongChang, Canada Olympic House will be home."
If you know someone who will be in PyeongChang for the Winter Olympics to cheer on Team Canada, make sure to remind them to register and purchase the reasonably priced, per-day tickets ($25) to gain access to Canada Olympic House.