Not only are we celebrating culinary talent from across the Canadian Prairies with our upcoming Prairie Grid Dinner Series, but since The 2018 Winter Olympics are coming up quickly, we are supporting four Prairie-based Canadian athletes. These Olympic hopefuls will compete in a variety of winter sports in February in PyeongChang, and we are hoping they bring some medals back to Canadian soil upon their return.
The four athletes will be awarded funds raised through sale proceeds of our custom-designed Camp Brand Goods T-shirts ($10 from each shirt), which can be purchased with a dinner ticket or separately for $45 at PARKSHOP. as well as through a silent auction at our dinners in Calgary (Sept. 29), Edmonton (Oct. 1), Saskatoon (Oct. 3) and Winnipeg (Oct. 5). The silent auction will feature the custom-made items that have been created specifically for the dinner series, including (but not limited to):
We want to say thank you to all the 2018 Olympic hopefuls for being dedicated to their craft and working hard to make Canada shine! Read more about the four benefitting athletes below.
Alysia Rissling, bobsled pilot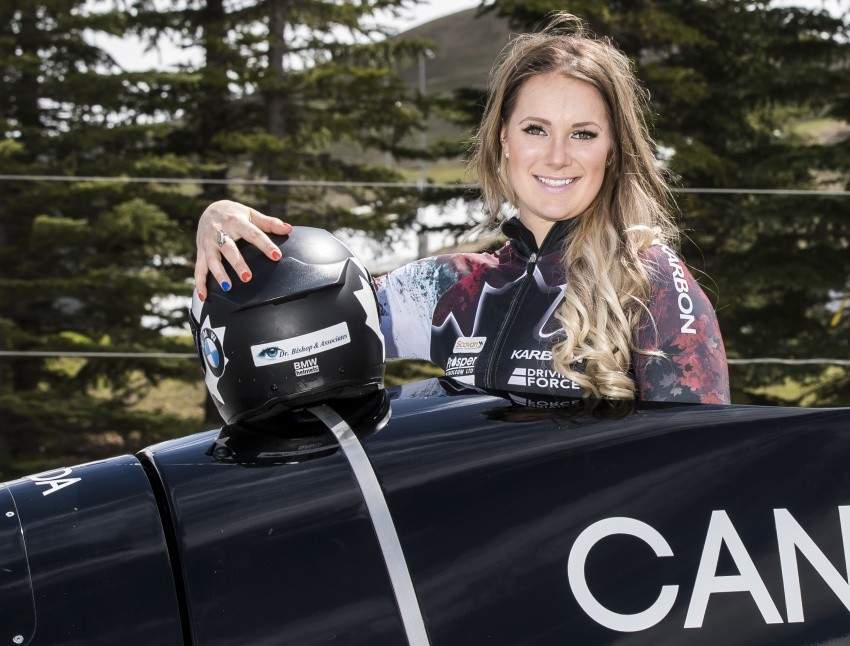 Alysia Rissling was destined to excel in high-performance sport. Growing up in Edmonton, Alysia was surrounded by a family full of hockey players. Her godfather played in the NHL, her dad played in the pro circuit in Europe, and her little brother was a standout with the Calgary Hitmen in the WHL before heading to the NHL's farm system.
For Alysia, her competitive nature was found on the basketball court over five years with the University of Alberta Pandas, graduating with the all-time winningest record in the team's history. She caught wind of many track and field athletes being recruited to bobsleigh, and was immediately interested in the power sport, but parked it in the back of her brain until she completed her scholarship and degree in bachelor of science in kinesiology. The following year, the idea of bobsleigh kept dominating her thoughts, so she tried out for the provincial team. Next thing she knew, her bags were packed, and she moved south to Calgary eight weeks later.
Alysia's progression in the sport has been steady since starting as a brakemen in the fall of 2012. She took to the driving seat the following year and is one of Canada's most promising pilots. Alysia had a standout rookie season in the World Cup circuit last year as a pilot, winning the bronze medal at the World Cup test event in Pyeongchang. She is currently the second ranked pilot in Canada, and 7th in the overall World Standings.
Alysia's bobsleigh career highlights include six career gold medals on the North America's cup tour, as well as the champion in the overall points total in the 2014/15 season. At the 2016 World Championships she finished 13th, and in 2017, got on the podium with a 6th place finish in Königssee, Germany. She was part of a history-making moment that caught international headlines in 2015, when she became the first woman to ever pilot a four-man sled in an international race with a crew of all women. Although they were unable to get a women's four-man event into the Olympics for 2018, Alysia continues the pilot the bigger, faster sleds with hopes of getting a second shot at a medal event for the 2022 Winter Olympic games.
When not mastering her trade on tracks around the world, Alysia is a natural athlete who earned scholarships in basketball, track and field, soccer and volleyball. A self-described sports junkie, Alysia loves snowboarding, surfing, slo-pitch, beach volleyball and all watersports. When not playing, she's watching hockey, football and baseball religiously. She is also a Fast and Female ambassador and Classroom Champions mentor. Alysia returns home to Edmonton often to spend time with her dog, Aston Martin, and to cheer on the Oilers.
Ben Coakwell, Bobsledder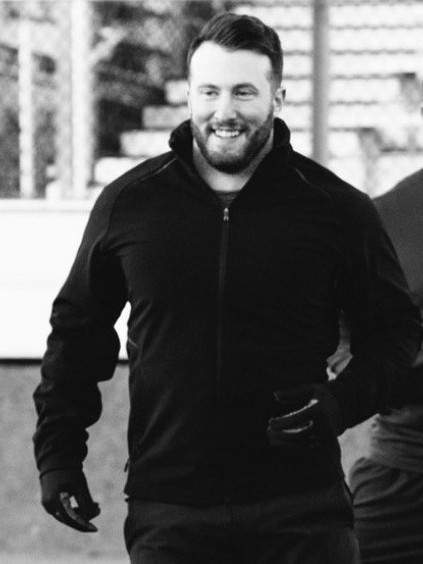 Originally from Moose Jaw, Saskatchewan, Ben Coakwell grew up surrounded by organized sport. He spent a majority of his youth playing hockey and lacrosse competitively. It wasn't until Grade 12 that he began playing football for Central Collegiate.
Ben attended the University of Saskatchewan to play football for the Huskies on an athletic bursary provided by the David Dube Foundation award. He led the team in scoring and rushing in both the 2010 and 2011 season. He also competed for the Huskies Track and Field team as a 60- and 200-metre sprinter. Ben was known for his size and speed in the football world, leading him to be discovered by Bobsleigh Canada Skeleton. He attended a Blue Chip camp in early March 2012 and has pushed his way onto the National Team. In his first year on the World Cup squad, Ben was part of Chris Spring's crew that won their first-ever medal on the elite circuit when they finished third in Whistler.
Ben made his Olympic debut in 2014 where he was part of Justin Kripps' four-man team. Team Kripps captured another bronze in the four-man in 2016 in Lake Placid, and is now focused on the track to 2018.
In his free time, Ben enjoys painting abstract and watching movies.
Brigette Lacquette - Hockey player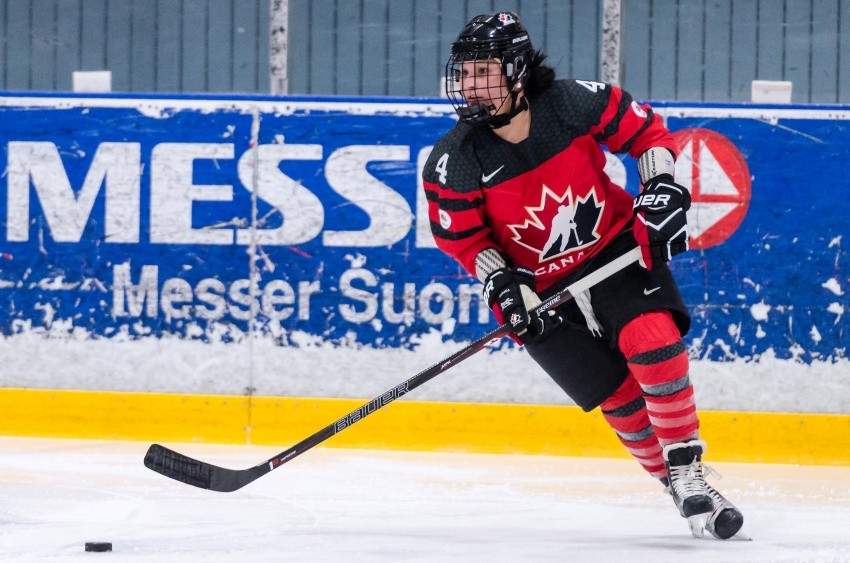 Lacquette made her debut in Canada's National Women's Team program in 2008 with Canada's National Women's Under-18 team. She is a two-time participant at the IIHF U18 Women's World Championship, winning gold in 2010 and silver in 2009. As a member of Canada's national women's development team, she appeared in 21 games, winning gold at the Nations Cup in 2013 and 2016.
On the blueline, the 24-year-old from Mallard, Manitoba, has worn the red-and-white in 26 games for Canada's national women's team. Lacquette is a two-time silver medallist at the IIHF Women's World Championship (2015, 2016) and won a gold medal at the 2013 Four Nations Cup.
Lacquette is presently living in Calgary, Alberta, training full time alongside 27 players with the Canada's national women's team centralization roster in hopes of earning a spot on the team that will represent Canada at the upcoming 2018 Winter Olympic games in Pyeongchang, South Korea.
Lacquette played her NCAA career at the University of Minnesota-Duluth, and also won the Clarkson Cup with the CWHL's Calgary Inferno in 2016.
Mirela Rahneva - Skeleton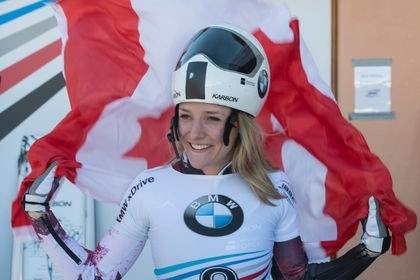 Mirela Rahneva immigrated to Canada when she was 10 years old, growing up in Ottawa and now happily resides in Calgary where she trains religiously at WinSport.
She joined the cross-country team at her school to make friends and ran all the way up through high school. In grade 12, she tried out for the rugby team and decided to pursue the sport throughout her student career at the University of Guelph. She discovered skeleton in 2012 and has competed for Canada ever since. She has won an overall North American circuit championship in 2014/2015, came second overall in the European circuit in 2015/2016 and this past season, came third overall in the 2016/2017 World Cup circuit. She earned herself four podium performances on the World Cup circuit this year, including a gold in St. Moritz, Switzerland, a Silver in Igls, Austria, and two bronze medals in Lake Placid, New York and Winterberg, Germany.