updated Sept. 5, 2018.
This fall, Eat North will present its inaugural Prairie Grid Dinner Series — an innovative experience that will see a roster of acclaimed chefs take their talents to four cities across three provinces in a week to host five-course dinner events showcasing locally harvested ingredients and regional cuisine at its finest.
The Prairie Grid Dinner Series kicks off in Calgary on Friday, Sept. 29 at the Southern Alberta Pioneers Building and continues with stops in Edmonton on Sunday, Oct. 1, Saskatoon on Tuesday, Oct. 3 and Winnipeg on Thursday, Oct. 5. A limited number of 100 tickets to each of the dinners are available for $140, or $170 which includes a limited-edition custom Camp Brand Goods T-shirt (more information below).
Participating chefs include Adam Donnelly (Segovia and Clementine, Winnipeg); Pamela Kirkpatrick (Forth, Winnipeg); Jamie Harling (Deane House, Calgary); Lindsay Porter (London Local, Edmonton); and Christie Peters (The Hollows and Primal, Saskatoon). Each dinner event will consist of five courses developed collaboratively by the team of chefs, with each course inspired by the spectacular shapes, colours and textures of the farming grid system that stretches from the foot of the Rocky Mountains to the Eastern edge of Manitoba.
"I think this event will be interesting for the diners because all the dinners will really represent the specific time and place where they are being held," says Donnelly. "I feel like the Canadian Prairies have a lot to offer and we are generally overlooked by the rest of the country. So, I think the diners will be blown away with what we can do."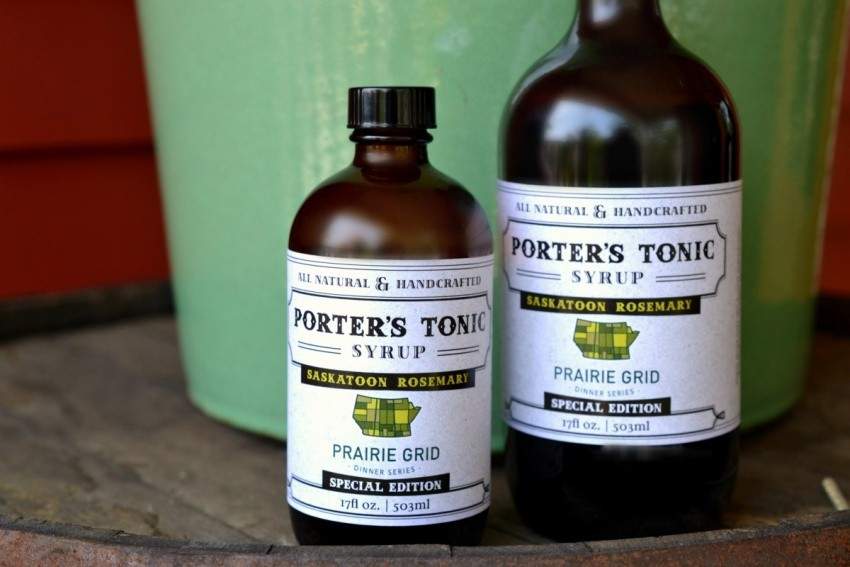 A custom Porter's Tonic made with Saskatoon berries and rosemary will be used in the signature welcome cocktail at each dinner.
Many artisans from across the three provinces will be featured at each dinner event including Calgary's Porter's Tonic, charcuterie-maker Empire Provisions, and gin and custom-made bitters from Strathcona Spirits Distillery in Edmonton. Ceramic plates and bowls by Winnipeg's mud + stone will take centre stage in front of diners and invoke the warm colours of the autumn harvest, custom leather table runners by Calgary fashion designer Kat Marks will reflect the angular nature of Prairie farmland and chefs and servers will don aprons created by Saskatchewan fashion designer Laurie Brown. As well, local musicians including Calgary jazz vocalist Ellen Doty and Winnipeg's Mika-Dawn will entertain guests in their respective cities during the cocktail hour while interesting canapes are served throughout the space.
"This dinner series is very close to my heart. It is a reflection of all of the wonderful things prairies can offer," says Eat North co-founder and event organizer Dan Clapson. "Outside of the talented chefs and myriad ingredients found here like lentils, beef and canola, we have incorporated other notable aspects into this one-of-a-kind experience that are rooted in the region including fashion designers, potters, knife makers, visual artists, musicians and more."
The dinner will also feature a silent auction of a variety of custom-made products created solely for the Prairie Grid Dinner Series. Diners will have the option to bid on a range of items with 100% of proceeds going towards four young athletes (one from Calgary, Edmonton, Saskatoon and Winnipeg respectively) who are currently training at Winsport to compete in the 2018 Winter Olympics.
In the weeks leading up to the first dinner event in Calgary, the Eat North team is encouraging people to use the hashtag #proudtobeprairie on Instagram and Twitter to share what they love about the Canadian Prairies.
For more information and to purchase tickets, click on the city and date below...
The Prairie Grid Dinner Series t-shirt by Camp Brand Goods for a cause