Prairie Grid has always been an event that celebrates creativity and prairie cuisine. This year's dinner series is really raising the bar in highlighting the innovation found across the three Prairie provinces.
Saskatoon baker Bryn Rawlyk is launching a new purple barley sourdough, violet hue and all, to guests at Canada's only travelling pop-up dining event.
Purple barley, trendy at bakeries like Tartine in San Francisco, is a newcomer to the Prairies for the simple fact that no one was really growing it here. Until now.
It all started four years ago when a farmer friend gave Rawlyk a 20-kg bag of heritage purple barley.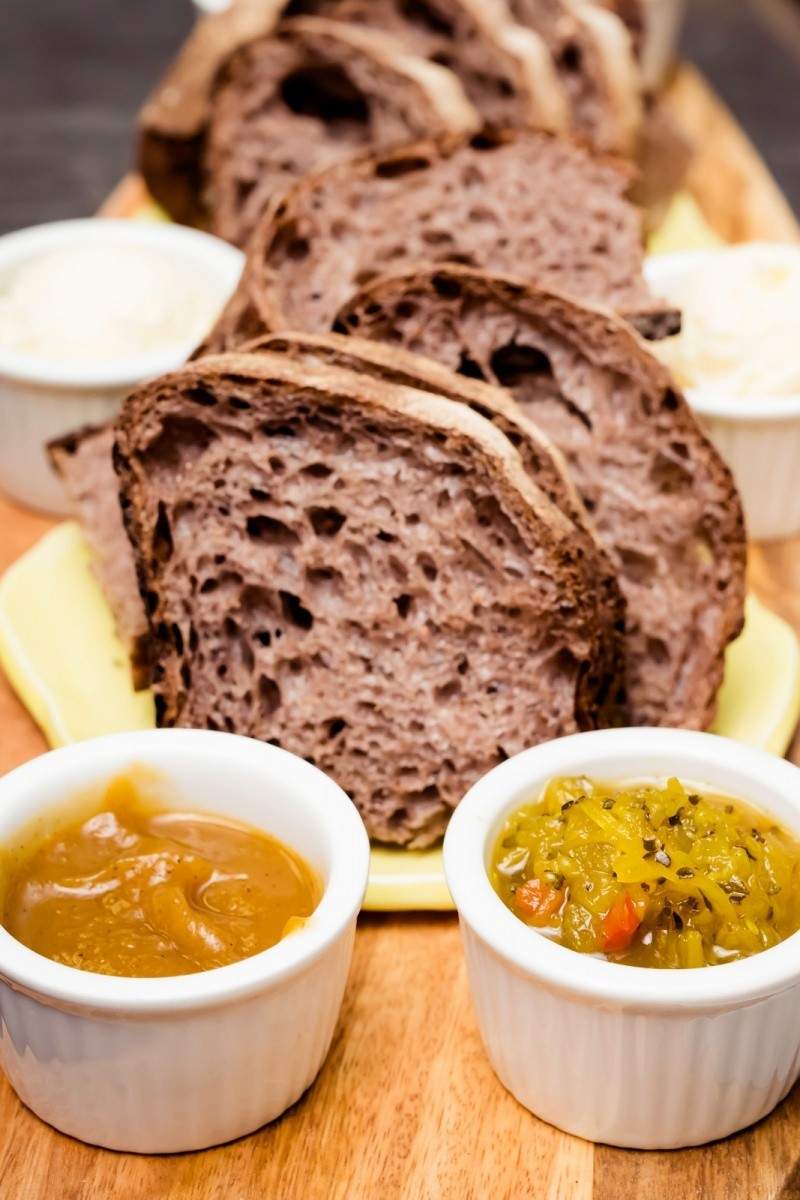 Rawlyk owns the Night Oven Bakery in Saskatoon, where he stone-grinds and mills flour before turning it into sourdough bread in the wood-fired oven he built inside the bakery. He sources much of his heritage grains from organic farmer Marc Loiselle. The two have worked closely together over the years, testing new varieties, like purple barley.
"Barley adds a lot of sweetness to bread. And the colour sticks with it as it bakes," says Rawlyk.
"I did a pre-ferment with the barley to get the flavour going. I made porridge out of the flour and then incorporated that into the bread. So, it's a purple barley porridge bread."
Loiselle first grew it in small test plots where the two harvested it and cleaned the seeds by hand that first year. Loiselle steadily grew more each year.
"I've been giving him feedback about how it's working and how I can use it, and checking out field development," says Rawlyk. "We don't have much of the grain, so it's been a slow burn waiting for the grain each year."
Alongside decadent slices of wood-fired purple barley sourdough, diners can expect Rawlyk's cultured kefir butter at the dinner event. And watch for Saskatchewan's Sunnyside Creamery's products, which will be used by both Rawlyk and Prairie Grid's pastry team.
Innovation is the name of the game for Prairie Grid tipples, too. Calgary's Eau Claire Distillery's Prairie Grid gin was custom-made with a botanical mix straight from the grasslands that includes dandelion, haskap berries and rose hips. The gin is perfectly matched with a tart and herbaceous sour cherry tonic syrup from Porter's Tonic. Saskatchewan's award-winning Living Sky Winery will also debut its first bubbly at Prairie Grid's Saskatoon dinner (Sept. 24). The sparkling rhubarb wine was custom-made for the dinner series, another example of the creativity and innovation found throughout the Prairies.