As the saying goes, "necessity is the mother of invention", but this year's Prairie Grid Dinner Series has shown me that collaboration is a key driver of invention or innovation, the theme for this year's series, which aims to showcase technological evolution in culinary practices over the past century. When you get the right people together in an environment that fosters sharing and presents the challenges that come along with a travelling pop-up series, it's amazing to see how quickly ideation can happen.
I joined the band of Prairie Grid chefs and organizers in Saskatoon, which was their third stop in the dinner series. Saskatoon is near and dear to many involved in this year's Prairie Grid. Several of the chefs have lived in Saskatchewan, including the hometown chef Bryn Rawlyk and Scott Redekopp, chef at Calgary's Yellow Door. Event founder Dan Clapson also hails from Saskatoon.
"I love Saskatoon," he tells me. "I love coming home and it's nice to do something like this in my hometown."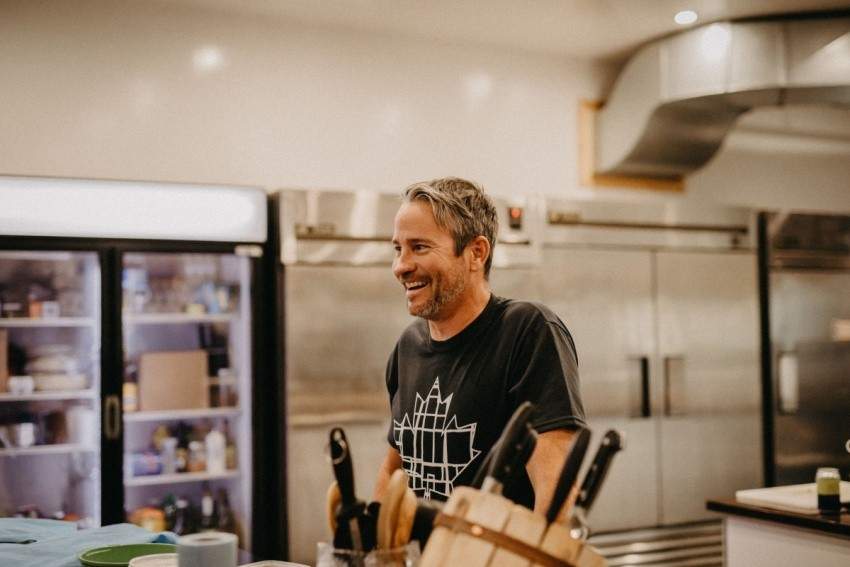 Don Agar in his commercial kitchen.
This year's venue for the Saskatoon dinner was Agar's Corner, a large country home set in a warm autumn landscape, owned by the Agar family since 1906 and operated by husband and wife duo, Don and Carmen Agar. The chefs were appreciative of the vast kitchen facilities and the two smokers onsite.
"Out of all the Prairie Grid dinners, the two that have gone off without a hitch have been at Agar's Corner," says Clapson. "It's perfect for this event. It's so representative of the Prairies."
My flight arrived on the eve of the dinner, just in time to meet up with the crew for drinks and bites. Listening to the group banter about a variety of topics, from X-Men to music videos to rosé shots, I was struck by the camaraderie that had developed amongst the team in a mere four days.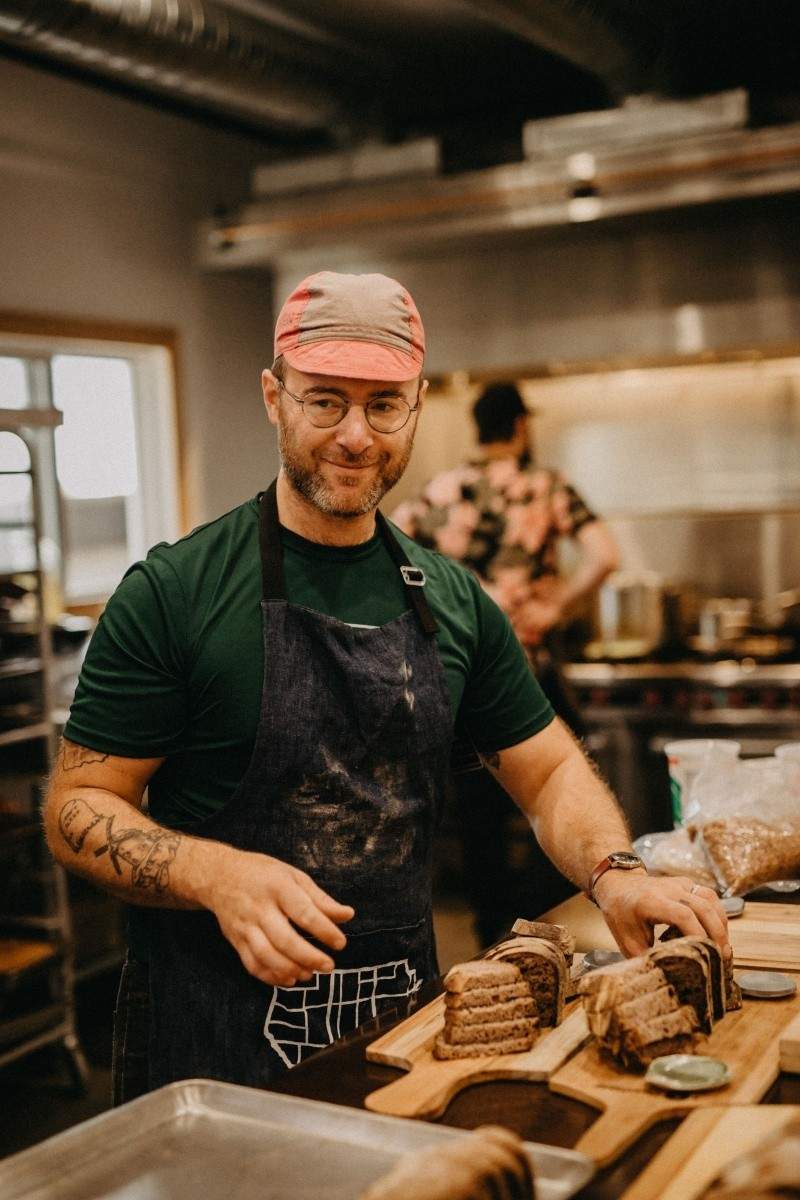 Bryn Rawlyk
Early the next day, a few members of our group toured Rawlyk's bakery, The Night Oven. We were able to see firsthand the wood-fired oven that Rawlyk built, where he bakes all his bread, including the purple barley bread that he would serve at Prairie Grid with zucchini relish, kefir cultured butter, and pumpkin butter.
During our visit to The Night Oven, we met Nettie, a co-owner of Maida Vale Farms. Located an hour away near Laura, Saskatchewan, Maida Vale has been a pioneer of organic farming in the Prairies and provides red fife to The Night Oven.
The genuine interest and admiration each chef has for one another's techniques was apparent on our tour. The group was emphatic in their desire to visit one another's restaurants after this experience. Katelin Bland, pastry chef at Lulu Bar and Bridgette Bar in Calgary, noted that she would love to come back to The Night Oven to learn more about Rawlyk's bread-making process.
The collaborative innovation was clear 30 minutes before dinner, in the dinner briefing when chefs learn of guests' dietary restrictions. Unfazed, they all immediately pitched in to brainstorm ideas to create the needed adjustments, including development of a new vegetarian entrée. While Redekopp, who's in charge of the main course, was busy finishing off his dish, Bland jumped in to shape the gnudi dough. The result was a gorgeous dish of caramelized ricotta gnudi with beets and onion ash.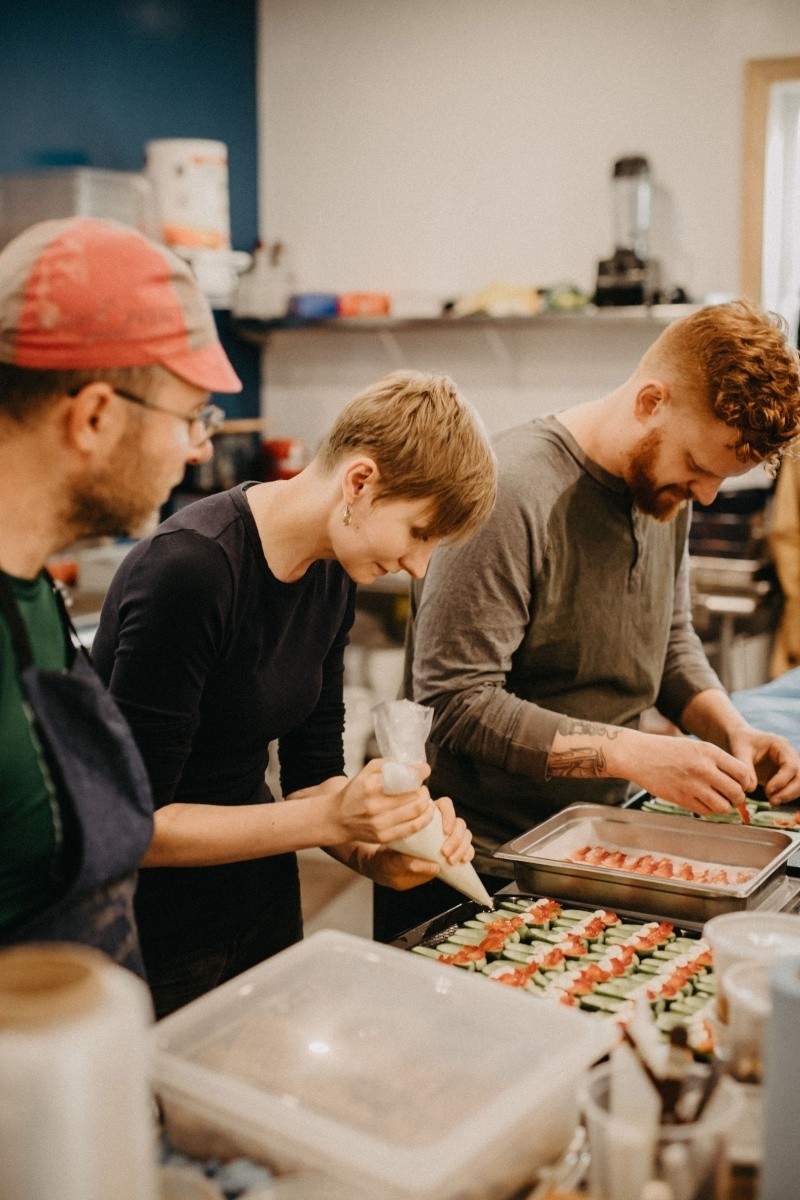 Beth Rogers and Thayne Robstad of Saskatoon's Hearth
As the preparation for dinner service got underway, I saw the chefs seamlessly jumping onto one another's stations to lend a helping hand.
Canapés prepared by Beth Rogers and Thayne Robstad of Saskatoon's Hearth restaurant and alumni from last year's Prairie Grid included locally-foraged mushrooms and lichen crostini and the prettiest beet-cured Saskatchewan trout served with ricotta in baby cucumbers. While guests enjoyed these bites with their welcome cocktails made with sour cherry syrup from Porter's Tonic and Eau Claire Distillery's Botanical Gin, chefs Bland and Rawlyk were helping chef Christine Sandford of Edmonton's Biera plate her smoked Brassica dish and ensuring each dish had just the right amount of espuma sauce made from whey and cheese rinds.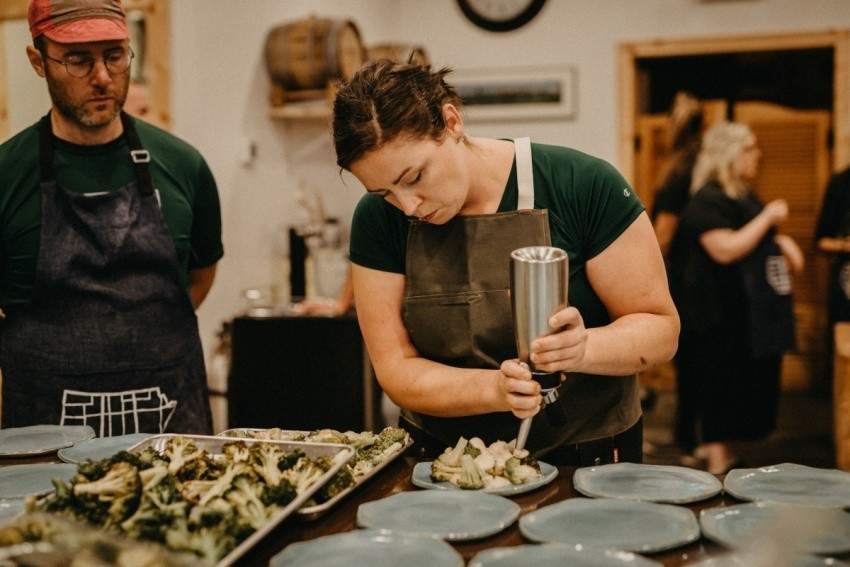 Along with Sandford's brassica dish, diners also enjoyed fried shishito peppers made by chef Chris Gama of Winnipeg's Clementine, which were served with warm mushrooms and pickled squash. The shaved bison heart that Gama grated over the labneh inspired yogurt sauce and hemp heart tahini added smokiness and umami. I would be a happy shopper if he ever produced and marketed this in a shaker top bottle.
Gama also made the evening's palate cleanser, which was inspired by a bag of crab apples were picked earlier by the Agar's Corner's owner Don's father. Gama whipped up a crab apple granita and served it like mini floats with Village Brewery's cider.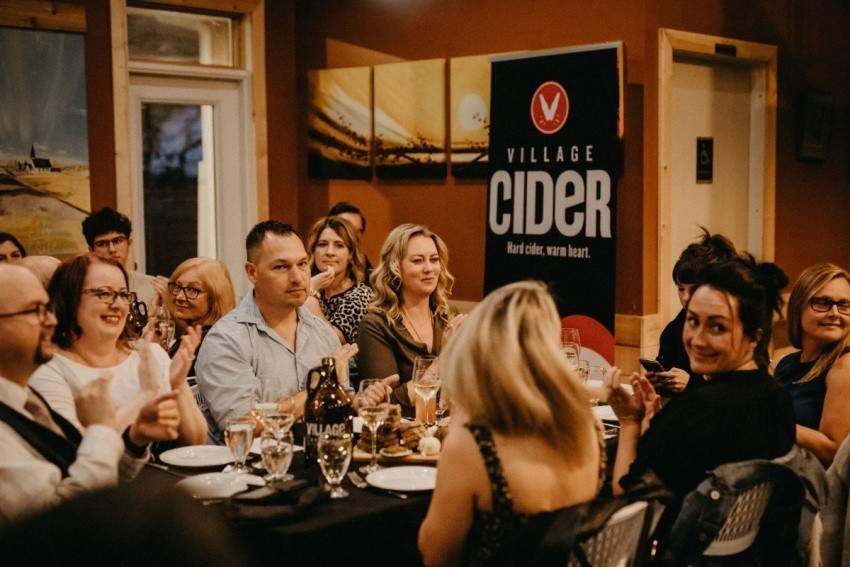 The main course is usually prepared by the hometown chef. Since Rawlyk is a baking wizard and entrepreneur, but not a dinner service chef, Redekopp took on the role for the event. Chef Redekopp's main course proved to be another exceptional product of collaborative ideation.
In Calgary, Redekopp's main course highlighted succulent Alberta lamb saddle. When planning for the Saskatoon dinner, he wanted to showcase a local farmer, so he reached out to Rogers and Robstad from Hearth for a farm recommendation, and was referred to Pine View Farms. After deliberating the challenges of cooking in an unknown space, Redekopp decided to use tomahawk pork chops, which would lend itself to different cooking methods.
Initially, Redekopps was going to prepare the pork as bone-in chops but such a preparation would mean losing the beauty of the rib meat. Redekopp credits chef Gama with the idea to take the six-inch rack of ribs off the pork loin and treat both cuts of the pork individually.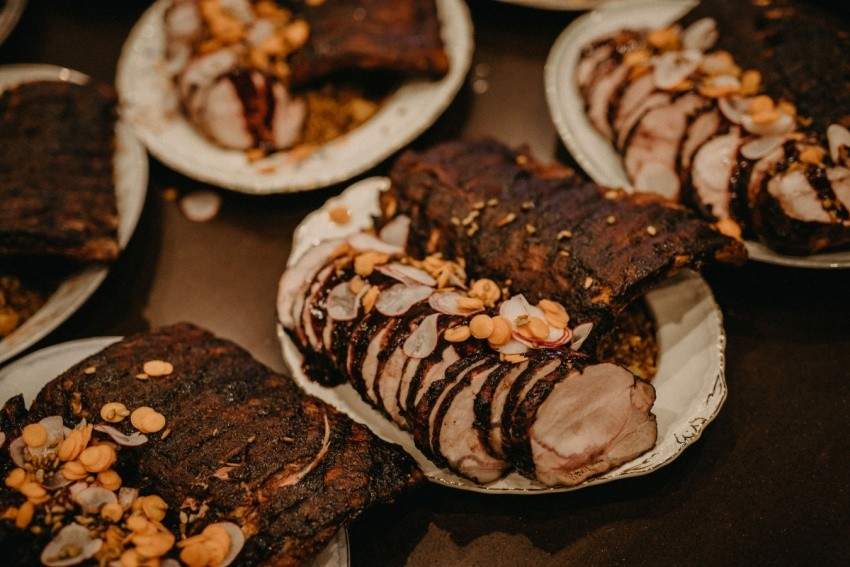 The result was a majestic platter served family style to a room of oohs. The ribs were rubbed with Chinese five spice, then smoked using smokers at Agar's Corner. Diners were surprised by how moist the pork loin was, having been brined, trussed, seared, then glazed and roasted with saskatoon berry and haskap hoisin sauce. The pork was served with farro and spelt with mushroom and smoked sunflower seed.
Pastry chef Bland's deconstructed Flapper Pie amazed diners at the Calgary and Edmonton dinners. Her egg yolk panna cotta was accented with milk jam, graham cracker crumb, graham cracker infused ice cream, and meringue. For this Saskatoon dinner, Rawlyk helped her source cream from Sunnyside Creamery, a local dairy farm. Rawlyk paid a visit to Sunnyside the day before the dinner to ensure that Bland had the freshest cream for her dessert and when Bland opened the container of cream for the first time, crying "Yasss cream!", we all heard her enthusiasm.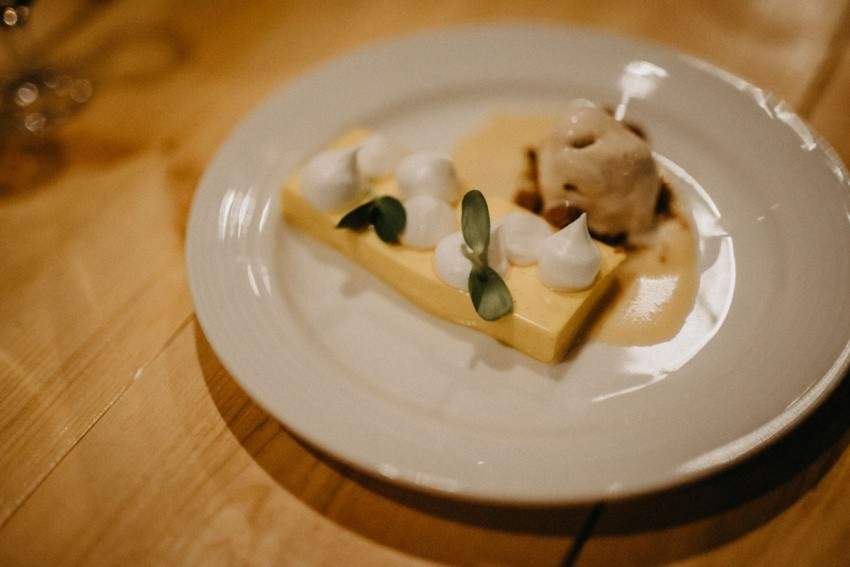 The Prairie Grid spirit also extends to alumni of the dinner series. On our first night in Saskatoon, we dined at The Hollows, co-owned by Christie Peters, one of the chefs for the first Prairie Grid. Peters welcomed the group warmly, taking us through a tour of her facility. Peters was also in attendance at the dinner to enjoy the dishes.
Similarly, in addition to making canapés for Saskatoon's dinner, chef Thayne Robstad will be stepping in for Sandford on the Winnipeg leg of the dinner series.
Throughout the two days in Saskatoon, I saw how strong the roots were planted with each of the past Prairie Grid participants and listened to the chefs share war stories about their respective kitchens, finding numerous similarities across the three provinces. The camaraderie I witness highlights the value of an event like Prairie Grid in providing chefs with an avenue to network, learn from one another, and return to their restaurants with new ideas.