Have you ever gone to a restaurant to find the reservation you made didn't exist? And, to make matters worse, the restaurant is fully booked, meaning the dinner you had dreamed about for days or weeks wasn't going to happen. Maddening, isn't it? Now imagine, as an event planner, showing up to your venue and finding that the space you reserved for 106 people can only realistically fit about 60 and that the heater in that space may or may not last the duration of the dinner.
Oh, and it's snowing, and the event space you rented is a tent.
The motto last year for the Prairie Grid team was, "We'll make it work." It's a motto Dan Clapson and his band of tireless road crew has had to employ time and time again for season two.
Members of this team—all of whom were raised in Alberta, Saskatchewan and Manitoba—have prairie roots that run deep and strong. Problems like having no dishes, no cutlery, no venue, and no chef (JP Pedhirney's flight out of Calgary is delayed by 12 hours)—are simply referred to as things that build character. Against all odds, these guys always "make it work".
When guests arrive for the third dinner of the Prairie Grid Dinner: Dawn to Dusk series, they walk onto what looks like a set in a Hollywood movie. The tent that caused so much grief to the crew now acts as a backdrop decoration. It is the little red barn at the edge of the property that saves the day. Lit with strands of bright lights, it is a welcoming refuge in a stand of copper-hued trees on the property of the Willows Golf & Country Club. The slowly sinking sun provides the gold to gild this lily of a setting.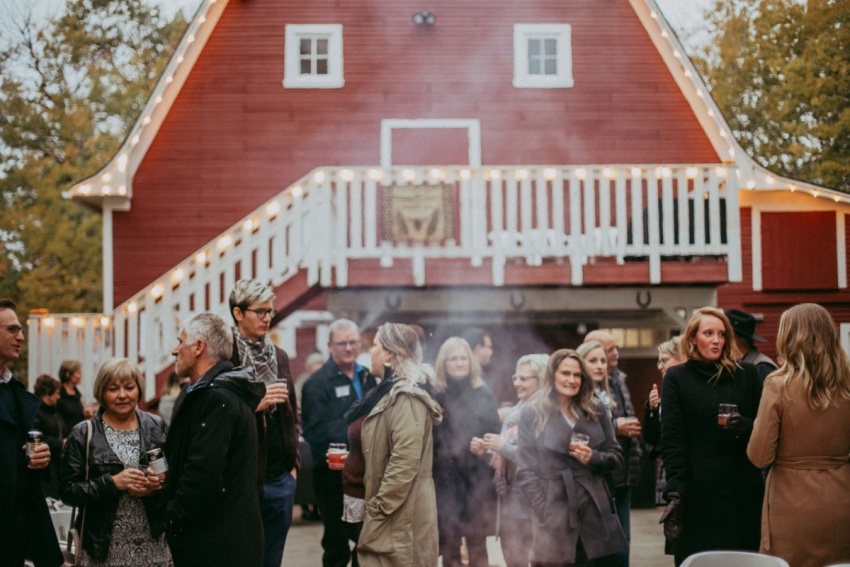 Guests mingle around a gargantuan firepit with the snap-crackle-pop of a blazing birch wood fire. They sip on Big Rock apple cider and a sunrise-inspired cocktail made with Eau Claire's special edition gin and Porter's rhubarb lavender tonic. Servers wind through the crowd with two option of tartare—one of beef tenderloin; the other of local tomatoes, pickles and herbs—made by host chefs Beth Rogers and Thayne Robstad of Hearth.
And then the barn doors open to allow guests into a room so beautiful, even the crew can't believe what has transpired over the course of the day.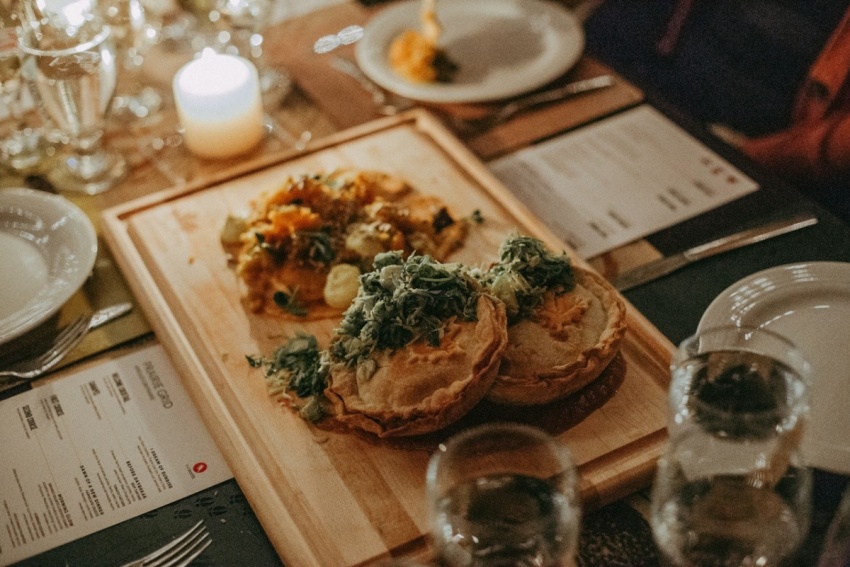 There is nothing more pleasing than to hear the laughter and chatter of people convening over food. Guests dig in to pretty Pepo ceramic bowls heaped with Mike Robin's buttermilk vichyssoise and Manitoba smoked goldeye. They spear cured meats and pickles off of wooden platters and devour mounds of the sweet and earthy Hubbard squash the chefs have prepared in Pedhirney's absence. You can hear a simultaneous tap-tap-tapping as people crack the golden crust of a Steve Brochu's tourtiere topped with Brussel sprouts and rhubarb relish.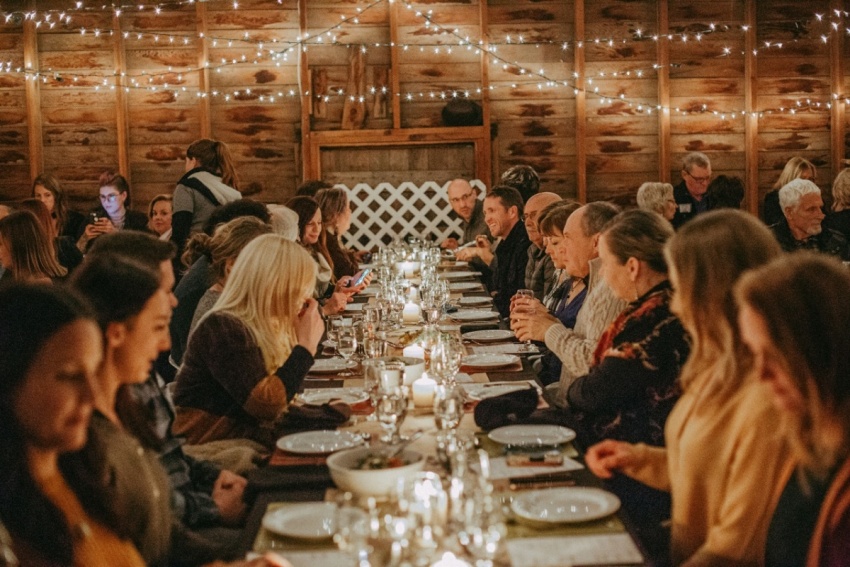 The crowd is fueled by food, fellowship and libations by Living Sky Winery and Black Fox Farm & Distillery. Adrian Chappell's brown-butter infused Northern Rye Manhattan doesn't hurt, either, I'm guessing.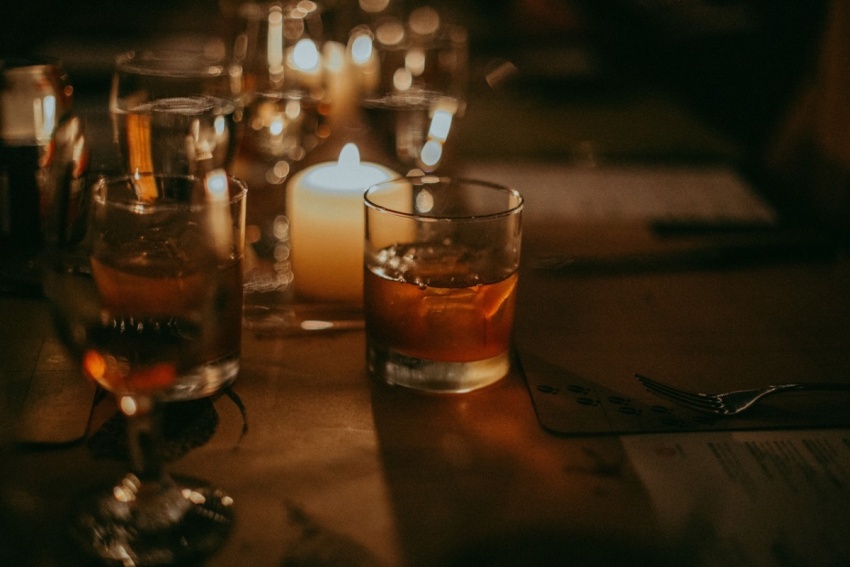 Rogers and Robstad outdo themselves with the main course, an artfully plated braised beef short rib with squash puree, compressed squash ribbons and sauerkraut perogies, topped with chanterelles and beet powder.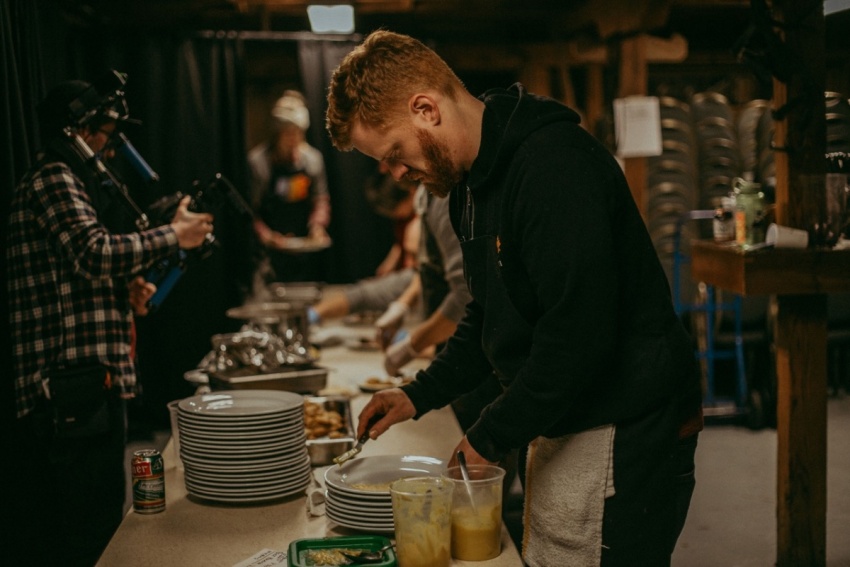 The perogies are a nod to Beth Roger's Ukrainian heritage; she and Robstad have picked the chanterelles from a forest four hours north of the city. The beef is from their supplier, Pine View Farms, a producer they use exclusively for dishes on their menu at Hearth.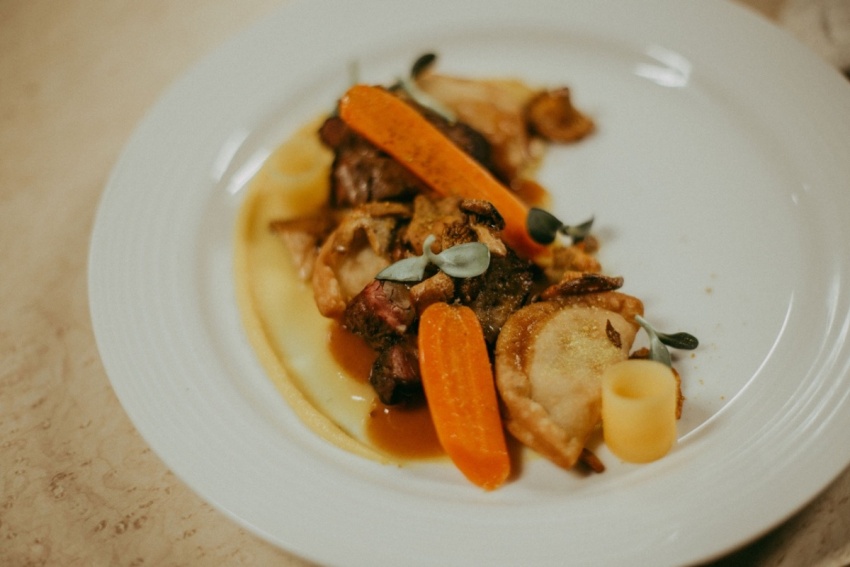 There is a lot of love in that dish and guests taste it in every bite.
The corn and honey cake by Winnipeg's Jess Young makes people close their eyes and moan. It's that good. The moist, dense round is served with organic Manitoba rooibos cream and a milk jam made from Saskatoon berries and reduced sweetened cream. It is topped with a crumbled Alberta rose sable (a shortbread type of cookie) and a smattering of sea salt. The Prairie Twilight Tea that accompanies the dessert is a blend made with ingredients foraged by the staff at The Hollows, where Chappell works. Tonight, she bolsters it with gin and black currant liqueur making it and the cake a perfect ending to a faultless meal.
The guests are full and happy. And that is all that ever matters.
The Prairie Grid crew packs up and prepares for Winnipeg to present the Dawn to Dusk meal one last time.

Here's hoping there's seats for all 112 guests and no snow storm.
The Winnipeg dinner, like in every other city, is a sold-out event. If you missed out on #PrairieGrid2018, keep your fingers crossed for news on the 2019 tour.
Follow Eat North on Instagram and Twitter for Canadian food and drink news and for more information on (hopefully) the Prairie Grid 2019 dinner series.