With a successful first dinner service under their belts, the Prairie Grid Dinner Series' crew is travelling from Calgary to Edmonton in a convoy of black Cadillacs to prepare for the second event in the four-city tour.
I'm riding shotgun with chef Jessica Young from Winnipeg. We pass the time debriefing the Calgary dinner and talk about what to expect for the Edmonton dinner that's taking place in 36 hours. We're in constant contact (thanks to onboard wi-fi) with the rest of the team ahead and behind us. Our Escalade is packed to the rafters with Big Rock beer, Eau Claire Gin and Porter's Tonic. I've dubbed it "Beer Force 1".
Jessica is the chef de cuisine of Diversity Food Services, the outfit that feeds thousands of students and faculty at the University of Winnipeg. She proudly reveals that LEAF Canada (an environmental audit agency) has recognized their operation as "the greenest restaurant over 10,000 square feet" in the country—high praise for an institution, for sure.
Another Manitoban, Mike Robins, is also part of the Prairie Grid cooking team. He heads Sous Sol, a subterranean gem in Winnipeg's Osborne area. Steve Brochu of Chartier represents Edmonton and area, Thayne Robstad and Beth Rogers make up the powerhouse couple behind Hearth in Saskatoon, and JP Pedhirney is the intensely competent leader at Bridgette Bar in Calgary. Adrian Chappell, bar manager of Saskatoon's The Hollows and Primal, is on board to create cocktails that pair with some of the courses. They all have one thing in mind: to prove that the prairies are anything but boring.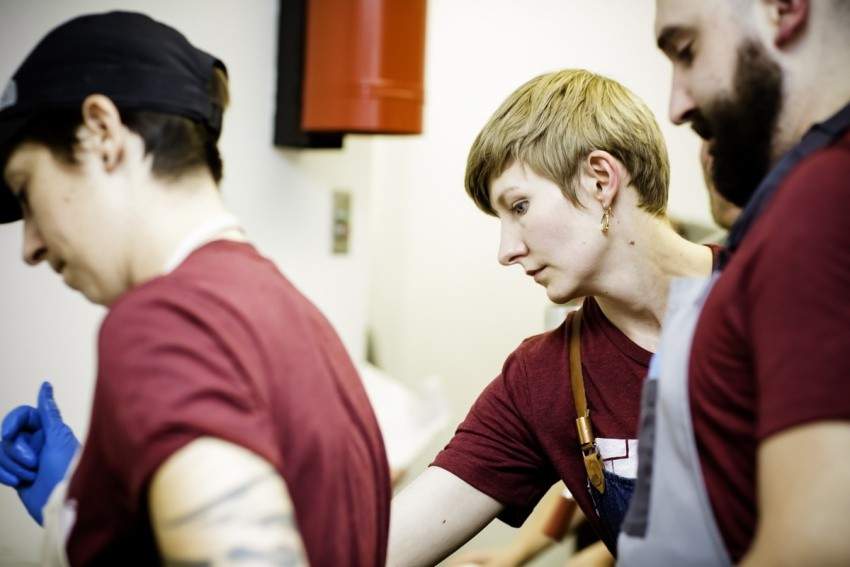 The Calgary dinner event is the first time the chefs meet in person. In less than 24 hours, they will band together and feed 134 people 10 items in a prairie-focused multi-course meal.
"There's no room for ego here. Everyone needs to be capable of operating on System D," Jessica says, referring to the term Anthony Bourdain wrote about in his best-selling book, The Nasty Bits. "When you show up for an event and you don't have all the shit you need, you figure it out."
If System D happened behind those closed doors, none of the guests had any idea.
The evening starts with Calgary singer, Amy Thiessen, entertaining guests while they sip on a sunrise-inspired gin-based cocktail. Servers wearing aprons designed by Caitlin Power offer up trays of JP Pedhirney's tiny trout beignets and ruby red piles of beet tartare.
The team collaborates on the first course: a "farmscape crudité" of vegetables, pickles, delicate crackers, dips, and a black currant rosette from cured-meat masters, Meuwly's, presented in a charcoal grey bowl by Winnipeg's Pepo ceramics.
Course two focuses on land and lakes. Brochu's vegetarian tourtiére, served with shaved Brussel sprouts and rhubarb relish, is a surprisingly hefty version of the French-Canadian dish. Beth Rogers proves that root vegetables can, indeed, be sexy by serving them three ways with an accompanying velvety whipped ricotta and dill. Mike Robins lets his Manitoba shine with smoked goldeye and whitefish roe topped with pickled shallots and buttermilk vichyssoise.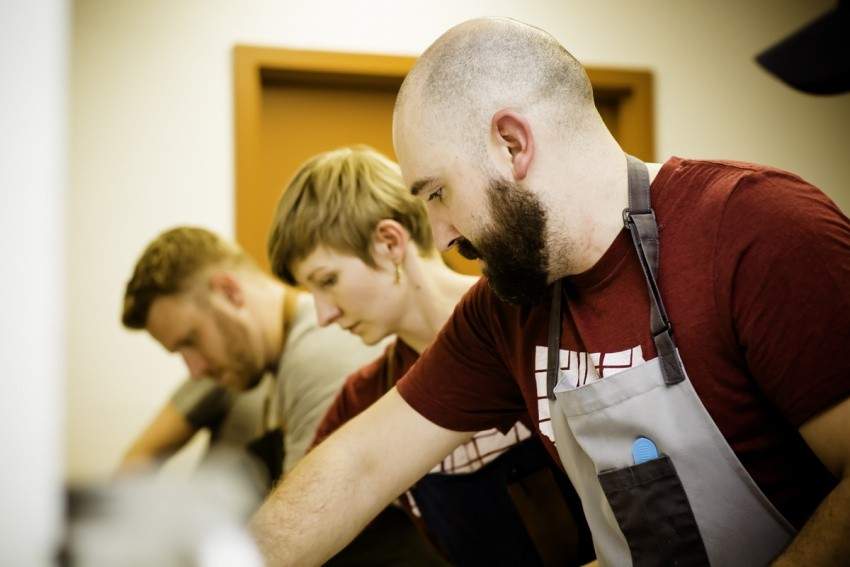 A sea buckthorn and Rock Creek Dry Apple Cider sorbet comes next on a ceramic dish painted in colours to mimic a prairie sky. Many guests are tasting this prairie berry for the first time. It's a very rewarding experience.
Palates cleansed, guests ready themselves for Pedhirney's braised beef cheeks, and they're not disappointed. Silky potato mousseline lies in stark contrast to succulent chunks of Brandt Lake wagyu and an intensely rich marrow jam. A savoury sphere of rolled spelt tops the southern Alberta show-stopper.
Can it get even better? Why, yes, it can.
The meal is capped off with an extraordinary corn and honey cake by Jessica Young. The circle of dense moist cake is served with a combination of sweet, savoury and sour components: a milk jam made with Saskatoon dulce de leche, Alberta rose sablé (like a shortbread cookie), and Manitoba rooibos cream. It's crowned with bee pollen and a hit of sea salt, but there is something else that elevates this sweet morsel to a level I can't remember having experienced in years.
"Vinegar," Jessica reveals. "It's a secret ingredient in many desserts."
As we near Red Deer, Jessica says the countryside reminds her of the Pembina Valley near Winnipeg. She tries to spend as much time outdoors as she can to maintain a work-life balance. It could explain why people are so drawn to the nature-focused Prairie Grid Dawn to Dusk series (only a handful of tickets remain for the Saskatoon and Winnipeg dinners). Food feeds the body, but nature feeds the soul.
I recall moments of the Calgary dinner and wonder what made this one so special. Perhaps it was the jaw-dropping view of gold and auburn foliage outside the wall of windows in the Calgary Shrine Event Centre; maybe we were mesmerized by Lindsey Rewuski's stop motion animation of tantalizing prairie foods, or it could've been that Chappell's brown butter-washed Crown Royal Northern Harvest rye Manhattan had something to do with the feel goods we were experiencing; whatever it was, the vibe in that room was something I haven't experienced in over a decade of attending food events.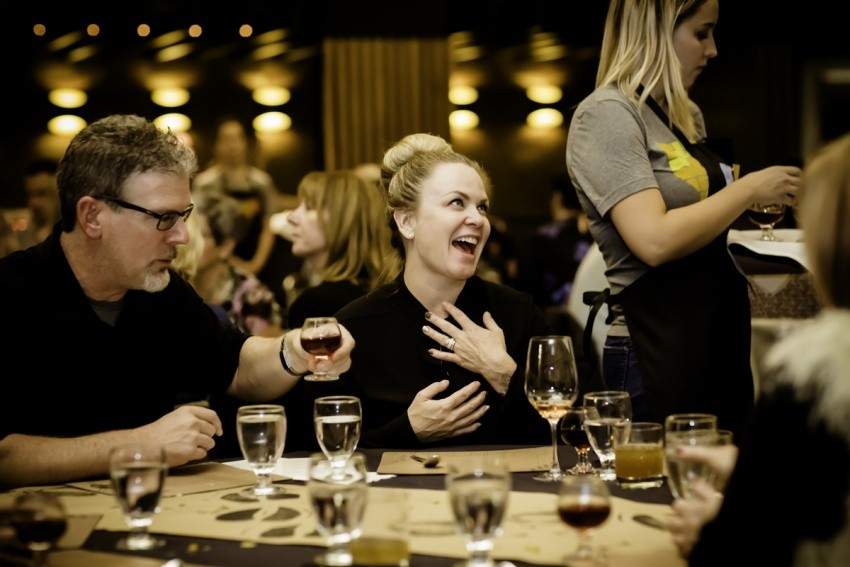 And then it hits me: in the three hours of sitting around that pretty table adorned with Root Cellar's centrepieces and woodcut artwork by Lisa Brawn, I didn't post one picture to any social media platform. Over course after course of indulging in thoughtful, lovely food, our group of six asked questions, listened, and learned about each other. It was, I realized, a refreshing change from precious moments spent hovering over a phone choosing the perfect filter to apply to a plate of food.
Instead, we connected—with food and drink as our glorious rewards.
Get your tickets for the Saskatoon dinner on October 2nd and Winnipeg for the final dinner on October 4.
Follow along with #PrairieGrid2018 and #proudtobeprairie.