One hundred and ten people are gathered in the rotunda of Winnipeg's Union Station for dinner four of the Prairie Grid Dinner Series. The event, organized by food writer, Dan Clapson, sees a band of chefs and road crew travel across Alberta, Saskatchewan and Manitoba in a convoy of Cadillacs with the purpose of feeding eager diners a prairie-centric multi-course meal in four major cities.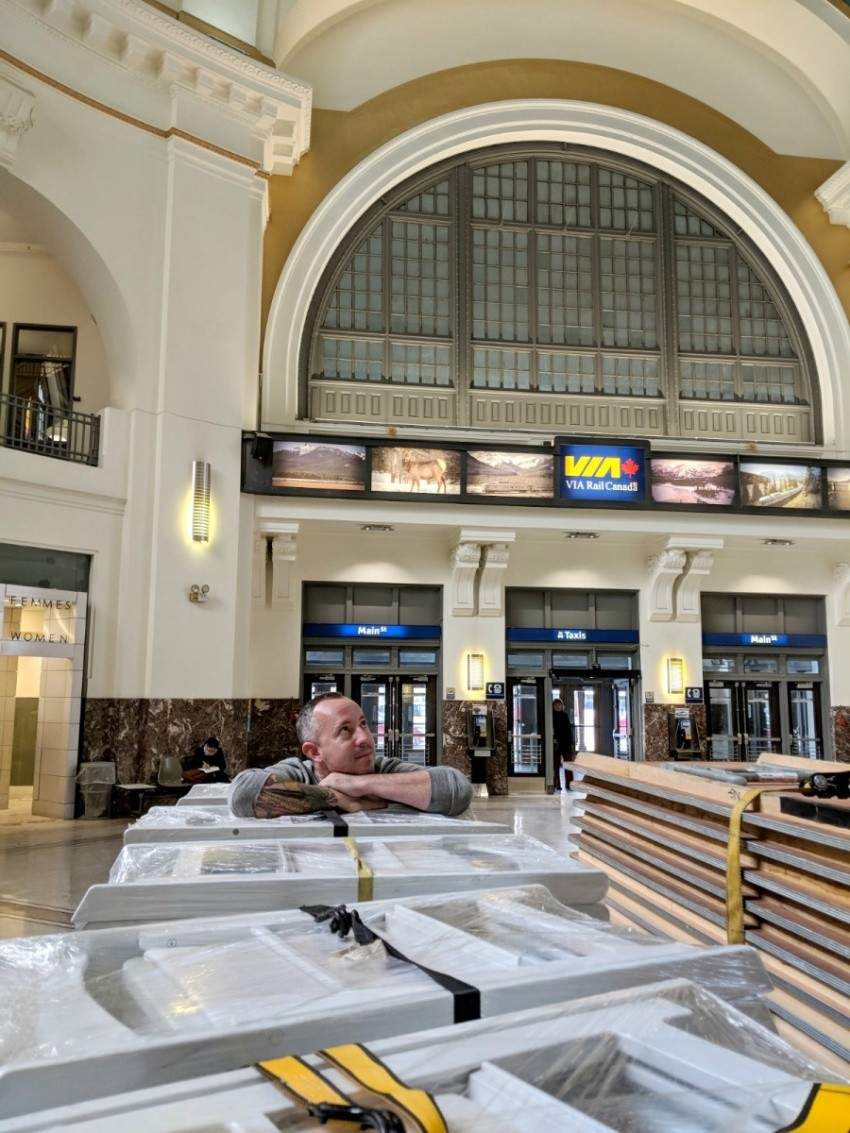 It seems fitting that the last dinner of the series is happening in a city where thousands of immigrants who, at the turn of the 20th century, arrived on the Atlantic shores of Canada by ship from Europe and rode the train west to disembark at Winnipeg for hopes of a better life.
The meal pays homage to those immigrants who broke and settled the land and to those who now farm and raise the ingredients we still enjoy today, many of which appear on tonight's menu.
"We're here to celebrate the bounty of the prairies and to honour the people who work from morning until night to raise them," Clapson tells the crowd with a bit of a warble in his voice.
It's been a long and arduous hall across the provinces. Everyone has been putting in 18-hour days in preparation of the dinners and Clapson's emotions are near the surface. By the time Prairie Grid 2018 is wrapped up, he and his road crew will have logged 3,000 kilometres, worked hundreds of hours, and schlepped a thousand pounds of food and equipment since the 2018 series opener dinner was held in Calgary on September 27.
The menu, a collaborative effort of the chefs, is subtly different for each city; the commonality is that in its entirety, it speaks of tradition, region, and history. Each course is paired with a beverage of prairie origin—a gin, a cider, a beer, or a cocktail made by master-mixtress, Adrian Chappell of Saskatoon.
The prairie focus doesn't end there: the placemats, the table centrepieces, some of the dishes and even the servers' aprons are made by prairie artisans. As is always the case, when it comes to a satisfying dining experience, food is only part of the equation.
Tonight, host chef Mike Robins of Sous Sol, is in charge of creating the canapes and main dish.
He starts off with a beef tartare accented with pickled zucchini on a homemade sesame rice cracker and topped with "black sauce" made of dehydrated mushrooms that are then blended with black garlic, soy sauce, black vinegar and fermented black bean paste.
Bet you weren't expecting that.
He follows the tartare with cooked carrots.
Again, wait for it…
He roasts them with the skin on, which produces a crispy exterior that snaps at first bite before giving way to a sweet core. The rounds have been seasoned with sea salt and a Mediterranean spice mix (of pepper, coriander, cinnamon, clove, cumin, paprika and nutmeg) called baharat, and come nestled on silky aioli sprinkled with smoked seeds.
"The prairies, and Canada, in general, are such an amazing melting pot of different cultures and amazing cuisines," Robins explains, "I love using local ingredients and highlighting them with other cultures' flavours and techniques."
Roasted carrots have never looked—or tasted—as exotic as these.
Meanwhile, the other chefs, behind a curtained wall, are preparing the Farmscape crudité, a bowl overloaded with cured meats, vegetables, pickles and dips. The second course comes on a monstrous board heaped with JP Pedhirney's roasted, sour honey Hubbard squash, Steve Brochu's hearty, vegetarian tourtiere, and a medley of Christie Peter's beets combined with cheese and vin cotta that she makes from local grapes for her Saskatoon restaurants, Primal Pasta and The Hollows.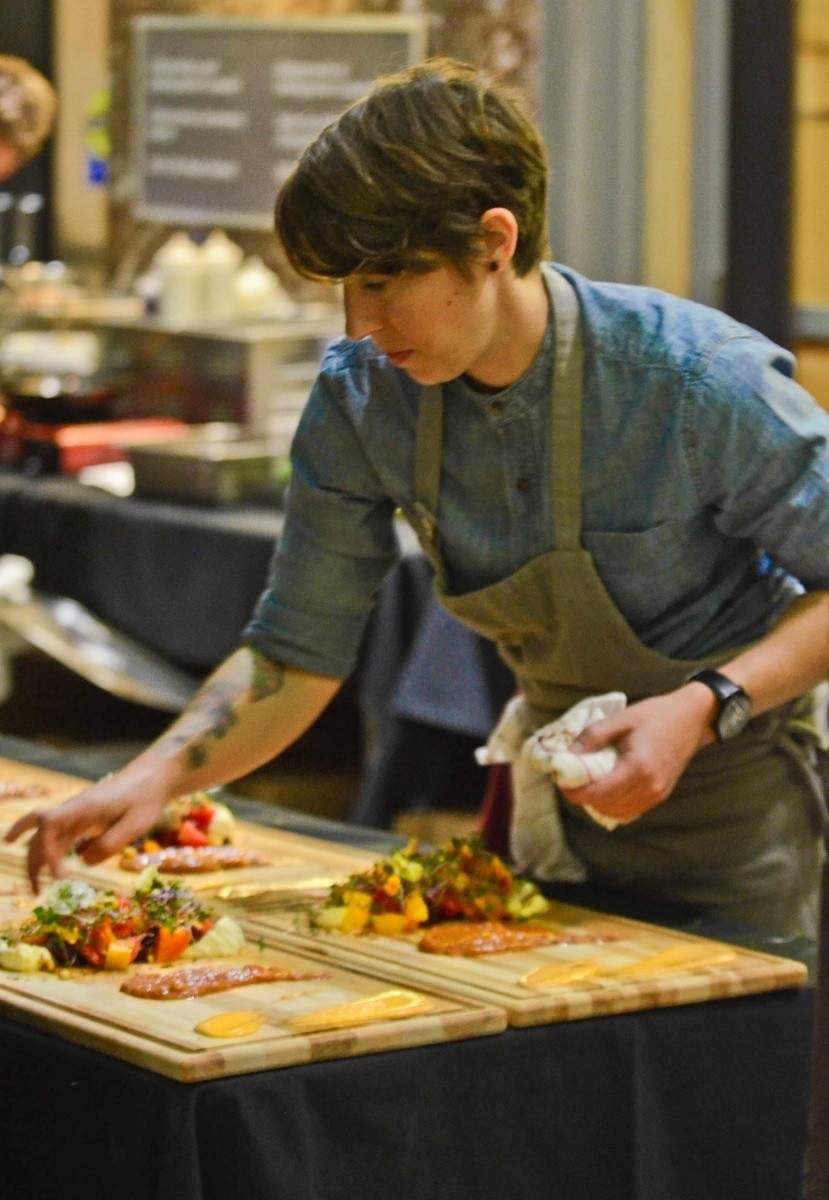 The halls of Union Station have never seen a bounty like this.
Sea buckthorn sorbet refreshes the palate before courses four and five. The sorbet is served in a small ceramic bowl made especially for the event by Pepo Ceramics. It is painted to mimic the prairie sky and land, and the quenelle of bright orange sorbet placed in the middle acts as the "cool midday sun", as the name of the dish suggests.
Robins' main course of beef and cabbage is anything but ho-hum as you might first expect from the description. He chooses chuck as the cut to use, braising it low and slow to where it becomes so tender, the knife provided is entirely unnecessary. Robins tops the beef with a rich cognac demi-glace and serves it with skordalia (a garlicky potato puree) and a bit of truffled cashew cream. The accompanying charred cabbage is sweet, smoky, and delicious.
This is not your grandmother's—or even your mother's—roast beef dinner. Taking basic ingredients like root veg and cabbage and turning it into something extraordinary seems to be Robins' strong suit. He thrives on delivering the unexpected—as we experienced the night before at his restaurant, located in a subterranean space in a nondescript building in Osborne Village. It is accessed only by way of an alley and has no signage on the door. The space is an amalgamation of Spanish cave and French Manitoba farmhouse. It is cozy, dark and lit mostly with candles. The food is exquisite and unpretentious.
Success is never about excess—it's always about delivering an experience, and Robins delivers.
Prairie Grid's other Winnipegger, Jess Young, provides the crowning glory to a spectacular meal with her dessert called Harvest Moon. A black plate acts as the night sky and is the backdrop for an autumn palette: golden flower petals garnish dark purple Saskatoon milk jam; garnet Manitoba rooibos cream and copper-coloured cookie crumbles top a russet-hued, sweet and moist corn and honey cake. The dessert has wowed guests in Calgary, Edmonton and Saskatoon. Winnipeg is no exception.
And, as in Calgary, Edmonton and Saskatoon, this dinner, the final one of four, is a success.
There were glitches, yes, but only the crew are privy to them: inventory and permit issues; travellers pulling suitcases through the venue and attempting to sneak off with menus and candles during the hours of set-up. People en route to trains, hauling suitcases through the dining area during service; wonky acoustics…those were all pesky (but manageable) annoyances. The boisterous traveller who commandeered the microphone from the sound system and then belted out an echo-y "Hello-hello-hello" caused a mild chuckle from diners, nothing more. It would take more than that to ruffle the weathered crew, at this point.
The 120 plates that vanished into thin air and the boxes of missing cutlery were of greater concern. They were here, swore the crew… and then they were gone.
Rumour has it that the rotunda is haunted. Had we looked up, we may have seen a woman, they say, who used to work in the administrative offices before she died, who sometimes walks about and gazes off the balcony of the second floor. Or, people talk about the man carrying a lantern while walking along the tracks, and the soldiers marching across the rotunda at night…
Maybe one of them has our missing plates.
I guess we'll never know… unless, Prairie Grid 2019's final dinner is held again at Union Station.