Six chefs cooking for 94 people isn't an extraordinary undertaking; cooking for that many people without equipment, though, is. The kitchen at the CKUA Performance Hall, where the second dinner of the Prairie Grid Dinner Series was being held, had a bar sink, a fridge, a microwave, and not much more. It became evident pretty quickly that extra equipment would be needed to pull off this feat. Thankfully, Steve Brochu, host chef of the Edmonton dinner, knew a guy.
Serge Belaire, the executive chef at the Shaw Conference Centre, and his crew are capable of feeding thousands of people on any given day. When Brochu asked his friend for a favour, Belaire didn't hesitate: he had space and resources. All the Prairie Grid team needed to do was show up with their supplies.
"This is what it's all about," Brochu says, "On the prairies, we have to help each other out. Serge said we could have whatever we needed. It was an incredible gift."
The Prairie Grid: Dawn to Dusk dinner series is an event organized to showcase ingredients raised across Alberta, Saskatchewan and Manitoba, and to pay respect to the farmers and growers responsible for bringing those ingredients to our tables.
The dinners are a collaborative effort between six chefs (Steve Brochu, JP Pedhirney, Jess Young, Mike Robins, Thayne Robstad, Beth Rogers, and Mike Robins) who, through the process, learn about each other's restaurants, the ingredients they source, and the people they feed. They also learn to work together and to rely on each in order to achieve one goal, that being for the guests to have an enjoyable and unique experience; one based on visual, performing and culinary art of the prairies. The menu items are created from ingredients that many guests will taste for the first time: sea buckthorn, pink oyster mushrooms, whitefish roe, Hubbard squash, milk jam, and strawberry rhubarb wine.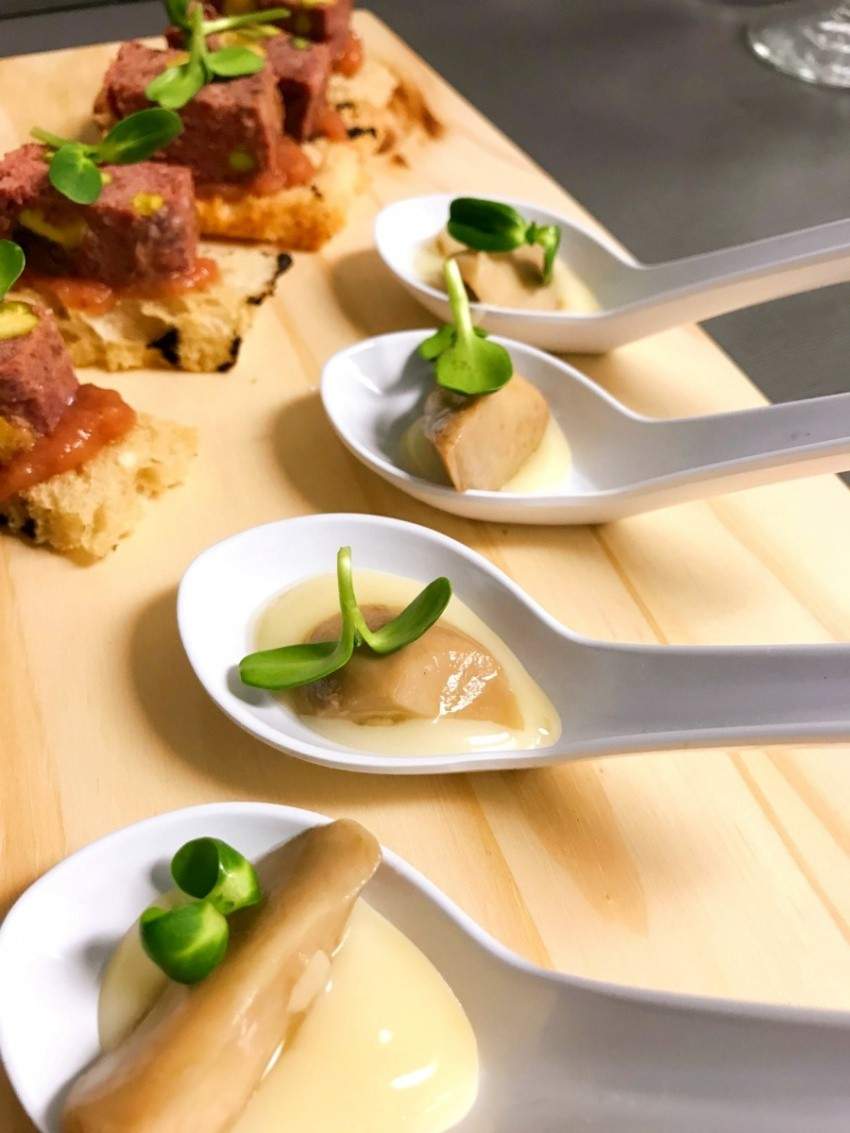 The servers, all of whom learn the menu just before guests arrive, will also be required to act as walking encyclopedias.
Brochu's canapes of bison mortadella and roasted oyster mushrooms pacify the crowd until the doors are opened to the dining room. They dig into platters and bowls of sweet and savoury chunks of Hubbard squash; roasted root vegetables with luxurious whipped ricotta, porcini salami, succulent smoked goldeye, before palates are cleansed with sea buckthorn sorbet made by Revolution Ice Cream.
While they eat, they also learn. The sea buckthorn berry is not only rich in protein and vitamins, but in ancient times, the leaves and young branches were used to support weight gain in horses and give their coats a shiny appearance—hence its Latin name, Hippophae (horse) phaos (shining).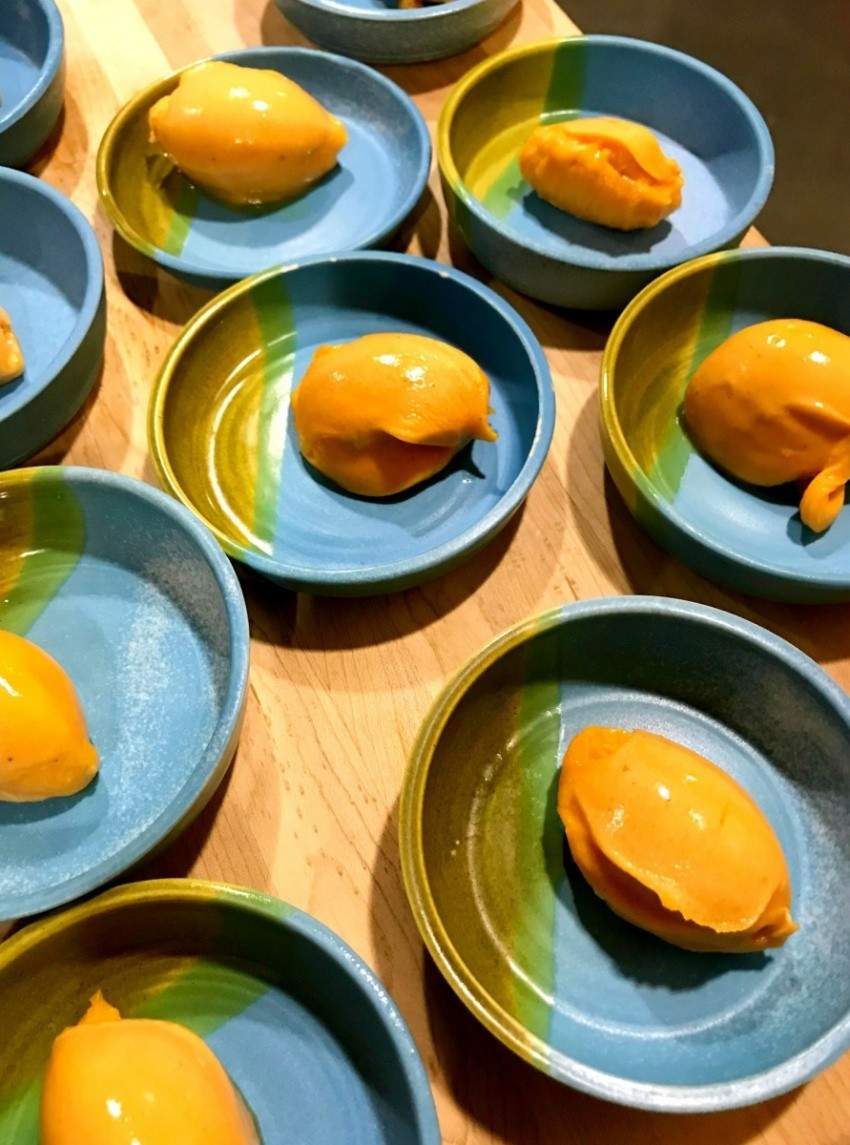 Others receive an education on the wine chosen for this event: it is not pinot noir rosé (like they are insisting) but a strawberry rhubarb wine made by Barr Estates Winery near Sherwood Park.
What the guests don't learn is that the chefs are plating in darkness because a breaker has blown; that as the second course is being set on the tables, a server is running across the street to borrow serving spoons from the Shaw, and the apronless "server" who is occasionally assisting is me—and that the last serving position I held lasted for two days, and that was in 1982. (I now have an increased respect for servers, by the way.)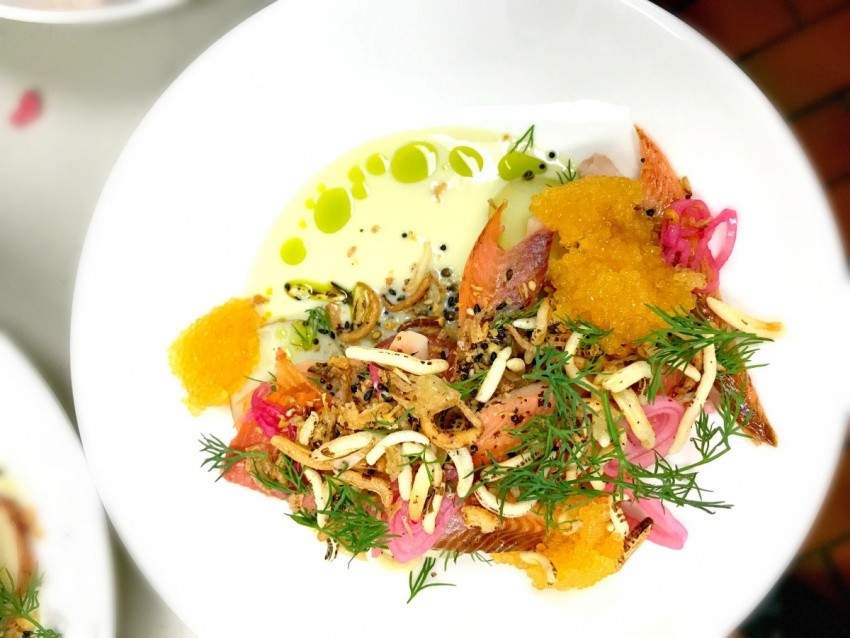 All that mattered was that the guests were happy. They walked out into the night with bellies full of grass-fed Red Tail Farms beef that Brochu braised in Blindman Brewing's Saison Lacombe, sweet and savoury chunks of JP Pedhirney's Hubbard squash, Robstad and Rogers' roasted root vegetables with luxurious whipped ricotta, succulent smoked goldeye that Mike Robins brought from Manitoba, and Jess Young's insanely delicious corn and honey cake.
I guess we all learned something that night: diners learned of new foods grown in the land around them, and the whole team learned that success comes from working together—something that prairie folk realized early on in order to survive in a new land.
It is something that I hope never changes. Working together doesn't only make us stronger; it makes us better. It's what we've been taught to do, and it's what makes us #proudtobeprairie.