Strolling down blocks of brick and terracotta buildings, I take in the beauty and chic vibe of the Exchange District of Winnipeg, a designated National Historic Site of Canada that boasts more than 100 heritage buildings. It has been more than seven years since my last visit to the city and there has clearly been a significant effort to revitalize this area with trendy restaurants and businesses popping up over the past decade.
Winnipeg is known for its efforts in preserving historic buildings. Not far away, in the area of Point Douglas is the historic J.R. Watkins Building, the final Prairie Grid dinner of 2019 is being held. I got a good glimpse of the dark brick building with lots of windows as the driver circles a few times looking for the entrance.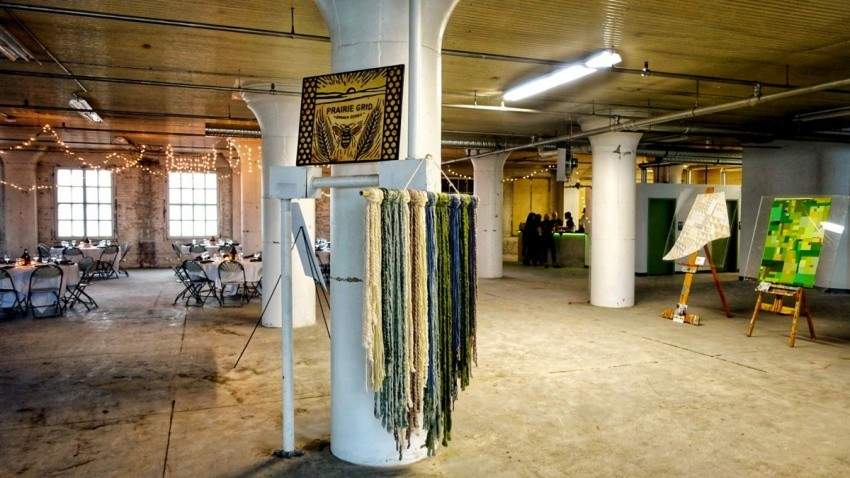 Walking up the stairs into the venue, I find a magical setting. The large airy warehouse space had been naturally partitioned by the lighting. In the front of the space, a bright area creates a mini gallery, showcasing the art that includes the "Proud to be Prairie" artwork by Winnipeg artist Jan Castillo, a fibre art installation by Saskatoon's Laurie Brown and beautiful Prairie landscape quilts by Cheryl Arkison from Calgary. Further in the back, tables are set for dinner with tiny gold lights hanging off the exposed ceiling.
As he walks me into the room, Dan Clapson, the founder of this event, gives the space a critical and unsure evaluation. Clapson, together with Annie Hansen, the event's front of house manager, and Daniel Ball, coordinator extraordinaire, have shouldered most of the pain of turning this barren room into a functional and beautiful dining space.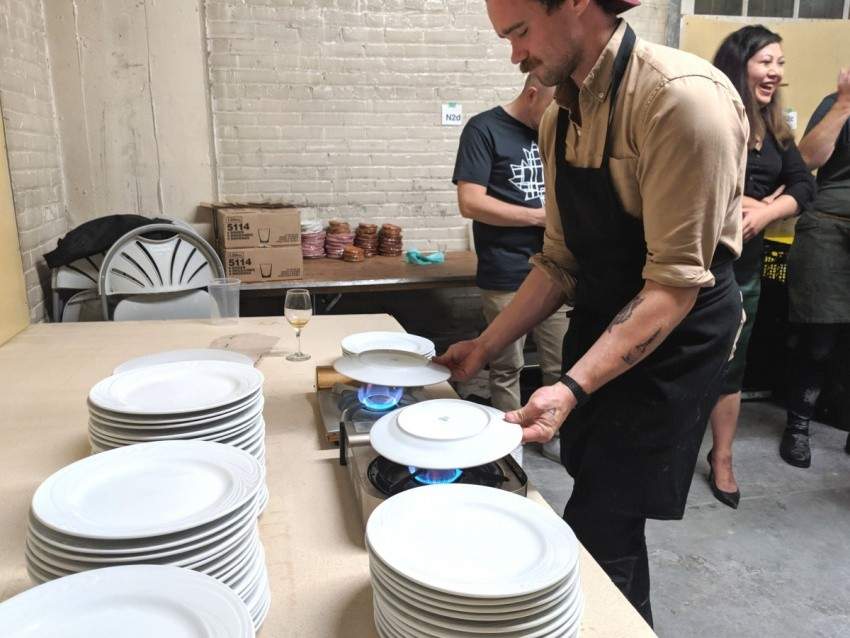 Tucked in the corner and partially hidden from view, cooking stations have been set up, exceptionally organized considering that they are on folding or makeshift tables. With the limited space and equipment, the zen-like energy from all the chefs is surprising and occasionally broken by brief dance parties. Although battle scars haven't fully healed from their Edmonton dinner, where cooking conditions were deficient, Calgary's chef Scott Redekopp of Yellow Door Bistro and Chef Bryn Rawlyk of Saskatoon's The Night Oven and Darkside Donuts remind me that they were separated at the Edmonton venue, whereas in this location, the chefs are cooking in one space and better able to support each other.
Earlier in the day, the Prairie Grid team enjoyed brunch at hometown chef Chris Gama's restaurant, Clementine. Being one of the most popular restaurants in Winnipeg, I felt a twinge of guilt over taking up a table for eight people, but my guilt dissipated as I became consumed by the delicious dishes that kept appearing. The corn flake crusted chicken Parm dip has ruined me for any future chicken sandwiches. Chef Gama even ground up some burgers so our group could try the burger dips that we had heard about.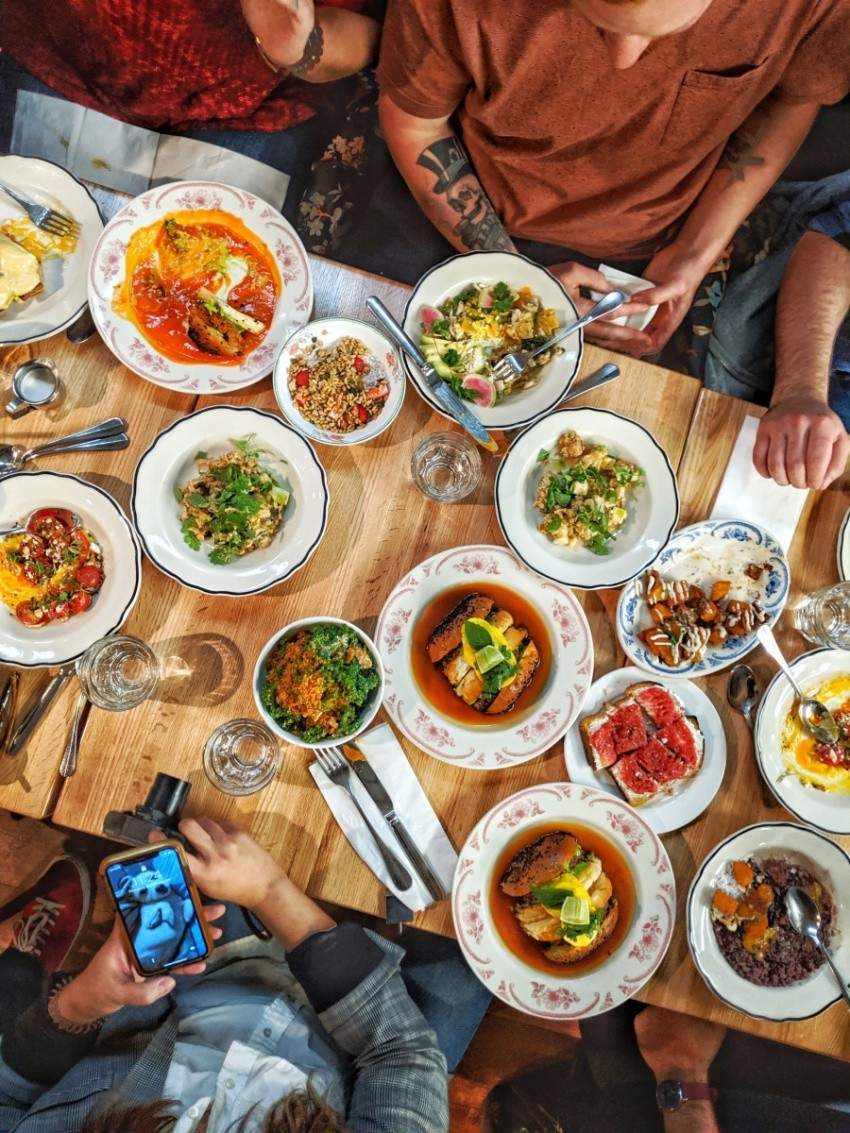 Ever the gracious host, Gama took time to check in, all the while juggling a busy brunch service and undoubtedly preparing for his Prairie Grid dinner dishes. It's this effortless warmth that has garnered respect from the team.
"Chris goes out of his way to make sure you feel part of the group and he genuinely cares about your well being," Ball tells me during this trip." He will take a back seat in order to give the lime light to others, but when he is needed to take command of the ship, he does it without hesitation, and in a very humble way, that makes everyone feel part of the team."
Chef Gama brought team members from Clementine to the Prairie Grid dinner to support both back and front of the house. I notice familiar faces from brunch now plating chips and wiping glassware.
Hansen gets the serving team ready. Over the course of the dinner series, she's had to set up, tear down, and onboard four teams of servers. Tonight's team is mostly from Clementine and seems eager to begin.
While Ball is busy filling in last minute needs and capturing photos of the chefs and the space, the buzzer sounds, Clapson rushes downstairs to greet guests, and servers move swiftly to the entrance with trays of welcome cocktails.
Upon entering the space, guests take in the art, the twinkle lights, the intoxicating smells coming from the "kitchen", as melodic tunes from local musician Daniel Peloquin-Hopfner fill the concrete space. "Look at that; it's so beautiful in here," says one of the guests.
Three canapés are served as guests mingle around the artwork and chat with friends at the tables. Pimento biscuits with mushroom duxelles and coppa pastrami on rye crisps with sour cherry mustard make their way around the room. I manage to sneak a potato chip topped with smoked char, smoked labneh, and cucumber, and wish I had about 10 more.
Soon after, chef Rawlyk's bread boards appear on tables to signal to mingling guests to find their seats. The bread is paired with cider from Dead Horse Cider Co., made with local Manitoba sour cherries and apples. A few cell phone lights hit the bread boards as guests investigate into the purple barley that Rawlyk grew and milled into flour.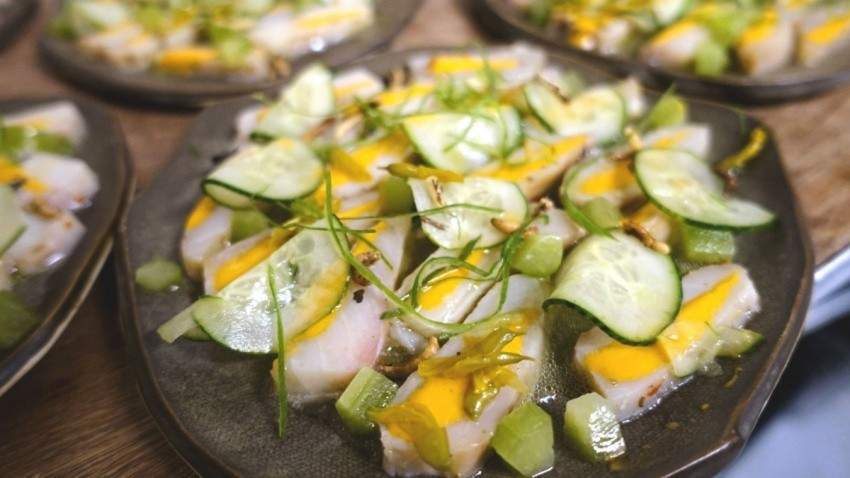 Chef Thayne Robstad, owner of Hearth Restaurant in Saskatoon makes a beautifully delicate dish of lightly cured Saskatchewan Northern Pike fish, which is accompanied by compressed and fresh cucumber, toasted wild rice, and fermented tomatoes. The brightness of this dish goes well with Fallentimber's raspberry mead from Alberta.
Chef Redekopp's dish is introduced as his way of "bringing grandma's kitchen to the dinner". He has fire-roasted shredded beets, cabbage, and carrots. The flavours of mustard, caraway seed, and dill are reminiscent of borscht, elevated by yogurt foam and smoked spelt.
I sneak into the cooking area and am surprised by the calmness that seems to have endured in the group over the course of the evening. Chef Gama had prepared his main course at Clementine and it was being brought over to the venue at just the right moment.
Chefs gather around portable burners, and warming plates. Once the components for the main course arrive, the chefs act as one unit to plate 100 dishes in minutes.
In the meantime, guests enjoy a palate cleanser that the team has dubbed "Manitoba melon slushies", a murmur echoes through the room as guests learn that the cantaloupe are grown in the province.
The buzz continues as chef Gama's main course is placed in front of guests. Pork loin are cold-smoked, then roasted, and served with a squash risotto made from Adagio Acres oats and wild rice. A panko and pumpkin seed crusted tourtiere croquette pays homage to Gama's French-Canadian heritage. Apple-tomatillo jam and a slice of pickled zucchini add acidity to balance the autumn flavours on the dish.
Chef Gama's pork and tourtiere dish is accompanied by a very special beverage pairing. Andrew Eastman and Chloe Chafe of Synonym Art Consultation are invited to come up and introduce the Hazy Pale Ale developed in collaboration with Barn Hammer Brewing Company to celebrate the Wall-to-Wall Mural Festival taking place in the city until September 30. Their story of collaboration and community is parallel to the collaborative objective of Prairie Grid. Synonym Art Consultation also helped to commission the "Proud to be Prairie" illustrated artwork by Jan Castillo.
Dinner ends with Burwood Distillery's apricot liqueur and Flapper pie re-imagined by pastry chef Katelin Bland of Calgary's Lulu Bar and Bridgette Bar. I've seen guests indulge in this dessert in three cities and it has been a hit in every city.
In this version, chef Bland changed out her graham cracker ice cream for graham cracker foam. This decision was made in consultation with Gama and Rawlyk, who accompanied her to Clementine the night before to prepare this component.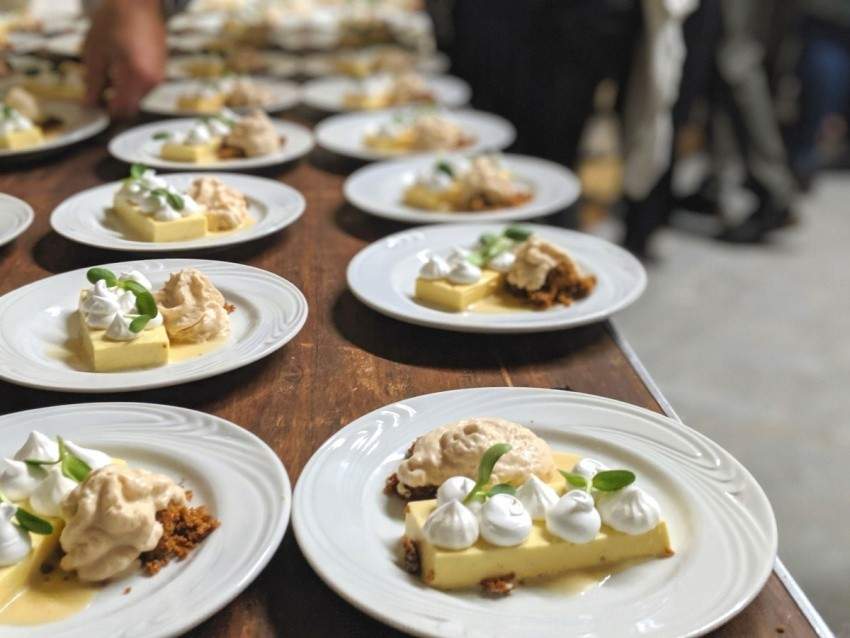 This group had now been together for nine days, travelling approximately 1,400 kilometres across the country. Some would be travelling another 1,400 kilometres over the next couple of days as they make their way west. To spend 10 days away from family and jobs is stressful. I sense that the group is both relieved to be returning to their homes and restaurants soon, but at the same time dreading leaving this newly found kinship.
When asked about his process for selecting the right people to go on this intense journey together, Dan Clapson says, "I select chefs based on feel and personal recommendations. I want people who are proud of where they are from and who want to promote their city."
The group dined at Segovia the night before, another popular Winnipeg restaurant, and they have already begun to plan a reunion trip that includes bringing families or other chefs to camp out at Agar's Corner in Saskatoon.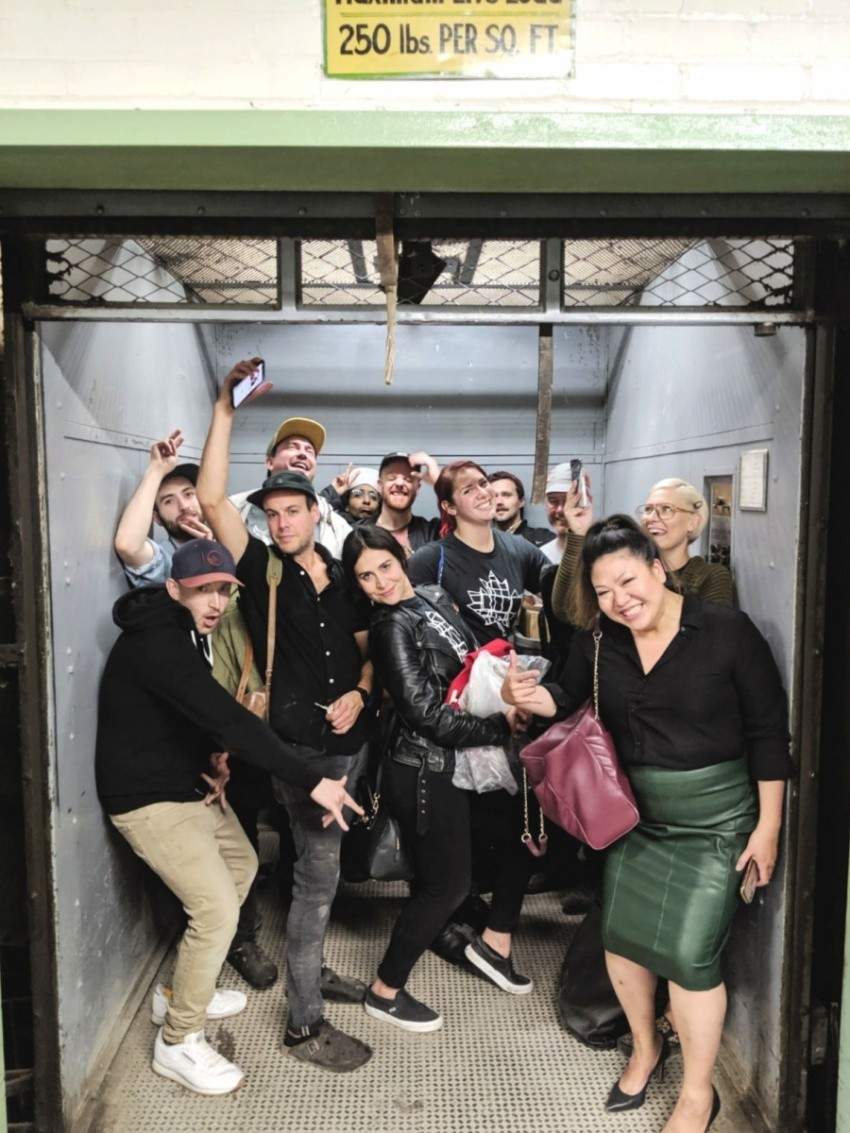 "We came together as strangers, but leave as family," chef Gama said to a few members of the group, adding how when his team member dropped him off at the airport before the event, he joked that chef was going to chef camp. "But now, I'm dreading leaving camp and saying goodbye to all these people."
When the chefs talk about what they have gained on this experience, I see the seeds of ideas being planted: ideas for how they can continue their own learning, provide development opportunities for the cooks in their kitchens, or how as a community we can generate awareness for the bounty of talent and ingredients in the prairies. I'm personally excited to see what else will come from this investment of 10 days.