There's barely room for my carry-on in the Cadillac XT6 when I meet chef Katelin Bland at Bridgette Bar for the drive from Calgary to Edmonton. It seems like she's brought every tool in the kitchen, including soap and tubs to wash dishes.
"I tend to over prepare," she tells me with a wry smile. After a powdery EmerginC accident, we hit the road for the Alberta capital and I compliment Bland on her stellar dessert the previous evening. Normally, I don't like meringue—it's too boring and too sweet—but the precious dollops of soft and crunchy meringues served with her Flapper pie were remarkable.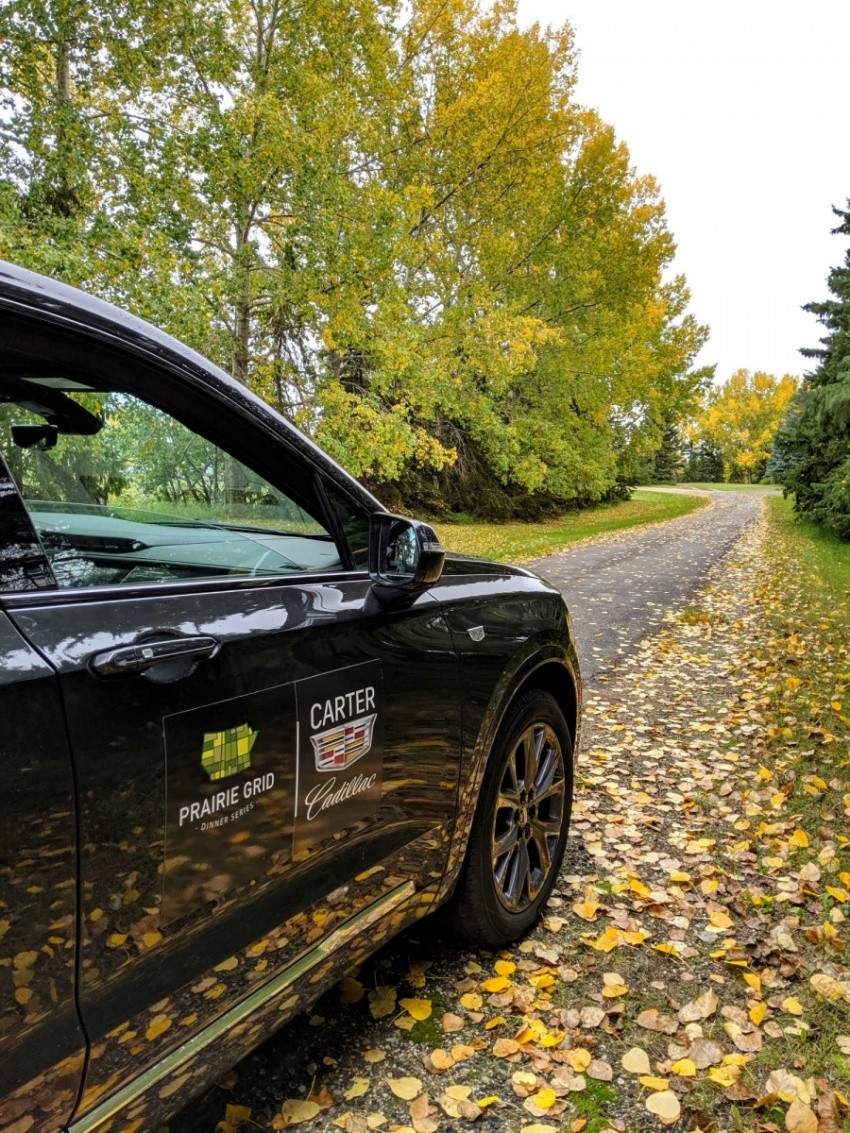 "It's a new meringue technique I discovered from Will Goldfarb's book," she says.
"You cook the meringue just enough to pasteurize the egg whites, but don't whip them. You freeze them instead, then whip it frozen, incorporating air as it's heating up instead of cooling down for bigger air pockets. This way, you don't need as much sugar, maybe half as much, and you get that crunch and then it just dissolves on your tongue."
Bland's curiosity and adventurous spirit are a natural fit with the innovation theme for this year's Prairie Grid Dinner Series. "It's always fun to find new techniques and ways of doing things," she says. "You think meringue is just meringue–there's Swiss, French and Italian–but it's not."

After studying pastry in Calgary, Bland moved to Vancouver for three years to work as a chocolatier and pastry chef before returning home. "I definitely took the prairies for granted when I was gone," she says. "There's a renewed sense of beauty here for me now. This is home. I have no intention of ever leaving Calgary again."
The city needs her too. Pastry chefs in fine dining restaurants were cut from many restaurants during Alberta's recession and with her desserts and breads at both Bridgette Bar and Lulu Bar, Bland is making the case for bringing pastry chefs back.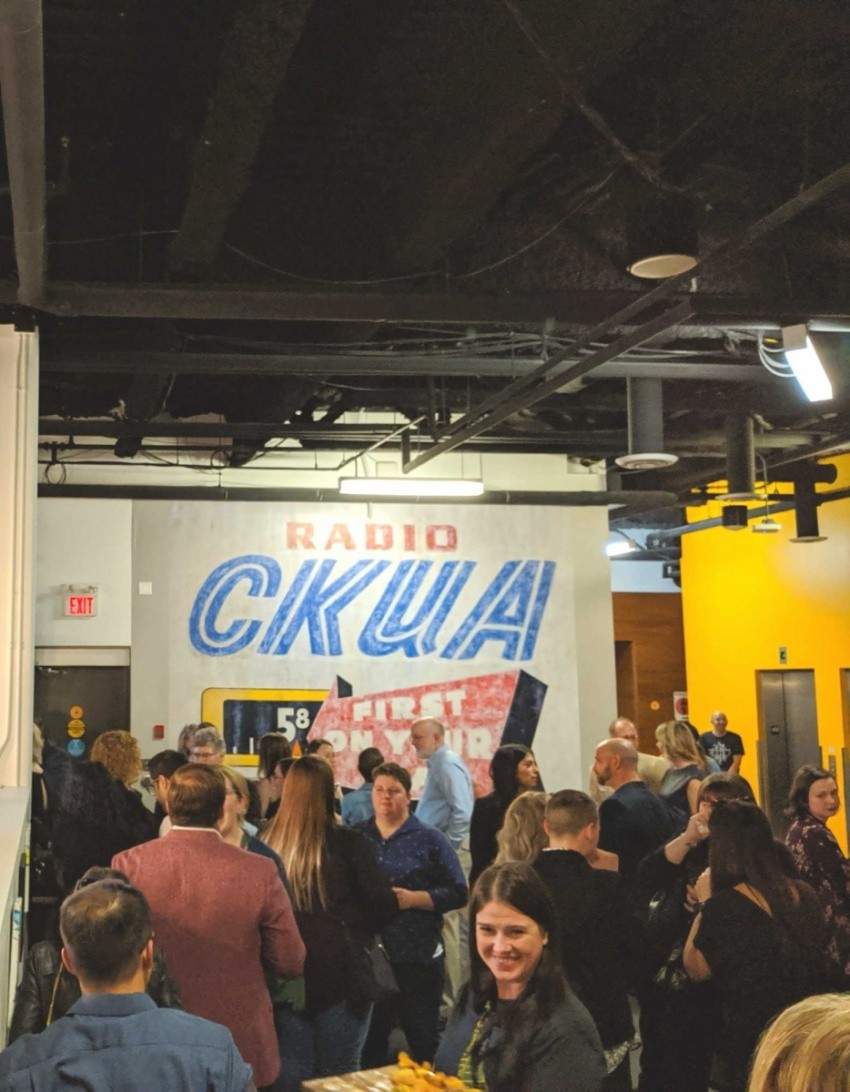 Once we arrive in Edmonton, it's time for the chefs to scope out the venue. We're at CKUA Radio Hall in Edmonton for night two of the Prairie Grid Dinner Series.
"I almost served a dinner here once," says home chef Christine Sandford of Biera. "But there is no kitchen facility, so I said no."
She said yes to Prairie Grid though, and they're jerry-rigging a kitchen in what's normally a trash and storage facility. Sandford is sous-viding pork in front of a bike rack and a pile of aluminum cans waiting to be recycled.
"This is a unique experience," she says with a laugh. "But that's ok, we've got each others backs."
In just a few short days, the chefs have already bonded, and they've done as much prep as possible at Biera before moving over to CKUA to finish and plate dishes. It's crucial that with a more challenging venue like this, the five chefs are working as one cohesive unit.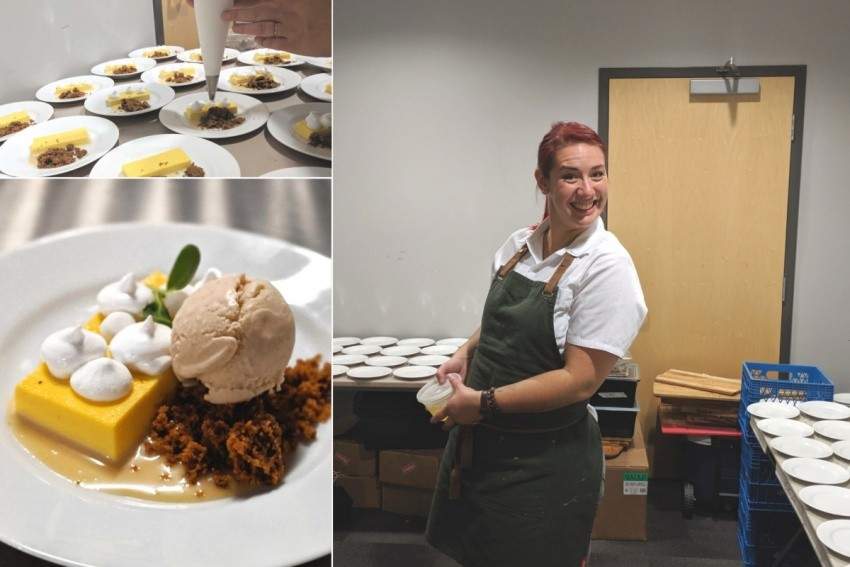 Katelin Blank preparing her desserts in a challenging prep space at CKUA Radio.
Pastry and bread are set up in the lunch break room, where Bland is kneeling to pipe Vital Greens aged gouda cream into tartlets for canapés. She's 5'11" and the table she's working on is far too short. Back in the dining room, the servers are going over dish descriptions and dietary restrictions, which only add complications. For example, Sandford's sunflower seed and malted rye risotto has crème fraîche in the broth, so she has a separate vegan pot of risotto cooking on induction burners. Instead of milk-braised Berkshire pork, she's served roasted cabbage with pistachio crema for vegan diners.
Chris Gama and Scott Redekopp maneuver a table into the storage room so they can plate dishes here. It's a tight squeeze and certainly not ideal, but they're in this together. "We're going to make tonight our bitch," Redekopp says, psyching himself up.
Four hours later, after service, he's singing a very different tune. "We should just start a podcast called fuck me," he says with a laugh.
He had to significantly change his dish from what was printed on the menu when he realized that his ambitious plans to make caramelized ricotta gnudi to accompany roasted cabbage and beets was simply not possible.
From my dining perspective, service was a little slow, as to be expected at an event of this size, but it seemed to go relatively smoothly. Setting bread on the table before everyone sat down gave the service team a head start and a little room to breathe while the chefs frantically plated salads. Gama's shishito peppers with hemp heart tahini, labneh and smoked bison heart were even better the second time around, served as a warm salad with roasted oyster mushrooms and incorporating preserved chanterelles and pickled red curry squash instead of serving the pickled squash and mushrooms on a separate plate.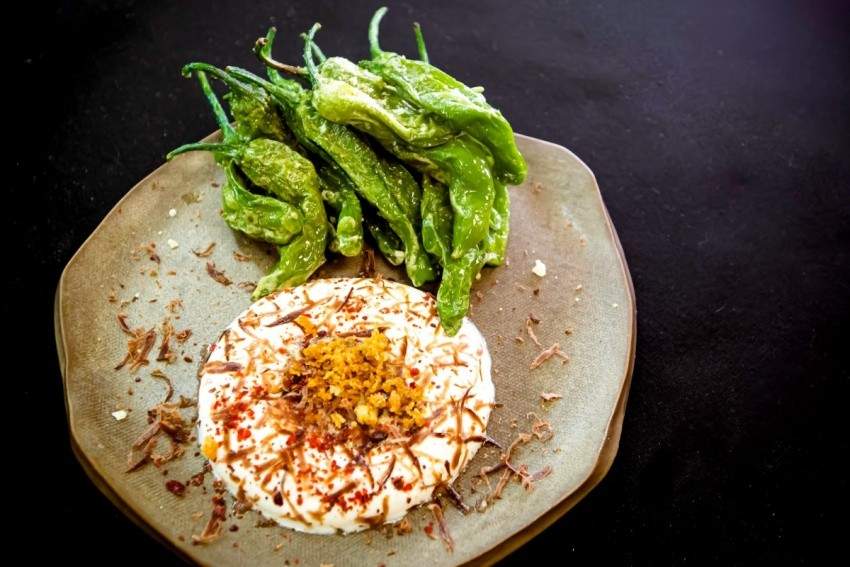 "If this were the first night, we would've been screwed." Gama says. "There was a lot of frustration but we got through. I'm glad we had each other. In retrospect, I should've just loaded my car with everything I needed and drove the 13 hours from Winnipeg. I had to drop 25 pounds at the airport since I was over the weight limit and I couldn't bring my knives or equipment. I was at the mercy of what everyone else had."
"It's good for people to know that it's hard," Sandford says, as she brings a couple of diners who asked to see the kitchen after dinner back for a tour.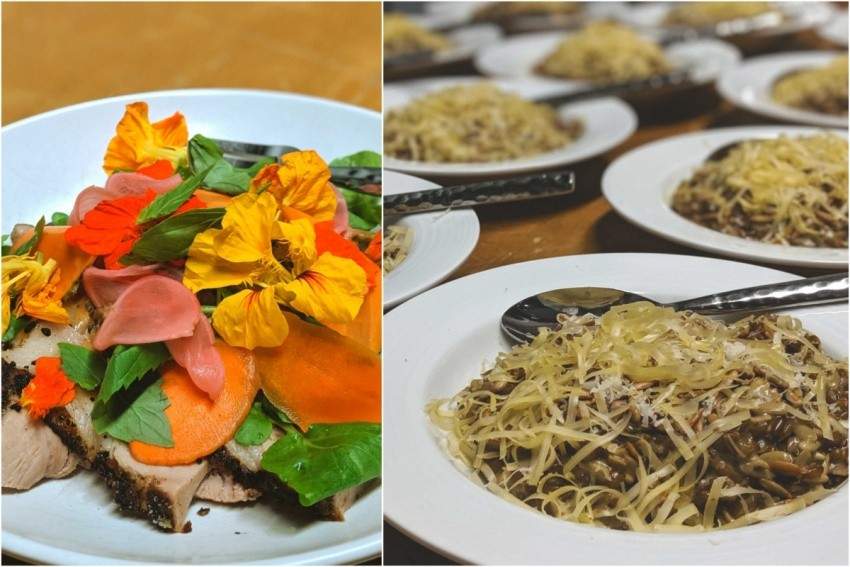 Chef Christine Sandford's main course of milk-braised Berkshire pork and sunflower seed and malted rye risotto.
Their mouths drop open in amazement at the bare bones setting in which the elegant five-course meal was prepared. Sandford's sunflower seed risotto was a highlight of the meal, but she insists that at Biera it's even better.
"This isn't a reflection of our restaurants," Gama chimes in. "I hope people take it with context."
If this is how Gama cooks when his hands are proverbially tied, I for one, cannot wait to dine at Clementine in Winnipeg when he's in his element with full resources at his disposal.
After this trial by fire, these chefs are ready for anything.