It's 10 minutes until the first guest walks through the doors at Gasoline Alley Museum at Heritage Park and everything looks perfect. Fourteen tables are set, original artwork including patchwork quilts by Cheryl Arkison framed in plexiglass on display and local musician Devin Cooper is tuning his guitar. Eat North co-founder Dan Clapson, mastermind and organizer behind the Prairie Grid Dinner Series has completed his wardrobe change, wiped the sweat from his brow and is ready to graciously play the part of dapper host.
I'm sipping on an Eau Claire Distillery gin and tonic flavoured with Porter's Tonic sour cherry syrup, both limited edition products created just for Prairie Grid. And after touring Eau Claire's new distillery in Turner Valley, I'm keen to drink as much of this Prairie Grid gin as possible over the next few days. It only made 280 cases, released just a few weeks ago, and it's already sold out. Last year, Eau Claire made a honey and Saskatoon berry-macerated gin for Prairie Grid, but this year, they took a different approach, infusing more than a dozen prairie botanicals, including licorice, wild rose hips, dandelion, haskap and Saskatoon berries for an earthier, more herbaceous counterpoint to their best-selling London-dry style.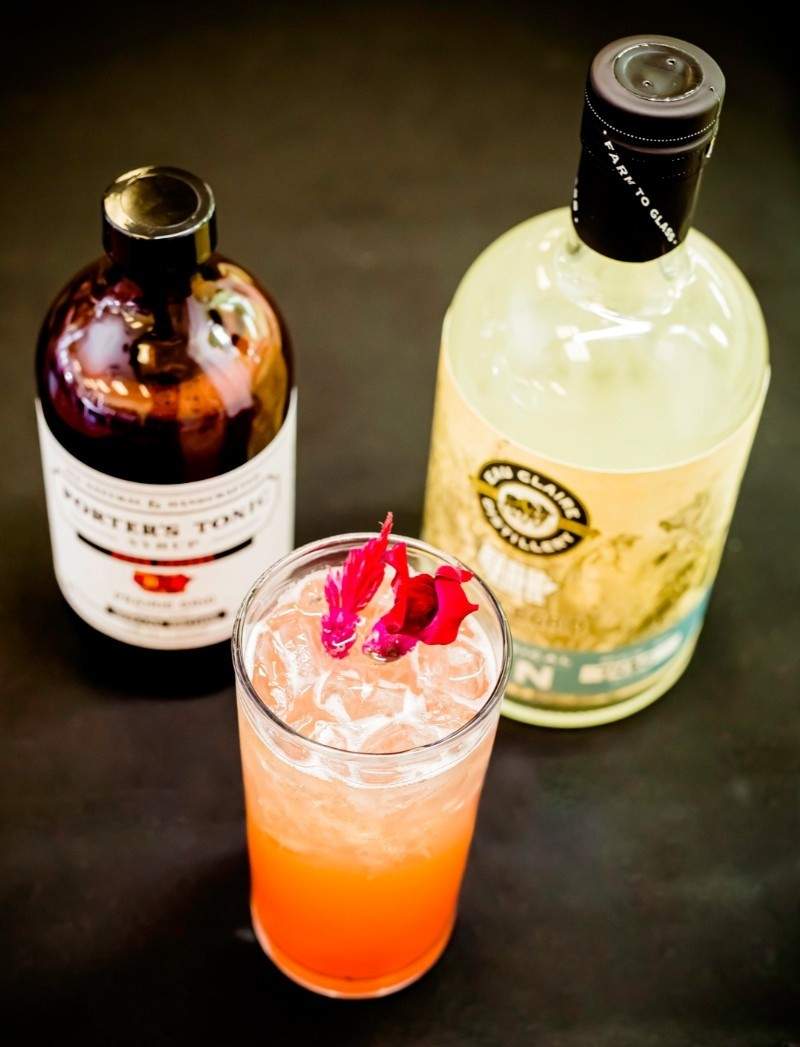 Eau Claire's point of pride is making all of its spirits from malted barley (with a portion of horse-farmed grain in each batch) instead of using generic bulk alcohol like most big brands. This makes for a base spirit that has a thicker, buttery mouthfeel with hints of vanilla, adding character to their vodka, gin and whisky, as opposed to being a blank slate.
This is my first time in Alberta, and I'm amazed at the quality and quantity of local partnerships Clapson has managed to coordinate for Prairie Grid. It's a testament to the culinary community that so many farmers, chefs, bakers, brewers, distillers, artists and musicians have so enthusiastically joined the cause. Proud to be Prairie is not just a tagline.
The venue at Gasoline Alley Museum is apropos to the theme for this year's Prairie Grid Dinner Series: innovation. Clapson and the team of road-tripping Prairie chefs are taking diners through a century of culinary technique evolution, and the vintage car museum setting couldn't be more nostalgic. We're dining beside the largest collection of vintage gas pumps in North America, bathed in a warm neon glow from the vintage truck stop signs hanging overhead.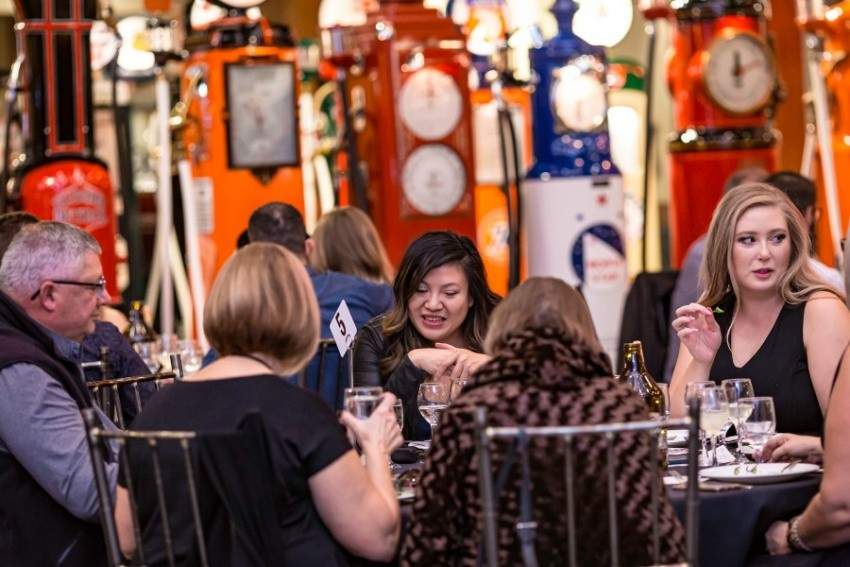 For this first stop in Calgary, Scott Redekopp of
Yellow Door Bistro
is the hometown chef, which means he's responsible for canapés and the main course. For the first bites, he's showcasing Alberta's aquaponics:
Waterford Farms
prawns and
Deepwater Farms
sea bass. It never occurred to me that there was any seafood being cultivated in land-locked Alberta, but I love my seafood and the falafel-crusted sea bass in particular is my favorite. It's served with Lebanese-inspired garnishes of pickled radish, yogurt, roasted squash and smoked sunflower seeds, a one-bite version of the falafel-crusted halibut that's become one of Redekopp's signature entrees at Yellow Door. I unabashedly chase a server down for thirds.
"I feel very relaxed because I have a lot of talent around me," Redekopp says. "I'm used to events and even cooking in closets."
Clapson tells me that normally, the first event of the series is the most nerve-wracking because everyone is just meeting for the first time and getting used to working together. The clean, spacious kitchen at Gasoline Alley Museum was made for banquets though, so that alleviates a lot of the uncertainty that comes with pop-up events.
Redekopp's lamb duo main course includes lamb saddle and lamb shoulder crepinette, made with lamb from Lambtastic Farms, a local, ethically raised and hormone-free lamb ranch run by Ray Nolan, an Irish chef who Redekopp used to work for at the Hyatt Regency Calgary.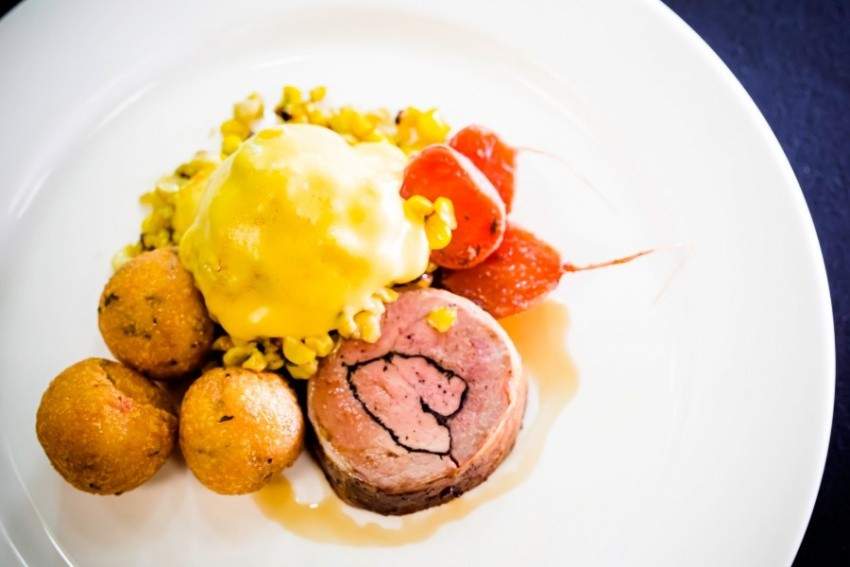 "I learned how to butcher whole lamb there," he tells me. It's fitting that he's working with Nolan again and buying his lamb 10 years later. "Ray's lamb is free-range, so it's lean and the sinew is a bit difficult on the saddle. You have to carve it out with good knife work before trussing it with twine. But the extra work is worth it—these lambs are running around and enjoying their lives."
For the most part, each of the four Prairie Grid dinners will be unique, since canapés, starters and the main course change at each city. The only constants are the bread by Bryn Rawlyk of The Night Oven in Saskatoon and dessert by Katelin Bland of Lulu Bar and Bridgette Bar in Calgary.
At The Night Oven, Rawlyk mills all his own flour using organic grain from Saskatchewan and on weekends, he might have a dozen different types of bread available, along with traditional French pastries like croissants and einkorn wheat canelé de Bordeaux. Any of his regular line-up of breads would have been delicious, but in the spirit of innovation, Rawlyk is serving a new experiment for Prairie Grid. The bread we're eating tonight are the first loaves of wood-fired purple barley sourdough that he's ever made and it's a journey that's taken three years from ideation to the purple hued slices we're slathering with kefir cultured butter.
"A farmer just outside Phoenix gifted me a 20 kilogram bag of seed three years ago," Rawlyk recalls. He partnered with a farmer just outside Saskatoon to try to grow the new varietal and only now do they have enough for Rawlyk to mill. "Purple barley is gluten-free, so it doesn't contribute to the structure of bread," Rawlyk explains. "I make a thick porridge out of the barley to bulk it up, then blend it with red fife, spelt and purple wheat." When he makes enough, he plans to sell the purple barley flour at The Night Oven alongside his regular lineup.
As for Bland's dessert, let's just say that after having it once, I'm thrilled to have the chance to have seconds just two nights later. She re-created an Alberta homesteading classic—Flapper pie—by deconstructing the primary components of vanilla custard, meringue and graham cracker crust.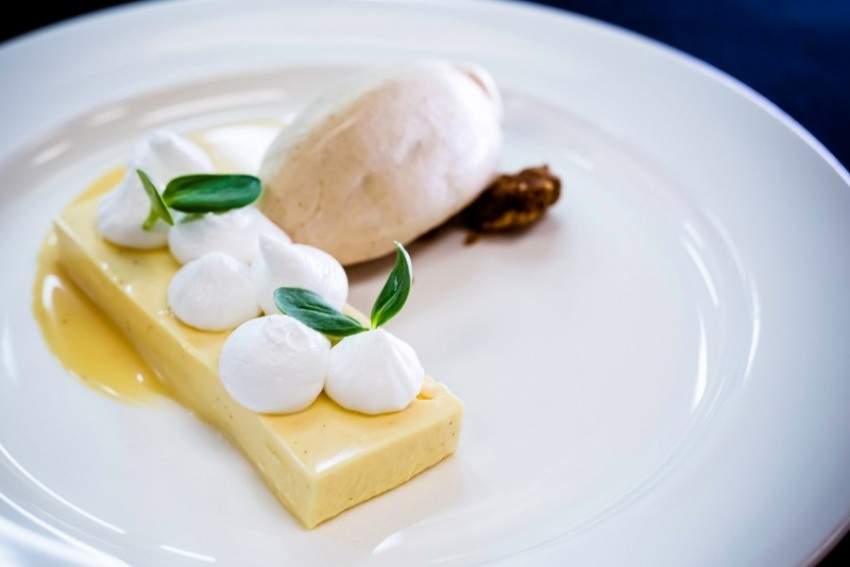 "This pie is so basic," she says. "Every kitchen has these ingredients. I like to take flavours that people may already know but screw them up a little, add an innovative twist." For example, with the egg yolk panna cotta, she's using iota carrageenan, a seaweed extract, as a binding agent instead of gelatin. With this modern technique, she can set a panna cotta at room temperature almost immediately, instead of having to refrigerate overnight, which will be a lifesaver on the road.
Bland anticipates that the graham cracker ice cream will prove to be the biggest challenge at the other venues, since she'll have to find a place to churn it and keep it frozen until it's time to plate her desserts. In Calgary and Edmonton, she's partnering with local favourite Made By Marcus to churn her ice cream, yet another example of the chef community helping each other out, even when their name isn't on the menu.