Several years ago I told myself that I was going to document every, single thing I ate or drank for a year.
The idea was to keep track of everything—eggs for breakfast, B.L.T. for lunch, a couple of afternoon pints at a microbrewery.
After a week of doing this, I was shocked by how many things I was eating, so I reverted to only reflecting at the end of the year by way of the many photos and notes I saved in my phone over the last 12 months; much less shocking.
From an idyllic childhood bake sale treat to a stunning ten-course dinner in Saskatoon, of the thousands and thousands of dishes, edibles and drinks across Canada I had the opportunity to try in 2019, some more enjoyable than others, here are the 30 that stood out the most.
(a quick aside: unless otherwise noted, all images in this piece were taken by yours truly with a Google Pixel 3)
1909 Kitchen's ocean water-boiled potatoes with seaweed salsa verde (Tofino, B.C.)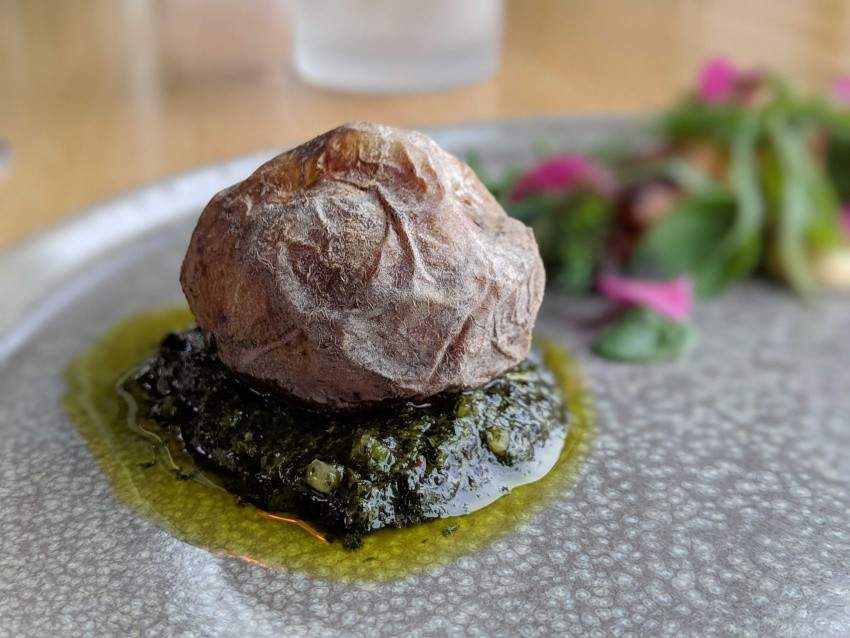 This year's Top Chef Canada champ Paul Moran does some pretty magical things in the kitchen of 1909 Kitchen. His penchant for using seaweed in innovative ways led to this simple and oh-so-West-Coast potato dish that sees potatoes cooked in ocean water and served with Moran's take on an Italian salsa verde, made with winged kelp, shallot, parsley, sherry vinegar, capers, espelette peppers, smoked mustard and olive oil.
"Terroir" can sometimes be an obnoxious culinary term, but between the ocean water boiling and seaweed in the salsa verde, this is truly a taste of West Coast Canada.
Ampersand Distilling's Nocino! (Duncan, B.C.)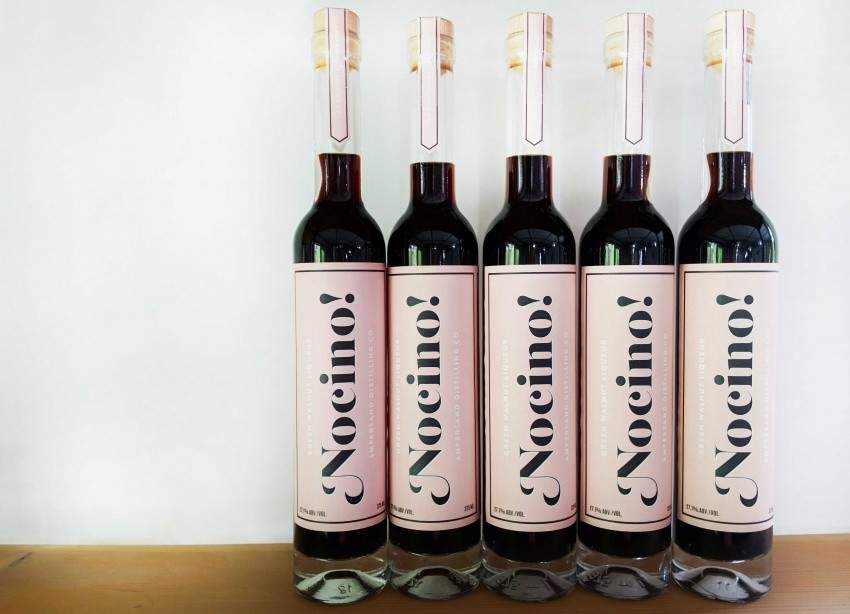 Made from green walnuts grown on Vancouver Island, Nocino! Is an Italian-style liqueur made with winter spices, like allspice and cinnamon and lemon peel, and then aged. I had the opportunity to try it for the first time while travelling across Vancouver Island this past spring and after taking a bottle home to Calgary, have been savouring every sip on especially chilly days.
I like adding a bit of this to hot chocolate, but it's the perfect thing to sip after dinner simply as-is.
Annabelle's Kitchen's Baby Love pizza (Calgary, AB)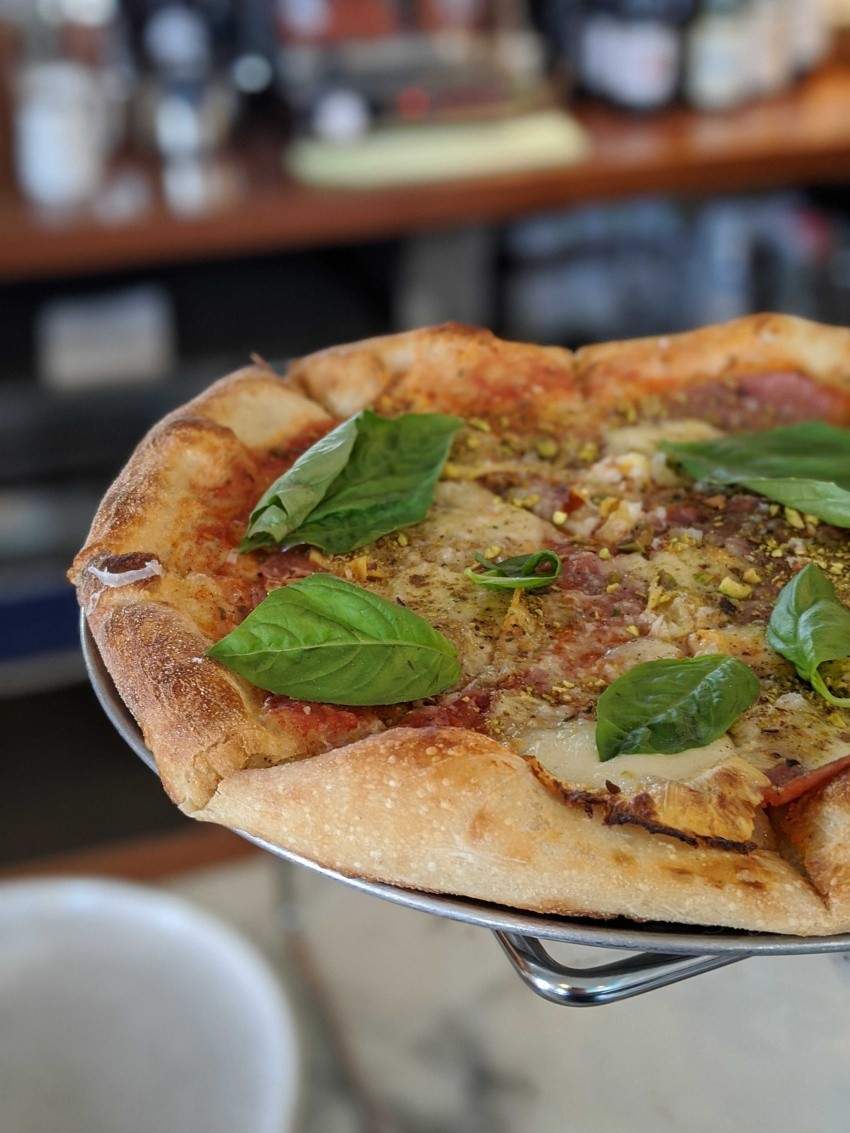 Most people know that I am a sucker for a good Hawaiian pizza. As such, I am now fairly enamoured with this fun take on a Canadian classic by chef Chris Dewling. Flavourful shaved mortadella, dehydrated pineapple slices, mozzarella, asiago and crushed pistachios join forces and leave you craving more.
Pro tip: order a side of Parmesan cream sauce to dip any leftover crusts
ARC Dining's prawn cocktail (Vancouver, B.C.)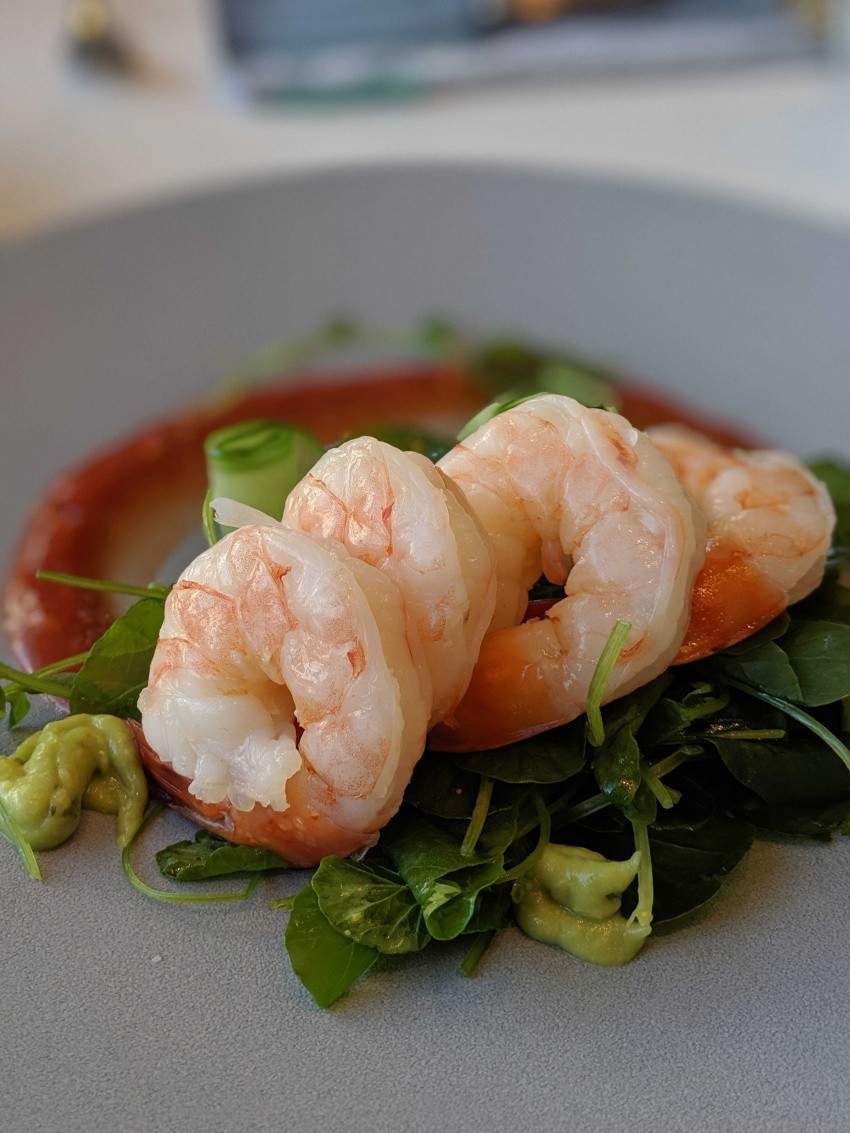 Prawn (or shrimp) cocktails have seen somewhat of a revival as of late and I am 100 per cent here for it. The restaurant and bar inside of Fairmont Waterfront gets creative with the theme, using sustainable prawns lined up amidst dots of avocado puree, crispy cucumber, refreshing watercress and a bright Bloody Mary-inspired cocktail sauce.
Barnhammer Brewing Company/Low Life Barrel House's Blood Cut Brett Pale Ale (Winnipeg, MB)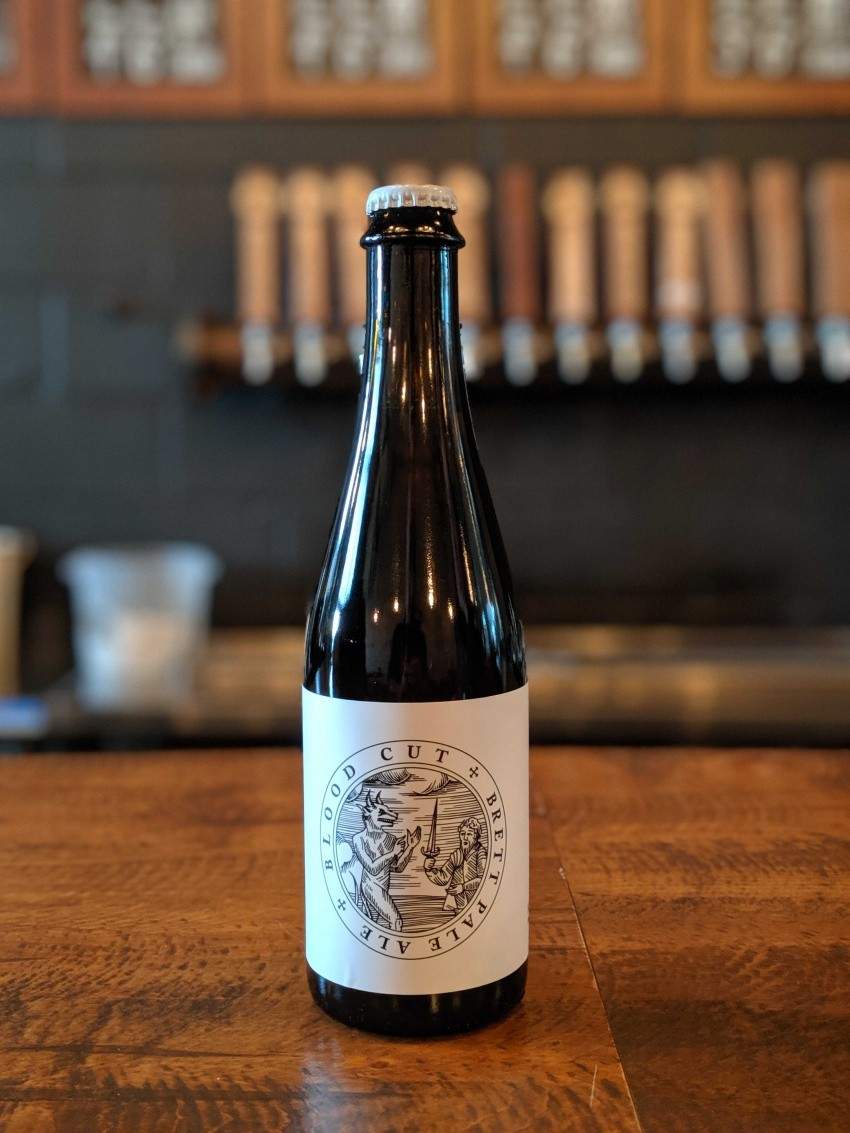 I am not a craft beer nerd and don't often delve deep into the world of small-batch brewing and all that it entails; but once in awhile, I do find myself captivated by particular brews and the creators behind them.
This brett pale ale from Barnhammer's brewery within a brewery, Low Life Barrel House, is complex on the palate, but balanced and approachable enough to sip for just about anyone that likes a good beer.
Biera's roasted cheese curds with banana peppers (Edmonton, AB)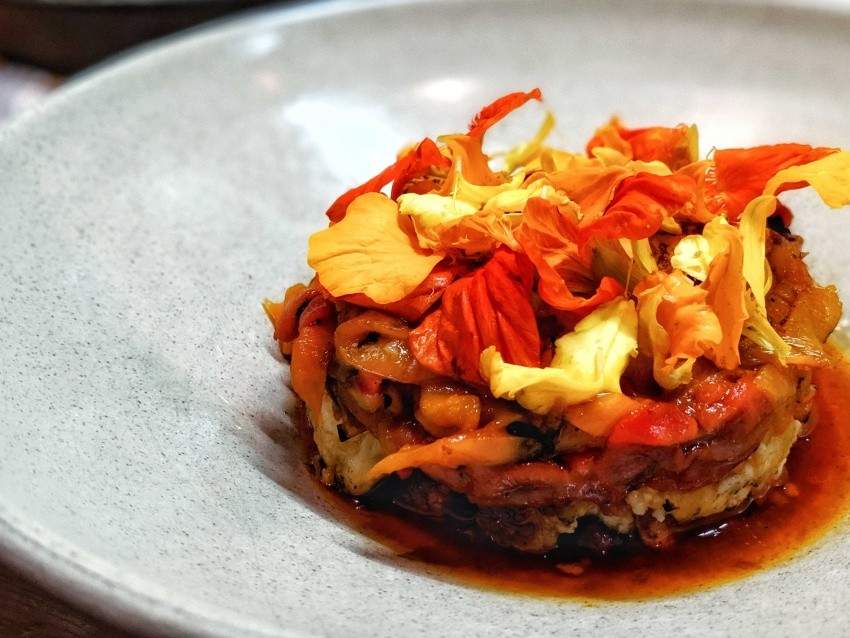 Whether you are a cheese lover or not, the siren call of this impeccably crafted dish is too strong to ignore.
Roasted, crispy-on-the-outside-gooey-on-the-inside cheese curds are layered with Alberta-grown, ember-roasted and pickled banana peppers, habanero oil and fermented chili pepper juice.
As of right now, there is no foreseeable way to make cheese curds more delicious than this application at Biera.
Black Fox Farm and Distillery's Haskap Gin (Saskatoon, SK)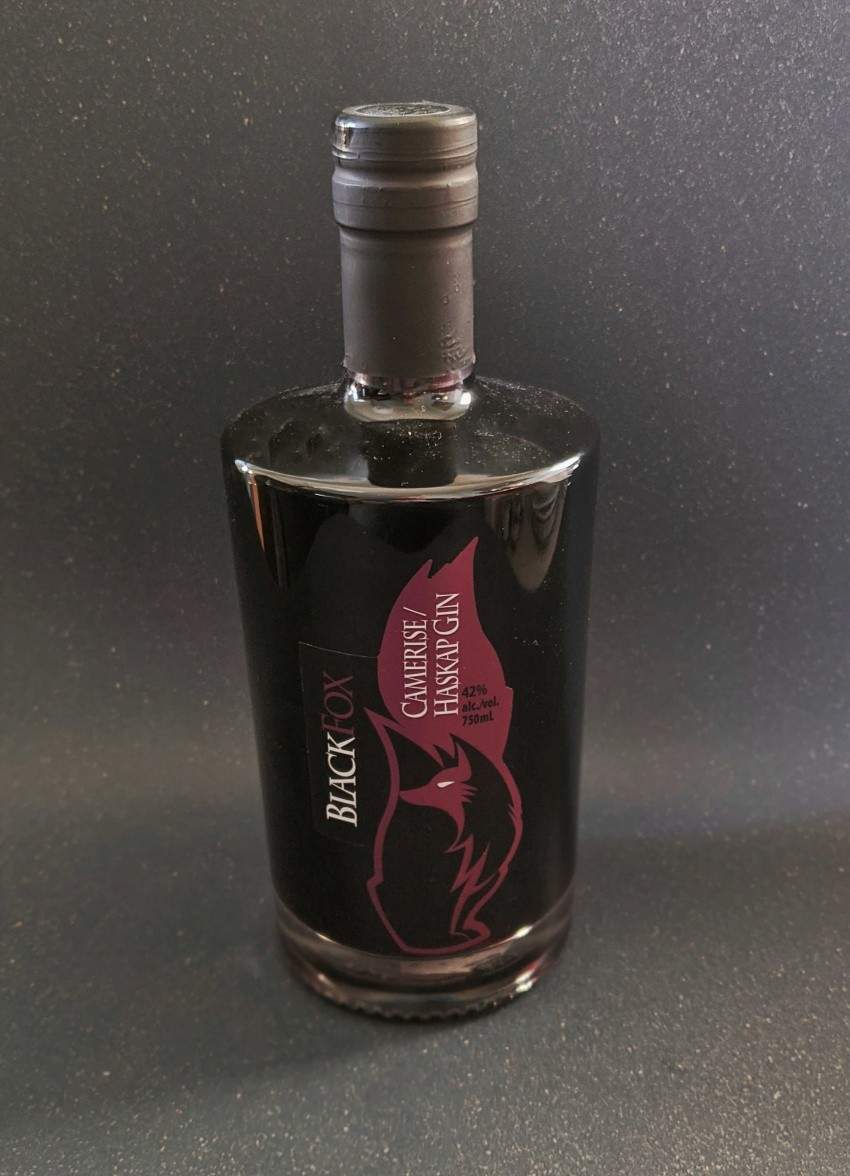 Earlier this year, owners John and Barb Cote debuted their newest offering at Black Fox: their signature gin infused with Saskatchewan-grown haskap berries.
I've taken to using it instead of creme de cassis in Kir Royale, mulled wine or even just plain ol' herbal berry tea with this full-bodied gin.
Bread and Salt's Syrian Ice Cream (Mississauga, ON)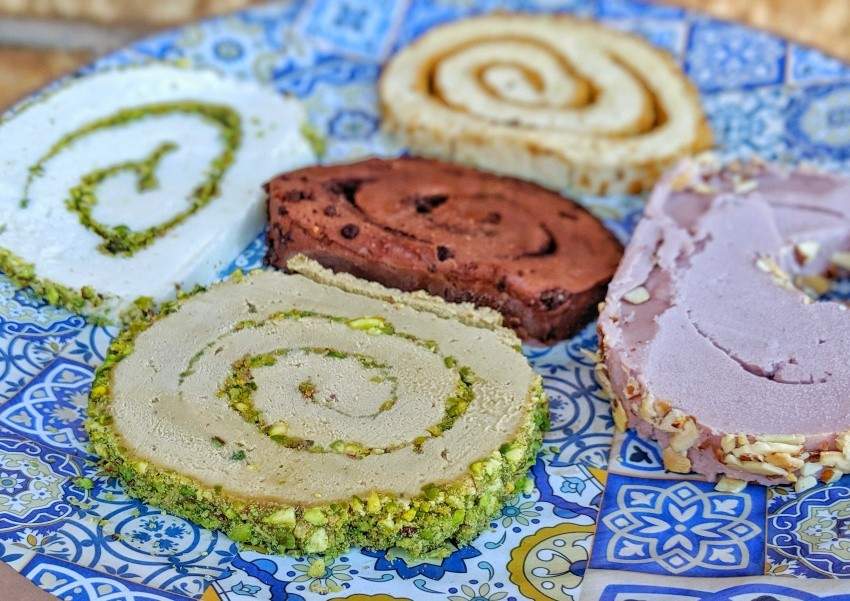 If you've never heard of nor tasted Syrian ice cream before, trust me, you are not alone, but you are also missing out.
Made with a root extract in addition to dairy, sugar and eggs, these ice cream variations boast an almost gummy texture that might be unfamiliar at first, but also pleasantly addictive. To make it even more unique, the ice cream is prepared, chilled and then rolled into logs, similar to how one would present a jelly roll cake.
The bakery's executive pastry chef, Kira Desmond, has created flavours that start out traditionally (ashta or pistachio), but branch out to include strawberry and raspberry with toasted almond cookie crumble, chocolate with "Oreo" crumbs and even a lotus root flavour with speculoos.
This ice cream alone is worth the drive out to Mississauga, but don't pass up on the Manouseh (Syrian flatbread) while you're there either.
Como Taperia's fried eggplant (Vancouver, B.C.)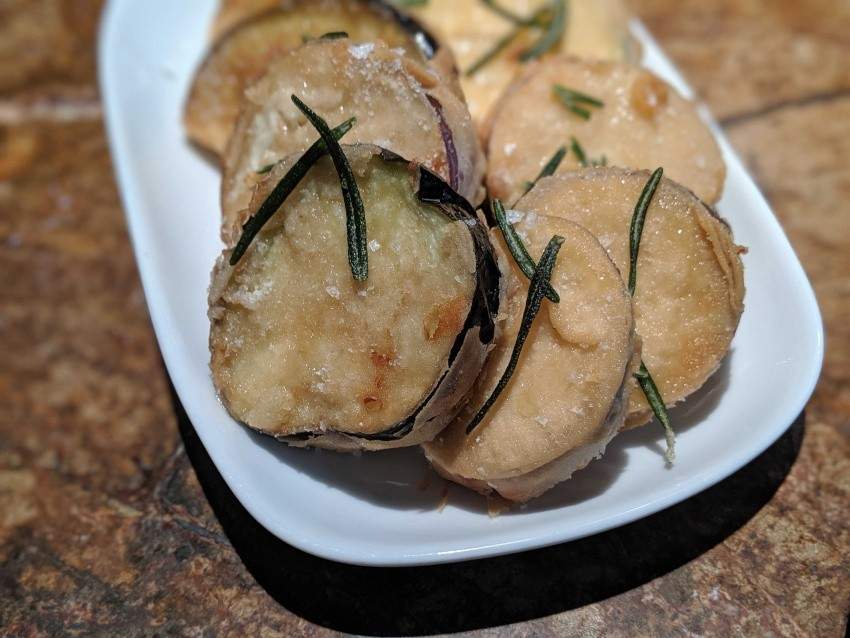 Eggplant seems to be getting more and more love from Canadian chefs lately. After all, brassicas could use a little break from the limelight, right?
This preparation of eggplant from Vancouver's award-winning Como Taperia is the perfect example of tapas being ligtly battered, plesantly salty and finished off with crispy rosemary and spiced honey.
Deep Dark Woods Brewing Company's beer (Whitehose, YT)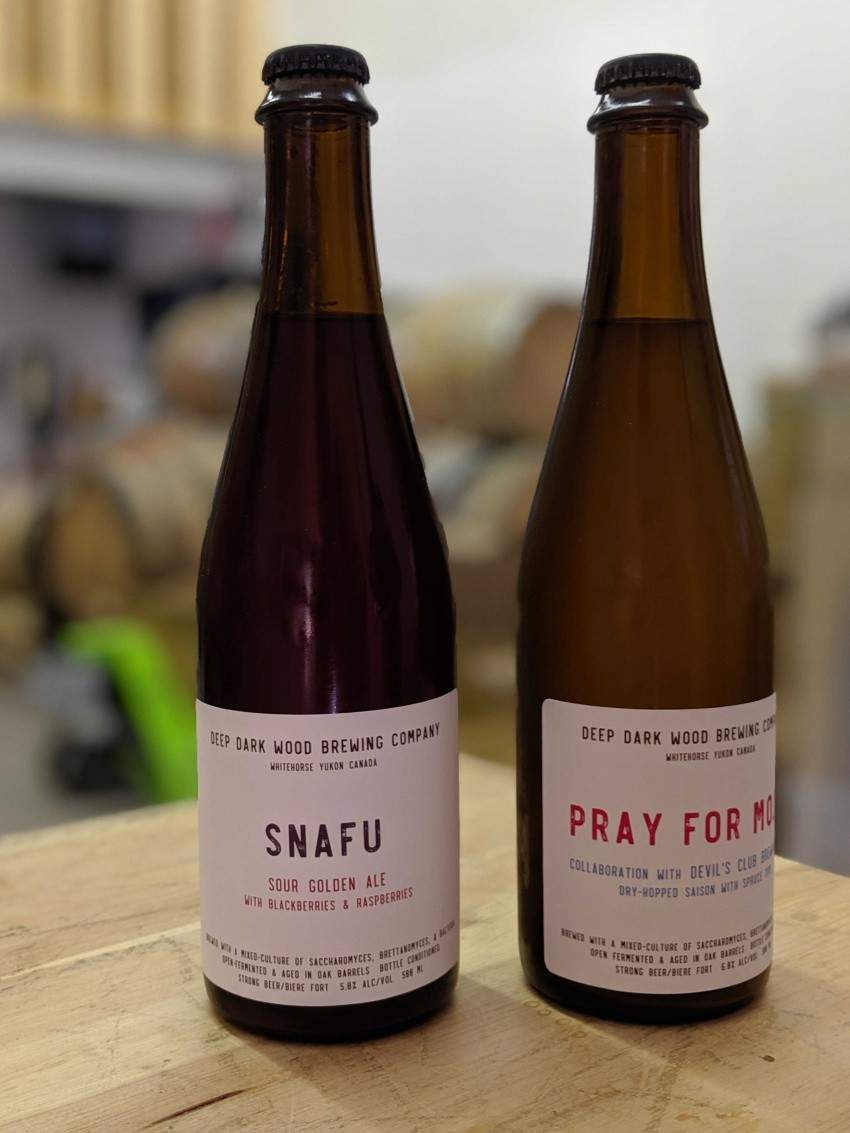 Probably the smallest brewery set-up I have ever seen, this little gem in Whitehorse is all about funky, barrel-aged sour beers. The "Snafu" is a sour golden ale made with local raspberries and blackberries. Tangy and refreshing, it's a perfect summer sipper.
I look forward to seeing what other interesting small-batch brews Deep Dark Woods Brewing Co. comes up with throughout 2020.
Douce Diner's white French beans and ham hock (North Vancouver, B.C.)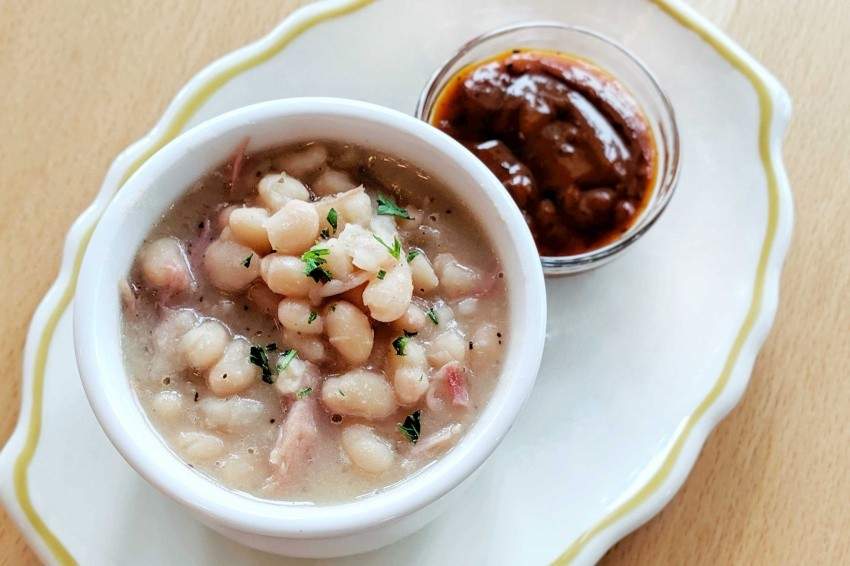 Listed as a side dish, this humble bowl of baked beans--a family recipe courtesy of chef-owner Dawn Doucette's mother--served with a portion of homemade tangy barbecue sauce, is easy to skip over on the menu at this charming, well-designed diner in North Van.
These beans are so unassumingly delicious. So often we hear restaurant's say "family recipe", but, as cheesy as it sounds, you can really taste the love in this one here at Douce Diner.
Downlow Chicken Shack's fried chicken sandwich (Vancouver, B.C.)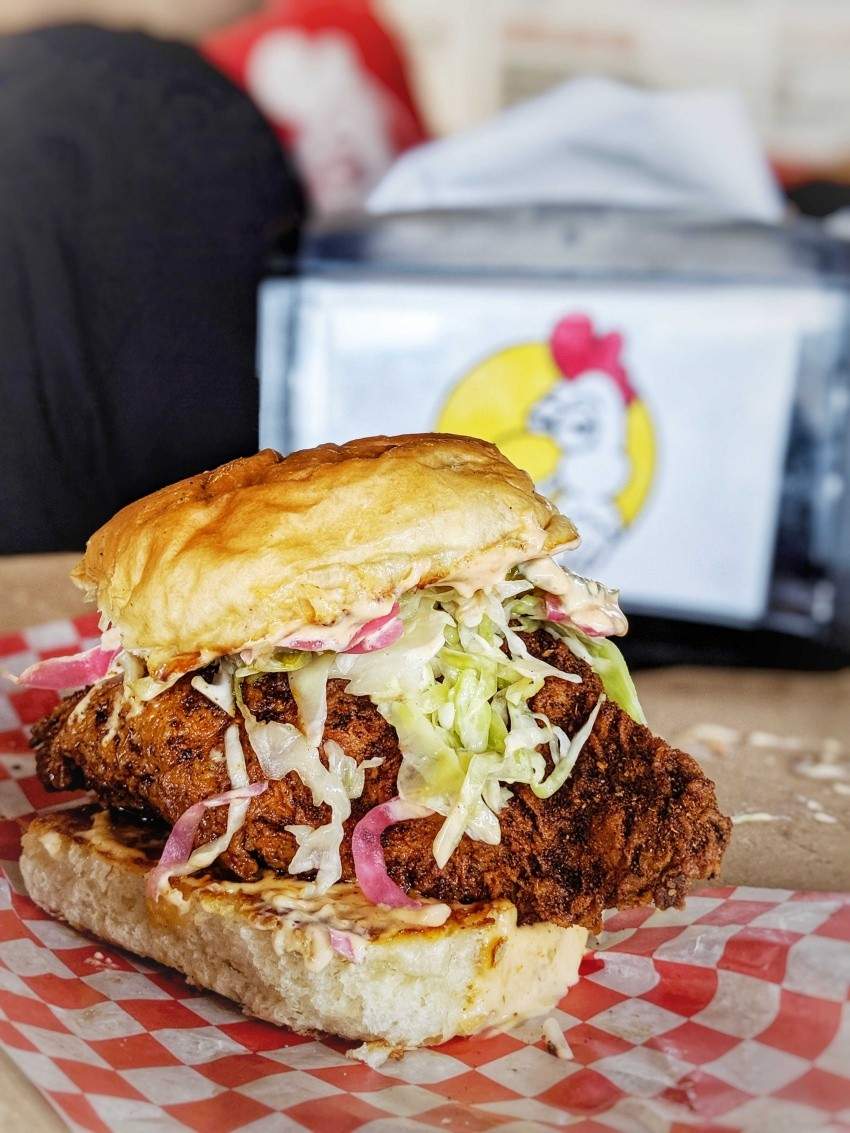 In a trend-crazed world of Nashville hot everything, few places actually do right by the signature Southern dish. Downlow is one spot that does and, as such, has the never-ending lineups to prove it.
Make sure to get a house-made sweet tea to wash down the salty, spicy, crispy, juicy chicken sandwich. Perhaps not an everyday meal, but it's one that has the most value if you find yourself hungover.
Granite Curling Rink's wonton soup (Saskatoon, SK)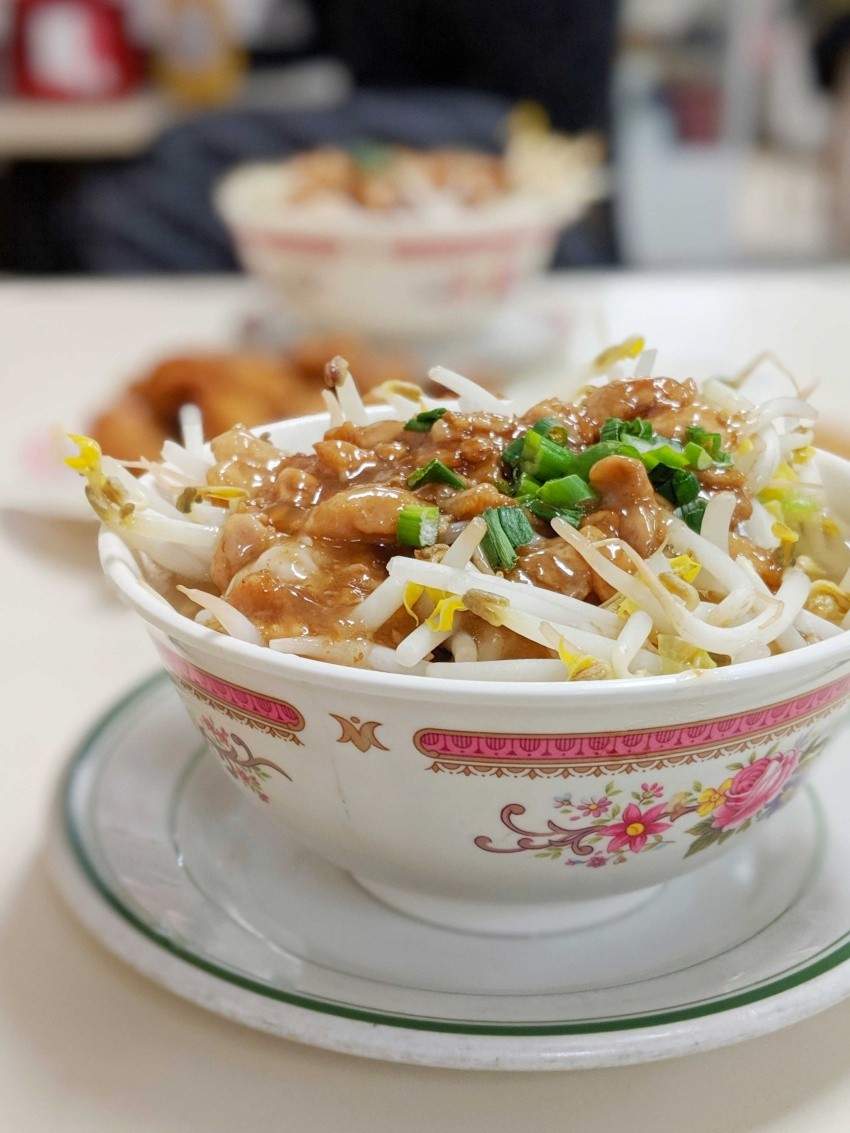 Having amassed somewhat of a cult following in Saskatoon over the years, his mythical wonton soup has flown under my radar until this past fall.
Definitely not a conventional wonton soup, this "deluxe" version at the cafe inside the city's downtown curling rink comes topped with a healthy portion of bean sprouts and soy-glazed chicken. It's also a heck of a deal for only $6.
Gusto North's beet and citrus salad (Winnipeg. MB)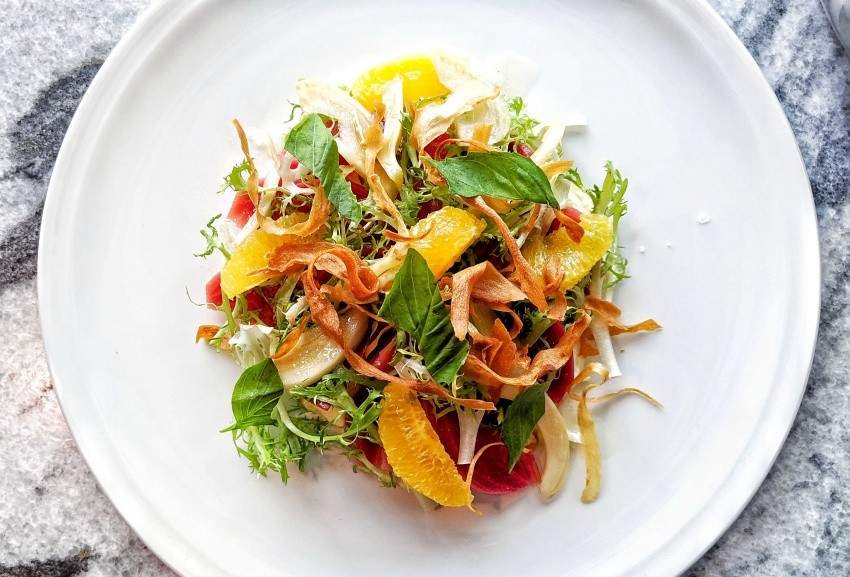 The littler sister to Winnipeg's much-celebrated Pizzeria Gusto opened a month ago in the stunning Hargrave Street Market and is one-part food stall and one-part sit-down restaurant. The latter's menu differs greatly from the original Gusto and offers up a particularly delicious and well-textured salad made up of chioggia beets, frisee, basil, citrus, crispy-fried parsnips, white wine and mascarpone custard and a preserved serrano vinaigrette.
It's delicious proof that a beet salad can be both interesting and memorable.
Hawthorn Dining Room and Bar's Cinnamon Toast Crunch mille crepe cake (Calgary, AB)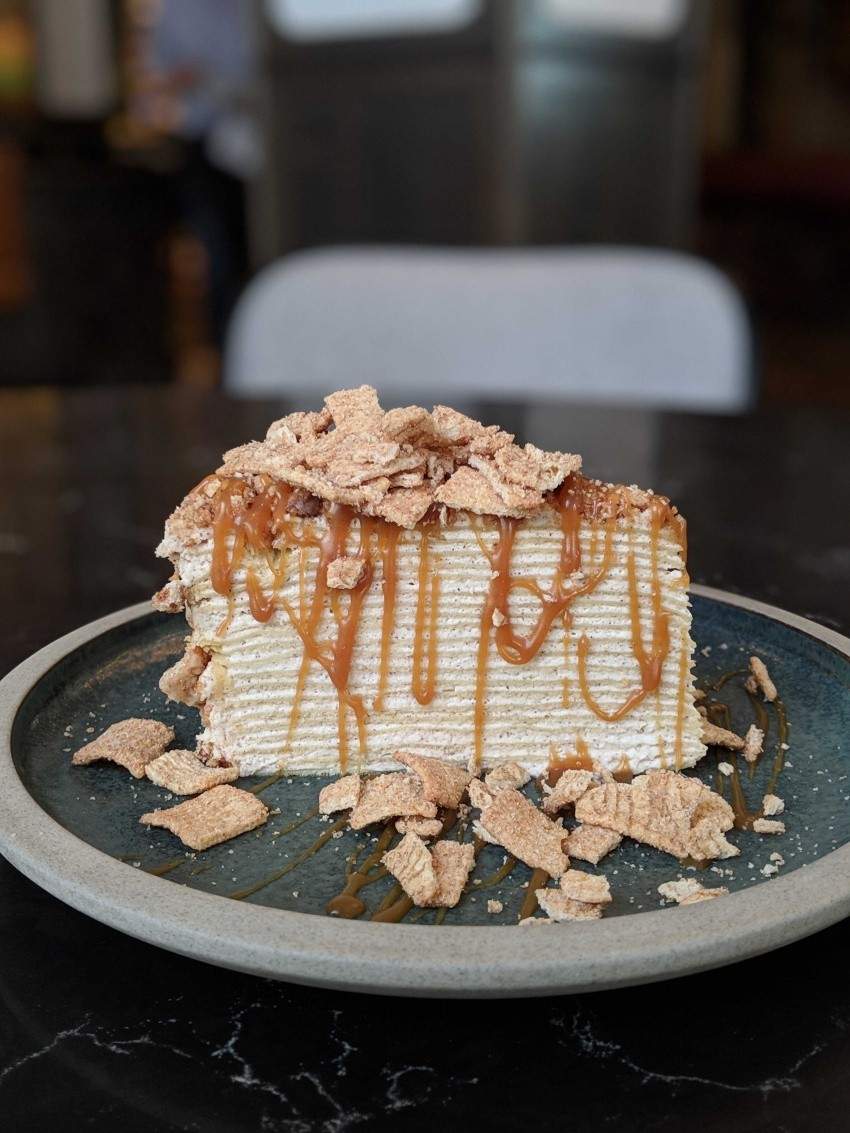 This cereal-inspired multi-layer dessert is undeniably instagrammable, but follows through taste-wise as well here at Hawthorn Dining Room and Bar. Couple that with the fact that mille crepe cakes are fairly uncommon in Canada and you've got a delicious, cinnamon sugar-sweet dessert that's worth fanboying over.
H Tasting Lounge's clam tartine (Vancouver, B.C.)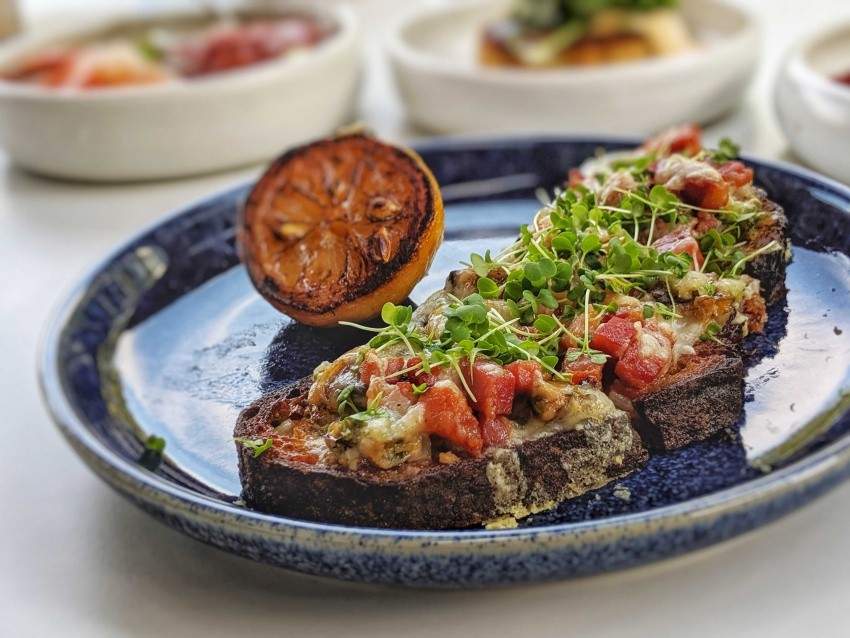 Think of this as somewhat like a refined clam chowder put on toast. Manila clams, pancetta, gruyère and béchamel grace the top of a thick-cut piece of sourdough. Perfectly paired with a happy hour cocktail and a seat on H Tasting Lounge's patio when the sun is shining.
The Hollows' monochromatic tasting menu (Saskatoon, SK)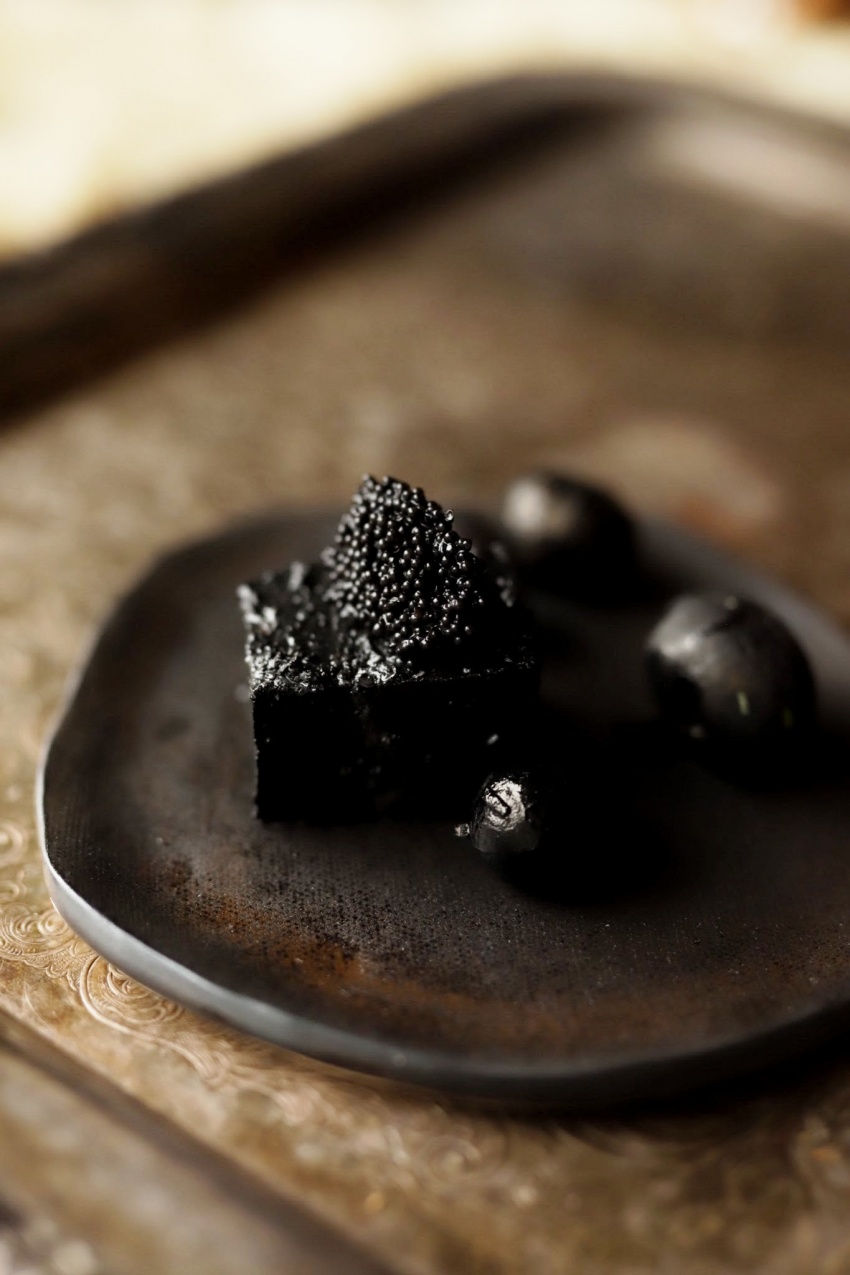 I'm willing to wager that only a handful of one-off chef dinners in Canada were as interesting as this collaboration between Saskatoon chef Christie Peters and Winnipeg-based plateware company Pepo Ceramics.
A ten-course menu created by Peters showcased a variety of Canadian ingredients and techniques all while being paired colour-wise to the custom-made plate each course was served on.
Lulu Bar's spam skewers (Calgary, AB)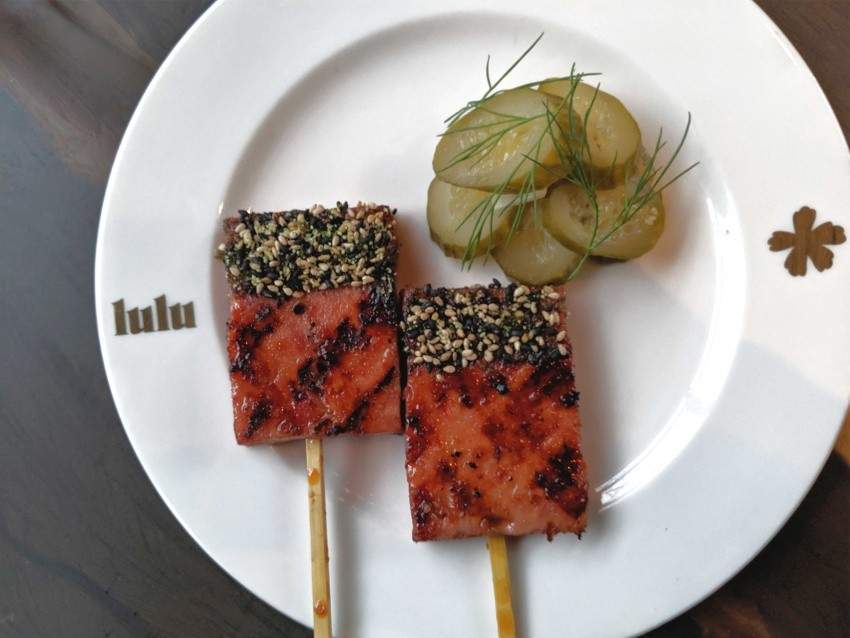 Spam? Don't knock this version until you try it.
Made in-house at one of Calgary's most buzzworthy eateries, think of these delicious, perfectly seasoned grilled pork skewers less as Spam and more as delicious rectangular sausages. The ginger pickles served on the side offer some much-welcomed acidity.
Noble Pie's 'Roni pizza (Calgary, AB)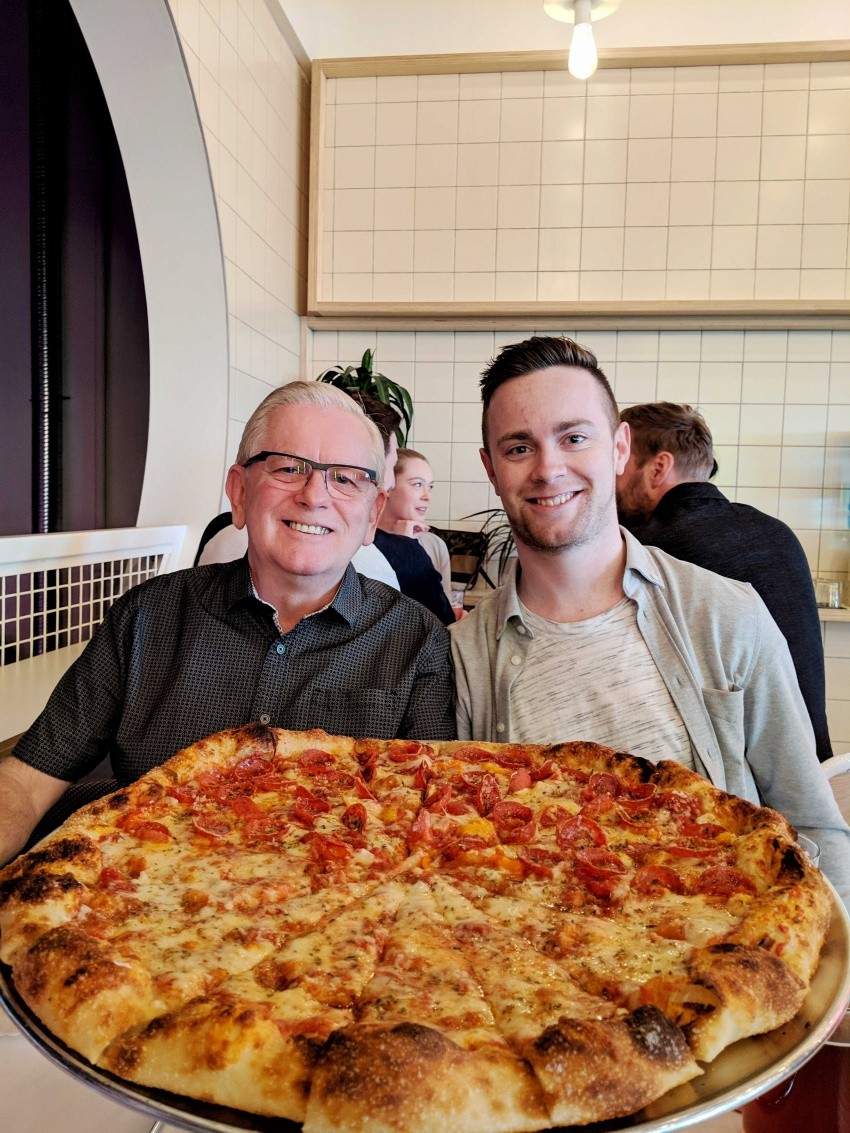 Is there a better pizza dough to be found in this country? I'm not sure, but I'm always on a quest to find it.
Regardless, this New York-style pepperoni pizza finished off with Mike's Hot Honey at Noble Pie inside of Eight-Eight Brewing has become one of the most craved slices of pizza in the city, both for being supremely delicious, but also for being incredibly consistent.
This is one of the few things (or meals) I will happily wait the 1-hour wait time (on average) to enjoy.
Partake's pomme duchesse (Edmonton, AB)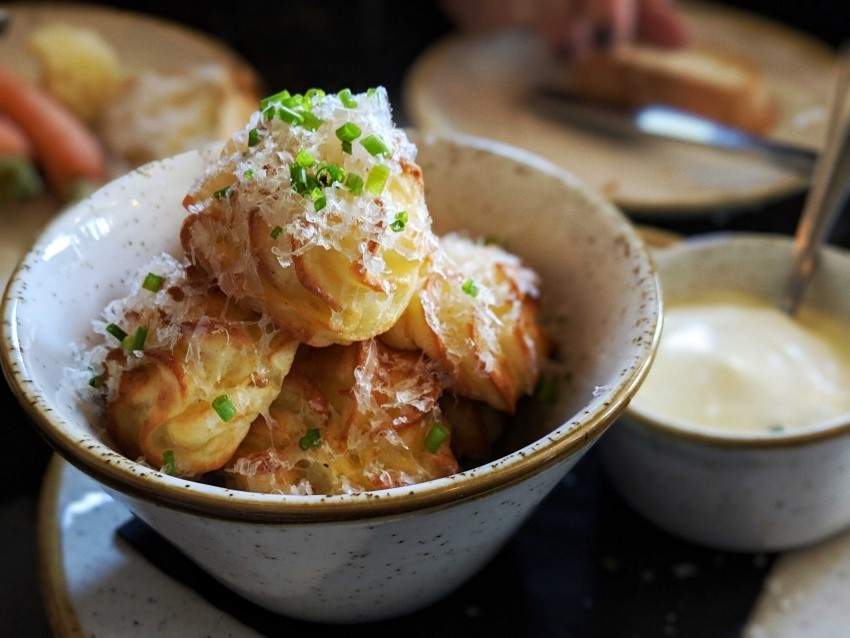 Miniature pomme duchesse are served in a bite-sized style with aioli for dipping here at Edmonton's coziest cocktail bar. Not quite mashed potatoes, not quite French fries, but quite wonderful, these little potato puffs are best ordered in multiples for the table so no fights break out.
Pho Chu The's Bột Chiên (Calgary, AB)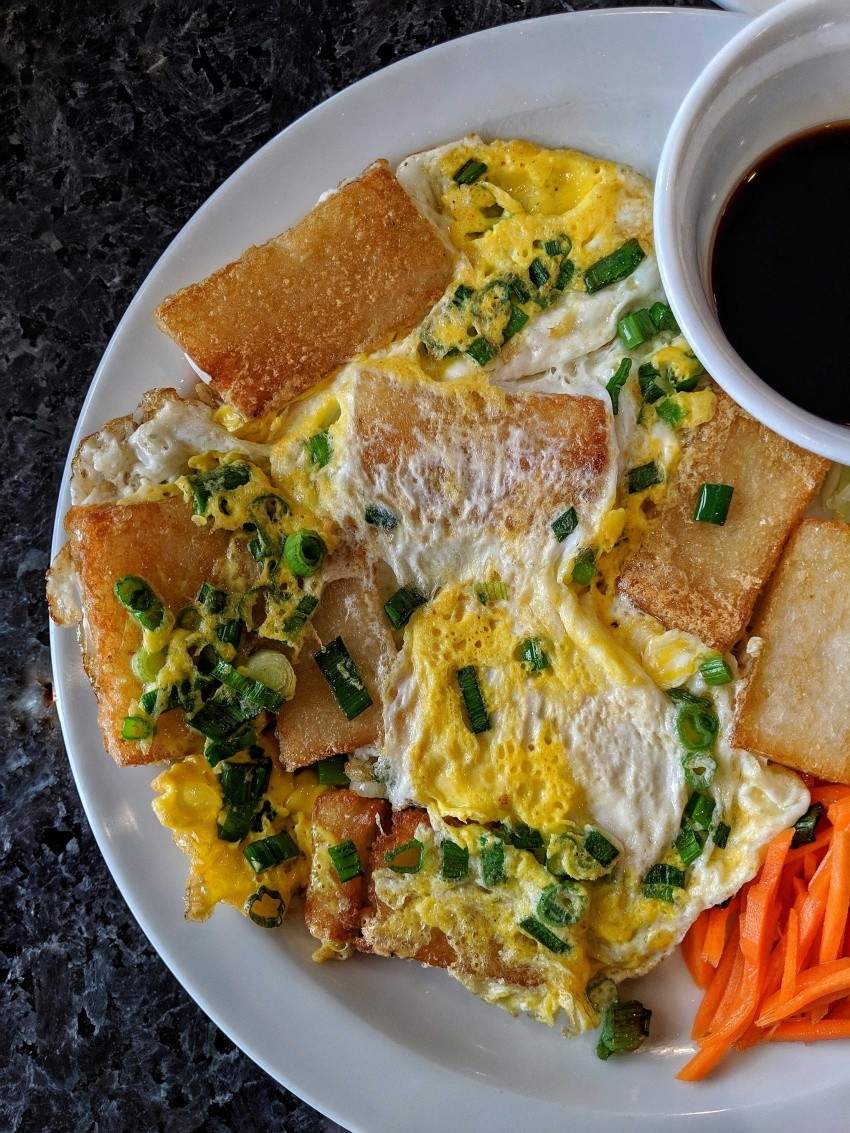 Calling this a Vietnamese omelette of sorts might have people confusing this dish of fried egg and rice patties with the famous banh xeo (a crepe made of rice flour and turmeric). A street food found most commonly in Saigon, it's fairly uncommon to see it on a menu here in Canada.
This Vietnamese restaurant on Macleod Trail in Calgary does a satiating and traditional version of it with grated carrots, daikon and a sweet soy sauce for dipping.
Portabello at the Fairmont Chateau Whistler's Rocky Road Rice Krispie square (Whistler, B.C.)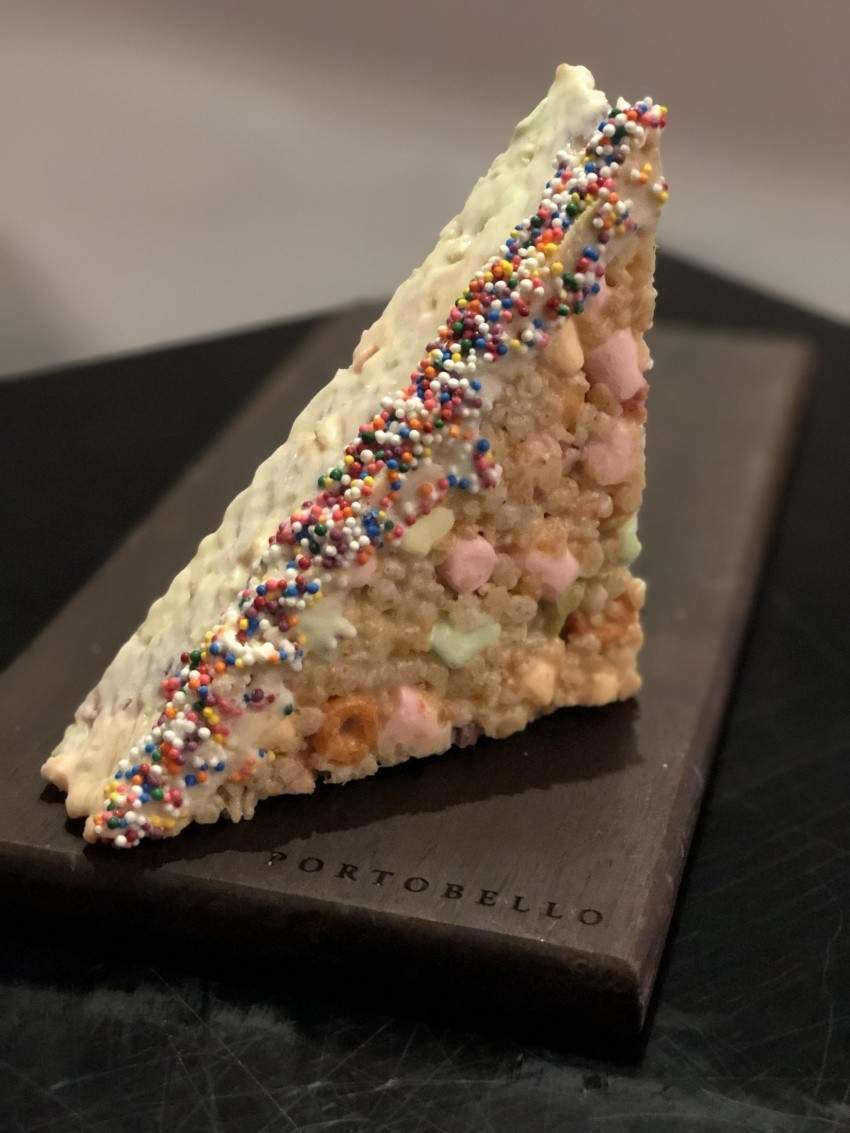 For the kid in all of us (or the adult with a sweet tooth they can't deny), this dessert square is top notch. The hotel's pastry chef Anup Chaubal creates this fun, marshmallowy delight with a combination of Rice Krispies, Fruit Loops, marshmallows and lots of butter. Once the squares are cool and cut, they're dipped in white chocolate and finished off with some rainbow sprinkles because, well, we're in deep, so we may as well go there extra sugary mile.
Revel Cider's extra soif cider (Guelph, ON)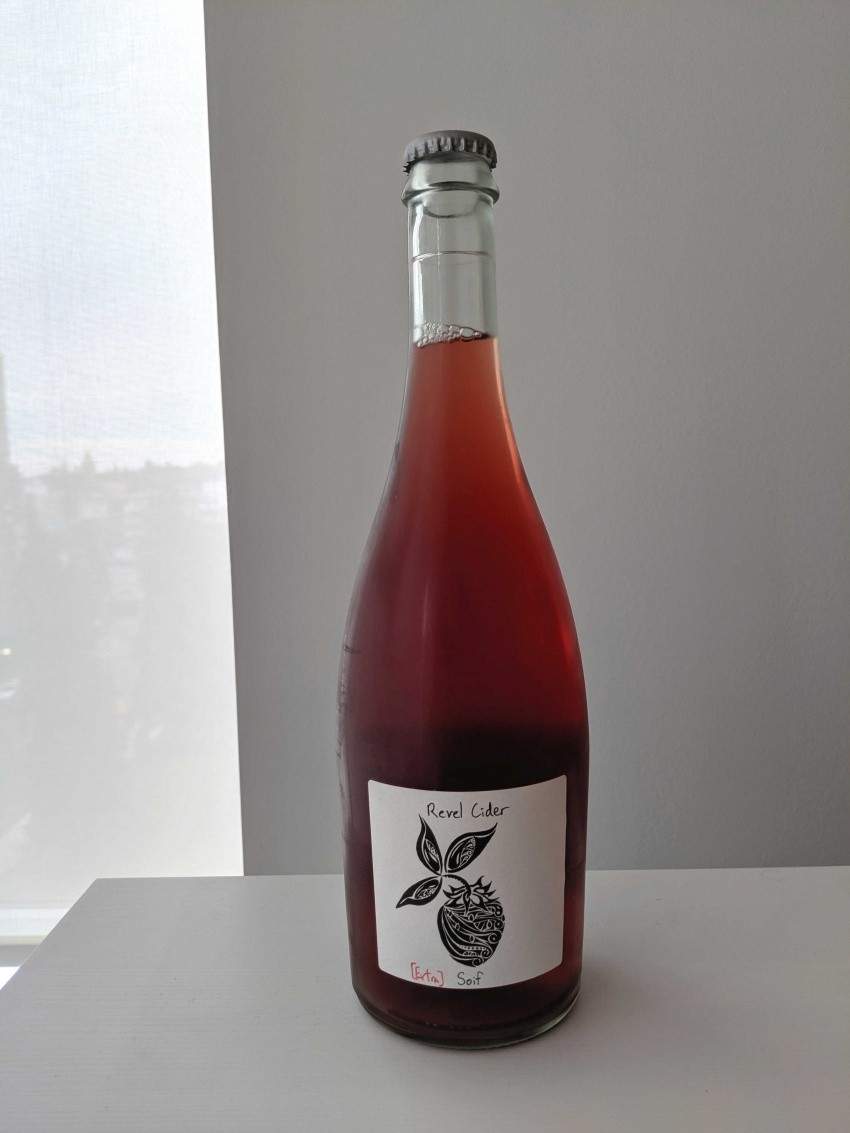 You can't go wrong with any of the ciders from this quality cidery based out of Guelph, but the "extra soif" that was released this year was a stand-out. It sets the bar for what a quality dry cider should strive to be.
Riverside Grocery's malted soft serve (Whitehorse, YT)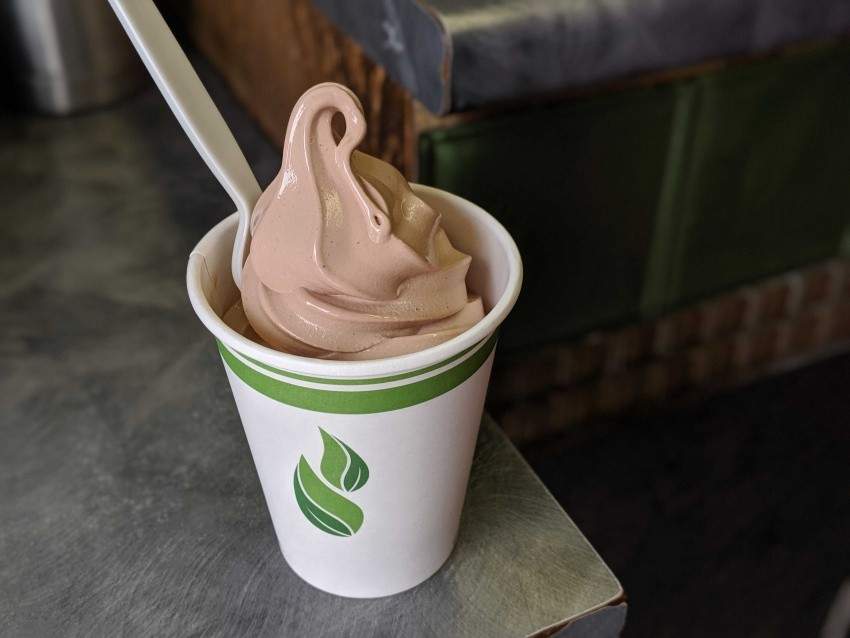 Of all the things I expected of my first visit to the Yukon this summer--gorgeous landscapes, a never-setting summer sun and interesting Northern ingredients--discovering some delicious malted soft serve was certainly not one of them.
Riverside Grocery is a charming corner store in and of itself, but the real treat here outside of the many local ingredients and products is a healthy swirl of malted soft serve. This perfectly cool and creamy summer treat is somewhat reminiscent of a Milk Dud, but exponentially more tasty.
The Ship and Anchor's Ship 'Nog (Calgary, AB)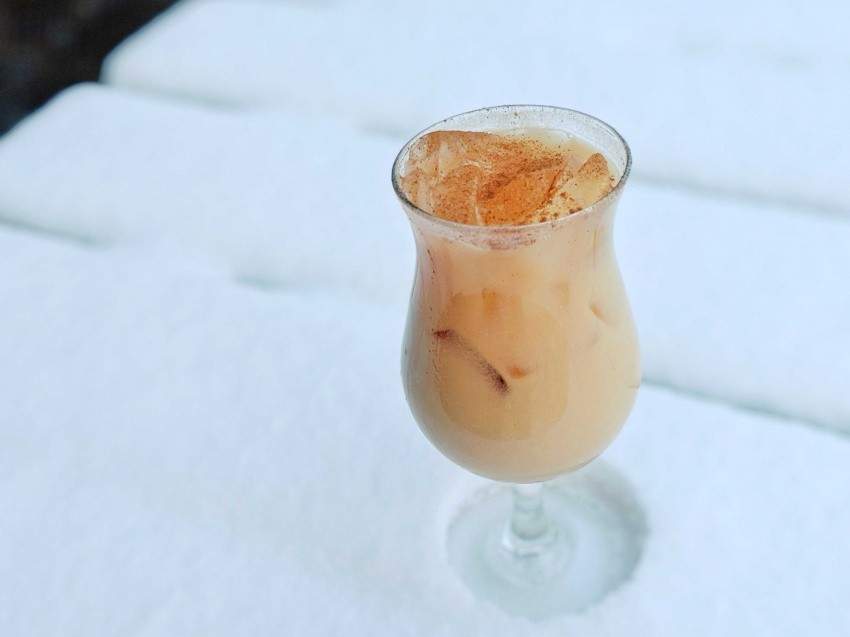 My friends know that when the holidays roll around and they want to get together with me, it's going to be at the Ship and Anchor for a Ship 'nog or two. Aside from being creamy, appropriately boozy and dusted lightly with nutmeg, these nogs help raise tens of thousands of dollars for local charities each year. I love having a drink with pals, but even better when it's for a great cause.
Sugo's sausage-stuffed banana peppers (Toronto, ON)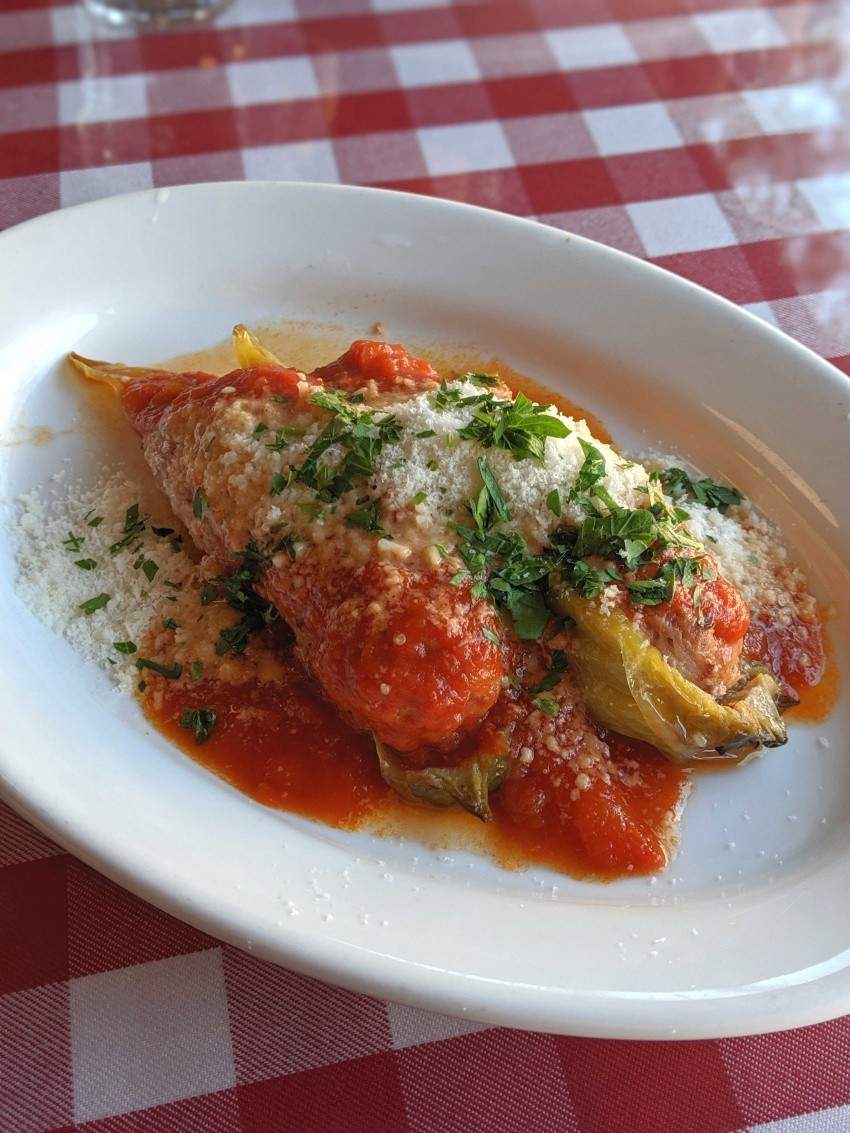 My friend Heather made a point of taking me for a bite at Sugo on my last visit to Toronto. An always-packed staple of the city's Italian community and food scene in general, Sugo boasts a nostalgic charm by way of checkered tablecloths and nonna-style portions.
The sausage-stuffed roasted banana peppers topped with tomato sauce and Parmesan tastes exactly as one might expect: comforting and beyond filling.
Udderly Ridiculous wine and dark chocolate ice cream (Ontario)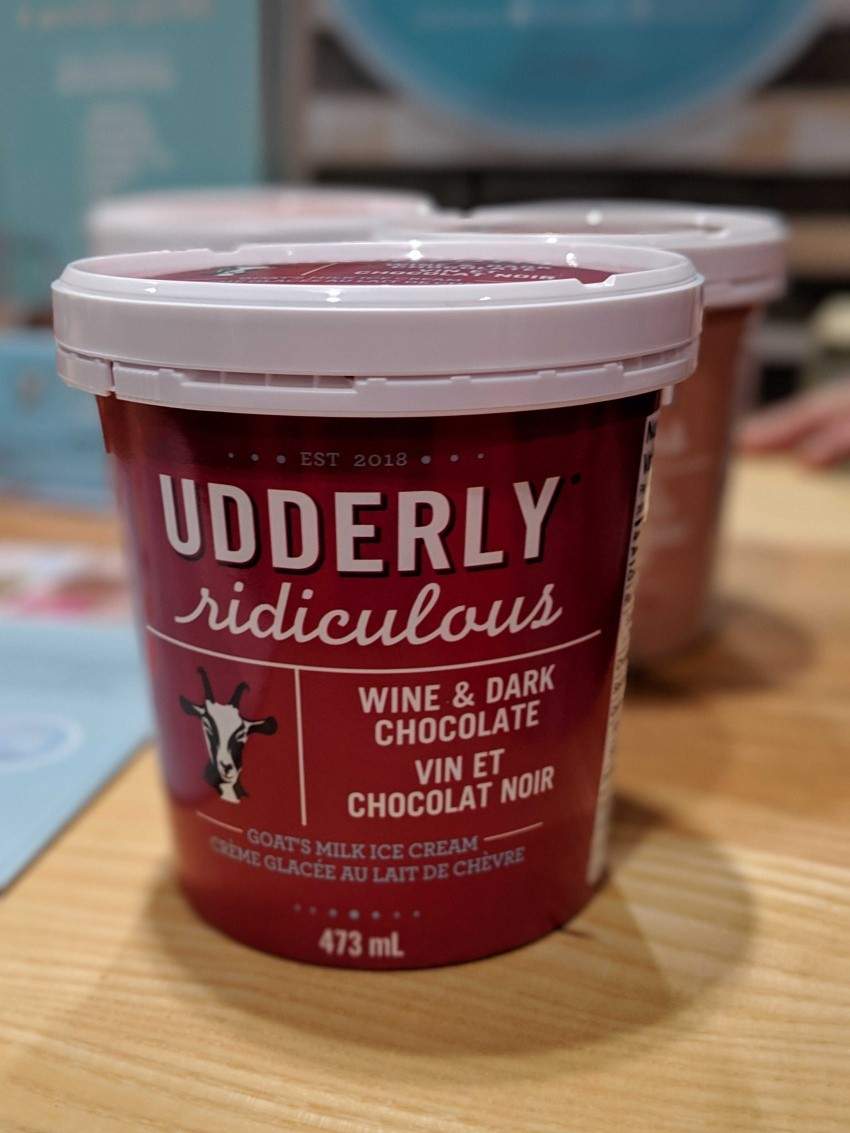 In the past few years, I have started to explore the consumer packaged product side of the food world a lot more. As a result, I got to experience multiple large-scale grocery innovation expos such as SIAL Canada, which introduces you to all kinds of new and interesting Canadian companies trying to make it in the grocery industry (no easy feat, let me tell you).
Udderly Ridiculous is a goat's milk ice cream company based out of XX, ON. Its line-up of ice cream includes flavours like lemon meringue and XXX, but it's the decadent red wine and dark chocolate offering that helps set a pint a part from the rest of the competition in Canada.
I don't believe this ice cream has made its way out west yet, but here's to hoping.
Vit Beo's Shaking Beef (Toronto, ON)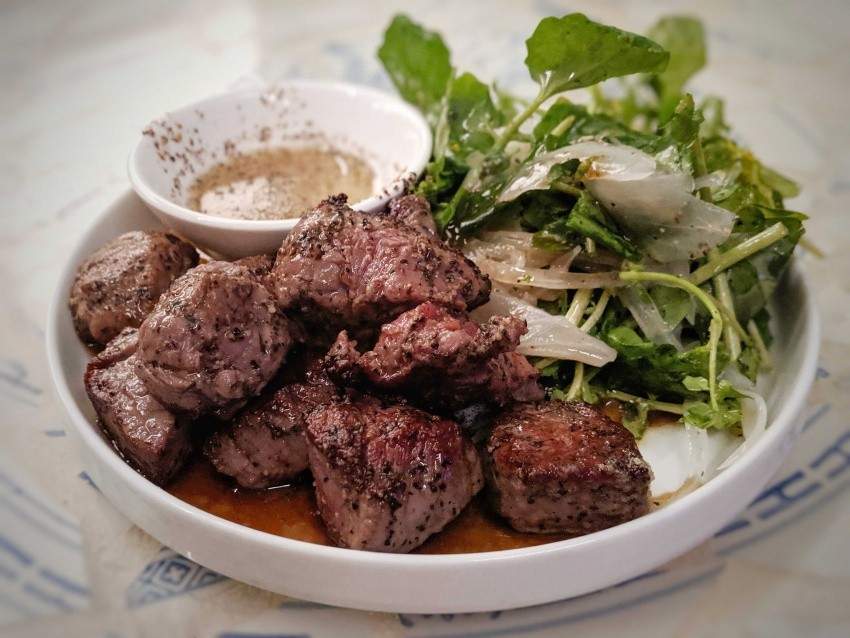 A simple combination of seared flat iron steak, fish sauce, watercress, lime and plenty of ground black pepper proves highly and carnivorously addictive at this fun, casual Vietnamese restaurant on Bloor Street West.
On the opposite end of the spectrum, try the fried tofu and tomato dish as it's a vegetarian Vietnamese dish you don't see on menus too often outside of Vietnam.
Distillerie Mariana's Avril amaretto (Quebec)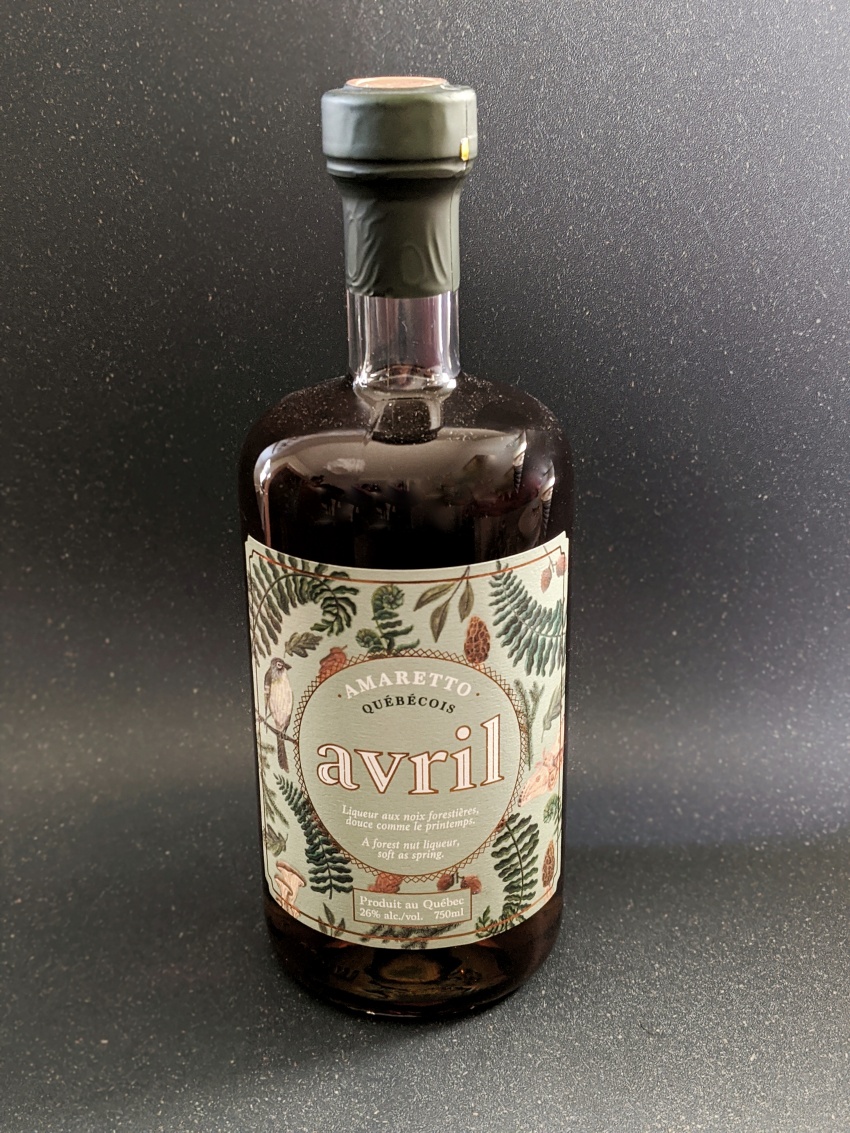 This wonderful amaretto produced by Distillerie Mariana in Louisville, Quebec is truly one-of-a-kind. Made with locally foraged chestnuts, maple and other local aromatics, Avril boasts a refined and unique taste and is a great example of a distillery creating something to truly celebrate its regional terroir.
Wishbone's bananas foster french toast (Edmonton, AB)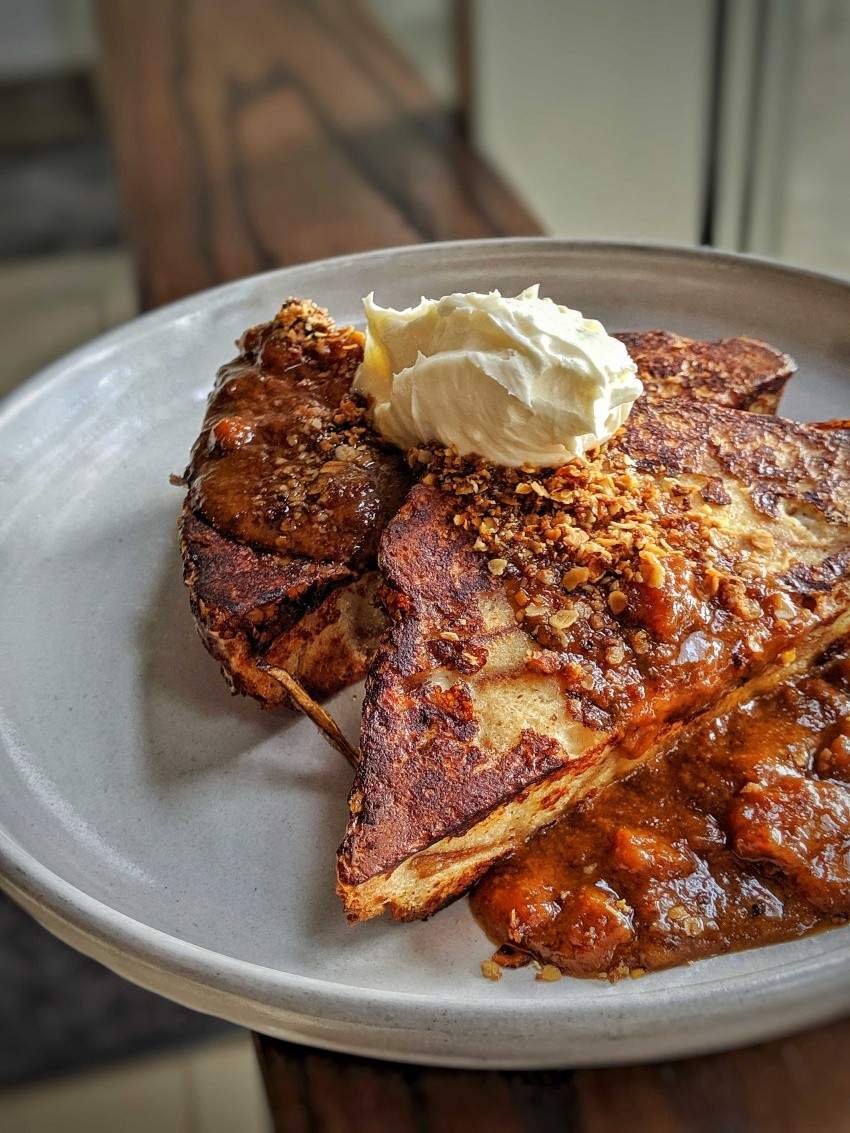 Drawing inspiration from the classic banana dessert typically made from brown sugar, dark rum and cinnamon (and bananas, obviously), Wishbone's french toast is the perfect dish to order for those who like a sweet start to their weekend mornings. The crumble and mascarpone cheese on top help balance out the richness of the banana fosters sauce.