It comes as no surprise that I eat a lot. Looking back at 2015, I've taken over 60 flights and eaten at hundreds of restaurants. Remarkably, I did not find myself in Quebec, Newfoundland or New Brunswick, but that just makes travelling to those destinations more of a goal this coming year.
Here are the 30 most memorable dishes (in alphabetical order) that I've eaten this year, from casual to fancy and everywhere in-between. You can order them for yourself when you are in any one of these great Canadian restaurants.
12 Acres' smoked and seared sturgeon (AB)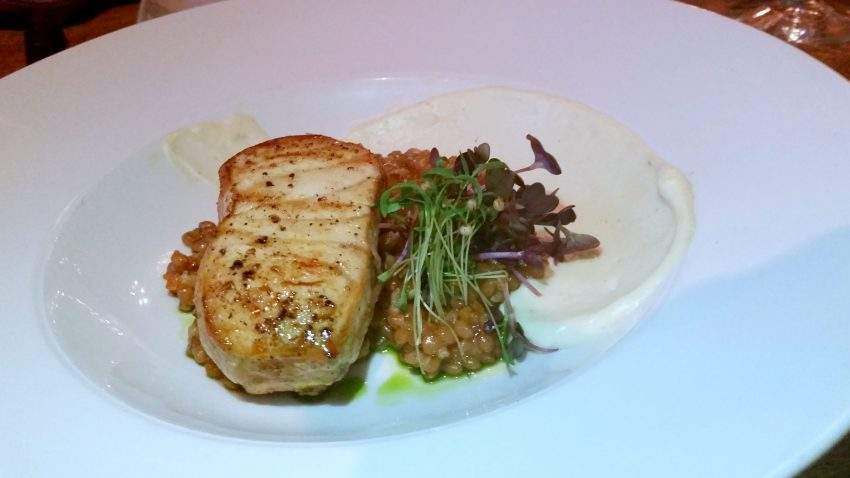 Twas a week or so before Christmas and not a dish was expected to be tasty enough to crack my already decided upon 30 most memorable in 2015 (the fried chicken and hominy from The Derrick checks in at a respectable 31st).
So, imagine my surprise when I ate, and was thoroughly impressed with, chef Cory Rakowski's sturgeon dish at 12 Acres. Smoked first then seared off and plated with a sweet roasted parsnip purée and a wheatberry "pilaf", the sturgeon had amazing texture and ended with a lingering sweet smokiness. I'd happily drive all the way back to St. Albert just to eat it again.
Avec Bistro's camembert frit (Calgary, AB)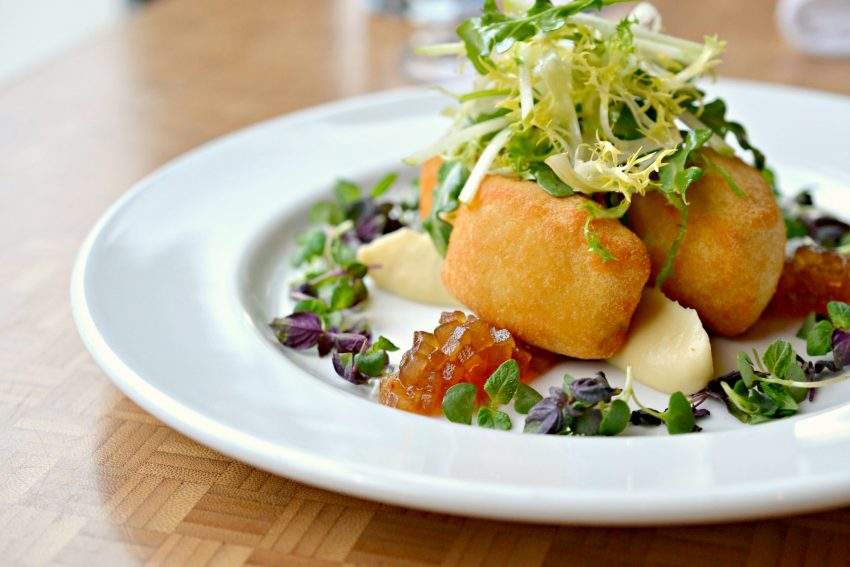 With a new executive chef, Daniel Pizarro, coming onboard this past summer, Avec Bistro's menu has been revamped (not that it was necessarily, but a fresh take on things is always nice) to include some dynamic, less meat-focused dishes, like celeriac risotto and these frites. Essentially the fanciest fried cheese you'll ever slice into, the buttery, rich and gooey camembert gets mellowed out by a tart green apple compote, lightly dressed frisee and parsnip purée. Want. again. now.
Bar Raval's razor clams (Toronto, ON)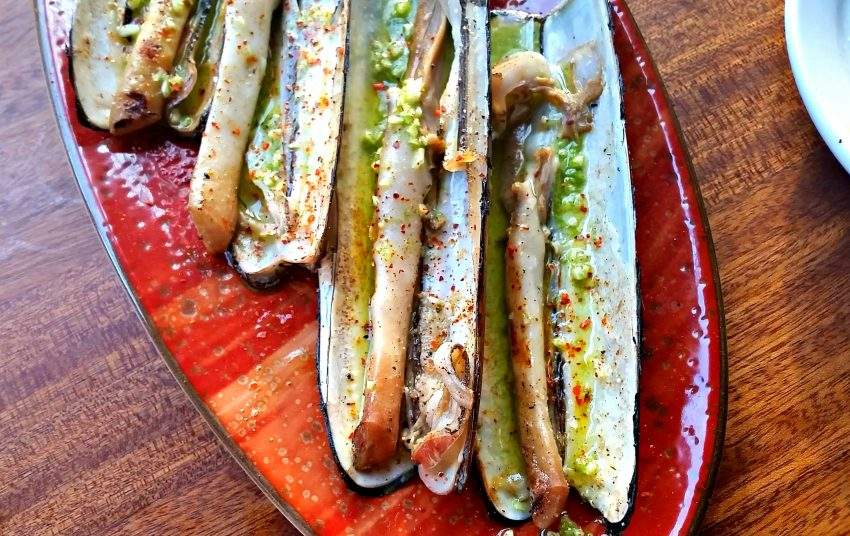 Once you stop gazing at the artistry that is Raval's interior (think: a hobbit home that restaurant interior designers might like to build) and finally get down to the business of ordering, get the razor clams: bright but still meaty. I wish you could find this under-used seafood protein on more menus.
Blacktail's Bison tartare (Vancouver, B.C.)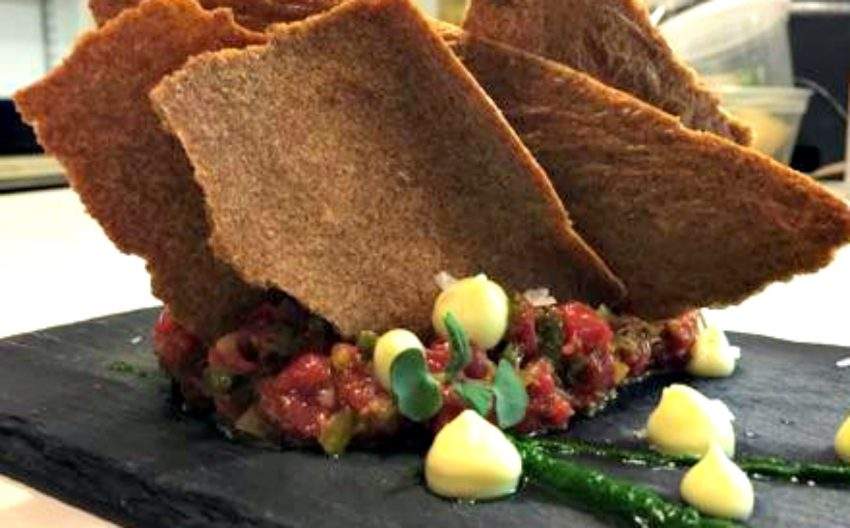 I've known Blacktail's head chef, Geoff Rogers, since before I had grey hair and I've seen this tartare's evolution since it first appeared on his menu at Home Tasting Room years ago. The combination of the bison tartare with the earthy spinach purée, truffle aioli and house-made spelt crackers makes a perfect harmony not unlike One Direction before until Zayn left the band. Alright, that is a terrible comparison, but trust me, it's one hell of a dish.
Blink's heritage beef carpaccio (Calgary, AB)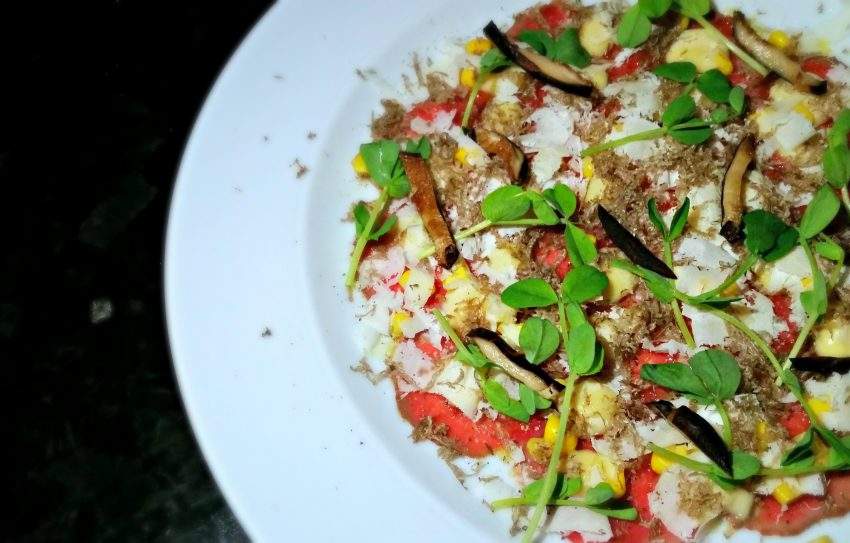 Pickled corn, grilled shiitakes, shaved Burgundy truffle, Parmesan and dots of house-made mayonnaise grace thin, melt-in-your-mouth slices of tender Alberta heritage beef at one of Calgary's top restaurants. Blink turns 8 this year and, much like the wine that I wish I could afford to store in my cellar that doesn't exist, it only gets better with time.
Enoteca's tartare and foie gras (Winnipeg, MB)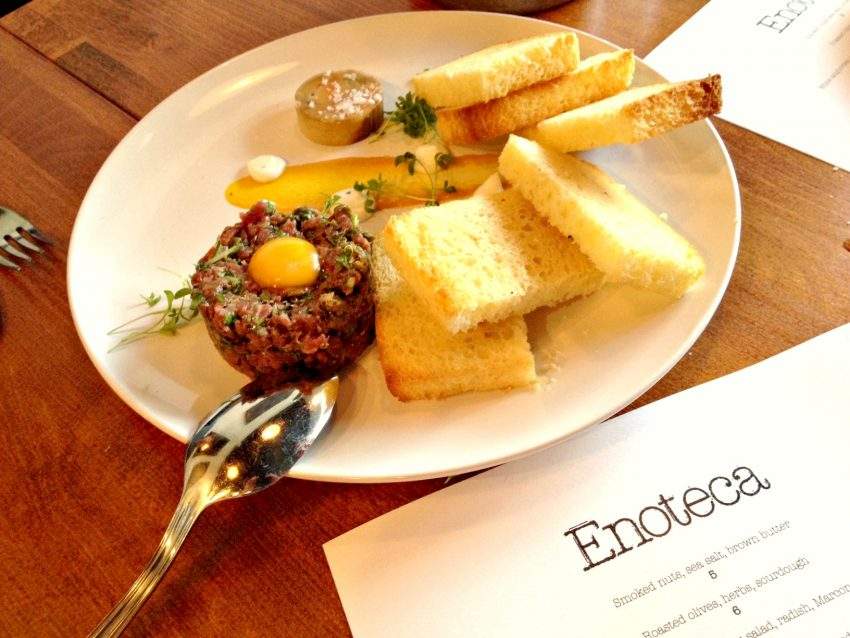 This is but one of many beatiful dishes that you can really get stoked about if you have the chance to dine at Enoteca any time soon. I'm a sucker for (properly seasoned and prepared) tartare, crispy brioche toast and a little foie for some extra richness. Just beautiful.
Seriously guys, chef and owner Scott Bagshaw's cooking is phenomenal.
Enoteca Sociale's smoked spaghetti (Toronto, ON)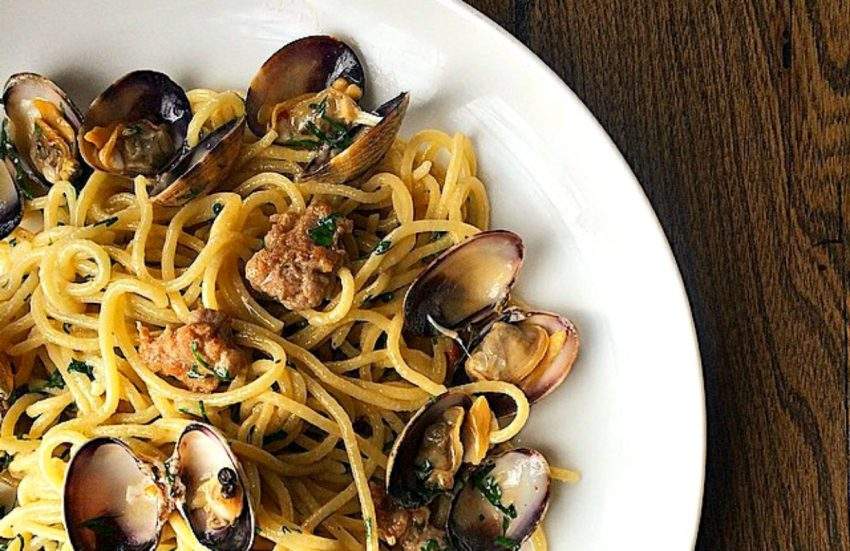 Don't get confused, though Winnipeg's Enoteca and Toronto's Enoteca Sociale might share a similar vibe in terms of being more on the wine bar side of things, they are as different as day and night. Chef Kris Schlotzhauer smokes his flour before churning out this fresh spaghetti before it's cooked tenderly and tossed with manila clams and fennel sausage. It's easily the best pasta dish I ate this year.
(Side note: if you're in Vancouver, you can never go wrong with any pasta on Ask For Luigi's menu)
Grapes Wine Bar's charcuterie board (Banff, AB)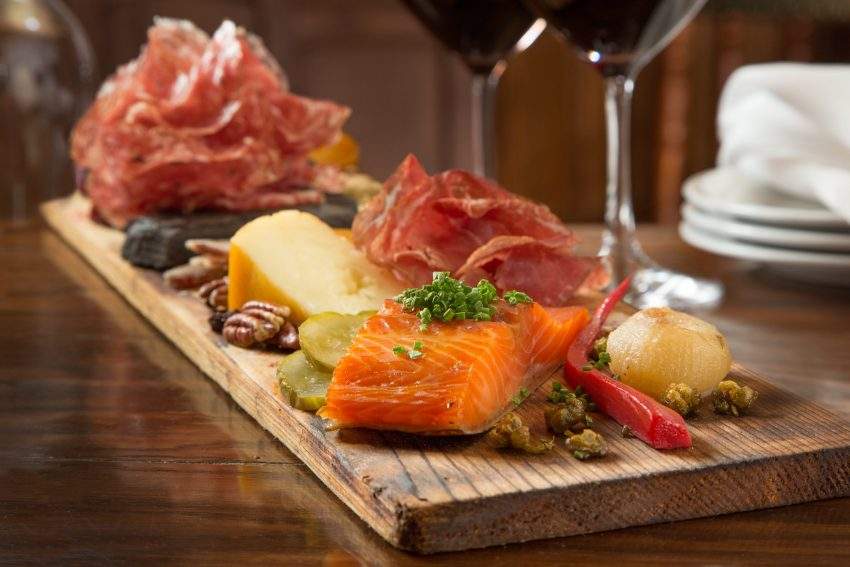 To me, the Fairmont Banff Springs has always felt like a medievel castle of epic proportions. It's hard not to feel like royalty while you go up and down sprawling staircases and stroll the hallways in search of food and drinks. The name doesn't sell it very well, but the hotel's little wine bar that focuses solely on creating amazing charcuterie boards is a hidden culinary gem of Banff. All of the accoutrements and some of the meats are prepared in-house (the rest of the cured meats are brought in from a local producer). Watching Grapes' chef, Tyler Thompson, assemble each board (sitting at the kitchen bar here is a must) is like watching an artist paint.
The Greek By Anatoli's Moussaka (Vancouver, B.C.)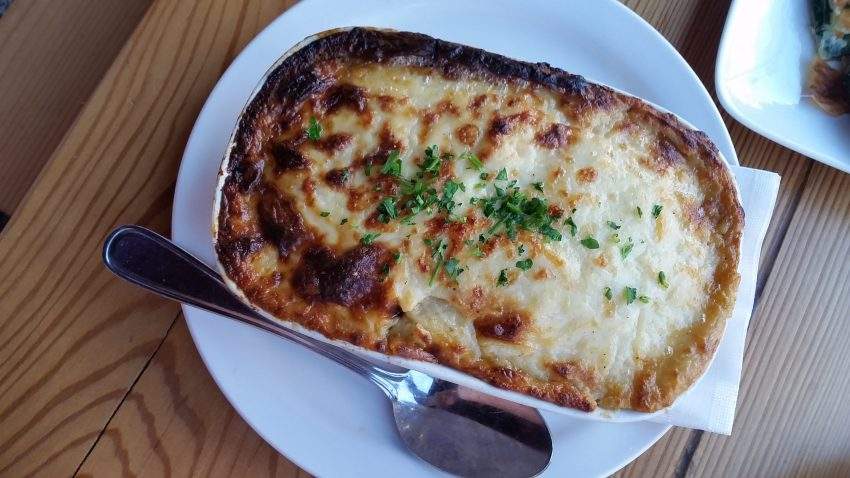 Growing up in Saskatchewan, I was inundated with many dinners at subpar Greek family restaurants. Make no mistake, I do like a down-and-dirty serving of boneless dry ribs or questionably-sourced chicken souvlaki with lemon potatoes every now and then for a trip down memory lane. The Greek By Anatoli does one hell of a job of proving that elevated Greek cuisine can, in fact, be a thing.
I have a torrid love affair with moussaka, so couldn't resist ordering this one in the middle of summer when the temperature was around 30 C or so. It did not disappoint.
Julie Van Rosendaal's stuffing pull-apart bread (Calgary, AB)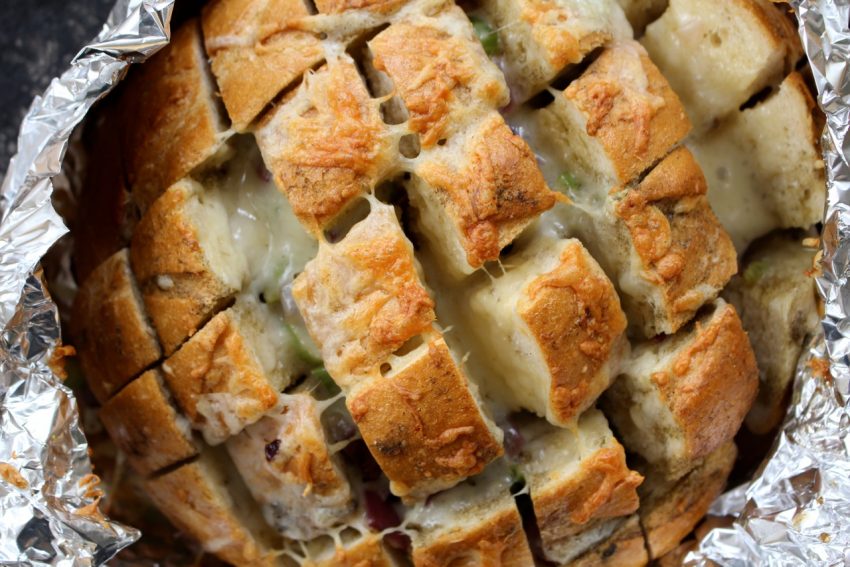 With Calgary as her homebase, many people in the city have been blessed with the chance to sample some of Van Rosendaal's recipe development leftovers. This was one of those times. While we were all huddled in a boardroom, in a heated debate for Avenue magazine's 2016 restaurant awards, Van Rosendaal had brought in a loaf of stuffing pull-apart bread. Just one piece, I said. Just two pieces, I said...
It might be past turkey dinner season, but who cares? You can find this simple recipe on Julie's Facebook page.
Krafty Kitchen and Bar's beef burger (Kelowna, B.C.)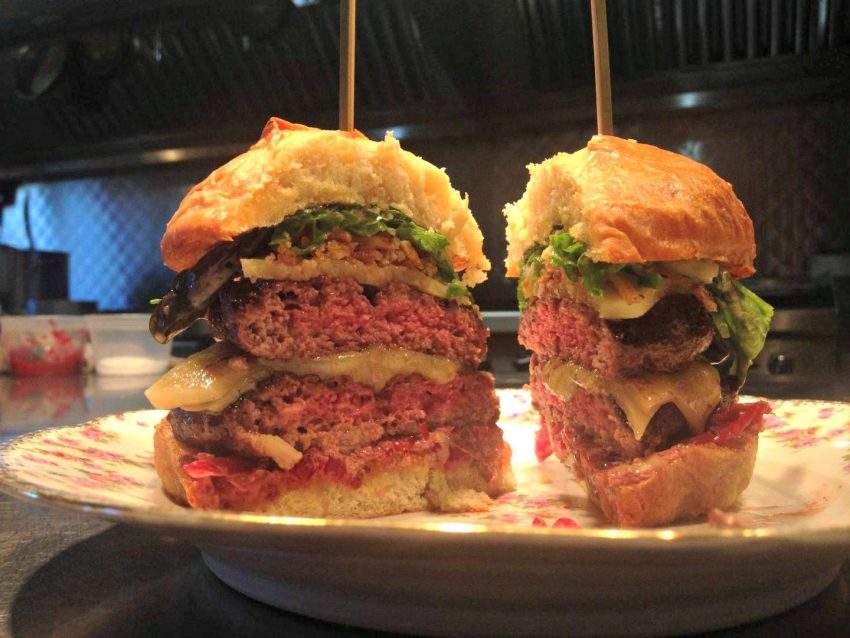 Finding a better burger in the Okanagan than what you'll have prepared for you at Krafty Kitchen will be quite a feat, but I'm always happy to be proved wrong with the appropriate evidence. A house-ground patty full of top-quality beef means you can order the burger to your preference (medium-rare is best, if you ask me). It is layered up with the standard fixings and some B.C. cheddar. You can't go wrong, unless you're a vegetarian.
La Cubana's doughnuts (Toronto, ON)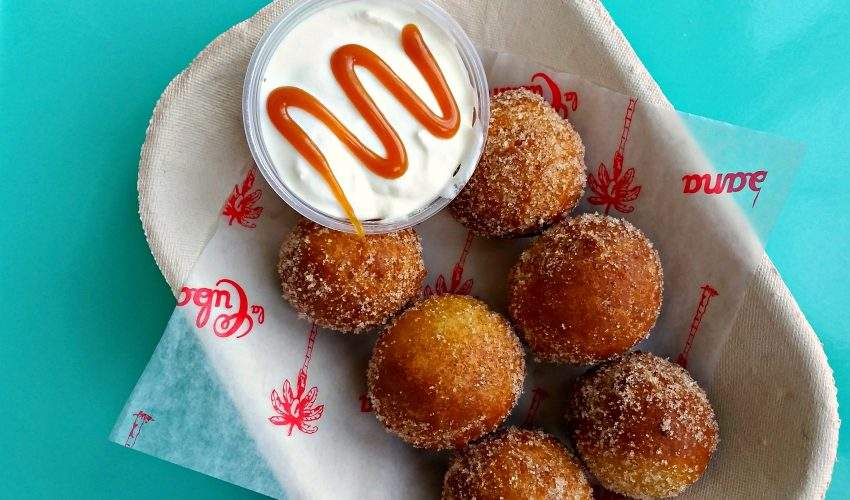 There's a lot of charm to be found inside any of La Cubana's locations around Toronto. A great, casual lunch can be had here consisting of conch fritters, yuca fries and, of course, Cubano sandwiches. End with this cinnamon-sugar, light and fluffy doughnuts because, well, you're an idiot if you don't.
Lord Nelson Hotel/The Arms' banoffee pie (Halifax, NS)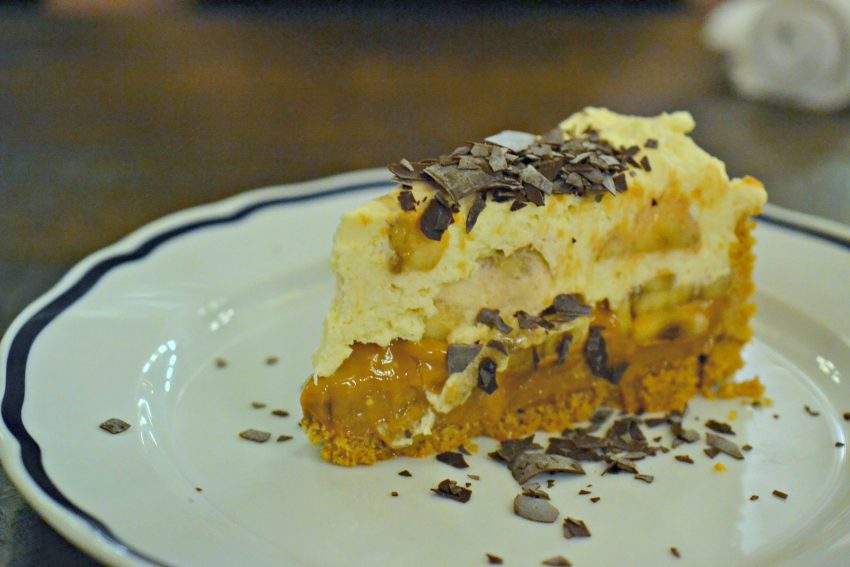 Maybe it was the $7, two ounce, craft cocktails beforehand, but discovering banoffee pie on The Arms' menu inside the boutique hotel in Halifax was quite the pleasant surprise. A famous English dessert, this consists of things that are only bad for you: cream, toffee, crumbled biscuit and butter crust, chocolate shavings, bananas. OK, I guess bananas aren't bad for you.
Merchant Kitchen's Asian fried chicken (Winnipeg, MB)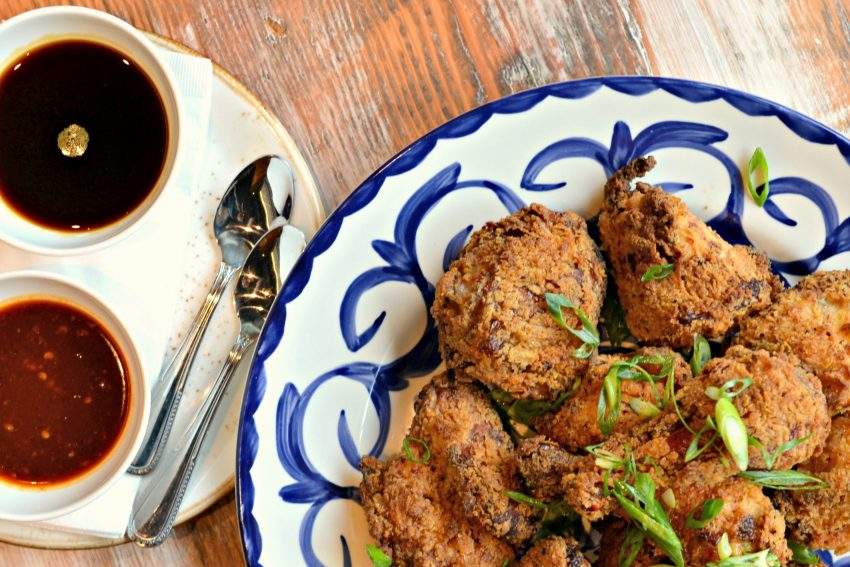 With a whole lot of Latin and Asian street food-inspired dishes, the menu here reads a little all over the place, but its shining star is the generous 10-piece platter of chicken that's been marinated in a menage of Asian ingredients, battered and fried to juicy perfection. With sides of soy "syrup" and garlic chile sauce for dipping, and its price tag of $44--extremely reasonable as far as restaurant variations on this southern staple go-- Merchant's recipe for fried chicken is definitely one for success.
Mission Hill Winery's octopus salad (West Kelowna, B.C)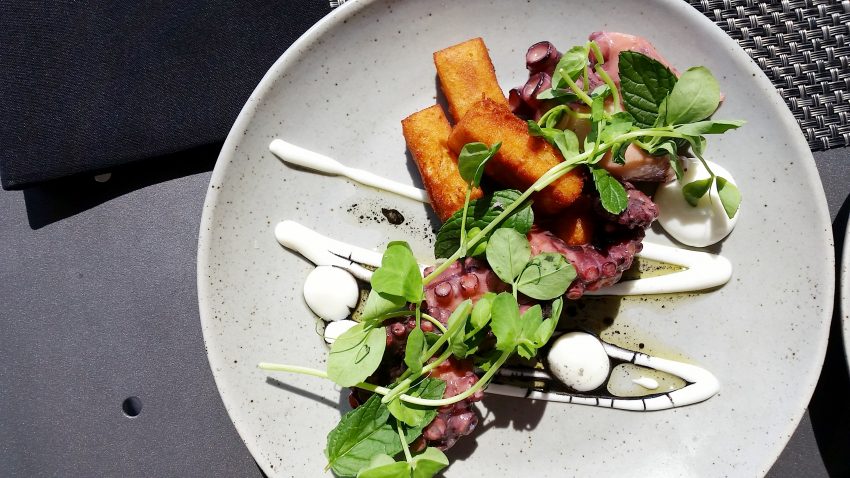 I can't let a summer go by without having at least one meal at The Terrace at Mission Hill Winery. Executive chef, Chris Stewart, has an amazing fresh approach to food and makes the ingredients they grow on the winery grounds and other great B.C. products shine. Tender Ocean Wise octopus, potato croquettes and pea shoots became best friends on this plate before they went promptly into my mouth.
Native Tongues' Zanahoria (Calgary, AB)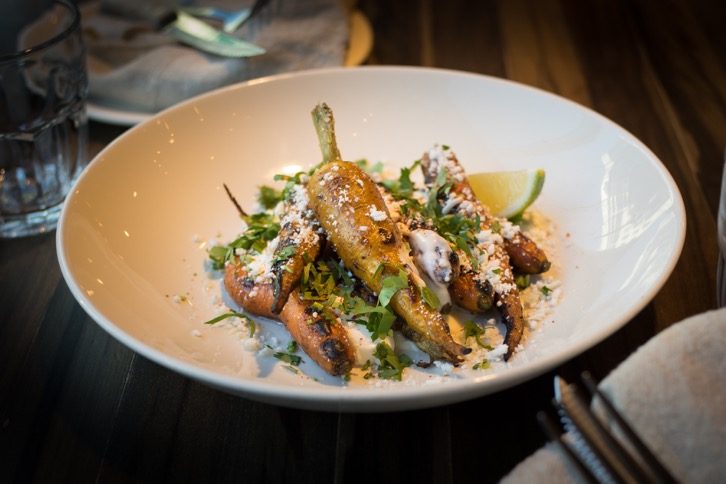 Canada's newest chef-driven taqueria is cooking up a whole lot of tasty things, but nothing stands out more (pre-tacos, anyway) at Native Tongues than these sweet, almost charred rainbow carrots with a little queso fresco, chilies, cilantro and crema Mexicana. These are certainly not your mother's bland Sunday dinner roasted carrots, and this a fantastic thing.
The Night Oven's vegetarian "sausage" roll (Saskatoon, SK)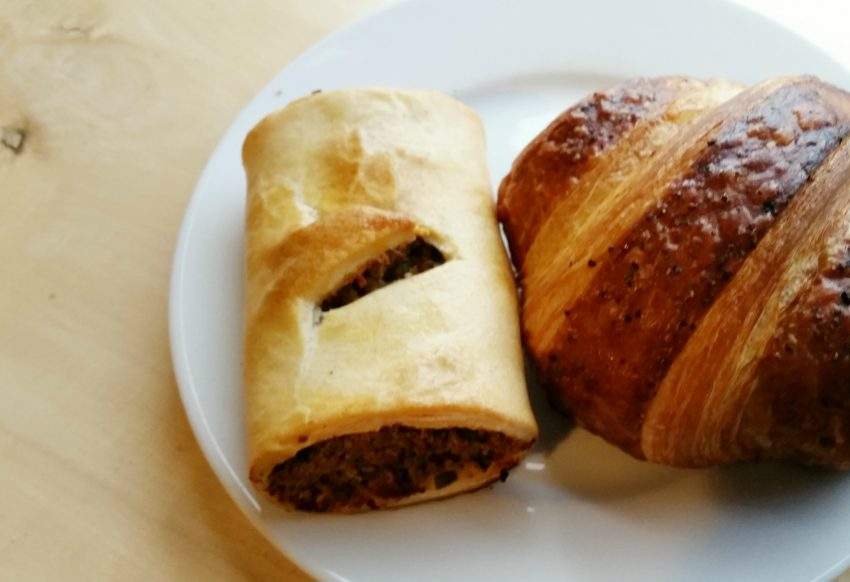 This bakery has really won my heart this year. Sourcing local Saskatchewan grains, grinding them in-house into flour (which is also used by Primal to make its pastas) and turning that flour into a beautiful spectrum of baked goods? Colour me impressed. I became further impressed at The Night Oven when I sank my teeth into its vegetarian "sausage" roll. It's hard to put your finger on what exactly comprises the stuffing, all I know was that I didn't miss the sausage one bit.
Oak Tree Tavern's dill pickle soup (Calgary, AB)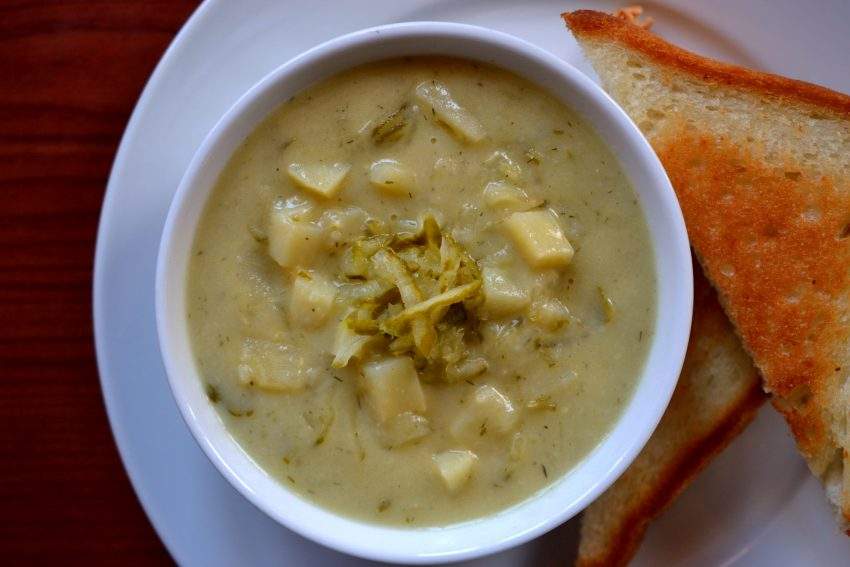 If you like a good pickle, then you'll fall in love with this soup just as much as I did. Creamy, rich and a little briny with many chunks of dill pickles and potatoes makes for one of my favourite bowls of soups when it's exceptionally chilly outside. Oak Tree Tavern's chef, Nicole Dekuysscher does a lot of things well when it comes to pub food, but it's in the soup category that she really knocks it out of the park.
Pigeonhole's charred cabbage (Calgary, AB)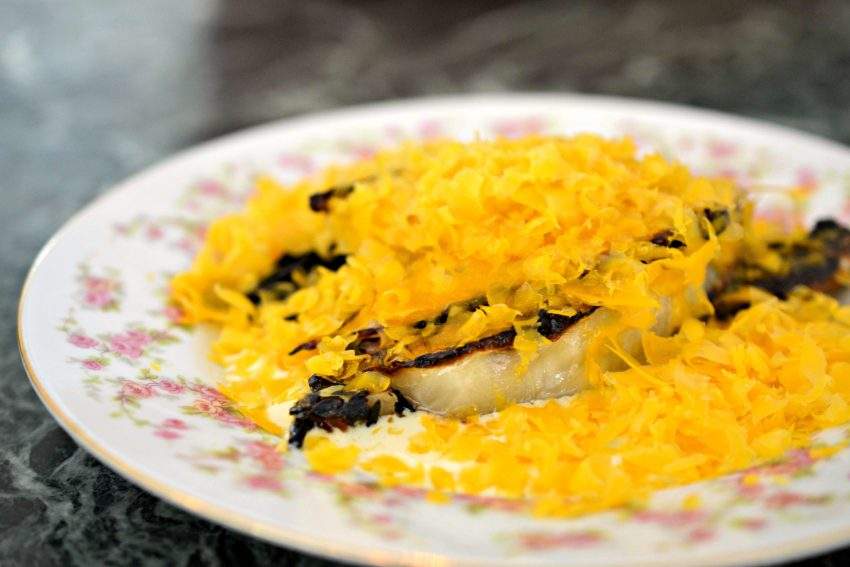 Seeing cabbage become one of the shining stars on a restaurant menu like the one at Pigeonhole is certainly not the norm, but such is the case here at one of the country's top-rated new eateries. A charred "steak" of cabbage is served with jalapeno cream dressing and hidden under shaved mimolette cheese. It may not be pretty, but damn does it taste good.
Prestons' Buttermilk fried cauliflower (Vancouver, B.C.)
In 2015, if you didn't have a cauliflower something on your menu across Canada, you were not just slightly behind the curve, you were left in the dust. The vegetable is nearing exhaustation in restaurants, but that doesn't mean its applications make up for the majority of mediocrity. Chef Shelley Robinson's buttermilk-marinated cauliflower with green goddess dressing and jalapeno-infused honey at Prestons is crispy, delicious and addictive.
Renee Kohlman's ultimate yule log (Saskatoon, SK)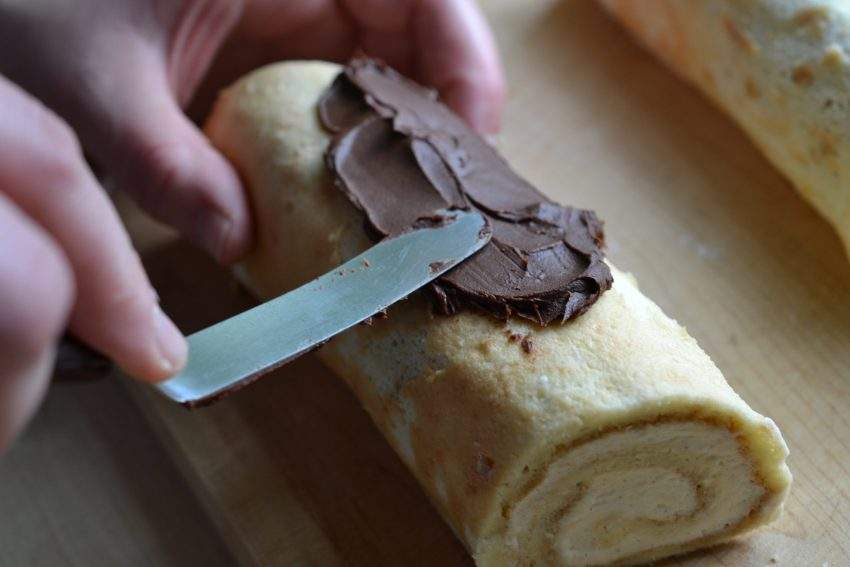 As I discovered earlier this year, making a quality yule log is no easy feat, but leave it to pastry chef and Saskatoon food writer, Renee Kohlman, to show me the way. Her chocolate espresso yule log with an appropriately boozy mascarpone cheese filling proved to be an impressive holiday dessert. Since the holiday season is so last week, you can still make this delicious dish, just don't roll it up December-style.
You can find the recipe here from the December issue of Culinaire.
Rouge's elk tartare with sprouted lentils (Calgary, AB)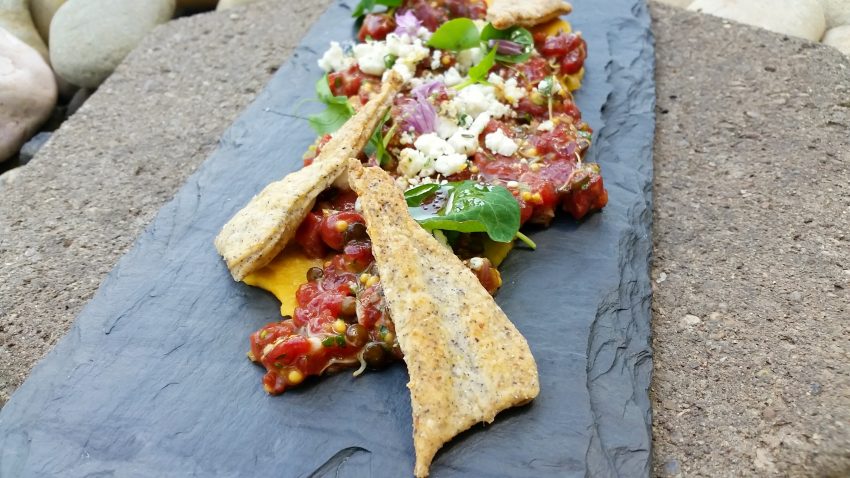 This dish showed both the versalitiy of the wild meat as well as one of Canada's biggest exports: lentils, obviously! The sweetness and richness from the meat, paired with the freshness of sprouted lentils and a crispy lentil cracker was a combination perfectly fit for a table under the summer sun with a glass of rosé. I'm not sure if this dish will return to the menu come summertime, but maybe it will if we all ask Rouge's chef, Jamie Harling, really nicely.
Segovia's fried beets (Winnipeg, MB)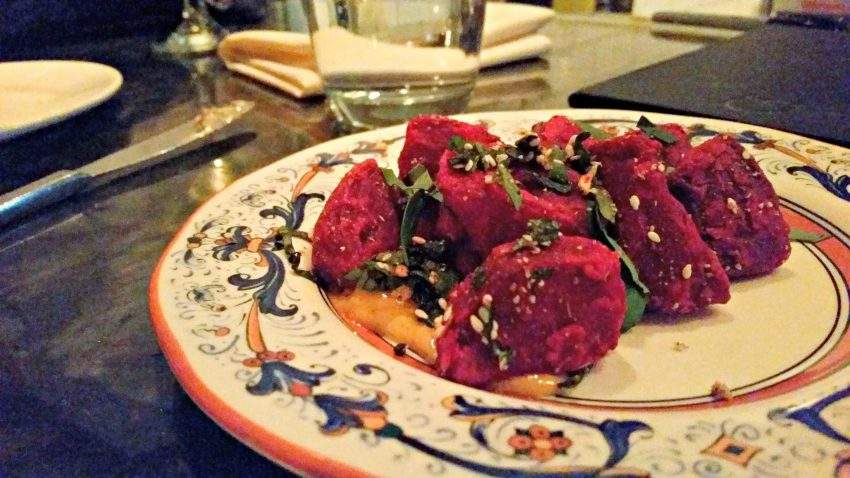 I've yet to have one dish at Segovia that I didn't enjoy. This Winnipeg tapas hot spot has been going strong for over six years, something that can only be attributed to the hands-on owners, great management and staff. There's no debating that Segovia does right by classic tapas dishes, like chorizo and apples or patatas bravas. The really fun stuff is listed under "nueva cocina". Fried beets with a cashew dukkah, berbere aioli (another underutilized ingredient, in my opinion!) and basil is such a robust myriad of flavours. Your taste buds won't even really know what to do with it, aside from savour every bite.
Steinhart Distillery's haskap gin (Arisaig, N.S.)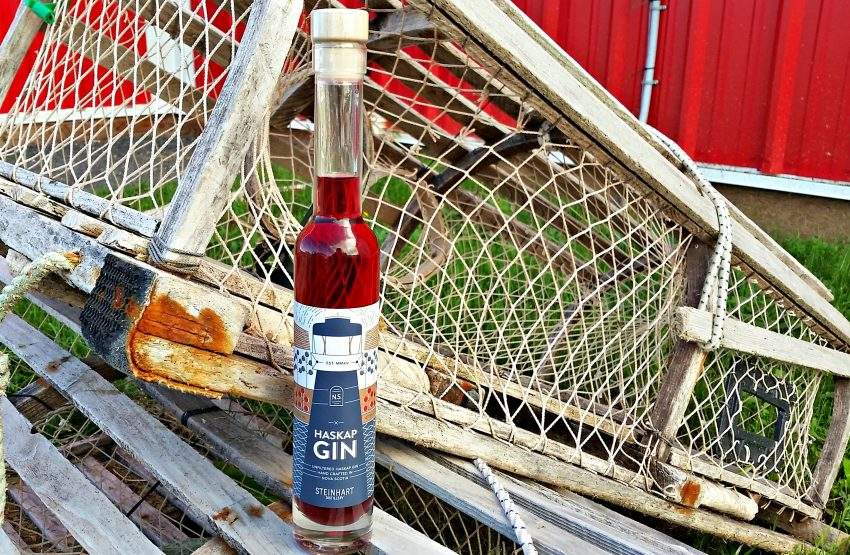 This summer, I was lucky enough to explore the roads less taken in Nova Scotia. Aside from a truly breathtaking landscape in rain or shine, it was interesting to see how many producers and growers populate the small province. Putting Alberta's distillery scene to shame (full disclosure: that's mostly due to Alberta's liquor production regulations, not for lack of interest), one of the province's newer distillers, Steinhart, is crafting some liquid gold. Being a big fan of gin, I was drawn to the haskap berry-infused booze that boasts a bright hue and subtle citrusy punch. It's a real winner.
Sugar Moon Farm's sugar baby parfait (Earltown, N.S.)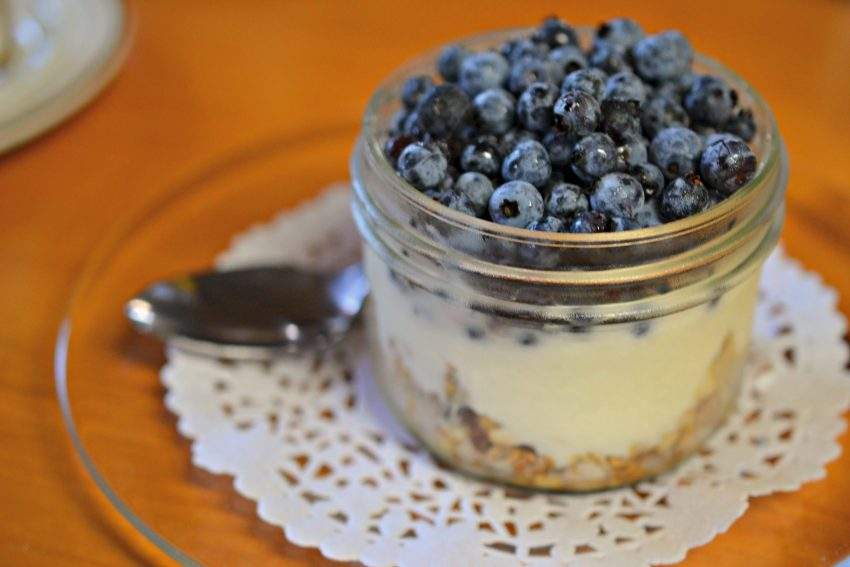 Living in Alberta, you become pretty accustomed to B.C. blueberries, but trying fresh, picked-that-week blueberries from Nova Scotia in a layered yogurt parfait with house-made maple granola made me think I've been eating the wrong blueberries (and maple syrup) all these years. The really disappointing part here is that I live so far away from Sugar Moon Farm. It's not crazy to hop on a plane just for a yogurt parfait, is it?
Szechuan Kitchen's imperial rolls (Saskatoon, SK)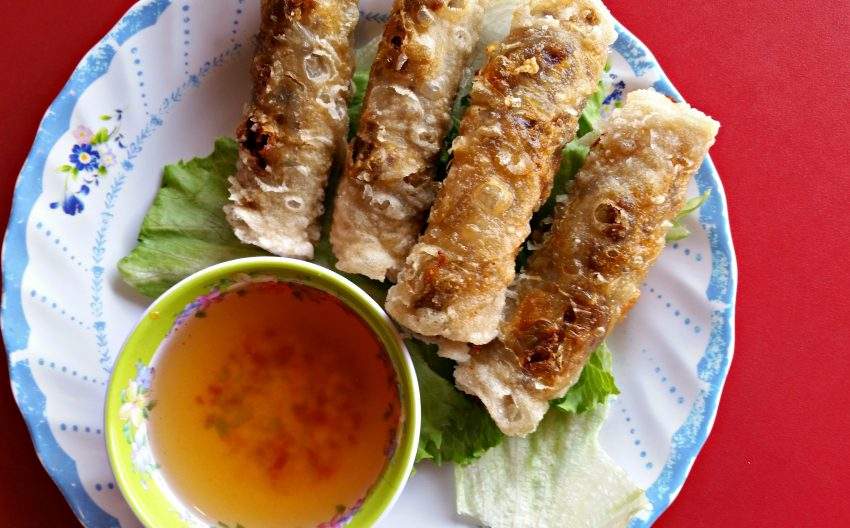 Partially symbolic, this year more than anything, I was reminded about the subtle things that make every city's food scene special. Once I moved to Alberta, I realized I had been taking for granted how accessible an order of imperial rolls were, seeing as they are virtually nonexistent in my province. Saskatoon has a few great Vietnamese restaurants, but Szechuan Kitchen is centrally located and does a great job with this crispy, meat- and noodle-filled rolls and also serves up a salty, spicy pho saté too.
Sonora Resort's "Magnum" ice cream bar (Sonora Island, B.C.)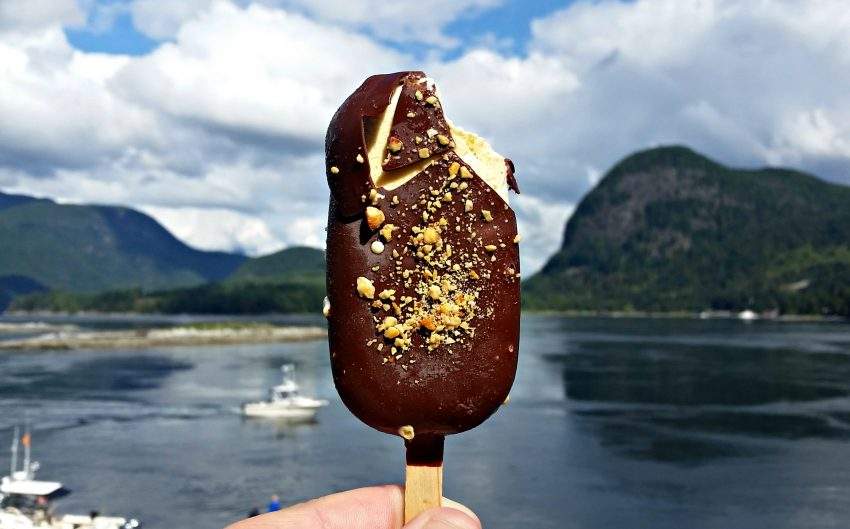 With flavours changing here daily, it's easy enough to justify ordering the ice cream bars at Sonora Resort every time you sit down for a bite. I don't think there's much more explanation needed here. Oh yeah, there's a jawdropping view from the restaurant too, lending itself nicely to Instagram visuals.
Torafuku's "Rye so messy" chicken wings (Vancouver, B.C.)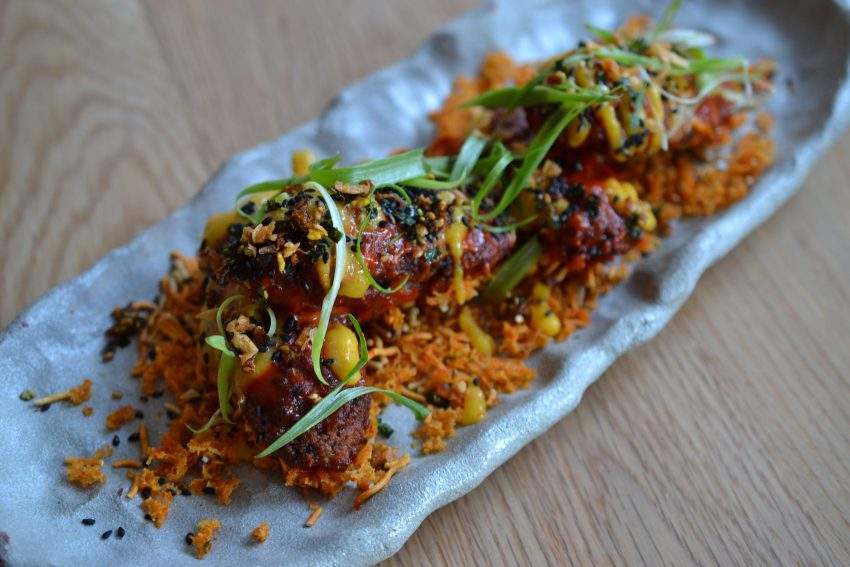 The quirky menu names here are a little schticky, but with every dish at Torafuku being a flavour bomb, it's hard not to forgive the restaurant for all of the puns. These gochujang sauce-coated wings with ramen crumble are leaps and bounds better than any gangly little chicken wing you'll be served at a neighbourhood pub. Approximately 1000 times more so.
(Side note: If you're in Calgary, the gochujang wings at Anju are equally tasty)
Vista Lounge's rosemary garlic caesar (Saskatoon, SK)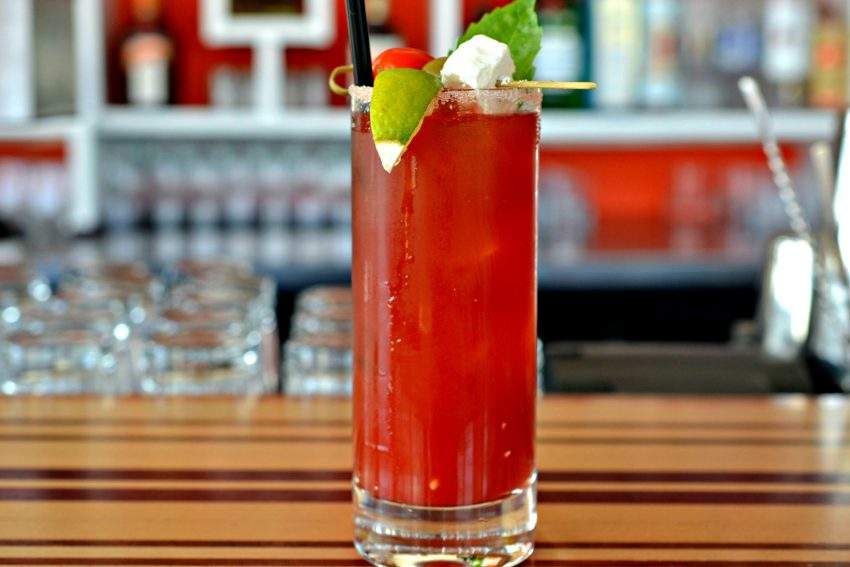 Sometimes, it's a classic with a subtle upgrade that really sticks out in your mind. Such is the case with this caesar at one of Saskatoon's newer cocktail bars, Vista Lounge (it makes a decent crepe too during the day downstairs at sister cafe, Drift). Local LB Distillers' vodka is infused in-house with rosemary and garlic, the standard Caesar components and then garnished with a tomato, a chunk of feta and basil.
Whitehall Eccles cake (Calgary, AB)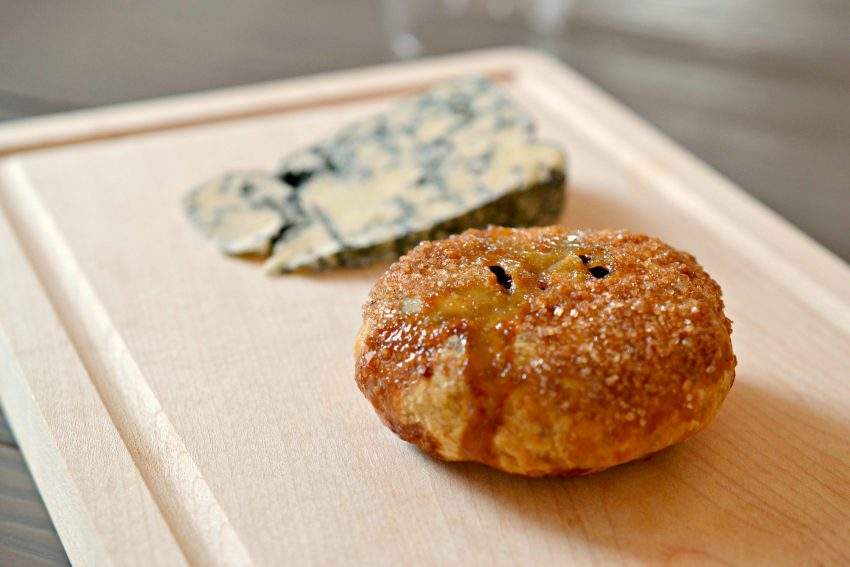 Whitehall's reimagined Eccles cake (an everyday sweet treat in the United Kingdom) is more or less a hand pie with a mince meat-type currant filling and a some B.C. blue cheese that sharply steps in to balance out the sweetness. Have this, and the next time you pick up an Eccles cake, you're probably going to be a little disappointed. The truth hurts.