The idea of a celebrity chef is a funny thing. There are people like Guy Fieri who cook in the kitchen with celebrities past their heydays like Joey Fatone. Fieri is someone the average television watcher might identify as a "celebrity chef'". On the other hand, there are chefs who have come up in their own right and found success via reality culinary competition shows like Carla Hall of Top Chef or Todd Perrin of Top Chef Canada. More in-tune food fans would recognize them as celebrities.
Then, in a completely different category, there are chefs like Sweden's Magnus Nilsson--owner of the internationally celebrated restaurant Fäviken--whose list of achievements is probably much more recognized than his appearance. The average foodie may not be able to pick out Nilsson from a crowd, but anyone in the culinary industry? Well, most of us would jump at the chance to meet him and have a chance to get some insight into how he turned a farmhouse in rural Sweden into one of the most famous restaurants in the world.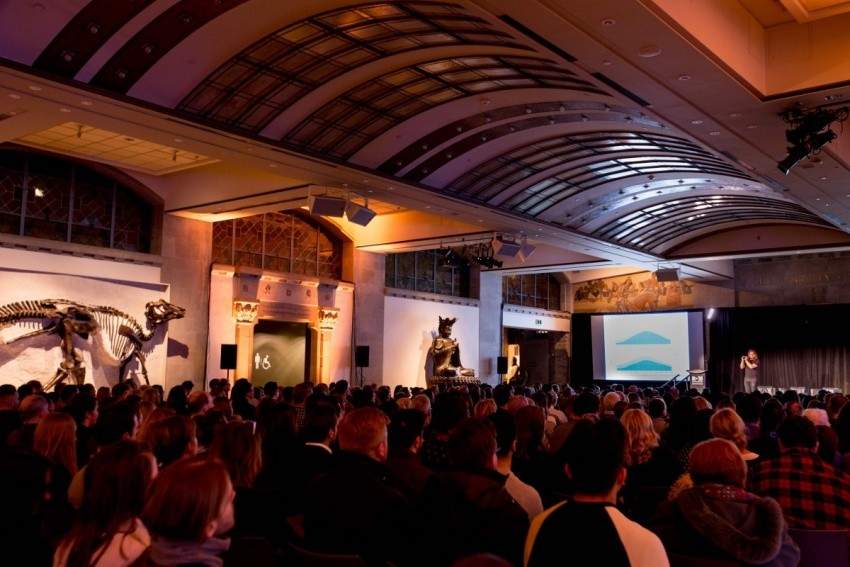 So jump I did this past week in Toronto while Magnus Nilsson was in town for one night only to give a talk at the Royal Ontario Museum alongside Canada's 100 Best Restaurants founder, Jacob Richler and iconic Canadian chef, Jamie Kennedy. Since appearing on season three of The Mind of a Chef and the first season of Chef's Table on Netflix, much about the food at Fäviken has been covered; but from Nilsson, who's visited Canada a few times, there are plenty of fundamentals and learnings from his insights that are can be transferrable and applied to the Canadian food culture.
I put the call out to Canadian chefs, asking them what they would like to ask Magnus Nilsson if they had the opportunity. Here's what they wanted to know.
Being from Western Canada, we see a lot of chefs come back after a stage in Michelin-starred or world-class restaurants. What actually takes place on a stage, just picking parsley leaves?
Yes, the sad part is that most of the time, they probably weren't doing very much. To do internships is extremely important when you learn a craft [like cooking]. It's something that we need to continue doing because that's how you learn to cook. I think that maybe these days, people tend to forget that you also have to stay. You have to have some basic skills in the craft to relate to what you see in these places. We tend to pick people who worked for few years already at the restaurant, who have the necessary frames of reference and necessary knowledge to relate to and make something out of what they see with us, rather than just sort of being there and not learning very much and leaving with the wrong idea of what these restaurants are.
Do you have cooks from other countries that are staging at your restaurant?
Yeah, we do. We have a trainee program. It's a three-month program and there are four people at the time. We don't have many.
How do you pick them?
They send in applications, CV and motivational letter. It's 16 people a year. It's a little bit different than a lot of other restaurants where you get put in the corner somewhere and you pick leaves. You go through all of the sections of the whole restaurant. We used to have it like other restaurants, then we felt that it was not beneficial and it's unfair because you build a business on free labour. Only those people who are the most motivated will actually learn very much. It's more like a training program. You pay a little bit for it. It's about €1,000 per three months and then we rent an apartment, we supply them with food and transportation to work and then in exchange, they are a little bit more motivated to really make something worthwhile with their time there.
When someone is done staging at Faviken after three months, what do you expect them to take with them?
I hope that they have a good understanding of what we do and what Fäviken is all about, and in a good scenario, that they also learn something about themselves as craftsmen at the restaurant.
What would you say to the students today who maybe aren't fully informed of realities of a career in cooking and how can you be honest about how tough it can be while keeping younger generations hired?
The main thing there is that it is changing. I think the key to this change is that those who are now training to be chefs don't accept working in the places where conditions are not good. Working in restaurant is very forward thinking in some ways, and also very backwards in others, and this is sort of the backwards parts of it.
How can an average restaurant here in Canada find sustainability?
Fundamentally, you just have ask yourselves what you want to do. If you run a restaurant where all the staff needs to work double hours but they can only afford to pay them for a certain amount of hours, then there is something wrong.
I think in many cases, what's happened is that whilst other forms of craft and other forms of enjoyment has been allowed to increase pricing gradually with the rest of society, food has not because it has been easier to push back and say, "This is your fixed salary, you work overtime, you won't get paid." It's easier to cut corners with produce, especially; customers are not so knowledgeable. That's led people into a sort of false reality of what things need to actually cost to work.
At Fäviken, there are almost 40 people working there. It's a tremendous amount of effort that goes into every person's diner. Then you look at a big opera house there, is not that many opera houses that have 40 people working for one show. They have sometimes up to 700 seats, plus, various foundations and government also subsidize them heavily. No one really questions that particular cost of $250. It's a similar sort of thing. You have to separate experiential restaurants from the restaurants that you go to have a good everyday meal. Those are two entirely different things. The sad part is that the confusion between those two makes it even more difficult for those in the cheaper segment to function. Some of those places just need to be better at what they do, more efficient, produce better quality and be realistic about what are they going to charge for it.
In Sweden, for example, for the daily lunch special, you pay maximum 100 kr, which is like €10. It's been like that since forever. How is it possible that it doesn't change? Our lunch costs double it, and it is still not super profitable. We get comments all the time that it's very expensive. In fact, it is less expensive to pay 200 kr for our lunch then it is to pay 100 kr for most of those other lunches because they are shit. They have terrible produce; they exploit their staff.
Do you see similar struggles in Stockholm, where restaurant groups and chains can sort of push the price point down and make it harder for independent restaurateurs to operate?
Not quite as much. There are few restaurant groups in Stockholm. I don't think it's really to the same extent as in Canada or America. I think that sometimes it's also slightly an imaginary problem because you get what you pay for. Most of the time, when these big groups push prices, they end up getting less quality because the only way to push prices is to buy a mass-produced product. All of the really good small producers of produce sell out anyway. So they don't give a fuck if the group comes in and saving them 20 per cent off because they sell out anyway.
If I wanted to open destination a dining restaurant in , say, rural Ontario, what would you say is the best way to go about starting a business like that?
The most important thing is just to start; that's the biggest hurdle, to just start somewhere and open the restaurant.
Did you have any fear in opening and operating Faviken in what is arguably an obscure location? Did your previous experience working at acclaimed restaurants give you a good foundation for opening a restaurant?
I learned a lot working in those restaurants, but I didn't learn how to run a restaurant. If there is one thing that I would pass onto people in their early 20s who are thinking about opening their restaurant, it's that maybe they shouldn't do it as early as I did, because I learned how to run a restaurant in my own restaurant, that cost me a lot of money, there were problems… In many ways, it would have been better if I'd worked for a few years longer with a really good restaurateur, but working for the very best chef is not the same as working for a great restaurateur. On the other hand, I don't think that Fäviken would have become what it is today if I would have conformed and done things in a more "normal" way.
Most parts of Europe and United States, South America have really defined culinary identities. Everyone here tries to figure out what "Canadian food" is. What do you think Canadian chefs can do as a whole to get the culinary scene recognized on a more global scale?
You have to reflect and make the most out of what's there.
People tend to look at the culinary culture as something that happened in the past. That's culinary history. Culinary culture is what happens here and now. I think it's the most important culture we have in the world because we all eat and we cook regardless of where we live or where we come from or how much money we have. We all eat all the time and we should focus more on that instead of trying to identify specific things for each country. We would make everything more interesting and probably more tasty and lovely and more true as well.
The fact is that there is as much food culture practice here as there is in Sweden, even though Sweden might have had an ongoing food culture for a little bit longer and therefore perhaps more of a food identity. What do people think about when they think about Swedish food? They probably think about herring and meatballs. People eat that, but they probably do not eat that more often than they eat Thai food today. It's an error in thinking that people consider food culture as being static and defined. It's not! People just eat what makes sense. We still eat what makes sense to us, what is offered to us culturally and in terms of [ingredients].
What restaurant in Canada are you and your European peers are aware of?
Joe Beef.
Have you been there?
Yes. That's the one that has sort of broke it through in terms of international media attention but I've eaten very well every time I've been to Canada. It's always a bit different when you are a chef and you are visiting and you are always hosted by someone. They take you around and want you to have [what they think] is the best. So, it might not always be reflective of reality.
Did you see a massive influx in business after being recognized globally through lists like World's 50 Best Restaurants?
Yes, but not for what people think. People think that the World's 50 Best Restaurants is the key to success, and it is not! We are no longer on that list, not for two years now and we are 100 per cent booked every single day of the year. It's really good to have reviews, press attention and all of those things. Then after a while, it makes a very little difference. Many of those things are so unrelated to how restaurants actually perform. I do really like the World's 50 Best Restaurants list because they put a spotlight on restaurants that perhaps wouldn't get the attention otherwise, but the problem is the name: there's no such a thing as the best restaurant in the world. It's not measurable.
It's quite political. The system is really good because the amount of people voting evens out any kind of bias and you can't [be on the list] if you don't have a good restaurant to start with. But, bringing the right voters in? It makes a huge difference. That's one of the dangerous things that can make a list like this lose relevance. It's still not a problem, but could be a potential issue for that list in the future.