"It not that you win or lose, it's how you played the game."
This famous quote by legendary sports writer Grantland Rice has been heard millions of times over various of situations. By no means is cooking a game (except Guy's Grocery Games on the Food Network), but a chef can certainly apply that "put your best foot forward" mentality to anything in the kitchen.
The chefs who arrived this past weekend at the the Gold Medal Plates national competition, dubbed the Canadian Culinary Championships--an event months in the making, with regional competitions in 11 different Canadian cities throughout the fall, before the regions' respective champions meet in the Okanagan for the final cook-off--came from all different backgrounds. Among them were several hotel chefs, like Regina's Milton Rebello; Edmonton's Ryan O'Flynn, a chef instructor; Luc Jean, of Red River College in Winnipeg; well-known Toronto chef John Horne of Canoe; Renée Lavallée from Halifax, the competition's sole female competitor; and, of course, Montreal chef and newly annointed Food Network Canada personality, Antonio Park.
Regardless of what was being plated, coming out on top in the CCC requires consistency in refined flavour, uniqueness and balance across hundreds of plates. It's not an easy task for a dining room with 100 seats, let alone an unfamiliar event space packed to brim with over 500 hundred people waiting in long lineups.
There were creative dishes abound over the two days. Calgary chef Dave Bohati paired smoke foie gras with cured yellowfin tuna in one corner, while Saskatoon's Chris Hill offered lamb sirloin alongside a camelina-oil-poached baby carrot and "textures" in another. The dishes were as different as apples and oranges. Some were simply satisfying, others were outstanding, but all interesting in concept.
As a spectator, the most interesting thing about the weekend was the juxtaposition.
There were a lot of jitters between the chefs. Culinary professionals concentrated on their dishes with their heads-down, sweating and aiming for perfection with hardly a moment's break, plating hundreds of dishes for everyone in the room, including the discerning judges.
For event-goers, it was a bit of a different story, with merry glass clinking between fancily dressed attendees nibbling on canapes.
I'm not so sure everyone noticed the small touches on a dish like Lavallée's plate, an homage to a summer meal in Halifax with crab roll and grandma's potato salad, but after all, they were there to have fun. It was really the judging panel that had their work cut out for them.
The panel consists of notable food media (mostly food critics and/or published authors) from each of the represented cities including individuals like Karl Wells of St. John's, Amy Jo Ehman of Saskatoon and John Gilchrist of Calgary. All led by event head, James Chatto.
Posts about this competition were all over social media this weekend (#CCC2015). Here's a little look at what the competing chefs go through over two very high-stress days.
The mystery wine competition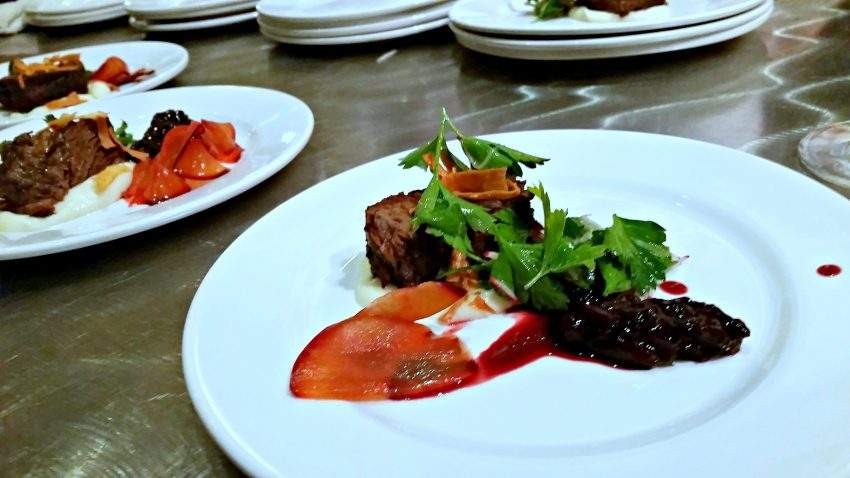 The first challenge at the CCC is all about getting the Canadian talents to create a dish that pairs perfect with a surprise wine. A black box bottle, if you will.
Once it was revealed that the wine was a 2012 Pinotage from Stoneboat Vineyards in the Okanagan Valley, the chefs are given a small budget of $600 to create a delicious dish that reflects their technique, while pairing perfectly with the wine, as well as feeding 500 mouths at the Friday night event.
"The point of the mystery wine is to challenge chefs to pair a dish without a textbook. The weight and structure of this year's wine was not difficult. It's a firm, young, medium-weight red that steered most chefs into red meats. But the flavours are not Pinot, not Syrah, not Merlot. So, I was really looking for nuances in the recipes that caught the slightly meaty, tarry character of Pinotage: a grape developed in South Africa by crossing Pinot Noir and a Rhone variety called Cinsault."
Chef Mark McCrowe Aqua Kitchen/Bar, from St. John's, Newfoundland ended up coming out on top with his creation: a braised short rib with rum glaze, root vegetable purée, pickled plums, cherries and a parsley salad on top.
"It feels good to win the People's Choice award this evening," says Chef McCrowe. "We are blown away by the response. We didn't expect to win. There is certainly still a lot to go. The win gives us an extra boost of energy and confidence going into the next competitions. It is far from over!"
As nice as it is to win the first night going into the competition, none of the chefs' creations from the mystery wine challenge are used to determine the Gold Medal Plates national champion.
Black Box Competition
Much like Chopped, chefs head to the Okanagan College, each waiting their turn to open up a basket of mystery ingredients, from which they had to use the majority to create a dish on the spot. Once the box is opened, each chef has 10 minutes to assess the situation and scribble out a recipe. When time is up, they then get an hour to create two identical dishes, sticking to their quick second recipe as well as possible and then submit them to the judges for marking.
I'm not sure which situation would be better: being the first chef to tackle the black box, then get some time to relax (a bit) before launching into full battle mode later that day, or be one of the last competitors to compete in this second challenge and just keep the adrenaline going straight into preparation in the later afternoon. Personally, I'd say the latter, since there's nothing quite like a chef feeling like he's almost in the weeds to really get into that perfect stride of service.
The Grand Finale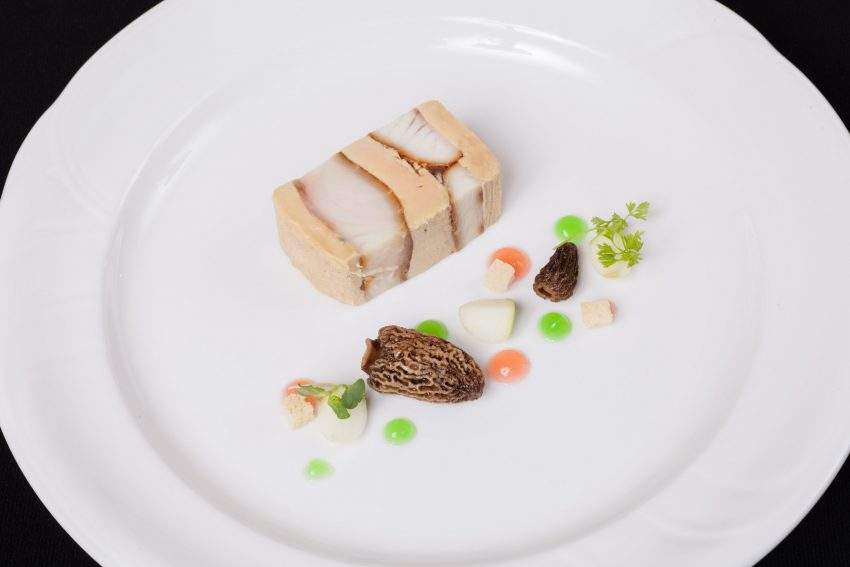 Following the black box challenge is really when chefs need to shine. There's live entertainment (Barney Bentall performed this year) and a big charity auction, but of course, the real show is seeing what the competitors are putting on their final plates. After a couple of hours of service to the guests and a couple of hours of never-ending, nail-biting, commercial-break-style cliffhangers, the top three chefs are named.
3rd place: Chef Kristian Eligh of Hawksworth (Vancouver, B.C.) with a creative sablefish and lobster chowder. The seafood was topped by a "bread bowl" that diners could smash through with their forks for some fun interaction.
2nd place: Chef Antonio Park of Park Restaurant (Montreal, QC) with his take on Bibimbap. A roulade of julienne vegetables, nine-hour braised shiitake and cauliflower, spinach, chicken boudin blanc, gochujang sheet, 63-degree quail egg and crunchy assorted wild rice for some added texture.
1st place: Chef Ryan O'Flynn of the Westin Hotel (Edmonton, AB) stole the show with a terrine comprised of pine-smoked Alberta river sturgeon and cured Quebec foie gras. It was served with wild North West Territory morels, "textures" of Okanagan apples, and toasted brioche.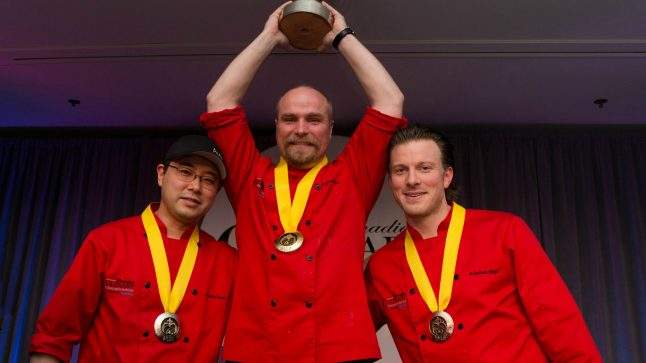 "It feels great! It means a lot to the city," says O'Flynn of Edmonton, after being named top dog for 2015.
"It was a fascinating competition," says head judge, James Chatto, after everything was all said and done. "Going in, I felt we might have had the strongest line-up of chefs ever, with a very serious contender from every single city: some of them established stars, others dark horses with powerful experience. We were not disappointed! Their ingenuity and sensitivity in the wine matching challenge wowed the judges and our new format for the black box challenge gave each chef more of an opportunity to be creative, rather than just racing the clock. And then the Grand Finale. Kelowna gave the championship massive support and hailed our brilliant new champion with unforgettable energy and delight."
Stephen Leckie, co-founder of Gold Medal Plates said, "I commend Kelowna and all of the Okanagan for supporting and helping to sell out all three of our events. The contributions of the Okanagan wineries was also incredible. This event shines the spotlight on Kelowna and we are thrilled to see the Canadian Culinary Championships thrive here. The city has truly embraced this competition in so many ways."
The national event will be held in Kelowna until 2020, with proceeds from each Gold Medal Plates and the Canadian Culinary Championships given to the Canadian Olympic Foundation to support high performance athletes to aid in their training for the Olympics Games. To date, over $9.5M has been raised, though an exact amount of net proceeds given to athletes is not known.
And that, my friends, is what takes place at Gold Medal Plates. Until next year!