Seeing how both creating art and creating delicious food are both highly creative fields, It's surprising that the two creative worlds don't collide more often.
The Vancouver Art Gallery just debutted a new exhibition of the vibrant Japanese artist, Takashi Murakami, the first major retrospective of his work ever on display in Canada. Featuring more than 50 wildly imaginative paintings and sculptures, Takashi Murakami: The Octopus Eats Its Own Leg offers an in-depth survey of the evolution of Murakami's paintings from the 1980s to present day.
Two blocks away from the downtown gallery, the much-celebrated restaurant, Market by Jean-Georges (located inside the Shangri-La hotel) is offering a striking Murakami-inspired tasting menu over the month of February to go along with exhibition, though the exhibition itself runs until May 6th.
"In conceptualizing this menu, careful consideration was given to colour and texture. We wanted to ensure that presentation took precedence so guests could see the visual connection to Murakami's signature style," says Market by Jean-Georges' executive chef, Ken Nakano. "Murakami's work is ambitious and intricate, filled with boundless imagination, bold colours, and a dedication to exquisite craftsmanship, not unlike the culinary world. We wanted to create a bridge between his stunning artwork and the plate, and hope guests enjoy our flavour interpretations of his artwork."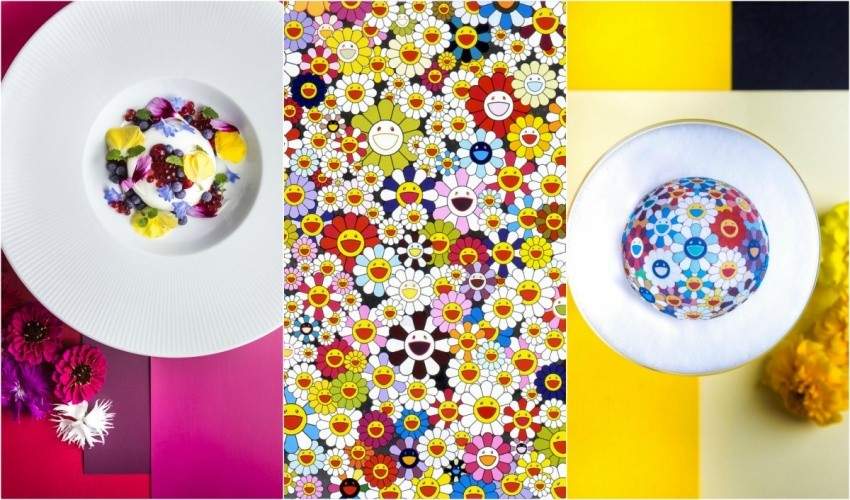 The five-course menu is just as visually impactful as the artwork that it draws its inspiration from. You can see how chef Nakano's dessert course, a floral panna cotta (above left) and its drink pairing, the Sunflower Sour (above right) take both abstract and literal aspects of Murakami's piece, SUNFLOWER (centre).
Of course, to fully appreciate the art-meets-food tasting menu, the restaurant suggests visiting the exhibit prior to stopping in for dinner. The Murakami-inspired menu will run you $120 and an additional $60 for drink pairings.