It's 5 o'clock, and Halifax's new Bar Kismet smells faintly of fresh paint. Clean white wooden wainscoting provides the backdrop for a cozy row of tables, their intimacy balanced by high ceilings and mirrors, which seem to double the space. The atmosphere is bright, airy and calm, with the occasional pleasant interruption of the rattle of a cocktail shaker at the bar – a sound that is even more pleasing if you know, as you mull over the menu, that it's your drink that's being prepared.
On the menu itself, there is a small but totally delightful selection of unique seafood-driven and locally-sourced dishes, including Arctic char stuffed squash blossoms, ahi tartare and allumettes fries, corn fagottini, and side stripe shrimp and smoked paprika; each one with a twist of the unordinary, a hint of heat, or a touch of class.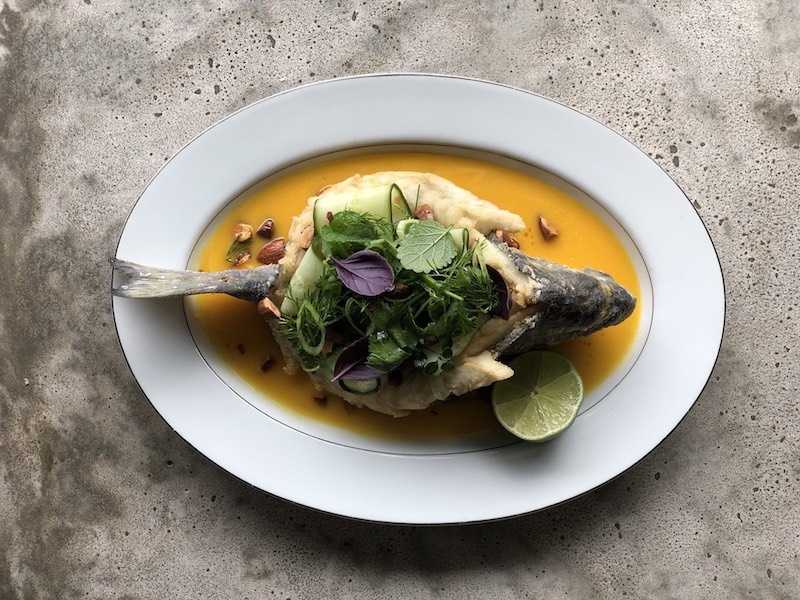 Bar Kismet, which opened at the end of August 2017, is the newest addition to the growing Agricola Street food and drink scene, but owners Jenner Cormier and Annie Brace-Lavoie are no strangers to the Halifax landscape.
In 2010, Cormier helped open The Middle Spoon Desserterie and Bar on Barrington Street; and shortly thereafter, became the genius behind the Middle Spoon's secret basement bar, Noble–a speakeasy-style club with a password key that is sent to subscribers by email each weekend:
"NOBLE is open tonight. Find an employee in The Middle Spoon and say: 'We may have all come on different ships, but we're in the same boat now.'"
In 2013, the secret was out, when Cormier became Canada's first-ever Diego World Class Bartender of the Year.
Cormier and Brace-Lavoie met while working at Toronto's Bar Raval, and returned together to Halifax in 2016 to start something new. While they searched for the perfect location for their new restaurant, they opened a veggie and noodle-bowl stall called Potions and Provisions at the Halifax Seaport Market. It was a purely strategic move, according to Cormier.
"We thought that it would be beneficial for us to meet farmers and producers, so we started at the market to learn a little more about how seasonality works here [in Halifax] specifically, and also to meet some of those farmers face to face. We were able to make some really great relationships. People thought we were insane, vending in a market…but we learned a lot."
At 6:00 p.m., Bar Kismet is full, and the Zen has been replaced by a sense of excitement. The music is turned up: old: soulful jazz. A Southern voice belting out a tune about a train going on the road. Every seat at the bar has been taken, and Cormier's cocktail shaker is going full pelt, providing a rhythm behind the music.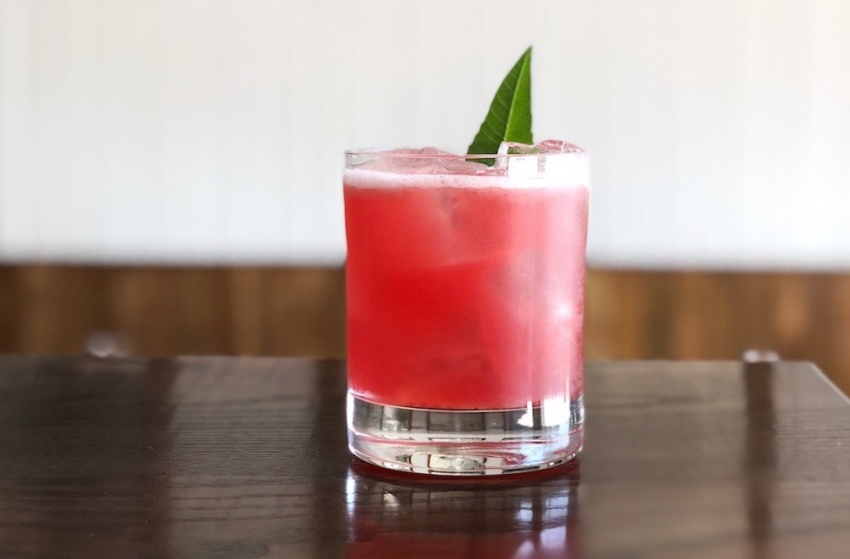 Just like the menu, the soundtrack at Bar Kismet has been carefully curated, with help from Brace-Lavoie's father who has been managing a record store in Montreal for 35 years.
"We're a little spoiled when it comes to music," says Cormier, "Annie's father has one of the most incredible knowledge bases of music I have ever seen in my life… The store is called Cheap Thrills. If you are ever in Montreal, you should go."
But it's not just Brace-Lavoie's dad who helped realize the couple's dream. Her mother painted the logo that Brace-Lavoie designed and drew–a delicate and sophisticated fish motif with leaves, flowers and juniper berries. Cormier's older brother took care of the remaining graphic and branding work, while the blueprints for the restaurant were created by his younger brother, an architect.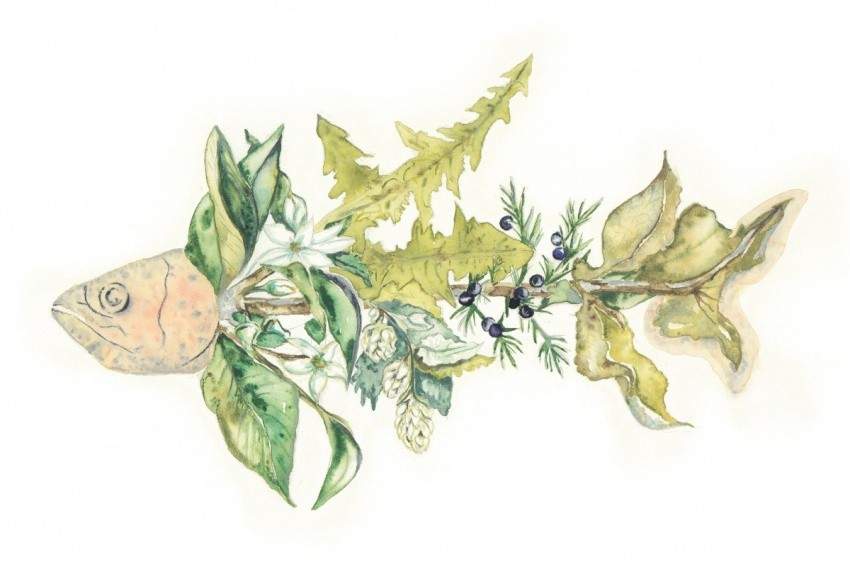 Back at the table, there is a sense of adventure as the food arrives, each item served on an antique mismatched plate from Brace-Lavoie's collection. Generously portioned ahi tartare, once devoured, reveals a beautiful painted cabbage rose. Clams and white beans are served on violet damask patterned china with a thick gold leaf. A selection of cheese arrives on classic Delft-style blue plate with gently scalloped edges. These delicate details provide a perfect balance to the fast cocktails and jazz.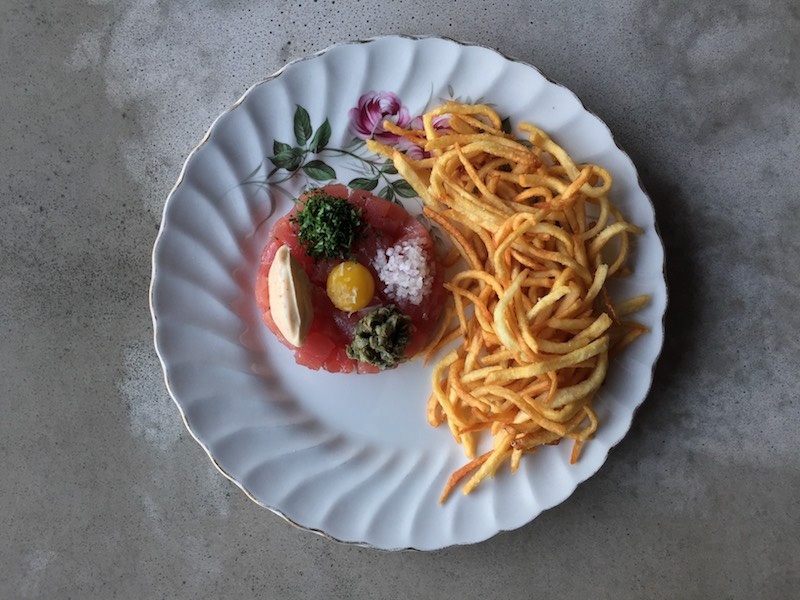 Even the bathrooms at Bar Kismet are lovely, wallpapered in a style that might be described as "1980's Victorian Revival". In fact, they are so totally charming that, according to local rumour, "Kismet bathroom selfies" have become a Halifax thing!
After dessert (zeppole with grapefruit curd, charred Peach, meringue and hazelnut), the bill comes with a sweet invitation to "please, relax, stay as long as you like, finish your water, let me know if you need anything else."
Although our server seems genuine, she can't possibly mean it. It's 7:00 p.m. and there's a queue of people waiting for tables, plus a small line forming outside the door.
I ask Cormier whether in retrospect, he and Brace-Lavoie wished they had chosen a bigger spot. His answer? "No, not at all." Their focus, he says, is on high quality ingredients and attention to detail, and the size of the room is in line with that.
Small is beautiful in Halifax.