As a new generation of bars and restaurants continues to apply its modern gloss to Halifax's North End, one corner of the neighbourhood maintains its raw appeal. Gus' Pub at North and Agricola is a family-owned business that, amidst all the hipster fuss and gentrification, has made only few small changes since it started booking live bands in 1985.
Gus' is so grungy, it's cool. Square wooden tables and captain's chairs lead past a small stage to a modest bar. Cash only. No craft beer. Look up and you will see ceiling tiles, which once would have been stained yellow, painted a deep forest green. For decoration, there are Christmas lights, which reflect against a set of Greek-columned mirrors, old décor from the days when Gus' was a family restaurant. In the darkest corner, you can see flickers from a glassed-in VLT gaming room, where regulars amble in and out as they feed their nicotine habit, or seek more gambling cash.
It's the perfect spot for a doughnut shop, according to Sonia Mota and Nicole Tufts, owners at Vandal Doughnuts, which moved into the kitchen at Gus' six months ago, replacing the popular Ace Burger Company.
"It's bizarre", says Tufts. "This place is like a relic. It hasn't changed since it opened, and that's the charm of it. It started as an old pub and then adapted into heavy metal music and electronic music." (During our interview, we are listening to Iron Maiden.)
"It's eclectic, like the donuts," adds Mota. "You're never quite sure what you're going to get."
When Mota and Tufts first met on an online dating platform (Mota was a marine biologist and Tufts was in the Navy), they had no idea that three years later, they would be running Halifax's most popular boutique doughnut shop.
"On our first date, we ate ice cream," recalls Mota. "And our second date was straight up business meeting. It was like, 'These are the ideas I have, I'm quitting my job, you're quitting your job, what are we going to do?'" Not long afterwards, they began their first culinary venture, Riot Snack Bar on Quinpool Road.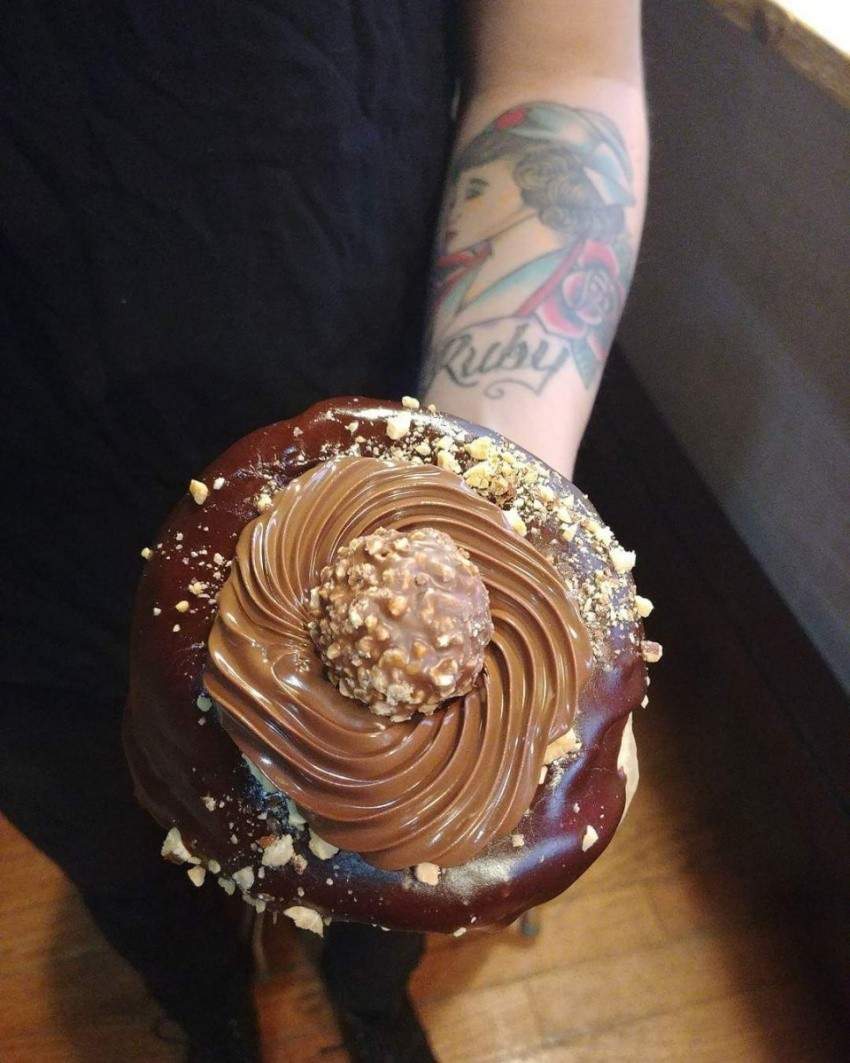 "We introduced donuts onto the menu as part of our dessert program and within the first week, we were getting calls before we even opened, people asking to put donuts aside for them the day," explains Mota.
"It started off with, 'Can you put a donut aside?' to 'Can I get three or four dozen donuts?' We made them out of a French-fry fryer and we were doing like, close to a hundred of them a day, in this tiny little fryer in between orders. The demand was so crazy for it, so we were like, 'Let's just do donuts.'"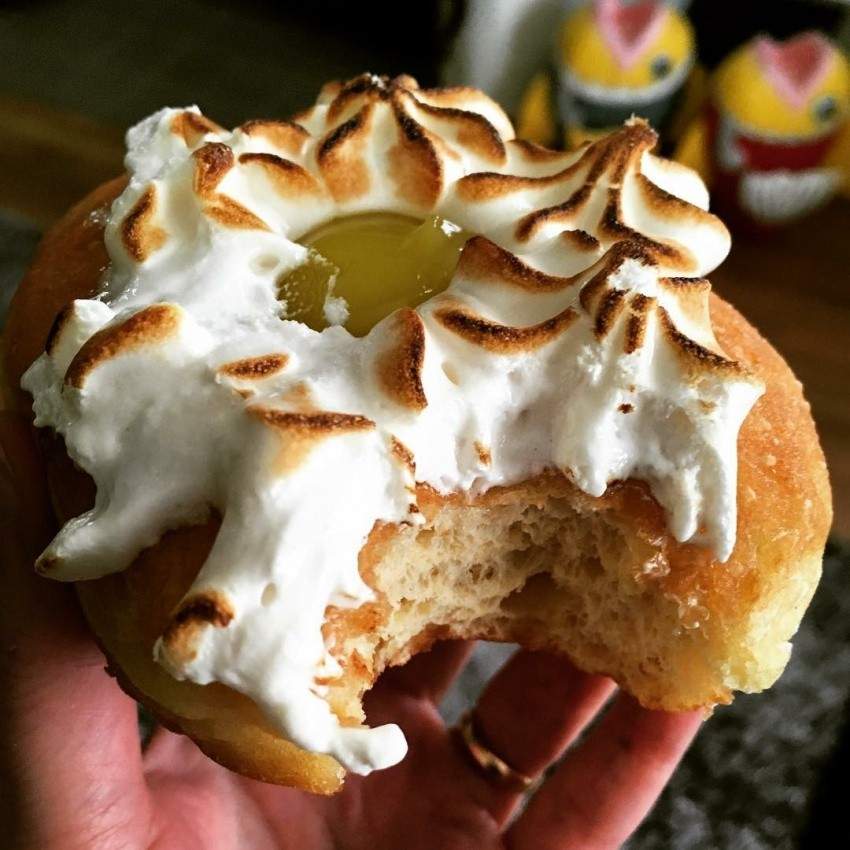 Now, with the assistance of "Ontarian import," pastry chef Jordan Walsh, who everyone calls J-Wow, and a deep fryer (machine, not person) called Rhonda, Vandal offers 80 doughnut flavours overall, selling on average 2,500 doughnuts a day. There is also a gourmet sandwich and burger menu.
"It's really exciting, " Tuft says. "I think we really hit a nerve that was missing here for a long time, and I think we knew that before we opened. We knew that there was just nothing like it, and that we're the weirdos to do it, because we have a really odd sense of humour, and a good donut shop should be fun."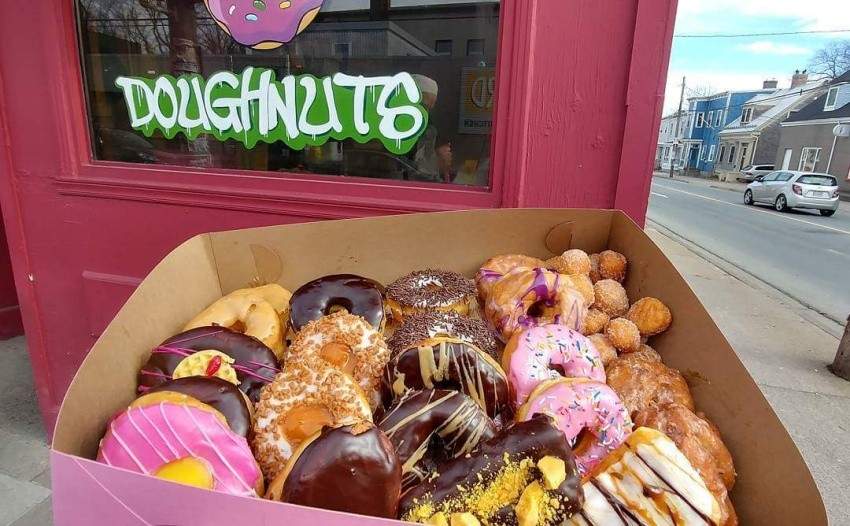 It's clear, talking to Mota and Tufts, that they get a kick out of the creative process, calling the business an outlet for their personalities and their dream job. A few months ago, responding to the disturbing Tide Pod Youtube craze, Tufts and Mota created the Tide Pod doughnut. Today, the special is Wonderwoman, a bar-shaped doughnut with an entire Wonderbar baked inside.
In addition to local support, Vandal Doughnuts is seeing traffic from Moncton and P.E.I., and a loyal Instagram following from all over Canada.
And as for the location, Tufts says it helps that people can drink in the pub with their doughnuts.
"I think if we opened this in other places, it might not do as well," says Tufts. "It's very Halifax."