While artisanal or gourmet doughnuts haven't been around that long compared to Canada's Timmie's, it is safe to say that they are here to stay, alongside its nationally beloved counterparts. From coast to coast, here are our top picks for cool doughnut shops worth checking out.
Cremy Patisserie – Montreal, QC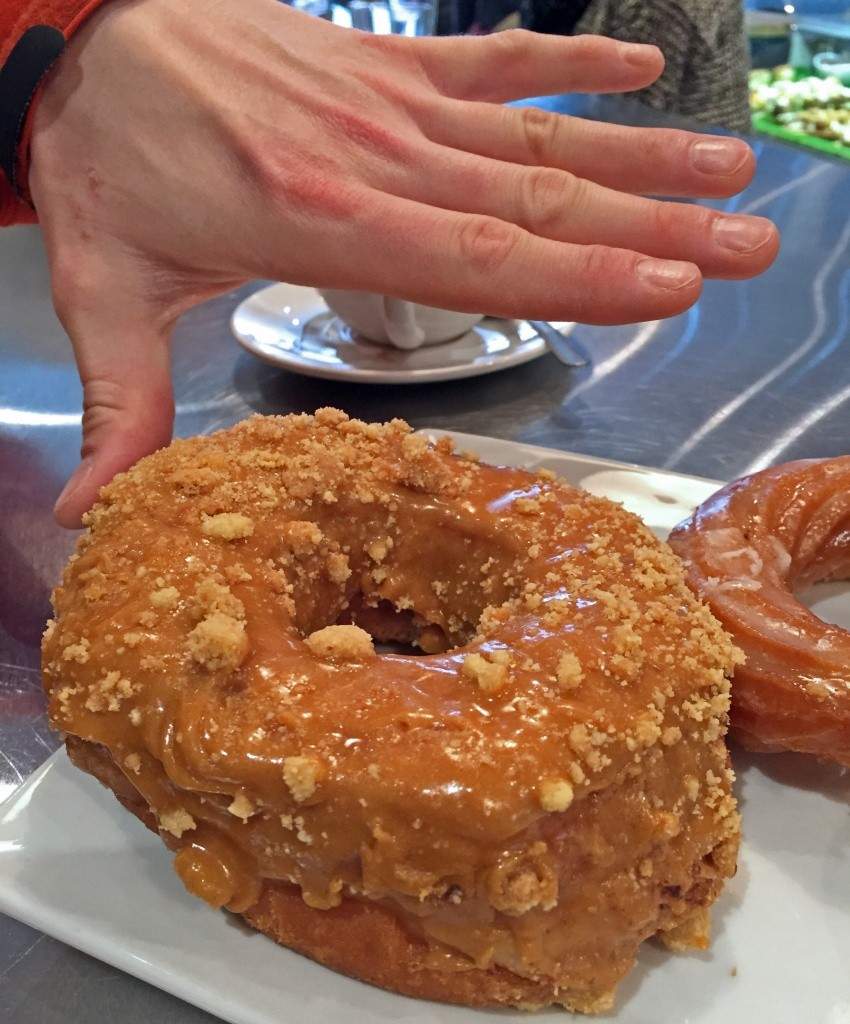 Montreal is known for its over-the-top, completely outrageous decadence when it comes to food. Nowhere does this mentality manifest itself more than at Cremy Patisserie. Even for those with the greatest of sweet teeth, these doughnuts can easily be shared; they're huge! Be sure to try a cruller for one of the richest, custardy bites you remember having.
Cartems – Vancouver, B.C.
You wouldn't normally think that a doughnut would lend itself to supporting the local, sustainable food movement, but at Cartems, they do. The milk, butter, eggs, and flour used to make its doughnuts all come from B.C. It also offers a gluten-free, vegan option at all times to keep every doughnut enthusiast happy.
Jelly Modern – locations in Calgary, AB and Toronto, ON
The first gourmet doughnut shop to hit the scene in Canada, Jelly Modern has since expanded with several locations in both Calgary and Toronto. Try an upscale take on a classic, like its Madagascar bourbon vanilla dipped doughnut, or unleash your inner kiddo with its Smarties or gummy bear doughnuts (note: these candy-laden treats are only available on weekends).
Trou de Beigne – Montreal, QC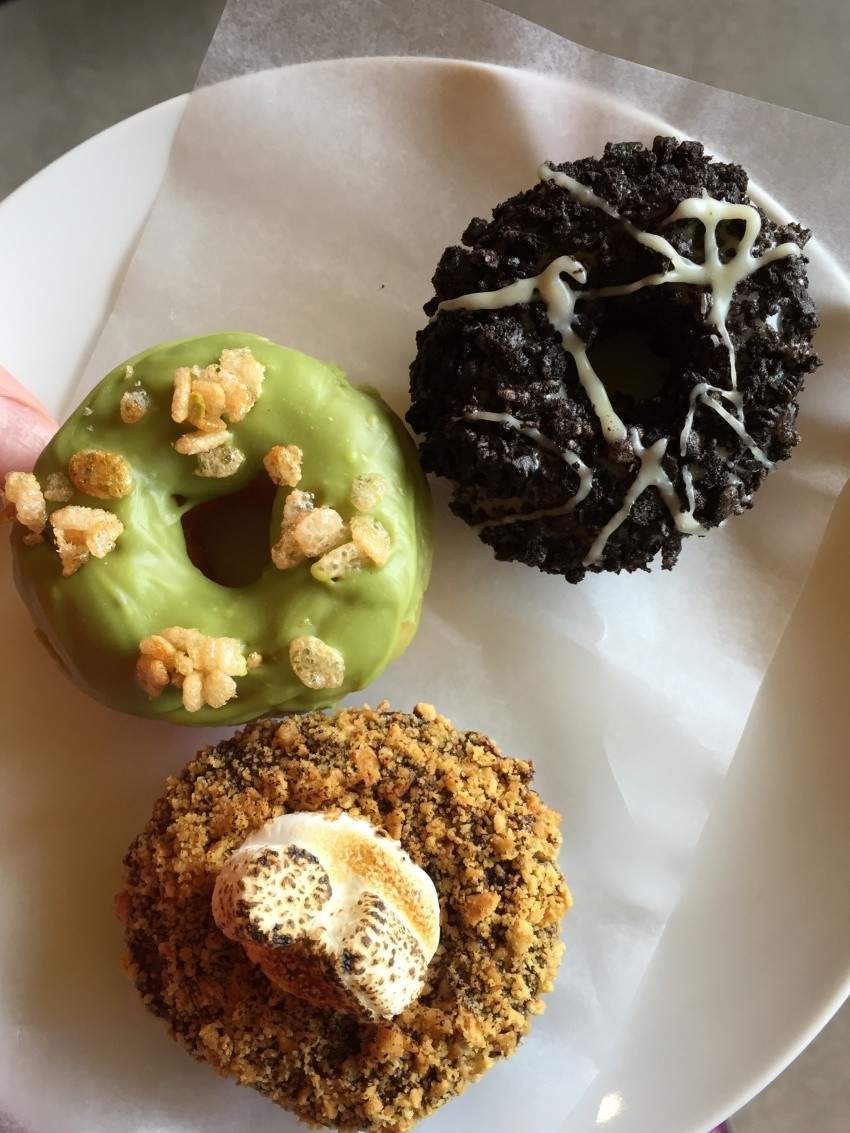 Sometimes you want a doughnut, but not a whole doughnut. For times when you want to portion control or want to experience a variety of flavours, head to Trou de Beigne. Just as cupcake shops offer mini cupcakes, it offers mini doughnuts. It's the perfect option if you just need the slightest sweet fix, or if you can't decide which flavour you want and would prefer to sample several. You should definitely try the matcha green tea, Blizzard (topped with crushed Oreo cookies), and s'mores varieties.
Bronuts – Winnipeg, MB
First and foremost, Bronuts gets serious props for its apropos name choice; it's awesome. And, so are its doughnuts. Wouldn't you know they're made by two brothers who share a mutual love for doughnuts. It has got apple fritters, crème brulee doughnuts, and a chocolate dip that isn't any plain chocolate dip, namely because they had the foresight to sprinkle it with sea salt. What else does one need in life?
Glory Hole – Toronto, ON
Glory Hole offers three different categories of doughnuts: yeasted, cake, and even vegan. In addition to the variety of dough, what's even more important are the crazy flavours it has conceptualized. Take strawberry rhubarb crumble and make it into a yeasted doughnut? Why not! Maple butter tart fritters? Of course! Lemon ricotta cake doughnuts? Duh! Genius, I say!
Von Doughnuts – Toronto, ON
You never thought you could get drunk off of doughnuts…until now. Von Doughnuts has all of the boozy offerings for the wine-o, from its mulled wine glaze and red wine pear jam, to the chocolate Grand Marnier with orange buttercream and pistachio crumble. And because it's Canada, its Sappy Pig is topped not just with bacon, but with maple and peanut butter as well. I'm getting a sugar rush just thinking about it.
Chez Boris – Montreal, QC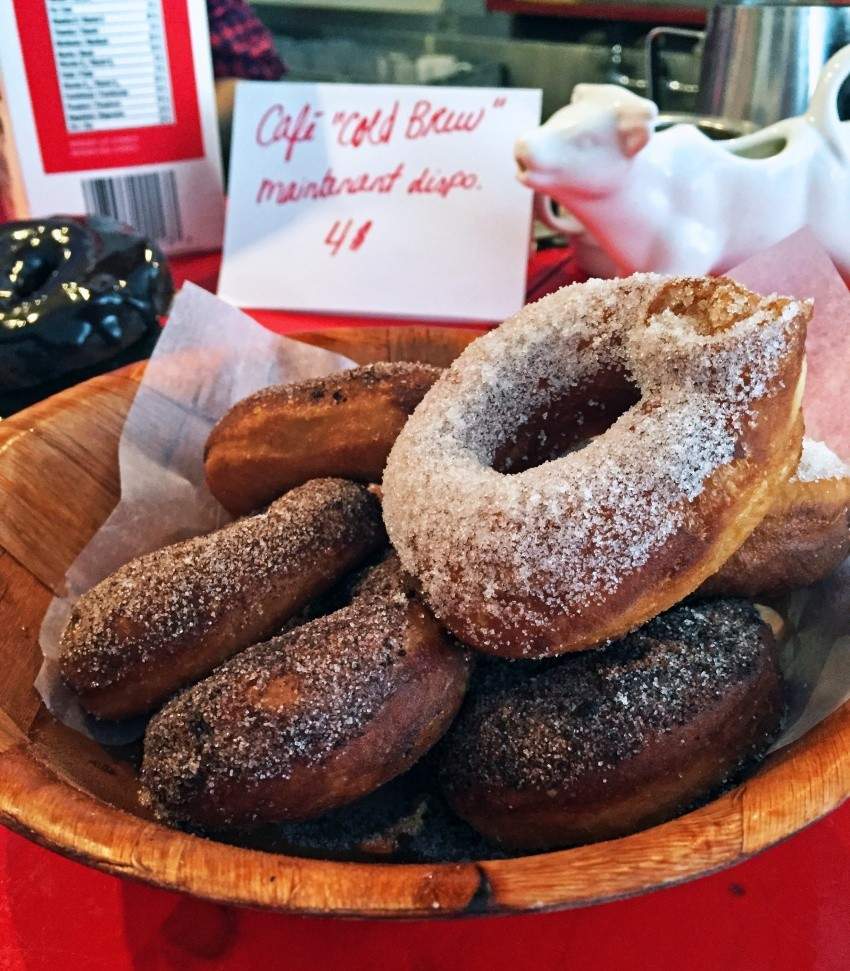 Fresh doughnuts are fine, but piping hot doughnuts are even better. Sure, Chez Boris might not offer crazy flavours, but what it does, it does incredibly well. Pick your poiso-- sugar, cinnamon sugar, or cocoa sugar--and decide whether you want one or a dozen, fried to order. They're tiny, so either way, you can totally justify it. Fresh out of the fryer, these babies are irresistible.
Suzy Q – Ottawa, ON
The name might be generic, yet these doughnuts are anything but. Suzy Q began as an ode to the traditional Finnish doughnut, the sugar munkki. Although this particular variety might look like a plain old sugar doughnut, the addition of cardamom to the sugar mixture makes it surprisingly aromatic and complex. Don't forget to try its other flavours like London Fog, raspberry cassis, and blueberry vanilla Fruit Loop.
Lucky's – Vancouver, B.C.
Nothing goes together better than coffee and doughnuts, so it made complete sense for 49th Parallel Coffee Roasters to open up its sister shop, Lucky's Doughnuts, in 2012. At Lucky's, you can get all of the traditional favourites, like crullers, long johns, and old-fashioned sour cream doughnuts, but the real stand-outs are the ones you would have never dreamed up on your own, like the coconut bismarck. Filled with coconut pastry cream and topped with meringue and toasted coconut shavings, it's like a coconut cream pie, but in doughnut form!