It's got to be stressful opening a new restaurant, but you would never know it chatting to co-owner, Tony Rinaldo, six hours before the opening of Taco Lina's–the latest eatery in an ever-growing, ever-changing Agricola Street culinary scene. Rinaldo is relaxed, smiling, and seems totally happy, as he should be, because there's no doubt in anyone's mind that a taco restaurant in the well-known Gus' Pub location on the corner of Agricola and North (most recently occupied by Vandal Donuts, but also, once home to the successful Ace Burger) is exactly what Halifax has been craving.
"We decided the North End could use another taco spot, for sure. There's definitely room for more tacos," says Rinaldo.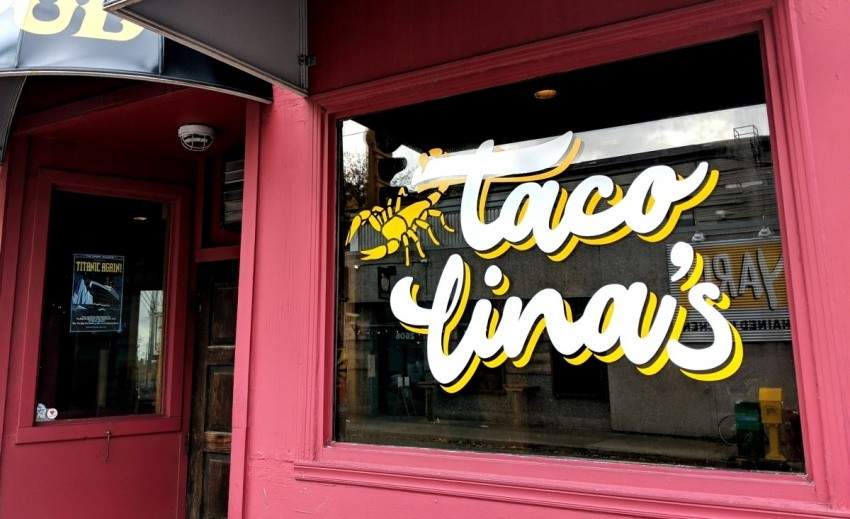 Even the disastrous weather isn't stopping operations. While a truly Halifax-style slush storm (our first of the year) blows through the North end, stopping traffic, and cutting off power; it's business as usual for Rinaldo, who as we chat, is directing last-minute construction, signing invoices, and accepting deliveries of all kinds of restaurant goods, ready for the big night.
The menu at Taco Lina's is made for snacking, and there's way more than tacos. The Nachos Deluxe is a full-blown fiesta of queso sauce, bean, pico de gallo, pickled jalepeno, charred corn, sour cream, guacamole. Jalapeno poppers are available too, for an app with a kick. There's even a robust, healthy salad (spinach, red cabbage, lettuce, pumpkin seeds feta) "for the lunch crowd."
At Taco Lina's, the choice of tacos will be broad, served on corn or house-made flour tortillas, inspired by the great tacos Rinaldo enjoyed in bigger cities like Toronto, New York and Las Vegas. For the al pastor taco, a spit with a shoulder of pork from local producer, Getaway Farms, will fill Gus' Pub with a delicious aroma, says Rinaldo, while the Baja fish taco will be made with local haddock. There's plenty of beef, with lengua (beef tongue), barbacoa (beef cheek) and carne asada (skirt steak) all making an appearance. Also using skirt steak, the answer to our Tex-Mex wishes reveals itself as the Mitla taco, served on a crispy corn shell, with aged cheddar, lettuce and sour cream.
At Taco Lina's, vegetarians and and vegans can snack alongside their meat-loving friends with cashew queso on nachos instead of cheese, and there are two veggie taco options: the fried avocado and the jackfruit carnita. Everything will be made from scratch.
The most interesting item on the menu might be the Spam-fried rice. "I just like Spam. It's really good," says Rinaldo, with confidence.
This is a busy part of town, but it's familiar ground for Rinaldo and his brother Sam. Steps away on Robie Street is Good Robot Brewing, where the Rinaldo brothers had a thriving Hot Dog pop-up, before opening Rinaldo's Italian American Specialties just over a year ago, and directly across the street is the popular Chainyard Cider and Unchained Kitchen.
Rinaldo says he loves the neighbourhood.
"The more great restaurants around, the better," he says, "I feel like everyone feeds off each other… this street, it's just an amazing food street."