From inside a large window on Halifax's Windsor Street, a red neon sign welcomes passers-by. The sign is the old fashioned kind that you might see in the movies, the kind that tends to buzz and flicker a little bit, suggesting that something good and warm is happening inside.
It feels like Halifax has always been waiting for Rinaldo's Italian American Specialities, and now that it has arrived, the new family-run restaurant fits into this corner of Windsor like the missing piece of a puzzle. Surrounded by convenience stores, barbershops and Halifax's much-loved Bluenose Laundromat, Rinaldo's has added a definite New York vibe to this part of town.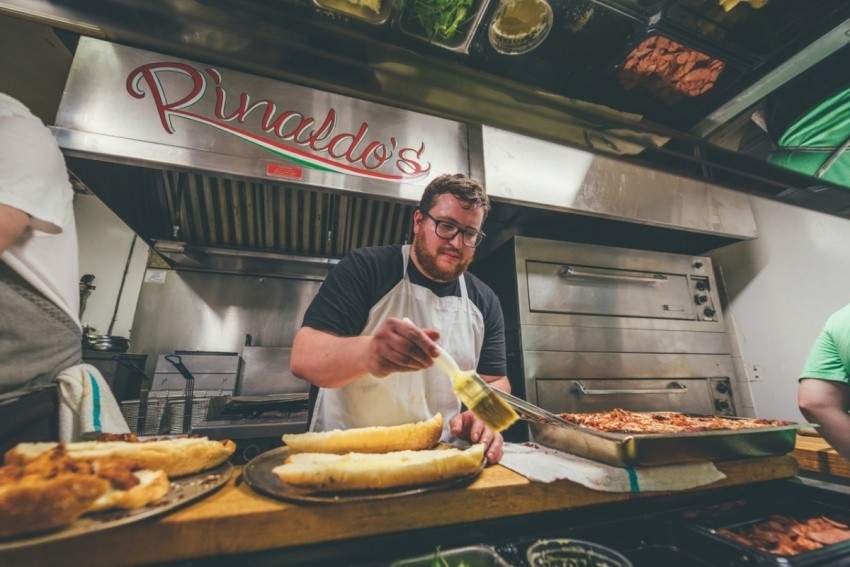 Rinaldo's is owned by brothers Tony and Sam Rinaldo and a third partner, Steven Haynes, who was an original employee of Tony and Sam's dad, at a place called Salvatore's New York Pizza.
Outside Rinaldo's, there is a patio with some tables hidden around back, next to a set of residential mailboxes and power meters, and the back entrance to the Bluenose Laundromat. (This is the sweet spot if you like pizza with a side of people watching.)
Inside, there are indeed warm and good things, served in a bright atmosphere with red walls, gingham tablecloths, and spinning chrome stools at the bar.
"This was pretty much the perfect location for us because we grew up around the corner," says Tony. "It used to be the Pyramid café, and we used to come here as kids. Me and my brother and my dad used to eat here, we used to go to Phat's barber for a haircut, and Showtime video is where we rented our movies."
Sam and Tony's father, Salvatore Rinaldo is a second-generation American, whose grandparents emigrated from Sicily to Buffalo, New York.
From Buffalo, Salvatore moved to New York City, and then to Nova Scotia's Cape Breton Island to, in Tony's words, "live off the land" with a group of other New Yorkers.
From Cape Breton, he came to Halifax, and in 1989, opened up a pizza restaurant called Salvatore's New York Pizza.
Salvatore's brothers and sisters remained in Buffalo, but the family remained tight, providing valuable childhood memories, and instilling a passion for Italian cooking in brothers Tony and Sam and sisters, Erica and Lia.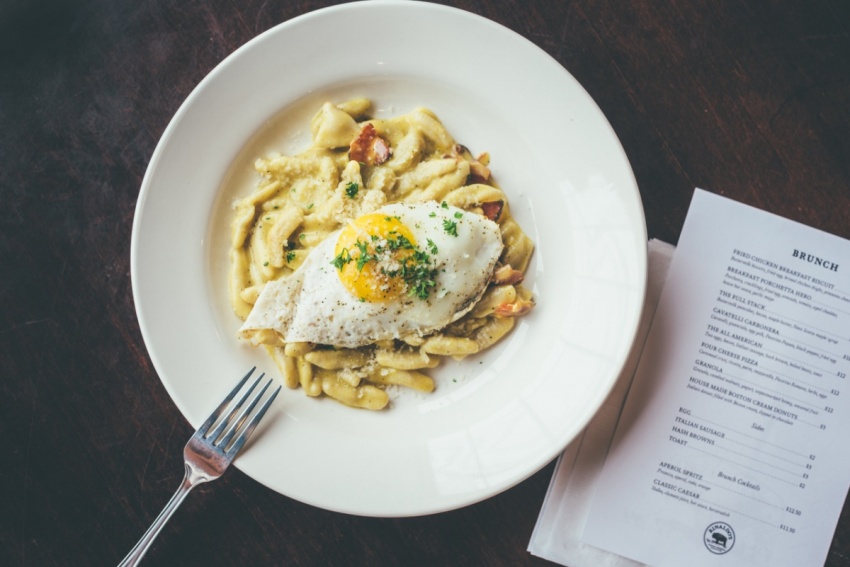 "They're a big Italian-American family, so everyone cooks," says Tony, "My aunt makes these big elaborate meals. We would go for every American Thanksgiving that we could. What's neat is that they'd do the traditional American Thanksgiving but they'd have a bunch of pasta and stuff there too, so it's like a double Thanksgiving."
When the original Salvatore's was sold to a new owner, many of the menu items remained versions of the recipes that were originally developed by their father.
Since then, the boys have been busy cooking at home and abroad, and now that they have their own place, many of the original recipes are being brought back, and improved by the Rinaldo brothers.
Their signature dish is a Meatball Hero sandwich, while their huge, incredibly stretchy mozzarella cheese sticks are gaining a popular following. Everything here is big enough to share--and delicious.
There are seven New York style pizzas on the menu, and following family tradition, they are named after someone in the Rinaldo family.
There's the Pizza Samuele, for Sam, the Pizza Erica, and the Pizza con Lia for the girls, and Antonio's Clam Pie, made with fresh Nova Scotia clams, for Tony. The Francesca is for Aunt Fran in Buffalo.
"She's really big on artichokes, so me and Sam came up with that pizza for her," says Tony.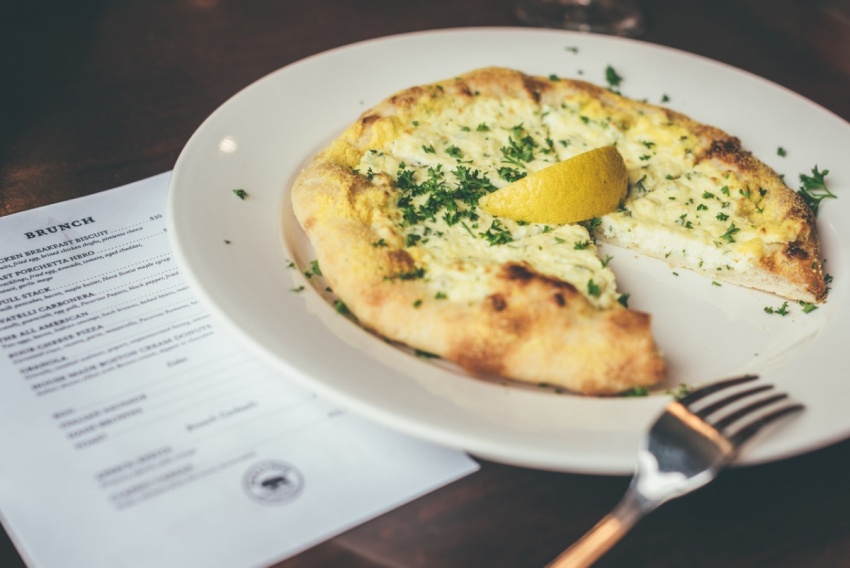 And finally, there's the Stefano: a pizza with a lightly-dusted cornmeal crust, mozzarella, onions, tomatoes, parsley, ricotta cheese, Parmigiano Reggiano, pecorino Romano and lemon.
If you're from Halifax, this combination will sound familiar. The Stefano first appeared at the Salvatore's New York Pizza, but it was created by Steven Haynes, Sal's first employee and the now third-partner in Rinaldo's.
"Steven worked for my Dad and his goal was to get a pizza on the menu, and he finally did, and then my Dad put it on as the Stefano," says Tony.
With the Pizza Stefano back in original hands, Tony and Sam are working full time in the kitchen and Rinaldo's is busy every night of the week–and during café hours too.
The Italian-American eatery is in good company in this Halifax neighbourhood, where the residential West End meets the ever-growing hip North End.
Walk along Windsor Street toward Almon and you'll find the Brooklyn Warehouse; and around the corner from that, a Mom-and-Pop burger and milkshake place called Jimmy's Snack Bar.
Two minutes in the other direction (down Cunard toward Robie Street), you'll find a nest of other amazing places to eat, including Elliot and Vine, Studio East, Robie St. Station and the new El Chino--not forgetting Tony's Donair, which has been on the same corner for 40 years.
And in case you're wondering, Phat's barber is still in business too, and it's where Sam Rinaldo still goes for a haircut.